February, 9, 2011
2/09/11
6:31
PM ET

New
Cleveland Browns
head coach Pat Shurmur made his first major step of the offseason.
The Browns cut six veterans Wednesday: tight end
Robert Royal
, offensive tackle
John St. Clair
, defensive lineman
Shaun Rogers
and
Kenyon Coleman
and linebackers
David Bowens
and
Eric Barton
. Most were considered "Eric Mangini guys." Mangini was fired recently after back-to-back 5-11 seasons.
"We kind of had a feeling that with a new regime that Cleveland wanted to go with younger players," said Bowens' agent Harold Lewis. "David was Eric's guy and [former defensive coordinator] Rob Ryan's guy, so it's not a surprise."
Cleveland is looking to start a new rebuilding phase under Shurmur. Cleveland will transition to a West Coast offense and a 4-3 defense next season.
All of these players are now unrestricted free agents.
June, 12, 2010
6/12/10
2:35
PM ET
BEREA, Ohio -- The
Cleveland Browns
wrapped up their 2010 mandatory minicamp Saturday.
Here are some final notes and observations:
[+] Enlarge

AP Photo/Amy SancettaQuarterbacks Seneca Wallace (left) and Jake Delhomme were inconsistent during minicamp.

Everyone wants to talk about the quarterbacks, so let's get right to it. I thought the quarterback play was decent but inconsistent. There were days like Thursday when it appeared they didn't deserve to be on the field. But there were also days like Friday and Saturday when the group was solid. Veteran Jake Delhomme was clearly the best of the lot. Delhomme made some really nice throws that I haven't seen from a Browns quarterback during practice in a while. Backup Seneca Wallace made some plays with his feet but was also shaky at times. Third-round pick Colt McCoy looked like a rookie playing in his first minicamp and was mostly throwing to players who won't make the team. "I'm very happy with where I'm at, I will say that," Delhomme said. "I've spent a lot of time here before we even started OTAs, trying to learn it, because you want to get respect from your teammates. You want to be a leader, and the first way you do it is by knowing your stuff, knowing what you're doing and making the right calls."

Cleveland running back Peyton Hillis returned to the team Saturday but didn't practice. He sat out of minicamp with an illness. Browns cornerback Eric Wright, who didn't participate in team drills Friday, returned to full practice on Saturday.

As a disclaimer, I usually like to point out that you can only tell so much from football in shorts, or "skirts," as Delhomme put it. But two rookies that stood out most in minicamp were tailback Montario Hardesty and receiver Carlton Mitchell. First, they look the part coming through the door. They both have great size and can move. Second, both rookies made plays when they had the opportunities. Hardesty, who sat out Saturday, ran the ball well and knew his assignments. Mitchell had nice bursts and showed surprisingly good footwork, for a rookie, to get open against coverage. "It takes different guys different time periods [to get ready to play]," Mitchell said. "After a while, the more you do things, as far as watching film, correcting your mistakes and going out and taking reps, you start to feel more relaxed."

Speaking of rookies, Browns cornerback and No. 7 overall pick Joe Haden reiterated Saturday that "it's real important" that he gets his contract done and arrives to training camp on time. First-rounders, and particularly players selected with a top-10 pick, are always in danger of arriving to training camp late. But Haden is expected to be an important part of the defense and doesn't want to fall behind.

Predicting the right side of the offensive line will be tough with the way Browns coach Eric Mangini is rotating players and positions. Right now, an educated guess is Floyd Womack and Tony Pashos will be the right guard and right tackle in Week 1, respectively. But this pairing has been used on the first- and second-teams throughout minicamp. Mangini also played Pashos at right guard and Womack at right tackle. Offensive linemen John St. Clair and rookie Shawn Lauvao were getting a look on the right side, as well. Mangini is a big believer in building depth and versatility on the offensive line. "What usually happens is those guys all play," Mangini said.

Wallace said he's looking forward to Cleveland's Wildcat package with Josh Cribbs. Having both on the field at the same time could be a dangerous change of pace to add to the offense. Cleveland was ranked last in total offense in 2009.

Mangini believes defensive lineman Shaun Rogers (leg), linebacker Eric Barton (neck surgery) and punter Dave Zastudil (knee) are all "on track" for training camp. The trio did not participate this week in minicamp.
March, 29, 2010
3/29/10
4:30
PM ET

I must say the Dawgpound has been the most active readership in our
AFC North inbox
this offseason. There are a lot of questions surrounding the
Cleveland Browns
in recent weeks, so let's get some answers.
Nathan from Coralville, Iowa,
writes: I know the Browns overpaid for
Jake Delhomme
. But how can he seriously be penciled in as a starter? Isn't
Seneca Wallace
a much better quarterback?
James Walker:
Delhomme is more proven, Nathan, and has led teams to the playoffs and a Super Bowl. Wallace doesn't have near the same qualifications. And let's be honest: A $7 million salary does have a lot of clout in who plays next season. You don't want Delhomme sitting on the sideline with that kind of money holding a clipboard. That would mean Cleveland's front office made a huge mistake.
---
Michael Estep from Cleveland
wants to know why the Browns don't skip drafting a quarterback and wait for University of Washington's Jake Locker next year.
Walker:
Because football is too unpredictable and teams do not operate the way fans often think, Michael. Waiting for Locker involves too many variables. First, you're assuming the Browns will go 2-14 next year to secure the No. 1 overall pick. What if they go 5-11 again or 8-8? Second, what if Locker has a down year and/or suffers a major injury next season for the Huskies? It would be foolish for Cleveland to try to predict everything that will happen a year from now when the team can attempt to improve the quarterback position in this year's draft.
---
Joseph from Columbus, Ohio,
writes: If the season started today, who are the Browns' starting linebackers?
Walker:
Unofficially it would be
D'Qwell Jackson
and
Scott Fujita
in the middle and
David Bowens
and
Matt Roth
on the outside.
Eric Barton
's status is a bit up in the air coming off neck surgery, but I think Jackson is younger and better at this stage. "King Kong"
Marcus Benard
also is a possibility on the outside, but he's likely the first guy off the bench on passing downs. The Browns are not done acquiring players. So some things can still change by training camp.
---
Paul Whitmore from Grand Blanc, Mich.,
wants to know "IF" (in capital letters) Texas quarterback Colt McCoy is drafted, when will he become the starter.
Walker:
I'm glad you emphasized the "if," Paul. Because the Browns
are definitely interested
in McCoy, but with 31 other teams you just never know how the draft will shake out. But if McCoy is drafted as Cleveland's long-term solution at quarterback, the team's goal would be for him to sit at least one year under Delhomme to get use to the speed of the NFL game. But if Delhomme plays the way he played last year, McCoy or any rookie quarterback could see action late next season.
March, 8, 2010
3/08/10
4:00
PM ET
The
Cleveland Browns
have an interesting situation brewing at inside linebacker.
[+] Enlarge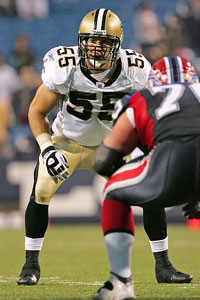 Kevin Hoffman/US PresswireThe signing of Scott Fujita likely means Cleveland will part ways with either Eric Barton or D'Qwell Jackson.
Sunday's free-agent signing of
Scott Fujita
adds to a mix of veterans and youngsters competing at the same position. In the end, there may not be enough room for all of them.
Fujita joins
Eric Barton
,
D'Qwell Jackson
,
Kaluka Maiava
and the versatile
Jason Trusnik
as players who spent time starting at middle linebacker for Cleveland last season.
A starter for the Super Bowl champion
New Orleans Saints
, Fujita didn't come to Cleveland to be a backup. So let's assume he's a starter next fall. That leaves four players -- Jackson, Barton, Maiava and Trusnik -- competing for one starting job.
Barton signed a four-year deal last season and is a favorite of head coach Eric Mangini. But Barton is coming off neck surgery and his health is in question. Jackson has been one of Cleveland's most productive defenders, but he's also coming off a season-ending pectoral injury. Jackson has a second-round tender and could generate some interest in the trade market.
Maiava and Trusnik both are young players who can provide depth.
Because the Browns play a 3-4 defense, they would probably prefer to keep a large surplus of linebackers. But Fujita, Barton and Jackson are a particularly odd trio with tons of combined starting experience and just two jobs available.
Fujita isn't going anywhere. So an educated guess is Cleveland's front office, led by new president Mike Holmgren, likely has to decide between keeping Barton or Jackson this offseason.
August, 17, 2009
8/17/09
1:00
PM ET
| | |
| --- | --- |
| | |
| | Matthew Emmons/US Presswire |
| | Derek Anderson, left, and Brady Quinn continue to battle for the starting QB job. |
Posted by ESPN.com's James Walker
BEREA, Ohio -- It takes only one training camp session to notice who's the new boss of the Cleveland Browns.
Eric Mangini's presence already looms large in Cleveland. Whether it's the improved practice habits, the meticulous charting of plays and game situations, or the constant running of laps after mental errors, the new Browns coach has quickly placed his fingerprints all over this team heading into the 2009 season.
Cleveland is trying to bounce back from an abysmal 4-12 record last year. Most players returning from last season are coming off the worst individual performances of their careers, and part of Mangini's job is to get the best out of them as well as the new additions.
"Nobody cares what anybody did last year," Browns offensive lineman Ryan Tucker said of the team's approach.
But Cleveland still has a lot of issues to address in its first year under new leadership.
Key Questions
1. Who is the starting quarterback?
The Browns have been searching for their franchise quarterback since returning to the NFL in 1999. A decade later there is another controversy at the position involving former Pro Bowler Derek Anderson and 2007 first-round pick Brady Quinn.
Preseason games are going to be huge for these two, and Quinn has jumped out to an early lead with a moderate performance Saturday against the Green Bay Packers. He completed 7 of 11 passes for 68 yards and an interception in a 17-0 defeat, while Anderson didn't fare nearly as well, going 0-for-2 with an interception.
Fantasy Football: 32 Questions

AJ Mass on the Browns' QB situation. Bottom line: It doesn't matter to fantasy owners which QB wins the starting job. Neither guy would be worth starting in fantasy. Story

Mangini says he won't make this decision hastily and will stick with his choice once the decision is made. But based on the offensive system and some early signs, a lot is pointing to the Browns going with Quinn to start the regular season.
2. Will players buy into Mangini's system?
It's no secret that former Browns coach Romeo Crennel was considered a "nice-guy coach." But in four years, that approach didn't work as the team finished with three losing seasons in that span.
| | |
| --- | --- |
| | |
| | Gregory Shamus/Getty Images |
| | New Browns coach Eric Mangini brings a different style of coaching to Cleveland. |
Therefore, the Browns went in the opposite direction in hiring Mangini, who is a stern disciplinarian. At the very least, Mangini expects to clean up some of the lazy mistakes that permeated the team.
There was some butting of heads initially, but at least publicly there haven't been any major dust-ups between Mangini and his players in training camp. It's still questionable if all the players will completely buy into Mangini's disciplinarian approach. Victories probably will be the biggest determining factor of whether everyone stays on board long term.
3. Can the defense improve?
The Browns haven't done many things well defensively the past several seasons. But Mangini and new defensive coordinator Rob Ryan feel they have some answers.
Perhaps the biggest wrinkles that are noticeable in training camp have been added to the pass rush. Ryan is not afraid to bring extra defenders at the expense of exposing his secondary. That is something Cleveland was leery of doing in the past.
Free-agent pickups such as safety Abram Elam and linebackers Eric Barton and David Bowens -- all former New York Jets -- know Mangini's system well and are helping the rest of the defense ease the transition. In the early going, Cleveland's defense looks like the strength of this team.
Market watch
The talent has always been there, but for various reasons receiver Braylon Edwards
has had an up-and-down career in Cleveland.
Edwards got off to a slow start in his first two years because of injuries and rookie mistakes. Then he exploded in 2007 with 80 catches, 1,289 yards and 16 touchdowns. But Edwards faltered again last season by leading the NFL in drops and catching only 55 passes and three touchdowns.
The Browns are counting on the 2007 Edwards to show up this season. This summer he has been the most dominant offensive player in training camp by making spectacular catches look routine. But he did have one drop Saturday in the preseason opener against the Packers.
Much of Edwards' production this year will rely on which quarterback can get him the football. But playing in a contract year, Edwards looks motivated to produce whenever opportunities come his way.
Newcomer to watch
The first draft pick of the Mangini era in Cleveland naturally will have pressure to perform, and that is certainly the case this year with rookie center Alex Mack. The Browns traded down in the first round to select Mack with the No. 21 overall pick.
| | |
| --- | --- |
| | |
| | Gregory Shamus/Getty Images |
| | The Browns are hoping to get early contributions from Alex Mack. |
So far, Mack has been inconsistent in training camp. The Browns are throwing a lot at him mentally and physically. As the center, he has to be aware of all things on offense. In competing with veteran Hank Fraley, Mack also is getting a lot of reps with the second team and is going against Pro Bowl defensive tackle Shaun Rogers, who is dominating most of their one-on-one matchups.
But the Browns are hoping Mack's battles with Rogers help him in the long run when he faces equally stout challenges in the AFC North such as Casey Hampton, Kelly Gregg, Haloti Ngata and Domata Peko.
Observation deck
A crowded field is competing for the No. 2 receiver job opposite Edwards. Rookies Mohamed Massaquoi and Brian Robiskie and veterans Josh Cribbs, David Patten and Mike Furrey are all getting reps at that position. Massaquoi has been the most consistent receiver this summer, but Cribbs also has made a push with a solid preseason opener. ... Rookie tailback James Davis has been one of the early surprises in training camp. The sixth-round pick from Clemson has shown good vision and a burst that may be able to help spell veteran Jamal Lewis. ... Kicker Phil Dawson and Cribbs both are unhappy with their current contracts. But things have been very quiet on that front and it's unknown if the team would be willing to renegotiate with either player before the start of the season.
July, 22, 2009
7/22/09
10:28
AM ET
Posted by ESPN.com's James Walker
Here are links within the AFC North:
Morning take: This is not a surprise for either club. It was just a matter of time before both teams reached an agreement as an another means to bring in revenue.
Morning take: Barton is the most important acquisition of several that came over from the New York Jets. His leadership is desperately needed on a defense that hasn't been good for a long time.
Morning take: Woodson also had the hands of a receiver, as evident by his 71 career interceptions.
Morning take: Leave it to coach John Harbaugh to make special teams one of the most intriguing parts of training camp.
June, 3, 2009
6/03/09
2:00
PM ET
| | |
| --- | --- |
| | |
| | Gregory Shamus/Getty Images |
| | Cleveland's D'Qwell Jackson, who led the NFL in tackles last season, is looking to assert himself as more of a leader on defense in 2009. |
Posted by ESPN.com's James Walker
BEREA, Ohio -- When Eric Mangini first arrived in January and studied the Cleveland Browns' game tapes of 2008, there wasn't much that stood out from their 4-12 season. That was evident after the new coach swiftly executed an immense roster overhaul in his first offseason.
But there was one player who caught Mangini's eye in nearly every game he studied: Browns linebacker D'Qwell Jackson.
Mangini watched Jackson hustle. He saw Jackson flow to the football and make play after play, despite the fact most games were out of reach and playoff dreams were shattered by midseason.
The result for Jackson was an NFL-leading 154 tackles in Cleveland's No. 26-rated defense. His accomplishments last season went mostly unnoticed except in the film room of his new head coach.
"I've really enjoyed watching D'Qwell," Mangini said. "He is pretty much in the frame at the end of every play and that is always what you look for. You always try to count how many defenders are in that last frame and he seems to be everywhere."
Jackson is happy someone recognized his play last season and plans to use it as motivation.
"It's a great compliment coming from the head guy coming in," Jackson said. "Now I got to take it and run. I don't call it pressure but it's my job to fulfill that role. I have to take a bigger leadership role and I have to be the guy to count on these plays."
If Cleveland has any chance of catching up to the Pittsburgh Steelers and Baltimore Ravens in the AFC North, its defense will have to make major strides in 2009.
The Browns are a combined 5-19 against the Ravens and Steelers since 2003, because those two teams physically dominate the Browns at the line of scrimmage. The Cincinnati Bengals split with Cleveland last season but are also making significant improvements this offseason to become a more physical team, following the blueprints provided by Pittsburgh and Baltimore in the division.
Even with Jackson's production, Cleveland was very pedestrian defensively. The Browns failed to stop the run (rated No. 28) in 2008 and couldn't sack the quarterback, posting an anemic 17 sacks in 16 games.

D'Qwell Jackson
#52 LB
Cleveland Browns


2008 STATS
TACK
SOLO
FF
INT
SACK
154
95
0
3
2.0
As a point of reference, Steelers outside linebacker James Harrison had 16 sacks alone in 2008.
"If you look at that defense, he's certainly not the problem," Matt Williamson of Scouts Inc. said of Jackson. "If there are 11 starters, he's probably the second- or third-best guy. [Defensive tackle] Shaun Rogers is their best player on defense, and D'Qwell could very well be their second-best player."
Critics of Jackson often say too many of his 154 tackles were not impact plays. Williamson agrees to some extent but added that one player cannot stop the run alone. It takes all 11 defenders shooting their gaps and knowing their assignments, which has been a challenge for Cleveland in recent years.
"D'Qwell does tend to make a fair amount of his tackles further down the field than you would like, but he is still a very good player," Williamson said. "He's a very good tackler, has good reaction, and he doesn't take many false steps. He's also good in coverage, so there is a lot to like there."
For Jackson to take his game to the next level, the former second-round pick in 2006 will need a lot more help running Mangini's 3-4 defense. Cleveland's coach acquired assistance in the form of several defenders Mangini worked with in his previous stint with the New York Jets.
Veteran starting linebackers Eric Barton and David Bowens, both older than 30, will work closely with Jackson. The Browns also added former Jets at every other level of the defense with safety Abram Elam and cornerback Hank Poteat helping in the secondary and C.J. Mosley adding depth on the defensive line.
But Barton in particular has been a great tutor for Jackson, because Barton will line up next to his younger counterpart at middle linebacker. The two former Maryland Terrapins, seven years apart in terms of experience, are expected to become the leaders of Cleveland's defense and are already developing a good chemistry together.
"All of his career he is a Mangini guy, and you know Mangini is a
smart guy," Jackson said. "That's what Eric Barton stands for; that's what type of guy he is."
From the second Cleveland's new coach turned on the game film, Jackson showed potential to become the latest "Mangini guy." Now it's up to Jackson to prove on the field in 2009 that he deserves that distinct moniker from his new head coach.
April, 13, 2009
4/13/09
9:30
AM ET
Posted by ESPN.com's James Walker
Team needs: Linebacker, receiver, defensive line
| | |
| --- | --- |
| | |
| | Scott Boehm/Getty Images |
| | Because it's unlikely Aaron Curry will be on the board, the Browns should consider defensive lineman Brian Orakpo (above). |
Dream scenario
: Cleveland would love for Wake Forest linebacker
Aaron Curry
to fall into its lap at No. 5. Curry is considered by some to be the best player in the draft. Last month, the Browns desperately needed help at linebacker but figured Curry would be gone, so the team signed former
New York Jets
linebackers
Eric Barton
and
David Bowens
to fill the needs. Barton and Bowens are over 30 and will be stopgap players in Cleveland for a couple seasons. Landing Curry would give the Browns a franchise defensive player to possibly build around for the next decade.
Plan B: If Curry is off the board, the Browns could turn their attention to Texas linebacker/defensive end hybrid Brian Orakpo. New head coach Eric Mangini needs versatile players for his 3-4 defense. Orakpo also brings a pass rush, which was a major weakness last season in Cleveland. Do not completely rule out Cleveland looking at receiver. It recently released receiver Joe Jurevicius and starter Donte Stallworth is facing legal woes that have put his career in jeopardy. With top receiver Braylon Edwards a big name on the trading block, Cleveland will need someone to throw to in '09.
Scouts Inc. take: "Their needs are many. Going across their offense, the Browns need receivers now. I think receiver all of a sudden is a huge need and Michael Crabtree might be a great pick for them. They need a running back-in-waiting. But they really need a pass-rusher. Their pass rush is atrocious, so Orakpo makes sense for them, putting him on the other side of Kamerion Wimbley. I think Wimbley has proven that he is not a No. 1 pass-rusher. He could be OK as a complementary guy. But he's been disappointing when the attention is rolled in his direction. So Orakpo or Crabtree makes the most sense, but they need a lot." -- Matt Williamson, Scouts Inc.
PollCenter: On the Clock

What is the Cleveland Browns' biggest positional need? VOTE
Who has final say: Contractually, first-year general manager George Kokinis has final say on the 53-man roster. But based on the team's moves in free agency -- acquiring four Jets last month -- it's clear that new coach Eric Mangini is pulling many of the strings behind the scenes. The company line is that both Mangini and Kokinis will work together as an equal tandem.
Now on the Clock: Seattle Seahawks.
Previous On the Clock: Cincinnati Bengals. The team-by-team series.
March, 18, 2009
3/18/09
12:30
PM ET
| | |
| --- | --- |
| | |
| | Rob Tringali/Sportschrome/Getty Images; Andy Lyons and Tom Hauck/Getty Images |
| | The AFC North has lost some star power, with Bart Scott and T.J. Houshmandzadeh departing through free agency and Kellen Winslow Jr. sent off in a trade. |
Posted by ESPN.com's James Walker
With the busiest portion of free agency coming to an end, it is officially time to evaluate the decisions made by all four AFC North teams.
The range of activity in free agency varied this year. For instance, the Baltimore Ravens were extremely active in signing and losing players, while the defending champion Pittsburgh Steelers only visited with a couple of players without reaching deals.
Let's examine the moves.
Baltimore Ravens

Grade: B
Key pickups: CB Domonique Foxworth, C Matt Birk, TE L.J. Smith, CB/KR Chris Carr
Key losses: LB Bart Scott, C Jason Brown, S Jim Leonhard, CB Chris McAlister (released), Samari Rolle (released)
Analysis: Going into free agency, I thought the Ravens were doomed for failure with the amount of big names set to hit the open market. Baltimore certainly lost some of those players, but a creative and cost-effective plan allowed general manager Ozzie Newsome to soften the blow. The Ravens lost three key starters in linebacker Bart Scott, center Jason Brown and safety Jim Leonhard. They also released starting cornerbacks Samari Rolle and Chris McAlister. But Baltimore quickly added talent in free-agent cornerback Domonique Foxworth, veteran center Matt Birk, tight end L.J. Smith and return specialist Chris Carr. Keeping Pro Bowl linebackers Ray Lewis and Terrell Suggs were vital. And if the Ravens put together another solid draft class, which is Newsome's forte, Baltimore should be fine in 2009. This good grade is given to the Ravens for their resiliency in coming up with a plan to stay in contention despite losing a wealth of talented players.

Grade: C+
Key pickups: WR Laveranues Coles, QB J.T. O'Sullivan, P Ryan Plackemeier
Key losses: WR T.J. Houshmandzadeh, QB Ryan Fitzpatrick, DL John Thornton (still unsigned), OT Stacy Andrews, C Eric Ghiaciuc (still unsigned)
Analysis: No one was surprised when former Pro Bowl receiver T.J. Houshmandzadeh left Cincinnati for the Seattle Seahawks. But it was surprising when the Bengals paid former New York Jet Laveranues Coles $28 million over four years-- including a whopping $9.75 million in his first year -- to replace Houshmandzadeh. Houshmandzadeh had 90-plus receptions the past two seasons, while Coles is more of a 60- to 70-catch receiver. Someone will have to make up that missing production whether it is a bounce-back year from Chad Ocho Cinco or a career year from one of the young receivers -- Chris Henry, Andre Caldwell or Jerome Simpson -- in the No. 3 role. Keeping tailback Cedric Benson was important, but the team still needs a big-play threat at that position. J.T. O'Sullivan was a decent pickup to back up quarterback Carson Palmer. With Palmer's return, a stellar draft could put Cincinnati in position to surprise next season.
Grade: D+

Key pickups: LB Eric Barton, LB David Bowens, TE Robert Royal, DL C.J. Mosley, OL John St. Clair
Key losses: S Sean Jones, TE Kellen Winslow Jr. (trade), WR Joe Jurevicius (released), OT Kevin Shaffer (released), LB Andra Davis, LB Willie McGinest, RB Jason Wright
Analysis: The Browns are cleaning house, and they probably are not done yet. New coach Eric Mangini and first-year general manager George Kokinis are turning over the roster quickly through every avenue possible. The Browns have not retained most of their in-house free agents such as safety Sean Jones and linebackers Andra Davis
and Willie McGinest. They also cut offensive tackle Kevin Shaffer and receiver Joe Jurevicius and traded former Pro Bowl tight end Kellen Winslow Jr. to Tampa Bay for a pair of draft picks. The replacements have not been overwhelming. Former Jets linebackers Eric Barton and David Bowens are both stop-gap players who are 30-plus. Royal is not nearly as dynamic a tight end as Winslow, and Cleveland still has a lot of holes left to fill in the draft. The Browns are clearly starting from scratch, which is why they are attempting to stockpile draft picks. Coming off a 4-12 season, Cleveland appears to be headed for another transition year in 2009.
Pittsburgh Steelers

Grade: C-
Key pickups: None
Key losses: CB Bryant McFadden, OT Marvel Smith, QB Byron Leftwich (still unsigned), WR Nate Washington
Analysis: Pittsburgh hasn't signed anyone outside of its building. Instead, the team placed its focus on keeping together last year's championship team. The Steelers retained three starters from their offensive line in guard Chris Kemoeatu and tackles Willie Colon and Max Starks and brought back a host of backups and special-teams players. They are staying true to their identity of not being major players in free agency. But it would have been beneficial to add at least one or two offensive linemen from the outside to compete and provide depth. That probably won't happen until next month's NFL draft. Starting cornerback Bryant McFadden bolting to the Arizona Cardinals could be softened if William Gay continues to develop in 2009. The Steelers are banking on it. Pittsburgh also brought in a few intriguing free agents, such as receiver Joey Galloway and cornerback/return specialist Chris Carr, for visits. But its reluctance to pay much on the open market this offseason forced those two players to sign with other teams.