May, 11, 2011
5/11/11
4:53
PM ET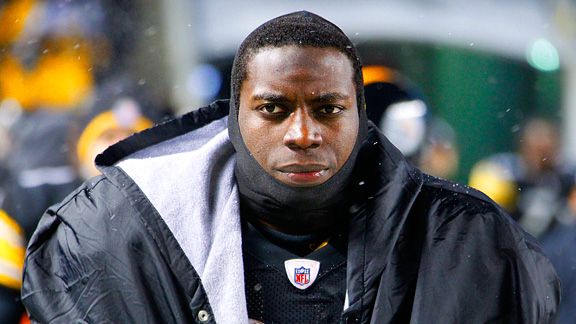 AP Photo/Gene J. PuskarRashard Mendenhall lost a sponsorship deal after tweeting his opinions about Osama bin Laden's death and 9/11.
Ryan Clark
of the
Pittsburgh Steelers
says it's not worth it.
The Steelers' safety first opened a Twitter account in 2010 before the start of the football season, figuring it could be a fun way to communicate with fans.
Less than a year later, Clark had enough and shut down his account.
"I've been on there and had people use the N-word to address you and cuss at you and say things about your family," Clark said. "I've had people around Pittsburgh when they see you out having a drink with the boys say 'Oh, Ryan Clark is doing such and such.' It just became almost an invasion of your privacy in certain ways, and to me the positives from it weren't enough to outweigh that."
NFL players are starting to experience the repercussions of using Twitter. The website and social networking service is less than 5 years old, but in the past two years it has become one of the fastest-growing forms of communication.
Clark's story of quitting Twitter hits close to home because his Steelers teammate,
Rashard Mendenhall
, is among the latest group of high-profile athletes to get into hot water through social networking. Last week Pittsburgh's starting tailback and leading rusher made a
series of controversial tweets
regarding the death of Osama bin Laden and the events of 9/11, which caused a significant backlash.
The Steelers subsequently
issued a statement
and Mendenhall followed with
a clarification and apology
. But it was too late. A few days later, Mendenhall
lost his endorsement deal
with Champion and took a
huge blow to his popularity
-- all over a few 140-character messages.
"Some of these guys don't realize the ramifications down the road," said George Regan, who is chairman of Regan Communications Group in Boston. "You're playing with dynamite. It's very dangerous. They have to treat that as if they're in a press conference before a microphone."
Clark agreed that players need to be more aware when using Twitter.
"A lot of times you're sitting at home or sitting in a restaurant when you do these things, and you're not paying as much attention that it's going to go out to all the people that it does and be scrutinized in that same way," Clark explained. "But every time you step in front of a mike or step in front of a camera, you know tons of people are going to have access to this. Tons of people are going to see it."
[+] Enlarge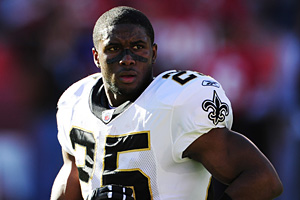 Kyle Terada/US PresswireReggie Bush garnered negative publicity after tweeting he was "making the most" of the lockout with "vacation, rest, relaxing."
New Orleans Saints
running back
Reggie Bush
also
stirred up controversy
via Twitter this week. On Monday, Bush hinted that he's not too concerned about the NFL lockout, which is a sensitive subject in the sports world for fans, players and owners.
"Everybody complaining about the lockout! Shoot I'm making the most of it! Vacation, rest, relaxing, appearances here and there! I'm good!" Bush tweeted. "Right about now we would be slaving in 100 degree heat, practicing twice a day, while putting our bodies at risk for nothing."
Bush later explained he was joking after receiving plenty of negative backlash from his Twitter followers. Tone is something that's very difficult to accurately gauge on Twitter, which Bush learned the hard way.
"You have to be careful about humor," said Chris Rosica, head of Rosica Public Relations in New Jersey. "I would avoid humor in social media, as well as traditional media, because humor can be misconstrued. It's all in the perception of what you say, and online you don't really know the tone of voice."
Everyone is entitled to express opinions. But just as free speech is one of our country's greatest perks, it also can provide major risks for athletes.
The NFL has become America's most popular sport, which helps brand many of the league's good players. Athletes can not only make a lot of money for their athletic ability on the field but their marketability off the field, as well.
Mendenhall, for example, agreed to a 4-year contract extension with Champion on May 1 before the plug was pulled on his endorsement a few days later. Mendenhall essentially took money out of his own pocket through Twitter, which is not a good practice, especially during the NFL lockout.
With the amount of big bucks being spent to market athletes, major companies also are keeping tabs on social media.
"We have a guy here who monitors it all the time and is really into Twitter and following what our players say," Reebok NFL marketing manager Kurt Evans said. "We sign our guys and we have moral clauses in our contracts, and when an issue comes up, we debate what to do about it."
Twitter also can become a headache for public relations staffs for NFL teams, player agents and publicists, who are hired to protect the image of the team and the player. Twitter is often a direct bridge to the brain that cuts out the middle person. It only takes seconds to post the first thought that comes to mind, and once it's out there it becomes fair game for the media and public to consume.
Rarely does an athlete stop to seek advice before tweeting. Although in many cases it's not necessary, Mendenhall certainly could have benefited from consulting with his representation before expressing his controversial views last week. Chances are Mendenhall would have been advised to stay away from the touchy topic of bin Laden and 9/11.
"The problem with Mendenhall is he was giving opinions," Rosica said. "You can really hurt yourself because everyone is going to have a different opinion."
The NFL is still trying to get a handle on Twitter. Last year the league put guidelines in place for the first time during games.
Players cannot tweet or use any form of social media 90 minutes before kickoff until the end of post-game media sessions. Last August
Cincinnati Bengals
receiver
Chad Ochocinco
, who has nearly
2 million followers
, was fined $25,000 for
breaking the league's Twitter policy
in the preseason. But too many restrictions could raise questions about the NFL hindering free speech, leaving most of the onus still on the players.
Thousands of athletes from various sports are very much into social networking. Therefore, it's likely just a matter of time before the next high-profile player has a Twitter controversy.
But Mendenhall and Bush provide the most recent cautionary tales of tweeting gone bad. The biggest lesson athletes can learn from this is to think before you tweet.
March, 16, 2011
3/16/11
1:40
PM ET
The
Pittsburgh Steelers
were
last season's poster children
for the NFL's increased policing of big hits. As the league's most physical defense, Pittsburgh players were getting fined or suffered questionable flags regularly during their run to Super Bowl XLV.
[+] Enlarge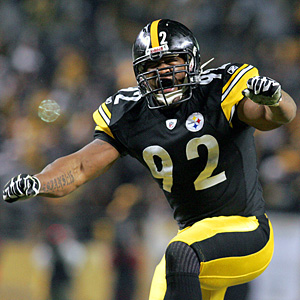 Charles LeClaire/US PresswirePittsburgh linebacker James Harrison received more than $100,000 in fines from the NFL last season.
On Wednesday, NFL vice president Ray Anderson said in a conference call that the league
will be even more stern
in disciplining players next season, especially repeat offenders. That is not good news for Pittsburgh.
But will the Steelers soften their stance? Pittsburgh's biggest strength is its physicality and aggressiveness. It's a major part of the team's identity and storied history.
The Steelers led the league in run defense by a wide margin last season and intimidated quarterbacks with an NFL-best 48 sacks. But according to Anderson, many of those big hits that resulted in fines and personal fouls could lead to suspensions in 2011, which would hurt Pittsburgh in subsequent games.
The Steelers were not shy about venting their frustration. In February they seemed to enjoy using the league's biggest platform -- the Super Bowl -- to call out the NFL. Linebacker
James Harrison
, last season's most-fined player, suggested the league
provide pillows
on the field for players he tackled. Harrison's teammates joined in the fray throughout Super Bowl week, complaining how the league has softened.
Unless the Steelers themselves decide to play softer, we could be heading for another collision course. It's hard to change a team's identity overnight. So expect more controversy, fines and verbal jousting between Pittsburgh and the NFL in 2011.
December, 24, 2010
12/24/10
3:56
PM ET


Two defensive players in the AFC North were fined for hits made in Week 15.
ESPN's Adam Schefter reports
Baltimore Ravens
safety
Ed Reed
and
Cincinnati Bengals
linebacker
Dhani Jones
were fined $10,000 and $15,000, respectively, for a pair of hits on opposing quarterbacks.
Jones made helmet-to-helmet contact during a hit on
Cleveland Browns
quarterback
Colt McCoy
last week's 19-17 victory for Cincinnati. Reed struck
New Orleans Saints
quarterback
Drew Brees
in the neck and head area in Baltimore's 30-24 win.
November, 22, 2010
11/22/10
12:00
PM ET
Here are seven notes and observations from Week 11 in the AFC North:
[+] Enlarge

AP Photo/Thomas E. WitteMarvin Lewis has had a disappointing season in Cincinnati.

Although stranger things have happened, I would be very surprised if Marvin Lewis gets another contract extension with the Cincinnati Bengals. Cincinnati (2-8) lost its NFL-high seventh straight game, and I'm told there are no new negotiations behind the scenes between Lewis and the team. It's also starting to show on the field. In giving up 35 straight points in Sunday's embarrassing loss to the Buffalo Bills, Cincinnati looked like a team playing with an exiting coach. The Bengals didn't respond to adversity in the second half and fell apart. As I mentioned weeks ago, it's time to blow up the Bengals. Cincinnati proved that it is so far away from title contention that it will not be a quick fix. It's time to start over.

Credit Bengals receiver Terrell Owens for finally telling it like it is. Cincinnati players have been putting a good face on this losing streak for weeks publicly. Just recently Owens said "this is the best 2-6 team I've been on." But as the frustration and losing kept adding up, Owens stopped putting spin on the situation.
"What's crazy is the fact that we're just terrible. That's just plain and simple," Owens said after the Buffalo game. "When I say we, that's me included. Let me look you in the eyes and emphasize, we are terrible. Terrible. I have no answers for you. I have no sound bites for you. All I know is, right now, we are terrible."
I have another quick note on the poor officiating in the game between the Pittsburgh Steelers and Oakland Raiders, then we will move on because we don't want referees to be the focus of the blog. But look for the NFL to get at least two appeals this week if the league decides to hand out fines. Linebacker James Harrison and safety Ryan Clark were wrongly called for personal fouls on a pair of clean plays against Oakland. The flags usually raise the NFL's antennas. But I expect both Steelers to file an appeal this week if they are penalized -- and both have good cases.

Pittsburgh coach Mike Tomlin made a subtle but effective change on special teams against Oakland. The Steelers replaced veteran Antwaan Randle El as a punt returner, inserting rookie Antonio Brown. Randle El hasn't given Pittsburgh much as a returner this season, but the Steelers like that he's dependable and doesn't fumble. But Brown, a sixth-round pick, has more big-play ability and returned seven punts for 66 yards. He also had a touchdown return called back because of holding.

The Baltimore Ravens have struggled with ball security recently, and that's something the coaching staff must re-emphasize down the stretch. Baltimore won convincingly over the Carolina Panthers, but the Ravens fumbled four times, losing two. In their previous game against the Atlanta Falcons, the Ravens put the ball on the ground twice, losing one on Lardarius Webb's punt return. This isn't the time of year when you want to get shaky in that department, especially when inclement weather becomes a factor.

Just when the AFC North blog started to give the Cleveland Browns' offensive coaching staff kudos for a string of solid performances, the unit produced another clunker in a loss to the Jacksonville Jaguars. I'm still scratching my head on how the Browns could get only one offensive touchdown after Jacksonville committed six turnovers. Cleveland continued to run tailback Peyton Hillis up the middle for little or no gain when it was clear the Jaguars were gearing up to stop him. But lack of adjustments when things aren't going well has been an issue for Cleveland all season, and it's one reason the Browns are 3-7.

The good news is Cleveland has a chance to get hot with an easier slate of games. The Browns' next four opponents have a combined record of 10-30, starting with next week's game against the Carolina Panthers (1-9). With president Mike Holmgren evaluating head coach Eric Mangini's job status, the goal is to win as many games as possible and finish close to .500. Last year the Browns were 5-11, and they need more than five wins this season to show improvement.
November, 8, 2010
11/08/10
1:30
PM ET
CINCINNATI -- NFL commissioner Roger Goodell said Pittsburgh Steelers Pro Bowl linebacker James Harrison is working to alter his game.

Harrison
Goodell met briefly with the media during an ESPN-sponsored event leading into the "Monday Night Football" matchup with the Pittsburgh Steelers (5-2) and Cincinnati Bengals (2-5). Goodell also met with Harrison last week to discuss his string of fines this season.
Harrison has become the poster child this year for the NFL's increased policing of big hits and player safety. The former defensive player of the year has been fined a total of $100,000 this season for big hits on opposing players.
"I think James is an outstanding player, and he wants to play the game within the rules," Goodell said. "He's certainly a tough football player, and I admire him very much on that level. I think one of the things he's frustrated by is when the offensive player is moving. And when the offensive player is moving, how do I, as a defensive player, adjust?"
Goodell said that is something the league's competition committee will continue to discuss in the offseason.