AFC North:

Flacco's new deal
March, 5, 2013
3/05/13
4:00
PM ET
The
Baltimore Ravens
obviously felt quarterback
Joe Flacco
was worth a six-year, $120.6 million contract, which made him the highest-paid player in NFL history. A majority of the football world does not feel the same way, or at least the part that voted in this week's
SportsNation poll
.
Of the 33,899 votes, 83 percent say Flacco didn't deserve the record-setting contract. Flacco's deal surpassed the five-year, $100 million contract signed by
Drew Brees
eight months ago.
Here are some selected comments from the AFC North mailbag:
Vince from Mount Airy, Md.
: A majority of the comments I have read via many sources regarding Flacco's new deal indicate along the lines that the Ravens are overpaying. These comments are based on the mindset that this contract is reward, which obviously cannot be denied. However, is it not feasible to consider this contract more of an investment?
Robbie from Charlotte, N.C.
: Lucky-throw Joe does not deserve this historic contract. His receivers (and bad Bronco Defense) are the ones he should be thanking. He never would have escaped Denver if "tweedle dumb" would have timed his jump better. #fail
Scott from College Park, Md.
: Is Joe Flacco the best player in the NFL? No. But he signed his deal at the perfect time, coming off of a historic postseason. He didn't sign his contract the same time as
Aaron Rodgers
or
Peyton Manning
, so comparing the deals makes little sense. The Ravens had to lock up their franchise QB, period, and it was a deal that should make both sides happy.
Jake from Altoona, Pa.
: Flacco has done some amazing things since coming into the league, getting into the playoffs and winning at least one game his first five years. That's impressive since no other QB has done that before. Unfortunately, the first few years he rode the coat tails of the defense. Recently, he became a QB worth a high-end contract, but not one to be the highest paid. He's gonna be a good QB for the rest of his career, but I don't see him earning another title short of
Ray Lewis
re-retiring.
Josh from Pittsburgh
: Flacco being the highest-paid player seems to be a massive mistake. Is he the top player? No. Top QB? No. Is he even the top QB in the AFC North? No. But as a Steelers fan I couldn't be happier. Thank you Ozzie.
Scott from Mount Joy, Pa.
: There is no way that Flacco deserves anywhere near the money that he received. More often than not over the course of his career, the Ravens have won in spite of his less-than-stellar numbers. There were even questions about his effectiveness during most of the second half of the 2012 regular season. The Ravens will be regretting this decisions in three years when they have to scramble to fix that very cap-unfriendly $29 million figure.
Denny from Fajardo, Puerto Rico:
Based on what Flacco had been doing, not counting the playoffs, the Ravens might have jumped the gun. Anyway it is too earlly to tell. We'll have to see this September how he plays to see if he's worth the money.
Kevin from Chicago:
Flacco was great in the playoffs, but can't forget that he had the two lowest QBR performances of the entire season last year. You don't pay a record contract to a guy who has the potential to go out on the field and play like the worst QB in the NFL.
Matt from Cincinnati
: Flacco's team has won since he was a rookie, but look at his team and coach. Their defense/coach/runningback have all been elite since his rookie year. Just look at Doug Williams, he had a good playoff run (stat-wise) and never really did anything after.
Karen from Baltimore
: Flacco does not deserve that contract and I'm a true Ravens fan. He's very inconsistent to be high-priced quarterback.
Andrew from Ellicott City, Md.
: Flacco doesn't have the stats to be the highest paid QB ever, but he does have the wins, both regular season and playoff, and a Super Bowl ring. Would you rather have a QB with pretty statistics or a QB who gets you to the playoffs every year and a super bowl win(s).
Doug from Cincinnati:
It was a great deal for Joe Flacco but not for the Ravens, that is unless they are draft savvy and figure out how to manage their cap space over the next six years. Flacco knew that with the rarity of finding even an average QB, that the Ravens wouldn't risk him signing elsewhere which would mean they would be forced to find another QB.
Kyle from Salt Lake City, Utah
: Flacco is an enigma of ups and downs. Highlight material entwined with lowlight blunders. Just like rise and fall with stocks, buy low and sell high is now reversed.
Jason from Portland, Oregon
: Yes, "Joe Flacco is the highest paid player in the NFL" sounds a little strange at first. However, if he wins another Super Bowl or two over the course of that six-year deal, nobody will think it sounds so silly then. I bet any owner out there would pay a QB $120M for two or three Super Bowl trophies.
Donald from Blairsville, Pa.
: I did a double take when I got on the internet and saw the headline that Flacco was the NFL's highest paid player ever. As a Steeler fan, I was thrilled. It is about time the Ravens had to plunk down big money for a QB. That they overpaid for him is even better!
Kyle from Long Beach, Calif.:
"Highest paid" and "the best" are not interchangeable terms. I believe Joe Flacco deserves every dollar, not because he is the best (he's not) but because of his overall value. He wins, he fits into the Ravens culture and he's respected in the locker room. You shouldn't pay players for individual statistics (just ask Philly how that worked for them), you should pay for wins and championships.
Dan from Los Angeles
: What if I told you that you were going to draft a QB in the first round and that QB would win a playoff game every year for the first four years and never miss a start. Then in his fifth year, he was going to win the Super Bowl in a fashion only rivaled by
Joe Montana
. And then I told you after the Super Bowl win he was going to be the highest paid player in the league. You'd say, "That's about right."
March, 4, 2013
3/04/13
9:22
AM ET
When
Baltimore Ravens
quarterback
Joe Flacco
signs his six-year, $120.6 million contract today, $52 million of that is guaranteed, according to a report in
USA Today
. The Super Bowl MVP will receive $51 million over the first two years of the deal and $62 million over the first three years.
It's a cap-friendly deal for the first two years, according to
Sports Illustrated
. Flacco will count $6.8 million against the Ravens' $123 million salary cap this year. That means Flacco takes up 5.5 percent of the cap for the upcoming season. Four other Ravens (
Terrell Suggs
,
Haloti Ngata
,
Anquan Boldin
and
Marshal Yanda
) all will have bigger cap numbers in 2013.
Flacco's cap number makes a modest jump to $14.8 million in 2014. Where it gets tricky for the Ravens is in the fourth year of the contract, according to Peter King of SI. Flacco's cap number will balloon to $29 million. King estimates that will account for 22 percent of the cap in 2016.
So, based on those figures, Flacco will make $62 million over the first three years (an average of $20.6 million) and will force the Ravens to rework his deal in 2016. And with Flacco being 31 at that point, which is still a prime age for a quarterback, don't expect him to accept a
Tom Brady
-like deal.
March, 3, 2013
3/03/13
10:00
AM ET
Our friends at
Pro Football Focus

believe
Joe Flacco
's record-setting contract carries bust potential. It's an Insider article, so you'll need a subscription to read the entire post. Let's just address two of the issues presented:
Flacco
Pro Football Focus
: Of 38 quarterbacks who attempted at least 175 passes, Flacco had the 33rd (or sixth-worst) adjusted accuracy percentage (a stat that accounts for drops, spikes and throwaways), behind guys such as
Blaine Gabbert
,
Nick Foles
and
Sam Bradford
. In part, the Ravens got to the postseason
in spite of him
, with his play on the field largely forgettable at times.
Rebuttal defending Flacco
: It's an exaggeration to say the Ravens went to the postseason in spite of him. It's absolutely true that Flacco struggled with consistency and hardly looked like a Super Bowl MVP at points during the regular season. Still, in 10 wins in 2012, Flacco threw 14 touchdowns and four interceptions for a 97.6 passer rating. By that standard, Flacco played a big part in winning games and getting Baltimore to the playoffs for a fifth consecutive season.
Pro Football Focus
: Roughly speaking, if he could repeat his four-game postseason performance in a regular season, then, in our performance-based value calculations, Flacco would be worth roughly $15 million per year, which would be second among all quarterbacks.
Rebuttal
: The problem is, the Ravens aren't paying him solely on what he accomplished in the postseason, although it would be safe to say he could name his price as the Super Bowl MVP. You can justify what Baltimore gave Flacco based on his playoff performance over the past three years. Since 2010, Flacco 6-2 in the postseason with 18 touchdowns and two interceptions. He would've guided the Ravens to consecutive Super Bowls if
Lee Evans
had held onto the ball in the end zone in the AFC Championship Game. Plus, Baltimore sees this as an investment in a 28-year-old quarterback who is entering his prime.
March, 2, 2013
3/02/13
10:30
AM ET
Here are some featured statistics for Ravens quarterback
Joe Flacco
, who became the highest-paid NFL player on Friday:
0
-- Number of Pro Bowls for Flacco. Since he came into the league, 22 other quarterbacks have been named to the Pro Bowl.
1
-- Flacco is the only quarterback in NFL history to win a playoff game in each of his first five seasons.
3
-- Career-high rushing touchdowns in 2012.
6
-- Road playoff wins for Flacco, most in NFL history.
9
--Playoff wins since 2008, which ties
Tom Brady
for the most in a NFL quarterback's first five seasons.
10
-- Interceptions in 2012, the third-fewest among quarterbacks with at least 500 pass attempts.
12
-- Times he got hit while throwing the ball, fourth-most in the NFL.
18
--NFL-best completions on passes of 30 or more yards when not being blitzed.
29.8
-- Total QBR in 2012 road games.
40
-- Completions of 25 or more yards in 2012, which was second to
Drew Brees
.
48
-- Career fumbles in 80 games, an average of one every 1.6 games.
60.5
-- Career completion rate. He's failed to complete 60 percent of his throws the past two seasons.
66.3
-- Total QBR in 2012 home games.
80
-- Consecutive starts for Flacco, which ranks only behind
Eli Manning
(135 games) and
Philip Rivers
(112) for longest current streaks.
87
-- Passer rating on third downs, which ranked 12th in the NFL in 2012.
103.1
-- Passer rating in the fourth quarter, which ranked fourth in the NFL in 2012.
120.6
-- Millions of dollars on the six-year contract that Flacco will sign Monday.
A special thanks to ESPN Stats & Information and the Ravens' public-relations department for help with these numbers.
March, 1, 2013
3/01/13
10:45
PM ET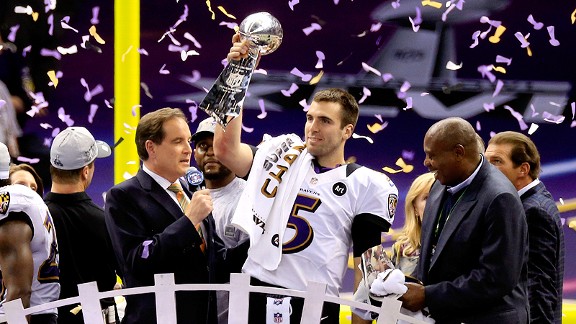 Jamie Squire/Getty ImagesJoe Flacco played his best in crunch time -- and now has a trophy and a huge payday to show for it.
Remember when you made fun of
Joe Flacco
after he said he was the best quarterback in the NFL last April? Like so many times over the past two years, Flacco had the last laugh. Except this time, he's laughing all the way to the bank.
Flacco became the highest-paid player in NFL history when he agreed to a six-year, $120.6 million contract Friday, according to ESPN NFL Insider Adam Schefter.
Did the Ravens overpay him? Certainly. Should Flacco get paid more than
Tom Brady
and
Peyton Manning
? No way. But those questions are really irrelevant when it comes to contracts in the NFL, which is all about timing. When Flacco hoisted the Lombardi trophy 26 days ago, he essentially had the Ravens in the palm of his hand as well as having the leverage. Flacco put the Ravens in a situation in which they were forced to do everything in their power to sign the Super Bowl MVP, and he made them pay handsomely to do so.
Don't criticize the Ravens for giving a lottery jackpot to a quarterback who has never been to a Pro Bowl. Instead, you should applaud Flacco for earning it by playing his best when it mattered most. He really did put his money where his mouth is. Flacco could have played it safe by signing a deal worth $16 million per year before this season. But he gambled on himself, and the rest is Super Bowl -- and NFL contract -- history.
He put up Joe Montana-like numbers in the playoffs, throwing 11 touchdowns and no interceptions. He outplayed Brady and Manning in the postseason. In four playoff games, Flacco was unquestionably the best quarterback in the league. It was time to reward him.
The Ravens were going to pay Flacco at some point, whether it was the exclusive franchise tag ($19 million) or a long-term deal. And if the Ravens weren't going to give it to him, the Browns, Cardinals and Jaguars would have been more than happy to sign that record-setting check. But the Ravens were never going to let go of Flacco. Baltimore knows how hard it is to find a franchise quarterback. The Ravens went through 15 starting quarterbacks in their first 12 years of existence -- from Vinny Testaverde to Troy Smith -- before drafting this big-armed, lanky prospect out of the University of Delaware.
Critics of Flacco, and there are still some even after the Super Bowl, mistakenly focus on what Flacco isn't. He isn't consistent. He isn't a 4,000-yard passer in the NFL like Brady,
Drew Brees
or
Aaron Rodgers
. He isn't an on-field general like Manning.
But Flacco is a winner. His nine playoff victories are tied with Brady for the most ever by a quarterback in his first five seasons. His 63 wins since 2008, including the regular season and playoffs, are six more than anyone else during that same span, according to ESPN Stats & Information.
Flacco is a strong-armed playmaker. His 40 passes of at least 25 yards in the 2012 regular season ranked behind only Brees (47). In the playoffs, he completed 13 of 26 throws of 21 yards or more, including four that went for touchdowns.
And Flacco is tough. He has never missed a start in his five-year NFL career, a streak of 80 consecutive games (currently third-longest in the NFL).
More than anything, Flacco is hitting the prime of his career at age 28. The Ravens are not just paying Flacco for what he did. They are investing in what he will do for this team. Long defined by defense, the Ravens are transitioning to an offensive team, and this deal makes Flacco the centerpiece of that.
The risk, of course, is Flacco failing to live up to the expectations of being the NFL's highest-paid player. Before his torrid playoff run, Flacco finished 19th in completion rate (59.7), 15th in touchdown passes (22), 16th in passing yards per game (239) and 25th in Total QBR (46.8). Last season, he also produced more games of fewer than 200 yards passing (six) than with more than 300 yards (five).
The Ravens, though, are banking on Flacco's history when it comes to challenges. They used to say he couldn't beat
Ben Roethlisberger
. They doubted whether he could elevate his game in the playoffs. They wondered whether he could ever lead the Ravens to the Super Bowl. Over the past two seasons, Flacco has beaten Roethlisberger twice, has thrown 15 touchdowns and one interception in the playoffs, and came within a failed catch by
Lee Evans
of taking Baltimore to the Super Bowl in consecutive years.
And, months after Flacco was ridiculed for saying he was the best quarterback in the NFL, he delivered a postseason for the ages. Flacco doesn't say much, but he obviously relishes having the last word.
Flacco's deal is a benchmark for other NFL quarterbacks such as Rodgers and
Matt Ryan
. It has more meaning for the Ravens. In a year when the team said goodbye to linebacker
Ray Lewis
, the Ravens made an unprecedented commitment to Flacco. This is now Flacco's team, and he certainly earned it.
March, 1, 2013
3/01/13
7:54
PM ET
Joe Flacco
agreed to a six-year contract in excess of $120 million that makes him the highest-paid player in NFL history, according to
ESPN NFL Insider Adam Schefter
.
Flacco's deal surpasses the one signed by Saints quarterback
Drew Brees
, who reached a five-year, $100 million contract last July.
More thoughts on this record-setting contract to follow.
March, 1, 2013
3/01/13
6:55
PM ET
Quarterback
Joe Flacco
agreed to a
long-term deal
with the
Baltimore Ravens
Friday that is expected to make him the highest-paid quarterback in NFL history, a source told ESPN's Adam Schefter.
The deal, which Flacco will sign Monday, comes four days before the Ravens would have placed the franchise tag on the Super Bowl MVP. The exact numbers of the agreement have not been released.
I will post more on this news later this evening.