October, 4, 2012
10/04/12
11:00
AM ET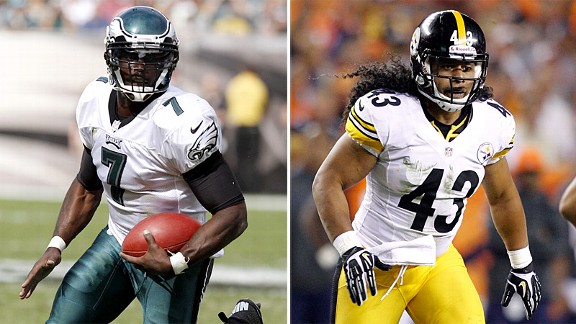 Icon SMI, AP PhotoMichael Vick, left, needs another turnover-free game against Troy Polamalu and the Steelers.
AFC North blogger Jamison Hensley and NFC East blogger Dan Graziano discuss the issues surrounding Sunday's game between the Philadelphia Eagles (3-1) and the Pittsburgh Steelers (1-2):
Jamison Hensley
: While there will be plenty of talk this week about
Peyton Manning
going against
Tom Brady
, the biggest game of the week is the Philadelphia Eagles at the Pittsburgh Steelers. That's where myself and NFC East blogger extraordinaire Dan Graziano come in. To get you prepared, we decided to provide some "Double Coverage" for this game. A major storyline will be turnovers. The Steelers don't force any, and the Eagles seem to give the ball away like Christmas gifts. Pittsburgh has only three takeaways this season and had a league-low 15 last season. Dan, what's the over-under on Eagles turnovers for this one?
Dan Graziano
: Wow, what an introduction, "blogger extraordinaire." I'll take it, even if I do remember being a little punchy myself in that sleep-deprived, new-dad phase way back when. As for turnovers, yeah, the Eagles turned it over 12 times in their first three games, which always looks like a misprint but isn't. They did not turn it over once against the Giants on Sunday night, and it's a good thing, too, since they only won by two points and a few field-goal inches. My sense is that it's easy for these NFC East teams to get and stay focused when they're playing the Giants (as I think the Cowboys showed in Week 1, as well), and that maintaining the newfound responsibility for ball security will be a greater challenge for
Michael Vick
this week in Pittsburgh. It's encouraging for the Eagles that this year's Steelers haven't been too opportunistic, because I think if the Eagles don't turn the ball over they can beat just about anybody. But I'll set the over/under at 2, and I think if they're under they'll win. What's the latest on linebacker
James Harrison
and the injury situations on defense in Pittsburgh? That could have a lot to say about this, as Vick is more turnover-prone when pressured.
JH
: Injuries have really taken a toll on the Steelers. It's gotten so bad that I have ESPN injury expert Stephania Bell as one of my favorites in my iPhone contact list. Steelers coach Mike Tomlin said Tuesday that he's optimistic that safety
Troy Polamalu
and Harrison will both play against the Eagles. I see Polamalu starting, but my guess is Harrison will be limited. The Steelers are always smart with their injured players, and they will look to ease Harrison back. He had a setback with his knee last week. That's why Harrison could be more of a pass-rush specialist Sunday. The return of Polamalu helps the Steelers, because he brings unpredictability. Quarterbacks don't know where he's going to line up, even though it's hard to miss him with that helmet of hair. If Harrison does play, the Steelers have a much better shot at getting to Vick. Without Harrison, Pittsburgh has just five sacks this season. The Steelers also expect to get back running back
Rashard Mendenhall
, who hasn't played since tearing his ACL in last year's season finale. Pittsburgh ranks 31st in the NFL in running the ball, and the hope is Mendenhall can provide a boost in that area. Is there any chance the Steelers will have success running the ball against the Eagles?
DG
: Chance, sure, but this isn't your older brother's Eagles defense. All the tackling and gap-control problems they had last season that led to allowing big plays in the run game seem to have been shored up with the addition of
DeMeco Ryans
at middle linebacker and
Mychal Kendricks
on the strong side. The Eagles have turned the ball over 12 times in four games, scored just 66 points, and are 3-1. Their defense isn't playing well, it's playing great. And I imagine it will have to continue to do so. Polamalu is a bad matchup for a quarterback like Vick, who doesn't read blitzes or defenses well and doesn't always see all of his available options down the field. I'm thinking this could be a low-scoring game. One thing I'm interested to see is how the Eagles set up their coverages against the Steelers' receivers.
Nnamdi Asomugha
seems to be having trouble staying with the speedier guys, so
Dominique Rodgers-Cromartie
has been taking most of those assignments and handling them very well. Which of the Steelers' great receivers is the burner?
Mike Wallace
still?
JH
: Wallace is still the best deep threat on the team. He didn't attend offseason workouts in the spring or training camp to protest the lack of a new contract, but he kept himself in great shape.
Antonio Brown
is quick as well, and he finds a way to get open on the crossing routes. Generating big plays, though, has been a problem for the Steelers this season.
Ben Roethlisberger
is averaging 7.5 yards per attempt (12th in the league) and is one of four starting quarterbacks who have yet to complete a pass beyond 40 yards. New offensive coordinator Todd Haley has been stressing a short passing game. I expect the Steelers to take more shots against the Eagles if Roethlisberger has enough time to throw it. And that's a big "if." This is essentially the same offensive line that failed to protect Roethlisberger last season. Should the Steelers be worried about the amount of pressure the Eagles will bring?
DG
: They should. The Eagles didn't get a sack Sunday night, and I believe they're annoyed about that. The Giants helped out their tackles by chipping the defensive ends, and most of the pressure the Eagles produced against
Eli Manning
was from the interior, where
Cullen Jenkins
and
Fletcher Cox
had great games. The Eagles believe they're eight deep with quality defensive linemen. They believe in pressuring the quarterback with the front four, so they don't blitz much. I'm interested to see whether they can contain and wrap up Roethlisberger if and when they get to him, since his reputation is that of a guy who keeps plays alive longer than most, where someone like Manning gets rid of the ball quickly. Different challenge for the Eagles' front this week, but they believe they're deep and talented enough to keep the pressure up for all 60 minutes. This time last season, the Eagles were 1-3 having blown three fourth-quarter leads. This year, the fourth quarter is where they've been at their best. Do you think coming off the bye helps the Steelers against a team built on the idea of outlasting people?
JH
: If the Eagles are annoyed about not getting a sack, you can imagine what the Steelers are feeling after failing to hold a 10-point lead in the fourth quarter at Oakland. The Steelers had an extra week to think about how they allowed
Carson Palmer
and the Raiders to score on all three of their fourth-quarter possessions to pull off the upset. This has been a bad trend for the Steelers this season. In their two losses (at Denver and at Oakland), the Steelers have been outscored 30-6 in the fourth quarter. That being said, Pittsburgh is a different team when playing at Heinz Field. The Steelers have won nine of their past 10 at home. In its win against the Jets, Pittsburgh shut out New York for the final 39 1/2 minutes, which doesn't seem much of an accomplishment after this past weekend. You know their recent fourth-quarter collapses have to be in the back of the Steelers' mind when they're watching film of Vick's late-game heroics. Do you think this game comes down to the final couple of minutes?
DG
: It probably should. The Eagles' offense hasn't played well enough to think they could run away with a game in a place like Pittsburgh, and the defense has played too well to forecast a blowout in the other direction. What's amazing is what a difference a year makes, and the idea that after what happened last year you might pick Vick and the Eagles to win a game in the final minutes against Roethlisberger and the Steelers. But they did it Sunday against Manning and the Giants, so anything is possible. This season's Eagles are definitely tougher than last season's were. I think it should be a good game, and I look forward to seeing you there Sunday.
April, 6, 2012
4/06/12
2:00
PM ET
Our ESPN NFL Insider Adam Schefter put down his BlackBerry for a few minutes to address the Steelers' draft in
his latest mailbag

. This is what Schefter had to say when asked about Pittsburgh's priority in the draft:
This draft is so deep at defensive tackle that it's easy to see the Steelers looking in that direction on draft day. The one thing about Pittsburgh's defense is that it's aging, quickly -- the Steelers need an infusion of youth and talent. Then again, they also could use some reinforcements to help protect Ben Roethlisberger. But the needs along the defensive line would seem to be the most pressing and if there's a bona fide prospect available, Pittsburgh could pounce on him.
There's no question that the Steelers have depth issues on the defensive line. Nose tackle
Casey Hampton
(ACL) might start the season on the Physically Unable to Perform (PUP) list, which would sideline him for the first six games. Defensive end
Aaron Smith
was released and longtime backup nose tackle
Chris Hoke
retired.
According to
ESPN's Mel Kiper Jr.

, the top defensive tackles in the draft are: Memphis'
Dontari Poe
, LSU's
Michael Brockers
, Mississippi State's
Fletcher Cox
, Michigan State's
Jerel Worthy
and Cincinnati's
Derek Wolfe
. Poe and Cox are expected to be drafted before the Steelers pick at No. 24. Most mock drafts have the Steelers taking Alabama inside linebacker
Dont'a Hightower
in the first round.
March, 30, 2012
3/30/12
2:00
PM ET
ESPN's Todd McShay offered the
fourth version of his 2012 mock draft

this week. Here's a look at the AFC North part of it:

4.
Cleveland Browns
Version 1.0
:
Trent Richardson
, RB, Alabama
Version 2.0
:
Robert Griffin III
, QB, Baylor
Version 3.0
: Richardson
Version 4.0
:
Justin Blackmon
, WR, Oklahoma State
Hensley's comment
: I agree with version 3.0 more than 4.0. Blackmon doesn't have the speed that the Browns really need at wide receiver. That's why the Browns should go with Richardson at this spot.

17.
Cincinnati Bengals
Version 1.0
:
David DeCastro
, G, Stanford
Version 2.0
:
Dre Kirkpatrick
, CB, Alabama
Version 3.0
: Kirkpatrick
Version
4.0
: DeCastro
Hensley's comment
: It will be a tough decision for the Bengals if DeCastro and Kirkpatrick are still available at this spot. DeCastro would make more of an immediate impact for the Bengals, who have done a nice job of adding veteran cornerbacks this offseason.

21. Cincinnati Bengals
Version 1.0
:
Alfonzo Dennard
, CB, Nebraska
Version 2.0
:
Lamar Miller
, RB, Miami
Version 3.0
:
Fletcher Cox
, DT, Mississippi State
Version 4.0
:
Stephon Gilmore
, CB, South Carolina
Hensley's comment
: If the Bengals want to take a cornerback here, the choice is between Gilmore or
Janoris Jenkins
. While Jenkins has better coverage skills, Gilmore doesn't have the same character issues as Jenkins. Don't rule out a wide receiver at this spot either.

22. Cleveland Browns
Version 1.0
:
Kevin Reddick
, OLB, North Carolina
Version 2.0
:
Michael Floyd
, WR, Notre Dame
Version 3.0
:
Michael Brockers
, DT, LSU
Version 4.0
:
Mike Adams
, OT, Ohio State
Hensley's comment
: Version 4.0 is a better prediction than Brockers, because the Browns have a big need at right tackle. But there are concerns, because Adams lacks a mean streak, which is a must-have in the AFC North. The Browns might wait until the second round to take a right tackle.

24.
Pittsburgh Steelers
Version 1.0
:
Jarvis Jones
, OLB, Georgia
Version 2.0
: Adams
Version 3.0
:
Dont'a Hightower
, ILB, Alabama
Version 4.0
: Hightower
Hensley's comment
: This still seems like a no-brainer to me. Hightower would step into the void left by
James Farrior
. Pittsburgh could also take an offensive lineman or cornerback in the first round.

29.
Baltimore Ravens
Version 1.0
: Adams
Version 2.0
:
Vontaze Burfict
, ILB, Arizona State
Version 3.0
:
Peter Konz
, C-G, Wisconsin
Version 4.0
:
Harrison Smith
, S, Notre Dame
Hensley's comment
: There is a definite need at safety.
Ed Reed
and
Bernard Pollard
are entering the final years of their contact, and longtime backups
Tom Zbikowski
and
Haruki Nakamura
signed elsewhere this offseason. Smith, who had been pegged as a second-round pick, has been rising up boards recently. I'm just not completely sold on his playmaking ability.