November, 24, 2011
11/24/11
9:52
PM ET
In taking a 6-3 halftime lead over the 49ers, the Ravens have been getting after San Francisco quarterback
Alex Smith
with five-man pressures. Smith was sacked four times on his first nine drop backs.
Cory Redding
has two sacks, his first multi-sack game since 2006 (which also came against the 49ers).
Haloti Ngata
and
Tom Zbikowski
also had sacks.
Here are some other thoughts at halftime of Ravens-49ers:
The 49ers have given up the second-fewest offensive touchdowns this season, but the Ravens helped out San Francisco late in the first half. Shortly after a 50-yard pass interference penalty, the Ravens had first-and-goal from the 3-yard line and didn't crack the end zone. Baltimore chose to run Ray Rice wide on second down (for a 4-yard loss) and call a quarterback draw on third down (for no gain).
San Francisco had a 75-yard touchdown pass to Ted Ginn negated by Frank Gore's chop block. Ginn ran past Cary Williams, who never did pick up the ball in the air. Instead of a touchdown, that drive ended with the 49ers backed up at their own 9-yard line.
Despite playing the strong 49ers run defense, the Ravens have stayed committed to the run. Rice has 12 carries for 39 yards. His longest run was 10 yards.
The Ravens don't seem to be missing Ray Lewis (who is out with a toe injury) in the first half. Gore has 21 yards on nine carries, a 2.3-yard average.
November, 23, 2011
11/23/11
4:00
PM ET
This Thanksgiving night contest features two division leaders: the
San Francisco 49ers
, who are on the verge of clinching the NFC West, and the
Baltimore Ravens
, who are tied with the
Pittsburgh Steelers
atop the AFC North. San Francisco has won eight straight games and hasn't lost since Sept. 18. The Ravens have won seven straight at M&T Bank Stadium, which is currently the second-longest home win steak in the NFL.
Here are five things to watch:
[+] Enlarge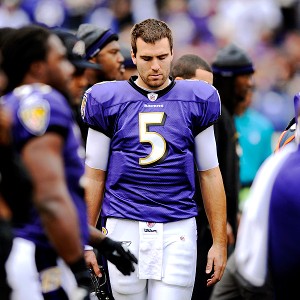 AP Photo/Nick WassJoe Flacco has been inconsistent in prime-time appearances so far this season. How will he fare against a tough San Francisco defense?
1. Ravens need to get off to a fast start
. The 49ers are 4-0 in the Eastern time zone this season, but they are traveling cross country on four-days rest. San Francisco coach Jim Harbaugh said earlier this week that his team got "the short end of the straw" as far as scheduling, so it's in the head of the 49ers. San Francisco could get off to a sluggish start as a result. The Ravens have jumped on teams at the start of games, outscoring opponents, 62-30, in the first quarter. The Ravens are 28-5 under John Harbaugh when scoring first.
2. X-factor is Frank Gore
. The Ravens' run defense ranks fifth in the NFL, but it's been Baltimore's undoing this season. In their past two losses, the Ravens have given up 100 yards to Jacksonville's
Maurice Jones-Drew
and Seattle's
Marshawn Lynch
. Baltimore's focus will be stopping Gore, who has the most 100-yard games (29) over the past six years. To stop Gore, you need to be as physical as he is. Ravens inside linebacker
Ray Lewis
, who missed his first game last Sunday since 2007, has been limited in practice this week.
3. The decision-making of Alex Smith
. One of the reasons for the 49ers' surprising success has been the play at quarterback. Smith just doesn't lose games. He has thrown four interceptions, which is the fewest among NFL quarterbacks with multiple starts. The Ravens thrive on creating turnovers and picked off Bengals rookie
Andy Dalton
three times Sunday. Since 2008, only the
Green Bay Packers
have more interceptions than the Ravens.
4. Which Joe Flacco will show up?
The national television audience has seen the best and the worst of the Ravens quarterback. On Sunday Night Football against the
New York Jets
, Flacco didn't complete a pass in the second or third quarters. On "Monday Night Football" in Jacksonville, he went the first 40 minutes without recording a first down. And on Sunday night in Pittsburgh, he led the Ravens on a 92-yard winning drive in the final minutes of the game. It'll be interesting to see what kind of performance the Ravens will get out of Flacco against the NFL's 23rd-ranked pass defense.
5. Field-goal battle could heat up
. The defenses for Baltimore and San Francisco have allowed the fewest offensive touchdowns this season. The Ravens have given up a league-low 13 offensive touchdowns, while the 49ers are right behind with 14 given up. This could mean a lot of field goals and possibly a lot of long-range field goals. San Francisco's
David Akers
has made all five of his kicks beyond 50 yards. Baltimore's
Billy Cundiff
has missed five of his six attempts from that range.
November, 23, 2011
11/23/11
7:33
AM ET
Every morning, grab a cup of coffee and get your AFC North wake-up call here:
Steelers coach Mike Tomlin described the team's meeting with NFL commissioner Roger Goodell last week as "very productive," according to the
Pittsburgh Tribune-Review
.
Tomlin and team president Art Rooney II went to league headquarters in New York to talk to Goodell about player safety and fines given to Steelers players. While Tomlin declined to reveal any specifics about the conversation, he likely brought up
Ryan Clark
's $40,000 fine for hitting Baltimore's
Ed Dickson
(which Tomlin called "excessive" at the time).
"We exchanged some ideas, and I think the meeting was born out of a conversation with Art and the commissioner," Tomlin said Tuesday. "They thought it would be productive for all of us to sit down and talk. It (was) good bye-week stuff."
Hensley's slant
: While I don't think the NFL is targeting the Steelers -- they rank 24th in the NFL in penalties -- Pittsburgh is obviously doing something wrong in the league's eyes. The Steelers have been fined a reported 13 times this year totaling $182,500 (according to the Tribune-Review). It reflects well on the Steelers organization to be proactive on such a touchy -- and expensive -- subject.
BENGALS: After watching film, offensive coordinator Jay Gruden came away more impressed with Andy Dalton despite the rookie quarterback's three interceptions and a second consecutive loss to an AFC North team, according to Bengals.com. "He had a [heck] of a game. Three mistakes and all three of them I can live with," Gruden told the website. "He did a great job. For the most part having to come from behind and throw that many times ... he kept us in it. They tried to rattle him and blitz him and he stood in there like a champ." Hensley's slant: Gruden isn't the only one who was impressed. Once Dalton eliminates his second-half mistakes, he's going to give these defenses fits for years to come. What I've been most impressed with Dalton is his anticipation when making throws. He doesn't look like a rookie with that awareness. As Ravens coach John Harbaugh said after the game: "He's a guy we're going to have to learn to deal with."
BROWNS: As the team's website put it, it was another typical day at the office for the Browns defense last Sunday. Of the Browns' four victories this season, only one has been decided by more than 7 points. The defense held the Jaguars out of the end zone in the final minute last Sunday despite being backed up at the Browns' 1-yard line. "When games are put in our hands to win, we've shown up," cornerback Dimitri Patterson said. Hensley's slant: Yes, the Browns rank first against the pass. But the statistic that jumps out to me is the Browns are eighth in red-zone defense. Cleveland has given up 12 touchdowns on 28 drives inside its own 20-yard line. In the Browns' four wins, they've allowed 12 points in those situations. Pretty impressive.
RAVENS: Baltimore is gearing up for a physical matchup with 49ers running back Frank Gore. "This one, he is very special," outside linebacker Terrell Suggs said, via the Carroll County Times. "He runs angry. He runs very aggressive. We like that. We like the rough stuff." Hensley's slant: Lapses in run defense have cost the Ravens this season. In its past two losses, Baltimore has given up 100 yards to Jacksonville's Maurice Jones-Drew and Seattle's Marshawn Lynch. So stopping Gore is a priority for the Ravens.
October, 20, 2011
10/20/11
8:00
AM ET
Every morning, grab a cup of coffee and get your AFC North wake-up call here:
Carson Palmer
declined to reveal why he decided not to report to the Bengals in an interview with
The Cincinnati Enquirer
, but the former franchise quarterback acknowledged it was a "selfish decision."
Still, that didn't stop Palmer from watching every Bengals game this season and being happy with the Bengals' surprising 4-2 start.
"As much as some might find it hard to believe, I want them to succeed," Palmer told the newspaper. "There are a lot of great guys on that team and there is a young, talented group. They look real good."
Palmer was traded from the Bengals to the
Oakland Raiders
on Tuesday. When he decided to hold out, he never expected it would take until the NFL trading deadline before a deal would get done.
So why did Palmer choose to sit out instead of playing for Cincinnati?
"It was a number of different things but I spoke my peace with them [the organization]. It was just time," Palmer said. "I know this was a selfish decision. I had my meeting at the end of last season with [Bengals owner
Mike Brown
] and said the best thing to do was to move on and rebuild with the young talent and nucleus that they had. I'm glad that he realized that."
Hensley's slant:
Yes, everyone can agree that Palmer was selfish and Brown was stubborn. Let's just thank the Raiders for their generosity to get this deal done so Palmer and the Bengals can move on after a 10-month stalemate. This has to go down as the longest divorce in NFL history.
BROWNS: Injuries are becoming an increasing concern for Cleveland, which practiced without running back Peyton Hillis (hamstring), cornerback Joe Haden (knee), linebacker Scott Fujita (concussion) and backup safety Ray Ventrone (hamstring). "I can't tell you the status of all four of these guys for the game Sunday," coach Pat Shurmur told The Cleveland Plain Dealer. Hensley's slant: Even though Hillis hasn't contributed much, his loss would be significant against Seattle, which leads the NFL in fewest yards allowed per carry (3.1). The Seahawks haven't given up more than 70 yards to a running back this season including the 49ers' Frank Gore (59 yards), the Steelers' Rashard Mendenhall (66), the Falcons' Michael Turner (70) and the Giants' Ahmad Bradshaw (58).
RAVENS: Head coach John Harbaugh said the presence of receiver Anquan Boldin factored into the team's decision not to keep Derrick Mason and Todd Heap this offseason. Harbaugh said via The Baltimore Sun: "Because you knew you had Anquan there with the young guys and Anquan being that kind of go-to guy that [quarterback] Joe [Flacco] could have this year and try to make sure that those guys kind of develop that relationship, and I think you'll see it growing. It was there early last year, and it's something we need to keep building." Hensley's slant: Have to disagree here because Flacco has never had the same chemistry with Boldin as he did with Mason or Heap. Before his 132-yard performance last Sunday, Boldin averaged 55.5 yards receiving in his first four games. He also was held to 15 yards or less receiving in his final three regular-season games last season. The Ravens need to continue to build this connection between Flacco and Boldin, particularly with Lee Evans remaining sidelined.
STEELERS: Ben Roethlisberger tried to persuade offensive coordinator Bruce Arians to go no huddle in the fourth quarter last Sunday in an attempt to get the Steelers out of their slump. "A lot of it is that I am calling the plays, so I can see the defenses," Roethlisberger told The Pittsburgh Tribune-Review. "When a play is called from the sidelines, it's based off tendencies, which when you have a good coordinator like we do they know tendencies pretty well. I have a feel for who is playing well and who is doing good things. It's a rhythm thing." Hensley's slant: The Steelers need to do something to shake up an offense that ranks 22nd in the NFL in scoring. When Roethlisberger suggests something, Pittsburgh should listen. This isn't a rookie looking to gain more control of the offense. This is a two-time Super Bowl-winning quarterback who knows the pulse of the team.