July, 31, 2014
Jul 31
4:59
PM ET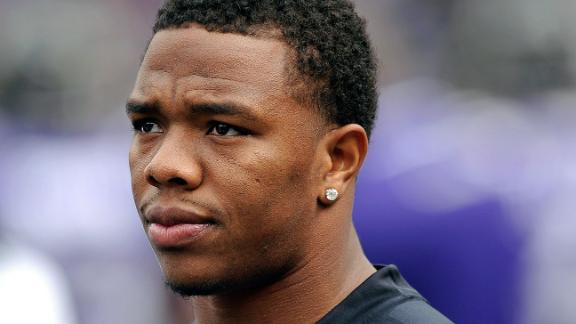 OWINGS MILLS, Md. -- In stark contrast to
Ray Rice
's awkward news conference in May, the
Baltimore Ravens
running back showed Thursday that he finally understood the weight of his actions from the alleged altercation with his then-fiancée in February.
He delivered the correct message, one the NFL failed to do last week with the two-game suspension, by not only apologizing to his wife, Janay Palmer, but also expressing a desire to become an advocate for domestic-violence causes.
Rice was compelling in his contrition, calling it the biggest mistake of his life. He stood in front of the microphone alone, without his wife standing by his side, and took full responsibility for the incident. Perhaps more importantly, Rice actually said the words "domestic violence," which weren't heard in his statement two months ago.
"My actions were inexcusable," Rice said. "That's something I have to live with the rest of my life."
Before anyone pats Rice on the back, this is what he should have said the first time when he broke his silence in May. Instead, Rice nervously fumbled through notes on his phone and apologized to team officials and his sponsors. That debacle of a news conference came across as damage control to his image.
His 17-minute news conference Thursday hit the right tones. He apologized to all women affected by domestic violence. He accepted the blame for losing the respect of fans. Rice came across as genuinely sorry.
"I let my wife down, I let my daughter down, I let my wife's parents down, I let the whole Baltimore community down," Rice said.
Rice's biggest misstep was not talking about what happened in the elevator. He was asked twice about it and declined to answer both times. His stance against domestic violence would have resonated stronger if he had explained his transgressions.
"I'll be honest: Like I said, I own my actions," Rice said. "I just don't want to keep reliving the incident. It doesn't bring any good to me. I'm just trying to move forward from it. I don't condone it. I take full responsibility for my actions. What happened that night is something that I'm going to pay for the rest of my life."
The only way Rice can move forward from this incident and show he's truly sincere is through his actions. It's not by his words. It's not by a hefty donation, which is merely a gesture. It's by proving this will remain a "one-time incident" and by supporting domestic-violence causes.
Thursday represented a small step forward for Rice. But it was an important one.
July, 7, 2014
Jul 7
10:00
AM ET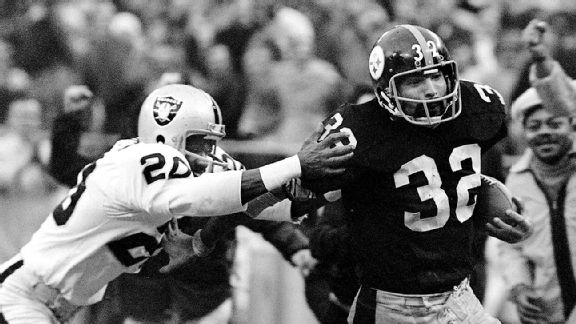 AP Photo/Harry Cabluck
»
VOTE HERE
»
NFC Plays:
East
|
West
|
North
|
South
»
AFC:
East
|
West
|
North
|
South
This is the first of three plays nominated as the most memorable play in team history. Please vote for your choice as the Steelers' most memorable play.
Score:
Steelers 13, Raiders 7
Date:
Dec. 23, 1972
Site:
Three Rivers Stadium
Steelers founder Art Rooney was already headed to the elevator by the time Terry Bradshaw unleashed the last-gasp pass that started perhaps the most memorable play in NFL history.
The gregarious, stogie-chomping owner wanted to get to the field to congratulate his coaches and players on a successful season.

There was a reason the man affectionately known as "The Chief" and the Steelers fans who streamed toward the exits had already conceded defeat in an AFC Divisional Playoff Game.
The Steelers were facing a fourth-and-10 from their own 40-yard line with no timeouts and a dying clock working against them when Bradshaw dropped back to pass.
Bradshaw escaped a heavy rush before firing a pass down the middle of the field.
Raiders safety Jack Tatum and Steelers running back Frenchy Fuqua arrived at the same time as Bradshaw's throw, and the ball shot back from the Raiders' 35-yard line.
Rookie running back Franco Harris had been trailing the play, and, in one of the seminal moments in Steelers history, heard the voice of the man who, ironically, had turned down Pittsburgh's head-coaching job in 1969, which later went to Chuck Noll.
Penn State's Joe Paterno had always exhorted his players to run to the ball, and in that moment, Harris followed his college coach's voice to the ball. He scooped it up just before it hit the rock-hard turf at Three Rivers Stadium and, with mere seconds left on the clock, started galloping down the left sideline.
Harris outraced several Raiders to the end zone and stiff-armed defensive back Jimmy Warren before scoring the touchdown that produced the first playoff victory in Steelers history.
Had instant replay reversal rules been in place then, Harris' score might not have stood since it would have been an illegal pass if Fuqua had touched the ball first.
But the officials ruled it a legal catch on the field after confusion and hysteria had initially ensued, imbuing the dramatic play with controversy and fueling a Steelers-Raiders rivalry that came to define the NFL in the 1970s.
The Steelers lost to the Dolphins the following week in the AFC Championship Game, but "The Immaculate Reception," as it was dubbed by legendary Pittsburgh sportscaster Myron Cope, is widely credited with putting the Steelers on a track to win four Super Bowls from 1974 to 1979.
"I rank it as high as it could be for giving the Steelers the feeling they could be a great team," Steelers chairman emeritus Dan Rooney has said, "that there might be divine intervention, because that play was so remarkable that is hard to believe."
@ScottBrown_ESPN The changing of the direction of the ball changed the direction of a franchise from that moment on.

— Mark S. (@MarkMizzouSteel) June 12, 2014
March, 17, 2014
Mar 17
11:00
AM ET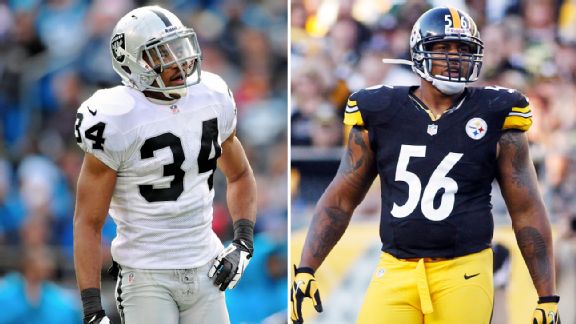 Getty ImagesIn safety Mike Mitchell and linebacker LaMarr Woodley the Steelers and Raiders hope to find free-agent steals.
LaMarr Woodley
is now a Raider as he signed with Oakland last week following his release from the Steelers. The Steelers, meanwhile, made an uncharacteristic signing on the first day of free agency, bringing in
Mike Mitchell
to take over for
Ryan Clark
at free safety. Mitchell played for the Panthers in 2013 but spent his first four seasons with the Raiders.
ESPN.com Steelers writer Scott Brown and ESPN.com Raiders writer Paul Gutierrez take a closer look at Woodley and Mitchell and what their signings mean for their respective teams.
Paul Gutierrez:
The Raiders had many needs entering the offseason, perhaps none greater than pass rush. They seemed to address that by signing
Justin Tuck
and LaMarr Woodley, but I'm sure Raiders fans are wondering just how much Woodley, who turns 30 in November, has left in the tank?
Scott Brown:
The Raiders should be getting a player who will be extremely motivated following his release by the Steelers -- and by how his career played out after they had made Woodley the highest-paid defensive player in franchise history. It proved to be a rather stunning fall from grace for Woodley, and ultimately the Steelers picked
Jason Worilds
, whom they had been widely criticized for drafting in the second round in 2010, over Woodley.
Woodley's inability to stay on the field led to the Steelers making that choice, and if he can stay healthy he could turn out to be a real bargain for the Raiders. Woodley played well until a calf injury sidelined him in the second half of the last season and ultimately shut him down. What has the reaction been to the Woodley signing, and do you think the Raiders view it as a low-risk, high-reward proposition?
Gutierrez:
The reaction has been one of relief from Raiders fans, especially since Tuck had signed earlier in the wake of the
Rodger Saffold
debacle. Now, I'm not saying it "saved" the Raiders' free agent-signing season, but it did wash away some of the bad taste because the Raiders had a huge need at pass rush. In Woodley (57 career sacks) and Tuck (60.5 career sacks) they addressed it even if both guys will be on the wrong side of 30 come midseason. Still, Woodley and Tuck, bring a championship mentality (two Super Bowl appearances) to a franchise that has not had a winning record since 2002. And yeah, the money is right ("only" up to $12 million) as is the length of the deal (two years).
Still, there are questions about how his skill set plays into the Raiders' base 4-3 defense since Woodley was the left outside linebacker in the Steelers' 3-4 scheme. He says he'll play with his hand in the dirt as a defensive end in a 4-3. Do you see that as a realistic possibility, or is that too much to ask of him at this stage of his career?
Brown:
Woodley should be fine moving to defensive end as that is what he played in college when he tormented quarterbacks for Michigan. The move might help him regain some of his pass-rushing mojo as Woodley won't drop into coverage nearly as often as he did with the Steelers. I like the signing for the Raiders, especially if Woodley prepares and plays as if a fire has been lit under him. Did complacency set in after he signed the six-year, $61.5 million in 2011? It sure seems that way and maybe getting released is what Woodley needed to get his career back on track.
The Steelers normally stay on the sidelines during the first wave of free agency but they made a significant signing when they lured Mike Mitchell away from Carolina with a five-year, $25 million contract. Mitchell spent his first four seasons in Oakland and I'm curious about your impressions of him. Did he simply need a change of scenery or did things click for him last season because he played on a better team?
Gutierrez:
Yeah, it's been a couple of years since I covered Mitchell on a day-to-day basis but he definitely left an impression as one of the best interviews in the Raiders locker room, win, lose or draw. The spotlight was on him from the day Al Davis used a second-round pick on a little-known player from Ohio University. Davis had visions of another undersized, hard-hitting safety from the Buckeye State in Jack Tatum but that was a tough bar to reach. Still, he had some flashes… especially in covering San Diego tight end
Antonio Gates
a few years back. A change of scenery, and being with a team that had a better pass rush, definitely helped him out in Carolina. Plus, he was able to freelance more with the Panthers as a free safety, rather than on the strong side. And with his outspoken manner, gritty disposition and, yes, rep as a hard hitter, he seems to fit the mold of Raiders and Steelers' DBs of yore, even if he's not Tatum or even Donnie Shell.
Speaking of old school, Raiders fans still refer to "IT" as the Immaculate DE-ception… so when, if ever, is Frenchy Fuqua going to tell the entire story?
Brown:
I just read a tremendous book on the 1970s Steelers, "Their Life's Work," and it sounds like he is taking that story to his grave. I'm sure Steelers' fans would counter that the Immaculate RE-ception is history and in the books no matter how it went down. It certainly is one of the more intriguing chapters of that storied rivalry and remains so after all of these years. What are the chances that the Raiders and Steelers turn back the clock at some point and resume meeting regularly in the playoffs as they did in the 1970s?
Gutierrez:
Well, that would mean the Raiders have to get BACK to the playoffs, a place they have not visited since 2002. Realistically, I can't see it happening in the next year or two, but in the NFL, things do change quickly. Not sure the rivalry can ever get back to the days of the '70s, though, when the Steelers and Raiders met in
three straight AFC title games
, which I wrote about in January.
August, 14, 2012
8/14/12
4:14
PM ET
In Kevin Cook's
"The Last Headbangers,"
which will be published in September, the biggest controversy of the Immaculate Reception comes up again and will surely lead to another debate among Steelers and Raiders fans.
The legendary play featured Steelers running back Franco Harris scooping up a caromed, fourth-down pass before it hit the ground and running for the winning touchdown against the Raiders in a 1972 AFC divisional playoff game.
The critical question, which has been argued for over four decades, is did the ball carom off the Steelers halfback Frenchy Fuqua or Raiders safety Jack Tatum? If it bounced off Fuqua without ever touching Tatum, then Harris's reception -- and the Immaculate Reception -- was illegal.
Here's an excerpt from the book:
On the field, Tatum charged Fuqua again. "Tell them you touched it!" Tatum knew the rule: If two offensive players in a row touch the ball, it's no catch. No touchdown; Raiders win.

Referee Swearingen jogged back to the field. He raised his arms: touchdown.

In the Steelers' locker room, Fuqua told a hometown reporter, "The guy hit me and the ball bounced off my chest." Linebacker Russell spun Fuqua around. "No," he said. "What you mean is, the ball hit Tatum."

Fuqua nodded. "Oh, yeah. That's right," he told the Pittsburgh writer, who never reported Fuqua's first quote. "That's right, Tatum hit the ball."

Maybe. Or maybe Fuqua, slightly concussed, wasn't sure.
None of the replays show whether it was Fuqua or Tatum who hit the ball. But that's part of the mystique of the play after all.
May, 18, 2011
5/18/11
1:00
PM ET
Examining the most crucial event in the history of every team in the division.
Fly into the city of Pittsburgh, and there is no doubt what is the most memorable moment in Steelers' history.
Inside Pittsburgh International Airport there is a life-sized statue of Hall of Fame running back Franco Harris' "Immaculate Reception." Harris caught a deflection off teammate Frenchy Fuqua late in a 1972 AFC divisional playoff game to score the winning touchdown in a 13-7 victory over the
Oakland Raiders
.
Msdmr writes:
"[Pittsburgh] had only been to playoffs twice at that point. It got them out of the doormat category, gave them tangible proof that they could win."
Krankor
watched the "Immaculate Reception" live on television nearly four decades ago: "I was a kid at the time, about 10 years old. What I remember most clearly was that, after the play, the delay while the officials decided what to call was unprecedented. I'd never seen anything like it, before or since."
Not everyone is impressed by the memorable play, especially those outside of Steeler Nation.
Washed_up_ball_player writes:
"Funny how the No. 1 selection, the 'Immaculate Reception,' is just a lucky play where the football gods smiled down on the Steelers. That sounds like the definition of the Steelers to me."
The "Immaculate Reception" led the way with 34 percent of the 40,000-plus votes as of 3 p.m. ET Tuesday, edging Pittsburgh's 1974 draft (31 percent) that included four Hall of Famers in linebacker Jack Lambert, center Mike Webster and receivers Lynn Swann and John Stallworth. The Steelers' 1974 draft is often considered the greatest in NFL history. We may never see four Hall of Famers drafted by one team in the same year again.
Former Steelers Hall of Fame coach Chuck Noll also had his share of supporters. Noll's hiring in 1969 received a solid 26 percent of the vote. Noll coached Pittsburgh to four Super Bowl wins in the 1970s before retiring in 1991. He started an impressive run of only three head coaches -- Noll, Bill Cowher and Mike Tomlin -- running the Steelers since 1969.
Jebei_espn also writes:
"The Steelers were always bad before they hired Chuck Noll and have been consistently good since then. Noll turned the franchise around and with great support from the Rooney family they started a great tradition that continues to this day."
RAVENS: First draft was huge
Speaking of impressive draft classes, the
Baltimore Ravens
had one of their own during their inaugural season in 1996.
The Ravens landed two future Hall of Famers in the first round. Baltimore selected left tackle
Jonathan Ogden
with the No. 4 overall pick and middle linebacker
Ray Lewis
at No. 26 overall, which received an impressive 54 percent of the vote as of Tuesday afternoon. Both players were longtime stalwarts on offense and defense, and Lewis, 36, still leads the Ravens entering his 16th season.
DaReel2008
summed it up best by writing: "Drafting Lewis and Ogden was our defining moment, and the others mentioned -- even the Super Bowl -- aren't even close. Ray Lewis and Jonathan Ogden are two of the best players to ever play their positions. They not only helped carry the Ravens to a Super Bowl, but made us a perennial contender for most of the last 12 years. Our team prides itself on its character and its toughness, both of which are embodied by these two players, who will be in the HOF upon their first year of eligibility."
The Ravens also got a nice sleeper in the fifth round of the 1996 draft by getting receiver and return specialist
Jermaine Lewis
. He was the first of many gems Baltimore's front office was able to discover in the middle and late rounds.
Baltimore's Super Bowl XXV victory over the
New York Giants
following the 2000 season came in second place with 40 percent of the vote. It remains the Ravens' only Super Bowl victory.
Clifford from Baltimore
makes a good case for Super Bowl XXV when he writes: "It solidified the identity of the franchise. The Ravens were a good defensive football team for two years or so before their Super Bowl run, but winning a championship with defense effectively defined the entire culture of the team as a whole."
BROWNS: Hard luck adds to Cleveland curse
Now we get to the downtrodden segment of our "Flash Points" series. After more than 50,000 votes -- the highest total in the AFC North -- "The Fumble" and "The Drive" led the way among Browns fans with 37 percent.
Cleveland's championship drought in pro sports is at 47 years and counting. The Browns' teams of the late 1980s were solid and had a chance to break that streak. But Hall of Fame quarterback
John Elway
and the
Denver Broncos
broke Cleveland's heart in back-to-back years with a pair of late-minute victories.
Denver and Cleveland met in the AFC title game one year later, and
Earnest Byner
's late fumble on the 3-yard line thwarted a chance for the Browns to tie the score in regulation. Following a late safety, Denver held on to win 38-33.
Daffy87 writes:
"I would lean towards 'The Fumble' and 'The Drive' since that's the first thing that comes to people's minds when they bring up the Browns. Anytime anything bad or strange happens in a game, announcers roll the film."
I interviewed Byner
a few years ago to discuss his fumble. The play serves as a cruel reality, because Byner had a solid career, rushing for 8,261 yards, but he will be most remembered for one bad play.
"To be honest, it helped me be a better man and a better person," said Byner, who now is an assistant coach with the
Jacksonville Jaguars
. "Going through something like that really gives you perspective that life is not over when you have something tragic happen or something that definitely challenges you."
Both Denver teams lost in the Super Bowl. Cleveland fans can always wonder if those Browns teams would have been a better representative for the AFC and perhaps won at least one championship following the 1986 or 1987 season.
BENGALS: Downhill since Montana
The
Cincinnati Bengals
have had some highs and lows in their history. But an overwhelming 49 percent of Bengals fans chose
Joe Montana
's late, game-winning drive to lead the
San Francisco 49ers
over the Bengals in Super Bowl XXIII as Cincinnati's biggest turning point.
GreatestBengalsFanOfAllTime writes:
"The last-minute loss to the 49ers defines the Bengals, forever and always. Many fans like to say it was the
Mike Brown
era, but the truth is, the Bengals weren't exactly legends under Paul Brown, either. The last-minute loss to the 49ers accurately sums up the entire history of Bengaldom in one simple phrase: 'So close, yet so far.'"
Trailing 16-13, the 49ers needed to drive 92 yards in the final three minutes to win the Super Bowl. Montana got in rhythm and connected with receiver
John Taylor
with 34 seconds left to win the game, 20-16. It was the last Super Bowl appearance for the Bengals, who in turn have struggled mightily for the past two decades.
Bengals owner Mike Brown taking over the franchise was a distant second with 27 percent. Brown's father, Hall of Famer Paul Brown, starting the franchise in 1968 was third with 13 percent, and drafting left tackle Anthony Munoz in 1980 was fourth with eight percent.