June, 18, 2014
Jun 18
4:45
PM ET
BEREA, Ohio -- NFL players spend their offseason in various ways. Five
Cleveland Browns
joined players from around the league to wash the feet of orphans in Brazil.
In February, on a trip organized and funded by Browns tight end
Gary Barnidge
and Jets lineman
Breno Giacomini
, several players flew to Brazil to bring U.S. football to the country and shoes to an orphanage.
"It was a very humbling experience," said Browns linebacker
Barkevious Mingo
, a former first-round pick who made the trip. "Those kids are less fortunate than most, and they still found time to come out and smile with us. It just made the whole trip worth it."
Barnidge and Giacomini founded
American Football Without Borders
with the mission "to spread American football to different corners of the globe with a humanitarian cause."
Browns TE @garybarnidge has been busy spreading football overseas http://t.co/oyXK3xfo4s pic.twitter.com/VZFz7c52eQ

— Kevin Jones (@Mr_KevinJones) April 20, 2014
Great time today w/ @AFWBcamps Obrigado "thank you" to all who helped make it a great weekend #AFWBBrazil @BDR76 pic.twitter.com/VCBEMZHIsl

— Alex Mack (@alexmack55) February 16, 2014
.
Two years ago, the two discussed a trip to Egypt with a friend who was Egyptian. The country's revolution derailed those plans, so they decided to go global again and went to China. This February it was Brazil, and joining them from the Browns were safety
Johnson Bademosi
, center
Alex Mack
, tight end
Jordan Cameron
and Mingo. Among others on the trip were running back
DeAngelo Williams
of the Panthers, lineman
Russell Okung
and running back
Marshawn Lynch
of the Seahawks, and receiver
Golden Tate
, now with Detroit.
The goal is to bring as many good elements of U.S. football as possible to the international community, as well as to help kids. AFWB hosts a clinic on every trip, then visits an orphanage. In Brazil, Barnidge partnered with the charitable group
Samaritan's Feet
to bring shoes to kids who needed them.
Teaching football to the far reaches of the globe isn't far-fetched. The International Federation of American Football (IFAF) has five federations worldwide and members in countries as varied as Nigeria, Mongolia, India and New Zealand.
"Everywhere we go they have something organized as far as playing football," Barnidge said. "In China they had six teams, and now they're up to 10 and they've been invited to play in other countries. It's growing just in the two years since we've been there."
Many of the NFL players who traveled did
a short blog on the AFWB website
about their experience. Cameron included a photo of a teenager in Brazil who had a tattoo of former Panthers and current Ravens receiver
Steve Smith
on his calf.
"Our overall goal is we want to get kids from other countries recognized by colleges here," Barnidge said.
One of his 2013 campers in China came to Williams' U.S. camp, where a Division III school offered him a scholarship on the spot, Barnidge said. The player turned it down to go to Stanford, but Barnidge took the recognition as a good sign.
Amazing & humbling experience in #Rio working with orphanage home #afwbbrazil @Panthers follow @AFWBcamps !! pic.twitter.com/LBaNqJ9KGU

— DeAngelo Williams (@DeAngeloRB) February 15, 2014
.
Language differences pose challenges, but Barnidge said that is overcome by simply showing the young players what to do.
"The camp alone was awesome," Cameron said. "Just being able to help and teach the game that we love so much to other people was important to us."
The orphanage, though, was an experience that will linger for a long time.
"One of the heaviest things ever," Cameron said. "You see these kids and you almost want to adopt every single one of them. But at the same time they're so positive and happy for us to be there."
"They're living in an orphanage," Mingo said. "And they still found time to come out and visit with us and play. Amazing."
Players spent time with the kids, kicked the soccer ball and did whatever they could. They then washed the feet of the kids before giving them shoes, courtesy of Samaritan's Feet.
China's orphanage had an entirely different level of experience.
"A lot of the kids had disabilities," Barnidge said. "It's heartbreaking. They're out in the middle of nowhere and it's just not fair. Why does this have to happen?"
But what Barnidge also remembers is that those kids were simply happy to meet American football players.
"Seeing their face smiling, that in itself is very rewarding," he said.
The trip does involve some vacation time; the group bonds as they spend time together in the country after the humanitarian work is complete. Barnidge and Giacomini fund AFWB entirely on their own, though they're actively looking for a sponsor.
For Barnidge, it's part of giving, which he considers important. He works with Ohio Guidestone (formerly the Berea Children's Home) to host 10 kids at every game and take them on a Christmas shopping spree. He said he wants to give back to "the less fortunate kids," which is why he decided to visit the orphanages and partner with Samaritan's Feet.
"In the position we're in we can touch lives just by saying hi or spending time with somebody," Barnidge said. "I don't think people understand that enough. Just by spending 10 minutes with someone or signing an autograph you can change somebody's life."
"It wasn't until we really got there," Mingo said, "that it all made sense."
December, 22, 2013
12/22/13
5:40
PM ET
Pick a word for the performance the
Cleveland Browns
put on the field Sunday against the
New York Jets
. Any or all apply.
Brutal. Ugly. Half-hearted. Lifeless. Disappointing. Sloppy.
The Browns talked all week about having two more chances this season to put forth their best effort.
They performed as poorly as they have all season, and maybe in years (and that's saying something) during a
24-13 loss
.
[+] Enlarge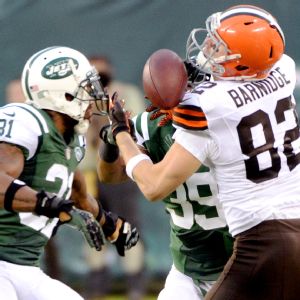 Robert Deutsch/USA TODAY SportsGary Barnidge and the Browns struggled to hold onto the ball against the Jets.
There were dropped touchdown passes, a penalty on the defense for 12 men on the field, a penalty that wiped out a touchdown run, two interceptions and a defense that gave up 10 points in the final 1:18 of the first half and an 80-yard drive when the Browns had cut a fourth-quarter deficit to 17-13.
It also allowed
Geno Smith
and the Jets to be masters of third down.
The Jets started the game converting 36.4 percent. The Browns gave up 66.7 percent, 12-of-18.
A week ago, the Bears had the best day on third down against the Browns in five years -- 64.3 percent.
The Jets, a 6-8 team that had turned the ball over 29 times, did better. And the Browns did not force a single turnover.
A week after
Jay Cutler
went 11-for-12 for 152 yards with two touchdowns on third down, Geno Smith (unofficially) went 9-for-12 for 107 yards, six of the completions for first downs, one for a touchdown.
For good measure he ran for a 17-yard touchdown to seal the win.
The Browns defense has been living on numbers and ranking all season, but the numbers show for the second week in a row that a back had 100 yards against them. First it was
Matt Forte
, this week it was
Chris Ivory
, as the Jets ran for 208 yards.
The numbers also show that the Browns have given up 79 points in the final two minutes of halves. They started the game with 69 points in that time, 29th in the league, then gave up 10 to the Jets in the final 1:18 as the Browns saw a 10-0 lead dissipate into a halftime tie.
Go down the line, though.
Greg Little
and
Josh Gordon
dropped touchdowns that could have changed the game (on two red zone possessions, the Browns got three points when they could have had 14). Gordon (six catches in 16 targets) was handled by rookie
Dee Milliner
.
Gary Barnidge
's penalty wiped out a rushing touchdown.
Campbell was a woeful 18-for-40 for 178 yards with two interceptions. One killed a third-quarter drive, the last was in desperation time. He also badly overthrew a wide-open
MarQueis Gray
late in the first half on an important third down.
Dropped passes can take the life out of a team, as does letting the opposition convert third downs. Maybe that, or maybe 11 losses this season explains some things. The Browns looked lifeless, listless and as if they have mentally checked out.
Coach Rob Chudzinski called it unacceptable.
Which might be an understatement.
May, 9, 2013
5/09/13
4:10
PM ET
The AFC North blog is continuing its rankings of each position for the next week. This is a projection on how the group will fare this season. It's not an evaluation based on last year. For Thursday, let's look at the tight ends.
1. Baltimore Ravens
: The loss of wide receiver
Anquan Boldin
will lead to a monster year for tight end
Dennis Pitta
. He is expected to lead the Ravens in receptions and possibly touchdown catches as well. In the final year of his contract, Pitta knows his value increases with a big year.
Ed Dickson
, who was drafted a round before Pitta in 2010, had a disappointing regular season last year before playing his best ball during the playoffs. He is only a season removed from catching 51 passes and five touchdowns.
2. Cincinnati Bengals
: The Bengals potentially have the best tight end tandem in the division. They certainly have invested in the position, selecting a tight end in the first round in two of the past four drafts.
Jermaine Gresham
has admittedly not lived up to expectations, even though his catches and receiving yards have increased every year. The problem with Gresham is his lack of explosiveness and increased drops, especially in the playoff loss at Houston. It was a wise move for the Bengals to draft
Tyler Eifert
in the first round. He can stretch the field and make an impact in the red zone.
3. Pittsburgh Steelers
:
Heath Miller
was the best tight end in the division last season. The switch to Todd Haley's offense led to a resurgence for Miller, who caught 71 passes and eight touchdowns. The reason you can't put the Steelers higher on the rankings is because you don't know Miller's health status. He tore knee ligaments late in the season and had surgery Jan. 2. It's uncertain when Miller will play this year, although many speculate he won't miss much time after the Steelers didn't draft a tight end. There is questionable depth at the position with
Matt Spaeth
and
David Paulson
.
4. Cleveland Browns
: The breakthrough player at this position is going to be
Jordan Cameron
, who gets the starting job after the Browns didn't replace Ben Watson. Cameron is the type of athletic target who often flourishes in Norv Turner offenses. For that reason, it was tempting to put the Browns at No. 3, given the uncertainty with Miller. The Browns added some depth in free agency by signing
Kellen Davis
and
Gary Barnidge
. Davis was a two-year starter with the Bears who is considered an underachiever. Barnidge is a blocking tight end who is familiar with Rob Chudzinski's system from their days together in Carolina.
In case you missed the other AFC North position rankings this week, you can click here for
quarterbacks
,
running backs
and
wide receivers
.