AFC North:

Gary Zimmerman
November, 27, 2013
Nov 27
10:00
AM ET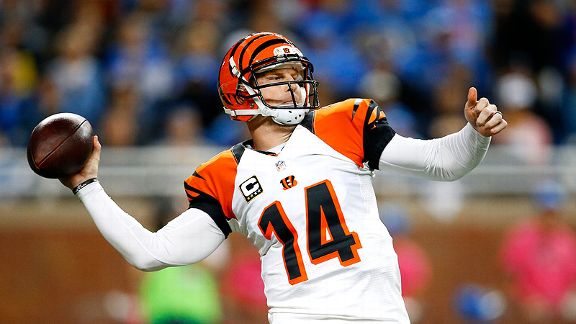 AP Photo/Rick OsentoskiThe Cincinnati Bengals are counting on Andy Dalton to return to the form that helped lead the team to a 4-1 record in October.
CINCINNATI -- Earlier this week,
Cincinnati Bengals
players like cornerback
Chris Crocker
were adamant in pointing out the urgency they need to play with throughout the
month of December
.
"It's all about winning in December," Crocker said. "Let's win out and see where the chips lay. Why can't we win out? I don't see why we can't."
If you ask some Bengals fans and most NFL analysts, they'll give you one big reason why they don't believe Cincinnati will be able to go 5-0 to close out the regular season: No. 14.
That's right. To some, the primary obstacle in the way of end-of-season perfection for the Bengals is
Andy Dalton
, the player who has quarterbacked the franchise into the playoffs each of the past two seasons, and who constantly is trying to prove himself to those who consider him just another member of a mostly failed 2011 quarterback draft class.
For that reason, as the Bengals gear up for a stretch run that could give them a first-round bye and home-field advantage in the playoffs, an important question has to be asked.
Can December Andy mimic October Andy?
As we've written countless times in the past month, October Andy was indeed a dandy. Through the first four games of that month, Dalton threw for 1,243 yards and 11 touchdowns. He also completed 67.9 percent of his passes, won four games, had a passer rating higher than 116.0 and a QBR above 83.0. He was, quite simply, brilliant. His play was so sharp back then that on the final day of the month, hours before the Bengals were set to take on the Dolphins in a road Thursday night game, he was named the AFC's Offensive Player of the Month.
And, yes, even though, comparatively speaking, he didn't look as good overall against the Dolphins and ended up taking the game-winning sack for a safety in overtime, Dalton still had a rather special performance in the 22-20 loss. Aside from not completing a touchdown pass and getting intercepted three times, he threw for 338 yards, marking the fourth straight game he had gone over the 300-yard passing mark.
Overall, October Andy was Good Andy.
But now here comes December with all of its postseason potency. If Cincinnati hopes to set itself up for the type of playoff seeding Crocker believes it deserves, then it will have to play its best ball across the next five weeks. That's especially the case for Dalton and a Bengals offense that has looked rather anemic in the past three games.
One look at Dalton's previous December stats and it doesn't appear the third-year star should have any problem showcasing even a sliver of the success that made him and his team so good about two months ago.
After a rocky December as a rookie in 2011, Dalton was among the difference-makers last season when the desperate Bengals were in need of a strong final month just to secure a playoff berth. One year after going 2-2 in the month, Dalton went 4-1 during December 2012. The lone loss came after the
Dallas Cowboys
made a field goal in the final seconds to win 20-19.
While the level of desperation may be different this December, the Bengals are looking for Dalton to thrive under similar pressure-packed moments during this one. This time around, the pressure on Dalton mainly stems from the fact that so many are fed up with his play from the past three games. In them, he's thrown eight interceptions and been sacked 10 times. Across the latter two of those games, he's completed fewer than 50 percent of his passes and hasn't posted a QBR higher than 18.0.
Weather factored heavily in Dalton's inability to move the ball in those two games. Windy conditions at Baltimore and windy and rainy conditions against the Browns sent some of his passes sailing and forced others into the hands of defensive backs.
Although weather shouldn't be a concern this weekend in San Diego (the forecast calls for partly cloudy skies and a delightful high of 71 degrees Sunday), it could be the rest of the season. Farmer's Almanac projects cold, damp conditions for all of December in the Ohio Valley. It should be noted that after Sunday's game, the Bengals are home three of the next four weeks. Their only remaining road game is at Pittsburgh.
Throughout his career, Dalton has performed better in warmer games. In games with temperatures 50 degrees or higher, he has a 20-14 record, an 85.1 passer rating and a 52.5 QBR. In games with temperatures at 49 and lower, he has a 5-5 record, a 75.4 passer rating and a 32.9 QBR. Dalton's last three sub-49-degree wins came last December, though; a sign that perhaps he's turning a corner in cold-weather contests.
Whatever the conditions and whomever their opponents are, when it comes to the next five weeks, the Bengals can only hope that Dalton turns into the same man who torched through this October.
August, 2, 2008
8/02/08
10:34
PM ET
Posted by ESPN.com's James Walker
| | |
| --- | --- |
| | |
| | AP Photo/Mark Duncan |
| | Andre Tippett acknowledges fans as he is introduced at the Pro Football Hall of Fame Saturday in Canton, Ohio. |
CANTON, Ohio -- Saturday obviously was a celebrated day for the Washington Redskins, but there were several highlights from today's other 2008 Hall of Fame inductees.
Here were the notables:
"We had two Hall of Fame quarterbacks in our division in Jim Kelly and Dan Marino, and he completely changed the passing attack of those two teams," Kraft said. "Once [Tippett] joined the joined the team, the New England Patriots improved dramatically."
"Because I know there's a wager waged somewhere [that I would]," Dean said.
"Growing up, I was resentful and angry at other families around us because they seemed fully intact," Thomas said. "I'd often lay awake at night wondering why our family had to be different.
"But I came to the stark realization that the good Lord wanted us to be reared and raised under the guiding hands of my grandfathered, who in his own right was a giant of a man."
August, 2, 2008
8/02/08
9:56
PM ET
| | |
| --- | --- |
| | |
| | Kirby Lee/Image of Sport-US PRESSWIRE |
| | Darrell Green, Emmitt Thomas, Art Monk, Gary Zimmerman, Andre Tippett and Fred Dean pose with their busts at the Pro Football Hall of Fame enshrinement at Fawcett Stadium. |
Posted by ESPN.com's James Walker
CANTON, Ohio -- Darrell Green summed up the 2008 Hall of Fame commencements best on Saturday.
"It's a Redskins day, baby!" Green said.
The sea of burgundy and gold jerseys filled Fawcett Stadium in anticipation of Green and former Washington Redskins teammate Art Monk into the Hall of Fame. Both received lengthy standing ovations before and after their speeches.
Jared Green, Darrell's son, estimated that "95 percent" of the announced crowd of 16,654 were Redskins fans, and his rough guess was pretty close.
There were a wealth of Green jerseys, a wealth of Monk jerseys, and a good mix of jerseys from current Washington players that will take the field Sunday in its preseason debut against the Indianapolis Colts.
Green and Monk didn't disappoint. The pair were never as flashy as their contemporaries but were winners in every sense of the word. Similar to their playing careers, Monk and Green were very consistent in delivering quality speeches.
There were many similarities Saturday.
Both Green and Monk had their sons eloquently introduce them. Both speeches were enlightening and charismatic. Both shared their experience with those that helped them.
And both players went into the Hall as proud Redskins.
"I will always be known as a Redskin," Monk said. "That's right."
Added Green, "To the Redskins faithful, our fans, I share this day with all of you."
Green was the only first-ballot Hall of Famer in the 2008 class. His case was undeniable after 20 stellar seasons, most of which he was the league's fastest man and one of the NFL's best cornerbacks.
But Monk's case was debated over the past several years. His candidacy was rebuked seven times by the Hall of Fame committee, despite Monk statistically ranking among the very best at his position.
Monk had 940 career catches for 12,721 yards. His reception total is right now more than any receiver currently enshrined in Canton. But Monk only was a first-team All-Pro one time, in addition to his three Pro Bowls.
Monk also was never accommodating with the media during his 16-year career, which likely had a hand in his delayed entrance.
Fellow Hall of Famer Paul Warfield, also one of the greatest receivers of all time, believes Monk's case should've never been up for debate.
"Art Monk has had a stellar career," Warfield said. "I saw Art perhaps two weeks ago at an event and congratulated him. It's well deserved. He was statistically a leader until his marks were broken, and he should have been in a long time ago.
"I told Art, 'It doesn't matter, because now you're here.' And that's the most important thing. He deserved to be here and now he's a part of this very prestigious fraternity."
Monk briefly addressed his situation during his commencement speech.
"Now standing next to them, as one of them, is truly an honor,'' Monk said. "Getting here didn't come without consequences. But through it all I'm here with a greater appreciation for something that not every player was able to achieve."
But finally being inducted had to be worth it for Monk, who received the longest-standing ovation of the night.
Redskins fans chanted "Eighty-one!" and "Thank you Monk!" as he smiled and soaked it all in. One sign read "A work of Art" to describe Monk's career as he smiled and enjoyed the elongated appreciation from Redskins fans.
Monk never imagined that football would take him this far, but it did. Saturday, Monk said, was the icing on the cake.
"From the time I picked up a football, I loved this game," Monk said. "It's all I wanted to do."
Overall, this was a day when being long in the tooth was celebrated.
Longevity is the most elusive feat in the National Football League, yet it is the rare common thread that binds the 2008 Pro Football Hall of Fame class together this weekend.
Green, Monk, Gary Zimmerman, Andre Tippett, Emmitt Thomas and Fred Dean combined for an astounding 84 years of NFL experience.
But it was the 36 years played by a pair of Redskins that brought a majority of today's onlookers to Canton, a city rich in football history.
"The Redskin Nation sticks together," Green said.
They sure do.