July, 31, 2014
Jul 31
4:59
PM ET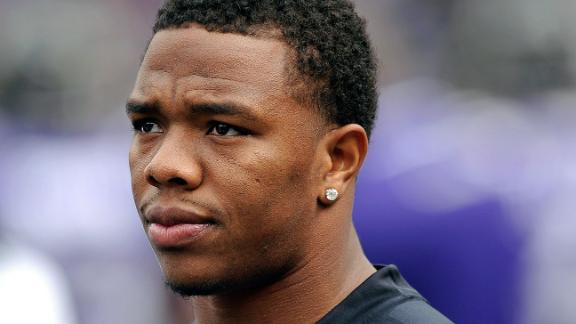 OWINGS MILLS, Md. -- In stark contrast to
Ray Rice
's awkward news conference in May, the
Baltimore Ravens
running back showed Thursday that he finally understood the weight of his actions from the alleged altercation with his then-fiancée in February.
He delivered the correct message, one the NFL failed to do last week with the two-game suspension, by not only apologizing to his wife, Janay Palmer, but also expressing a desire to become an advocate for domestic-violence causes.
Rice was compelling in his contrition, calling it the biggest mistake of his life. He stood in front of the microphone alone, without his wife standing by his side, and took full responsibility for the incident. Perhaps more importantly, Rice actually said the words "domestic violence," which weren't heard in his statement two months ago.
"My actions were inexcusable," Rice said. "That's something I have to live with the rest of my life."
Before anyone pats Rice on the back, this is what he should have said the first time when he broke his silence in May. Instead, Rice nervously fumbled through notes on his phone and apologized to team officials and his sponsors. That debacle of a news conference came across as damage control to his image.
His 17-minute news conference Thursday hit the right tones. He apologized to all women affected by domestic violence. He accepted the blame for losing the respect of fans. Rice came across as genuinely sorry.
"I let my wife down, I let my daughter down, I let my wife's parents down, I let the whole Baltimore community down," Rice said.
Rice's biggest misstep was not talking about what happened in the elevator. He was asked twice about it and declined to answer both times. His stance against domestic violence would have resonated stronger if he had explained his transgressions.
"I'll be honest: Like I said, I own my actions," Rice said. "I just don't want to keep reliving the incident. It doesn't bring any good to me. I'm just trying to move forward from it. I don't condone it. I take full responsibility for my actions. What happened that night is something that I'm going to pay for the rest of my life."
The only way Rice can move forward from this incident and show he's truly sincere is through his actions. It's not by his words. It's not by a hefty donation, which is merely a gesture. It's by proving this will remain a "one-time incident" and by supporting domestic-violence causes.
Thursday represented a small step forward for Rice. But it was an important one.
August, 21, 2008
8/21/08
5:40
PM ET
Posted by ESPN.com's James Walker
The passing of Hall of Famer and NFLPA head Gene Upshaw was on the minds of many in the AFC North Thursday.
Here are reactions from players and coaches within the division:
Cincinnati Bengals coach Marvin Lewis through a team statement:
"In his position representing the players, I felt like Gene was always very frank and fair when he came in and visited the club. He wouldn't come here to visit without wanting to sit down and talk for 15 minutes to see how our players were doing and what else was going on. How were they doing? How was I doing? A time didn't go by when he didn't do that. And I appreciated that. It's a big loss for the NFL community."
Cleveland Browns head coach Romeo Crennel:
"Gene Upshaw passed away. I think Gene was a really good player, and I think Gene had the best interest of the NFL at heart, even though he worked and did a good job for the players. But he had the best interest in the NFL at heart."
Browns tight end and player rep Darnell Dinkins:
"Obviously Gene Upshaw was a great guy for us (players) in the NFL, and he led us. It's just unfortunate to see him pass away. I think that's the main thing that we need to focus on is just backing his family. It was so unexpected. Since Gene has been here, there was no union at first. He came in here and we went from having nothing to all of the things that we have now. With all the stuff that's going on, it's just unfortunate to see him pass. Gene Upshaw was a player first, and that was one of the best things about him was he was so diversified, being a Hall of Fame player to an excellent businessman."
August, 21, 2008
8/21/08
5:15
PM ET
Posted by ESPN.com's James Walker
It's no secret that Baltimore Ravens kicker and NFLPA rep Matt Stover didn't always see eye to eye with Players Association head Gene Upshaw.
But their recent differences were insignificant Thursday, when Stover addressed reporters in Baltimore in regards to Upshaw's passing to pancreatic cancer.
Stover said he was surprised and saddened by Upshaw's sudden death. Not long ago, the Ravens kicker reportedly led a group of players that were trying to unseat Upshaw from his post.
"As a player rep for 16 years and somebody who's been on the executive committee, it's very shocking," Stover said. "It's a tragic time for Gene and Terri and for his family, for the boys, and for our union, too. He's been a great asset for us and it's disappointing that that's happened."
Stover described Upshaw as a person with both "tenacity" and "courage."
Stover also reiterated Thursday that the main goal now is to honor Upshaw for all the good he's done for players and prepare the union to be able to move forward in the short and long term.
"I do know that we've already placed an interim executive director, Richard Berthelsen, in office,'' Stover said. "I think that is very wise. Our executive committee immediately responded to make sure that the union realized that we have leadership intact, and that the players understand it and the NFL owners know that we have proper leadership."
August, 21, 2008
8/21/08
11:30
AM ET
Posted by ESPN.com's James Walker
Pittsburgh Steelers owner Dan Rooney has been a leader and trendsetter on many league and players issues in the NFL. He has worked closely with Gene Upshaw over the years and echoed Thursday the many friends and co-workers who were unaware of Upshaw's condition. Upshaw died Wednesday night at his home in Lake Tahoe, Calif., of pancreatic cancer.
Here is Rooney's complete statement Thursday in reaction to Upshaw's passing:
"This is a sad day for all of professional football. We are shocked to learn of the sudden loss of Gene Upshaw. The NFL and the entire football world will miss him greatly. Gene and I developed a close friendship that remained strong through the good times and some of the NFL's most difficult challenges. We worked very closely on key issues that allowed the NFL to maintain unprecedented labor peace. His biggest asset was his understanding of the business of the game, and you always knew that his concern for the game's best interests guided his actions. Gene was a Super Bowl champion and a very deserving member of the Pro Football Hall of Fame. Our prayers go out to Gene's wife Terri and his entire family. We will miss Gene, but his positive contributions to the NFL will have a lasting impact for many years to come."