February, 1, 2012
2/01/12
7:30
AM ET
Every morning, grab a cup of coffee and get your AFC North wake-up call here:
Another potential candidate in the Pittsburgh Steelers' offensive coordinator search is Alex Van Pelt.
The Steelers are among four teams who have "inquired" about Van Pelt, according to
The NFL Network
. Van Pelt, a former University of Pittsburgh quarterback, has been the quarterbacks coach at Tampa Bay for the past two seasons. He served as the Buffalo Bills' offensive coordinator in 2009.
Pittsburgh also interviewed former Kansas City Chiefs head coach Todd Haley yesterday, according to the
team's website
.
Hensley's slant
: By the Steelers continuing to look at outside candidates, it's appearing less likely that they'll promote quarterbacks coach Randy Fichtner, who is presumably Ben Roethlisberger's choice. If it comes down to Haley or Van Pelt, the clear choice is Haley after how he orchestrated the passing game in Arizona a few years ago.
BENGALS
: Former NFL coach Tony Dungy said quarterback Andy Dalton is "definitely legit." Dalton was selected in the second round last year because he doesn't have great size or arm strength. "He's smart and accurate," Dungy told the
team's website
. "The game wasn't too big for him and that's what you look for."
Hensley's slant
: Dalton will excel with a strong supporting cast. The Bengals have the pieces in place with wide receiver A.J. Green and tight end Jermaine Gresham. Cincinnati needs to upgrade at running back and the No. 2 receiver spot in order for this offense to take another step forward.
BROWNS
: Gerard Warren's work ethic was questionable at best during his four seasons with the Cleveland Browns. But his attitude has certainly turned around with New England, Patriots coach Bill Belichick told the
Canton Repository
. "Gerard has been very professional," Belichick said. "He's been with us for two years, and his career has had its own path. But I really feel like he's settled into our team and our program. He's one of the most respected guys on the team. He works hard. He's tough. He wants to be on the field."
Hensley's slant
: Warren has been able to
put together an 11-year NFL career
when other Browns' first-round busts (Courtney Brown, Tim Couch and William Green) never played beyond a couple seasons after leaving Cleveland. It's surprising, but impressive nonetheless.
RAVENS
: The
Baltimore Sun
's Peter Schmuck says the Ravens should sign quarterback Joe Flacco to a new contract sooner than later. "Let's just agree to agree that Flacco already is the greatest quarterback in Ravens history," Schmuck wrote, "and there's no reason for the team to question that as it enters serious negotiations on a long-term contract extension."
Hensley's slant
: If Lee Evans had held onto that ball, Flacco would have thrown the winning touchdown pass to propel the Ravens to the Super Bowl. So, Flacco was certainly good enough to get the Ravens to the sport's biggest game. The scary part is committing all of this money to Flacco when he remains incredibly inconsistent, from game to game and from quarter to quarter.
January, 31, 2012
1/31/12
3:00
PM ET
INDIANAPOLIS -- How many thought the player known as "Big Money" would ever make the Big Show?
It's taken 11 seasons and four teams but Browns first-round bust
Gerard Warren
did the unthinkable by reaching the Super Bowl. Warren isn't a major contributor for the
New England Patriots
. He's a backup defensive lineman who recorded 16 tackles and one sack this season.
[+] Enlarge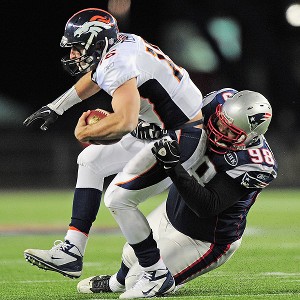 Michael Ivins/US PresswireAfter 11 seasons and four teams, Gerard Warren is finally in a Super Bowl.
Still, I would have guaranteed that Warren would have been out of football for five years by now. He failed miserably like
Courtney Brown
,
Tim Couch
and
William Green
-- all of whom never lasted more than a couple of years in the NFL after parting ways with the Browns. So, you don't have to respect his work ethic while he was in Cleveland, but you have to acknowledge his staying power in the league.
Warren was the third overall pick in the 2001 draft, a classic example of the Butch Davis regime that overrated talent and undervalued character. Of the top seven picks in that draft, Warren is the only one never to reach a Pro Bowl. The three picks after him:
Justin Smith
,
LaDainian Tomlinson
and
Richard Seymour
.
Couch and Brown will always be considered bigger busts than Warren because they were taken first overall, but Brown ranks first in the team's Hall of Shame.
Remember when Warren was arrested in Pittsburgh in November 2001 for illegal possession of a firearm, former team president Carmen Policy said police thought he was "the nicest guy they ever arrested."
Remember Warren's threat against Steelers quarterback
Ben Roethlisberger
when he said, "Kill the head and the body's dead."
At Super Bowl's media day, Warren said he will always remember the "highs and lows" of his four seasons with the Browns.
"It was very emotional," he said. "I put a lot of my heart, blood and sweat in the city of Cleveland. I have a special place where I hold the city of Cleveland in my heart. I had to part ways and look where the journey got me."
That journey started in 2005 when with the Browns traded Warren to the
Denver Broncos
for a fourth-round pick. In the 2007 preseason, he was traded by the Broncos to the
Oakland Raiders
for a conditional fifth-round pick.
The Raiders released him in March 2010, and Warren later signed with the Patriots on the final day of the 2010 draft. In talking to Warren on media day, you definitely got the sense that he felt lucky and was soaking in the experience.
"This is the reason why I came to the NFL," Warren said. "This is the reason."
April, 15, 2009
4/15/09
11:00
AM ET
Posted by ESPN.com's James Walker
Jesse from Boulder, CO writes: James, as a Browns fan I have been through too many lackluster 1st round picks. I feel like Eric Mangini and George Kokinis need to get at least a good starting player with our 5th overall pick. [Wake Forest linebacker] Aaron Curry seems like the surest thing, but he probably won't fall to us. Who is the next "surest" player deserving of a fifth overall pick?
Jesse is one of many Cleveland Browns fans who is nervous about the NFL draft on April 25-26. The Browns have high picks in nearly every round -- including the No. 5 overall pick -- which should be comforting and exciting. But historically Cleveland has floundered in this position more often than not, which is one of the primary reasons the Browns have just one playoff appearance since returning to the NFL in 1999.
This will be the sixth time in the past decade that the Browns own a top-five pick in the first round. Only the Oakland Raiders and Cincinnati Bengals are even in the same ballpark with four top-five selections in the same span.
Next week's draft will build or break the foundation of new Browns coach Eric Mangini and first-year general manager George Kokinis. In an effort to completely rebuild the team this offseason, it is vital that this pair nail this draft.
"The great thing I think about the league is you don't start where you finish," a confident Mangini said at the NFL owners' meeting. "The way that we work in this offseason, the things we're able to collectively do, the choices we make every day, ultimately define how successful we are."
Cleveland has had hits in the top five, such as offensive lineman Joe Thomas in 2007, and major misses, such as quarterback Tim Couch in 1999. Will this new regime take the sure picks and avoid the pitfalls?
With that in mind, here is an in-depth look at Cleveland's history in the top five the past 10 years:
Year: 1999
Pick: Tim Couch, QB, Kentucky (No. 1 overall)
Career stats: 59 starts, 11,131 yards, 64 touchdowns, 67 interceptions
Players passed over: QB Donovan McNabb (No. 2), RB Edgerrin James (No. 4), WR Torry Holt (No. 6), CB Champ Bailey (No. 7), CB Chris McAlister (No. 10)
Analysis: The first pick of Cleveland's return to the league turned out to be a bad one. Couch was the top pick in 1999, one spot ahead of McNabb, who has had a very productive career with the Philadelphia Eagles. There are some Browns fans who believe Couch simply played on awful teams and never got a fair chance to show what he could do. Despite the occasional flash, Couch was battered and beaten to the point where he retired after only five seasons. To this day, the Browns are still searching for a franchise quarterback.
Boom or bust? Bust
Year: 2000
Pick: Courtney Brown, DE, Penn State (No. 1 overall)
Career stats: 60 starts, 125 tackles, 19 sacks
Players passed over: OT Chris Samuels (No. 3), RB Jamal Lewis (No. 5), Thomas Jones (No. 7), Brian Urlacher (No. 9)
Analysis: After going for offense the year before, the Browns wanted a cornerstone to build a defense around and took Brown. After a decent rookie year, durability issues began to play a major factor with Brown in his second year. The defensive end only played 16 games once in his career and was out of the NFL after six seasons. By 2004, Cleveland was without Couch and Brown. How often can a team whiff on back-to-back No. 1 picks?
Boom or bust? Bust
Year: 2001
Pick: Gerard Warren, DT, Florida (No. 3 overall)
Career stats: 111 starts, 260 tackles, 30 sacks
Players passed over: DE Justin Smith (No. 4), RB LaDainian Tomlinson (No. 5), DT Richard Seymour (No. 6), DT Marcus Stroud (No. 13)
Analysis: Passing over both Tomlinson and Seymour are among the biggest mistakes in Cleveland history. Warren wasn't a bad player, but passing over those two players magnified drafting an average defensive lineman with the No. 3 overall pick. Warren was traded away after four meager years in Cleveland. Tomlinson and Seymour, on the other hand, went on to have potential Hall of Fame careers for the San Diego Chargers and New England Patriots, respectively. It makes you wonder if they would have had equal production with a struggling Cleveland franchise.
Boom or bust? Bust
Year: 2005
Pick: Braylon Edwards, WR, Michigan (No. 3 overall)
Career stats: 228 receptions, 3,358 yards, 28 touchdowns
Players passed over: LB DeMarcus Ware (No. 11), LB Shawne Merriman (No. 12), QB Aaron Rodgers (No. 24)
Analysis: This was a brutal year to be in the top five and a case can be made that the Browns made the right call here in taking Edwards with the third pick. The top 10 in 2005 is littered with misses, including players such as quarterback Alex Smith (No. 1), tailback Cedric Benson (No. 4), cornerback Adam "Pacman" Jones (No. 6) and receiver Troy Williamson (No. 7). What were the Browns to do? They got at least one Pro Bowl out of Edwards, who is in the final year of his deal and probably won't return if he becomes an unrestricted free agent. The two players at the top of this draft were Ware and Merriman. But it's kind of hard to expect Cleveland to take players with the third pick who weren't rated in the top 10 at the time of the draft.
Boom or bust: Jury is still out
Year: 2007
Pick: Joe Thomas, OT, Wisconsin (No. 3)
Career stats: 32 starts, two Pro Bowls
Players passed over: S LaRon Landry (No. 6), RB Adrian Peterson (No. 7), LB Patrick Willis (No. 11)
Analysis: It's hard to argue with Cleveland taking one of the top left tackles in the NFL. Thomas was the safest pick in this draft, and Cleveland went the safe route. One season later, the Browns had 10 wins and a Pro Bowl left tackle. Thomas struggled a little during his second season, but he still made the Pro Bowl in a year the offense as a whole couldn't move the football. Some would argue having Peterson on the roster would've made a bigger impact. But good running backs are a dime a dozen. Great left tackles are not.
Boom or bust: Boom
What will this year's top-five pick hold for the Browns? Based on Cleveland's track record, it could go either way.
It is no wonder Jesse and so many other Browns fans are so nervous.