May, 16, 2014
May 16
3:45
PM ET
CINCINNATI -- Former
Cincinnati Bengals
backup
Greg McElroy
chimed in Thursday night on the controversy surrounding fifth-round quarterback
AJ McCarron
when he spoke honestly and openly about his former college teammate's place in the NFL, and the rumors that character flaws contributed to his draft slide.
McElroy
Speaking to AL.com at an Alabama football spring tour event in Nashville, McElroy, a former Alabama quarterback and new analyst for ESPN's SEC Network, said he
felt bad for McCarron in the wake of rumors
that helped spoil the 23-year-old's draft weekend. McElroy added, however, that he felt McCarron also needed to take ownership of the overall situation.
"I feel like he needs to stop making excuses to a certain extent," McElroy said. "But, I think AJ, he's going to go to a place, a good situation, a really good organization, and all of those things will be water under the bridge and he'll be able to prove himself worth of wherever it is he was picked by his play. And that's all that matters at this point."
McCarron was drafted 164th overall last Saturday. When OTAs begin in Cincinnati in two weeks, he's expected to be the No. 3 quarterback on the roster behind starter
Andy Dalton
and veteran backup
Jason Campbell
.
Two days after McCarron was drafted, the Bengals released backup
Josh Johnson
, completing their quarterbacks purge. Earlier this month, fellow backup
Zac Robinson
was cut after spending all of last season on the physically unable to perform list. McElroy, who was the team's practice squad quarterback, retired earlier this offseason, ending his three-year career.
"I feel bad. I do," McElroy said about McCarron and the weekend rumors that his pre-draft behavior "rubbed teams the wrong way." "Everything he's said has been taken out of context, certainly. But I think people are also looking for him to say something, and I don't necessarily think that's fair. But I also think he created that by putting undue expectations on himself in the actual draft situation."
McCarron admitted earlier this week to telling team executives he thought he was better than some of the mid-round projections he had been receiving.
"I guess when teams met with me, they wanted me to say I'll be a third-round guy and a mediocre quarterback," McCarron said Wednesday. "Maybe I was too honest or something. I'm an honest person and say what I feel. That's how I feel about my play. If that turns a team off, then at the end of the day, to me, they didn't really want you. I was myself."
[+] Enlarge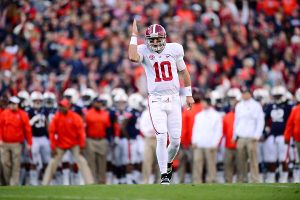 Phil Ellsworth/ESPN ImagesAJ McCarron needs to get past draft-weekend rumors about his character and take ownership of his situation with the Bengals, his former Alabama teammate Greg McElroy said.
ESPN NFL Insider Adam Schefter was among those who reported last Saturday that some team executives weren't impressed by McCarron following pre-draft meetings with him. NFL Network reported that some were bugged by how cocky they felt McCarron came off.
"He was critical of other people," Schefter also said.
McCarron admitted Wednesday to
being hurt by the chatter about him
. He and fellow Bengal and Alabama product
Wallace Gilberry
felt there was a misread of his confidence.
"A lot of people will confuse confidence with cockiness," Gilberry said. "With where he's been, I know where he's from and I know how he grew up. I know him. And it's like I told him, 'Everybody's not going to like you and this world isn't for everybody to like you. The ones that respect you, respect them. And the ones that don't, you show them why they should.'"
McCarron must have taken that advice to heart.
"Hopefully at the end of the day I'll get the last laugh," McCarron said.
McElroy, who beat McCarron for Alabama's starting quarterback job McCarron's redshirt freshman season, shares the rookie's optimism.
"He does have a fiery personality. He has a chip on his shoulder. All of those things are accurate," McElroy said. "And I think AJ is a great kid. I think that right now, he just needed the draft to be settled and maybe not say as much as he did, but that's all been said and done now. Now he'll be able to go forward and speak through his play and he'll do a great job of that."
March, 21, 2014
Mar 21
10:35
AM ET
CINCINNATI --
Cincinnati Bengals
practice squad quarterback
Greg McElroy
announced his retirement on Twitter on Friday.
McElroy
A third-year NFL player, he spent 2011 and 2012 with the
New York Jets
.
In
his tweet
, McElroy, 25, thanked coach Marvin Lewis and owner Mike Brown and his family for giving him the opportunity to play in Cincinnati.
"The fans make this decision especially difficult, as you have provided so much joy throughout my career," the tweet continued. "Playing in the NFL was my lifelong dream; therefore, I must also thank the New York Jets for providing me with my original opportunity."
McElroy was drafted by the Jets in the seventh round in 2011. He appeared in two games for them in 2012, the second of which he lost to San Diego. For his career, McElroy was 19-for-31 passing for 214 yards and one touchdown and one interception.
Signed to a futures contract in Cincinnati at the end of last season, the former Alabama standout had been expected to give the Bengals another quarterback to get work in during training camp behind backups
Josh Johnson
and
Zac Robinson
. When nine-year veteran
Jason Campbell
was signed Thursday, the Bengals became that much deeper at the position. Campbell will now slip into the No. 2 quarterback spot behind starter
Andy Dalton
.
At this time, I would like to announce my retirement from the NFL. pic.twitter.com/b9cUHLPj70

— Greg McElroy (@GVMcElroy) March 21, 2014
February, 20, 2014
Feb 20
10:00
AM ET
With the NFL combine this week, through Friday we're taking a look at positions of need and who the Cincinnati Bengals might be looking at during the combine at those positions
.
Position of need:
Quarterback
Ah, yes. Quarterback. Is there a position of "need" that creates more buzz among the Bengals' fan base than this one? Even though there is at least one more truly pressing need on the roster, this one will end up drawing the most attention, especially if the Bengals keep open the possibility of wanting to bring in another backup for the inconsistent
Andy Dalton
. Again, rehashing points made earlier this week when looking at Cincinnati's pre-combine situations at
running back
,
offensive line
and
defensive line
, there are relatively few major draft concerns for the team this offseason. This draft is about depth and shoring up the players behind a mostly returning starting core. Still, that doesn't mean it isn't worthwhile to look at a solid young signal-caller, especially since this draft seems ripe with second-tier, middle-round talent.
At best, the Bengals might look to the third round to take a quarterback. If that is the case, as long as the best available player at that time happens to be a quarterback, don't be surprised if they decide to make that move. What would drafting a quarterback mean for the Bengals' current reserves? It likely would mean one of them would have to go.
Josh Johnson
and
Zac Robinson
are currently on the club's 53-man roster. Neither has done much, nor had the opportunities to inspire confidence in their abilities in the event something happened to Dalton.
Greg McElroy
finished the 2013 season on the practice squad, giving the Bengals another potential option at the position. Depending on who he might be, a new quarterback could leap-frog all three or potentially force at least one to get cut.
Three players the Bengals might be targeting (all three are expected to attend the combine)
Aaron Murray (QB), Georgia:
If the Bengals realize in early May that they want to draft a quarterback, and if they by some strange twist in the cosmos were to give me a vote on which player they should select, I would implore them to give Murray serious consideration. Before an ACL tear sidelined him at the end of the 2013 season, he had been getting attention as a possible early-round pick. Toughness, an ability to play through injuries and leadership are some of the traits he's most known for exhibiting. At 6-foot, he is a shorter quarterback. But short or not, he is a Georgia Bulldog, and the Bengals' love affair with players from that school is quite apparent with the high rate of Georgia players who have been drafted by Marvin Lewis' staff over the years. It could help that one of Murray's first receivers at Georgia,
A.J. Green
, is Cincinnati's top pass-catching threat.
David Fales (QB), San Jose State:
Like Murray, Fales' toughness has been noted, as well as his ability to pass both on the run and stationary in intermediate ranges. If the Bengals under new offensive coordinator Hue Jackson maintain the heavy emphasis on the short-to-intermediate passing game that his predecessor, Jay Gruden, had, then Fales could make for a good fit. From a size standpoint -- he's just under 6-foot-2 and weighs 220 pounds -- Fales compares to Dalton. Fales impressed all week at the Senior Bowl. During the game, he went 6-for-7 for 104 yards, a touchdown and an interception in the South team's win.
Tom Savage (QB), Pittsburgh:
While Murray and Fales could be gone in the third or fourth rounds, Savage could end up being a late-round pick. If the Bengals decide to shore up other concerns through the first five rounds, Savage could be an intriguing possibility if they were to wait until late in the draft to select quarterback. On a conference call earlier this week, NFL Network's Mike Mayock called Savage a "wild card" who "nobody talks about." Similar to Virginia Tech's
Logan Thomas
, Savage, at 6-foot-4, 245 pounds, is a bigger-bodied quarterback who possesses a relatively strong arm. Thicker quarterbacks like that don't much match the Bengals' post-
Carson Palmer
approach, but he still could be one to watch late.
September, 4, 2013
9/04/13
6:05
PM ET
Four days ago,
Greg McElroy
was biding his time, trying to avoid getting in the middle of the circus that was once the
New York Jets
' quarterback controversy. Now he finds himself in Cincinnati, where there is anything but drama behind center.
As they added to their practice squad Wednesday, the Bengals signed McElroy to bolster their depth at quarterback. He won't be part of the official 53-man roster, but will be another body to work out at the position.
Andy Dalton
and
Josh Johnson
are the only signal-callers Cincinnati is officially taking into the regular season. The Bengals are one of 13 teams to employ the two-quarterback model.
McElroy
Still, coach Marvin Lewis is optimistic that if needed, McElroy can contribute.
"The thing that I see is a guy that played with a great pocket presence," Lewis said. "As advertised, he moved out of the pocket and ran when he needed to. He was smart enough to get down when he needed to get down. Probably a couple of good traits for a quarterback."
The
Jets announced earlier
Wednesday that they were going with
Geno Smith
at quarterback over the injured
Mark Sanchez
.
A seventh-round selection in the 2011 draft, McElroy spent the last two seasons as a reserve for the Jets. This preseason, he was 11-for-19 passing for 145 yards and a touchdown. He didn't throw an interception.
In two regular-season games last year, McElroy went 19-of-31 passing for 231 yards and a touchdown, with one interception. The former Alabama standout's worst game of the two came two days before Christmas, when he and the Jets lost 27-17 to the Chargers in his only career start. That day, he completed 58.3 percent of his 24 passes and had a 65.5 quarterback rating.
"Other than the roof kind of caving in on him when they played the Chargers up there, he played pretty well," Lewis said.
Lewis believes McElroy, the quarterback who led Alabama to its 2009 national championship, will take advantage of this chance.
"He has an opportunity now to learn our offensive system here, and some way, one way or the other, he's got the skills to play in the NFL," Lewis said. "That's what we're looking for is some guy that could come on that way."
September, 2, 2013
9/02/13
8:00
AM ET
Here are some headlines from the
Cincinnati Bengals
beat:
The Bengals are bringing in linebacker Thomas Howard this week to check on the ACL he tore a year ago, according to Geoff Hobson of the team's official website. Howard was the Bengals' leading tackler in 2011 and plays the same outside linebacker spot as Emmanuel Lamur, who went on injured reserve with a shoulder injury. "If they think Howard can help, they won't do anything until next week." Hobson wrote.
Quarterback Greg McElroy, who was cut by the Jets, is going to sign with the Bengals' practice squad, the NFL Network reports. Josh Johnson is currently the backup to Andy Dalton.
Some expected the Bengals to sign defensive end Dontay Moch to the practice squad. Moch led the team with three sacks in the preseason, but he has been a disappointment as a former third-round pick. The Cincinnati Enquirer's Joe Reedy wrote: "Originally drafted as a linebacker, Moch was moved to the defensive line but was caught up in a numbers game. One might also wonder where Moch is a better fit – as a defensive end in a 4-3 alignment or as an outside linebacker in a 3-4."