November, 29, 2013
11/29/13
10:00
AM ET
A review of four hot issues from the
Pittsburgh Steelers
' 22-20
loss
to the
Baltimore Ravens
.
[+] Enlarge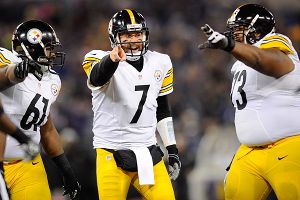 AP Photo/Nick WassPittsburgh's offensive line took good care of quarterback Ben Roethlisberger against the Ravens.
O-line keeps Big Ben clean again:
I thought the offensive line played one of its better games of the season. It is difficult to understand why the Steelers didn't use their no-huddle offense more before the second half, because the line did not seem all that bothered by the crowd noise. It certainly wasn't rattled by it. The Steelers had just one pre-snap penalty -- right guard
David DeCastro
was flagged for a false start in the second quarter -- and the Ravens did not sack quarterback
Ben Roethlisberger
. The line has given up one sack over the past three games, and Roethlisberger has not been sacked in the past two games. Not that any of that mattered to DeCastro after the Steelers fell to 5-7. "It's a tough one to swallow," he said. "I thought we played OK. We didn't run the ball efficiently in the first half. We protected Ben OK, but it wasn't enough."
O-line dealing with more injuries:
How healthy the offensive line is moving forward will be an issue considering four players from that unit left the game with injuries. Coach Mike Tomlin provided the minimum on those injuries (ankle, knee, etc.), and it looked like starting center
Fernando Velasco
might have been the only one to suffer a potentially serious injury. Velasco hurt his right ankle, and he left M&T Bank Stadium in a walking boot and crutches. Injuries to
Kelvin Beachum
(knee) and
Mike Adams
(ankle) forced the Steelers to use three players at left tackle, and DeCastro hurt his foot. Defensive end
Brett Keisel
left early in the first quarter after aggravating a foot injury that had sidelined him the previous two games.
They like Ike:
Torrey Smith
ended up 7 yards shy of becoming the third consecutive wide receiver with at least 100 receiving yards and a touchdown while getting covered primarily by cornerback
Ike Taylor
. And Smith drew a 26-yard pass interference penalty on Taylor on a third-and-7 play in the second quarter. The Ravens were 6-of-8 on third-down conversions in the first half, and Taylor's penalty led to one of five
Justin Tucker
field goals in the two-point game. Smith's 54-yard catch set up the Ravens' only touchdown. It also went down as the 10th play of at least 50 yards that the Steelers have given up this season.
Not so special:
The Steelers' special teams gaffes were costly -- and will likely hit Tomlin's wallet after he almost wandered onto the field during
Jacoby Jones
' 73-yard kickoff return while watching it on a scoreboard Jumbotron. I think Tomlin made an honest mistake and that there was no intent by the seventh-year coach to slow down Jones, who flashed through a huge opening on the left side on the way to the longest play of the game. What hurt the Steelers more than Jones' return was the botched field goal attempt in the second quarter. Kicker
Shaun Suisham
started his approach too early, and he never had a chance to attempt a 50-yard field goal. "We were doing it on a slow cadence to slow their pass rush," Tomlin said. "I don't think Shaun heard the cadence." The Ravens took advantage of the short field after Suisham, who ended up with the ball, was tackled for a 12-yard loss, and they kicked a field goal. "I don't think he did anything to beat himself up [over]," long snapper
Greg Warren
said of Suisham.
March, 14, 2013
3/14/13
8:00
AM ET
Here's a recap of the first two days of free agency in the AFC North: the Browns signed players, the Ravens lost starters, the Bengals focused on re-signing their own players and the Steelers created more salary-cap space. If you want more details about Day 2 in free agency, take a look at the wake-up call ...
BALTIMORE RAVENS
The Baltimore Sun's Kevin Cowherd believes fans shouldn't panic over the Ravens' loss of players. "There has to be a plan in place that's dictating these recent moves," Cowherd wrote.
The Ravens envision recently signed Chris Canty to play a role similar to the one defensive end Cory Redding had a couple of years ago. "I'm excited about that," Canty told Baltimore reporters, via the team's website. "I'm very confident that I'd be able to come in and do that job at a very high level and help provide this defense with an opportunity to be aggressive and to be a dominant defense."
CINCINNATI BENGALS
According to the team's website, Lewis seemed unfazed that the Bengals lost three backup players who didn't fit into their long-term future: Defensive tackle Pat Sims (Oakland), outside linebacker Manny Lawson (Buffalo), and backup quarterback Bruce Gradkowski (Pittsburgh). "Nothing has changed," Lewis said. "I'm happy for Manny and that's a great thing for him. Our plans are set the way they are set."
PITTSBURGH STEELERS
Gradkowski, who was signed by the Steelers on Wednesday, has been a backup throughout his career but this time it's a different situation for him. "There's a great franchise quarterback here," Gradkowski said, via The Pittsburgh Post-Gazette. "To get to play with him and be a part of this is amazing. I haven't had that yet, to be somewhere where that guy is the guy. Ben (Roethlisberger) is the guy."
The Steelers re-signed long-snapper Greg Warren, who has spent his entire seven-year career with the Steelers. Also, Beanie Wells visited the Steelers and took a physical, according to The Post-Gazette.
CLEVELAND BROWNS
Outside linebacker Paul Kruger wants to be an every-down player and not a pass-rush specialist. "That's the biggest thing I want to change, is just being somebody you can rely on during the whole game," Kruger said at his introductory news conference, via The Plain Dealer. "I think that I was deemed as a pass-rusher only and it's something I think I'll be able to show people, I can be effective on every snap."
December, 27, 2012
12/27/12
11:15
AM ET
Steelers quarterback
Ben Roethlisberger
put
the blame on himself
for Pittsburgh failing to make the playoffs for only the fourth time since 2001.

"A lot of it just has to do with me not playing well enough down the stretch," Roethlisberger said. "Fourth-quarter drives or last-minute throws, I'm just not making it happen, so my best answer would be that I just didn't play well enough."
It's easy to point the finger at Roethlisberger. He threw two interceptions late in games (in overtime in Dallas and with 14 seconds left against the Bengals) that led to losses the past two weeks. Roethlisberger did the right thing as a leader to take the blame. But it would be wrong for everyone to do the same.
Here's a quick list of who should share in the Steel City blame game ...
The defense
. Yes, the NFL's top-ranked defense played a part in this disappointing season. For the second straight season, the Steelers didn't force enough turnovers. Pittsburgh took the ball away 16 times this season, which meant Roethlisberger had to continually drive the length of the field to score points. Only the Eagles, Colts and Chiefs forced fewer turnovers this season.
Offensive line
. This banged-up group allowed Roethlisberger to get banged up again. Its failure to block the Chiefs led to Roethlisberger getting sandwiched on Nov. 12, when he injured his rib and shoulder. He was never the same after that, throwing six touchdowns and four interceptions in three games since coming back. Left tackle
Max Starks
has given up 36 quarterback hurries, eighth-most in the league.
Mike Wallace
. His drops continually let down Roethlisberger. He is only credited with six by ESPN Stats & Information, but it seemed like a lot more. To Roethlisberger's credit, he never lost confidence in Wallace.
Greg Warren
. For those who don't know, Warren is the usually solid long snapper. But Warren's poor snap led to the 24-yard field goal miss in last Sunday's three-point loss to the Bengals. You remember Roethlisberger's interception because it happened at a crucial time, but Warren's mistake was just as big in the Steelers losing an elimination game.
All of the running backs
. Roethlisberger had to carry the offense because he didn't get any help from his supporting cast. It didn't matter who the Steelers handed the ball off to --
Jonathan Dwyer
,
Isaac Redman
,
Rashard Mendenhall
and
Chris Rainey
-- Pittsburgh couldn't run the ball consistently, or at the very least, force defenses to respect the ground game. The Steelers are 26th in rushing yards per game (96.4) and per carry (3.8). Here's the most disturbing stat: the Steelers had as many fumbles (eight) as 20-yard runs.
December, 22, 2009
12/22/09
12:47
PM ET

Galloway
The
Pittsburgh Steelers
made an interesting roster move Tuesday, signing 15-year veteran receiver
Joey Galloway
to a contract.
Pittsburgh showed interest in Galloway during the offseason but chose not to sign him. The Steelers made the move this week after receiver
Limas Sweed
was put on the reserve/non-football illness list.
Galloway is expected to provide the Steelers depth as the No. 4 receiver behind Santonio Holmes, Hines Ward and rookie Mike Wallace. Ward also has a hamstring injury this week. So it's possible Galloway could become the third receiver if Ward cannot play Sunday against the
Baltimore Ravens
(8-6).
The Steelers also added long-snapper
Jared Retkofsky
to replace the injured
Greg Warren
(knee).
November, 19, 2008
11/19/08
4:07
PM ET
Posted by ESPN.com's James Walker
PITTSBURGH -- Steelers kicker Jeff Reed has seen more curveballs in Pittsburgh than your typical Pirates slugger.
This season, Reed has had a change of long-snappers, following a knee injury to teammate Greg Warren.
| | |
| --- | --- |
| | |
| | AP Photo/Gene J. Puskar |
| | While his holders have rotated, Steelers kicker Jeff Reed has been a constant. |
Reed's place-holders have been a rotating door among Daniel Sepulveda (injured), Paul Ernster (cut), Mitch Berger (cut) and Ernster (re-signed) again.
Add the fact that the field conditions in Heinz Field are getting uglier by the day and Pittsburgh's offense has sputtered, and it's amazing that Reed's kicking remains the one constant.
The seven-year veteran is quietly having the best season of his career for the 7-3 Steelers. In his most recent outing, Reed kicked through snowy conditions and made three clutch field goals during an 11-10 victory over the San Diego Chargers. He is 16-of-17 on field goals this year, and his percentage (94.1) is fourth in the NFL among kickers with at least 14 attempts.
Most fans simply watch Reed kick on game day but fail to understand the work needed to seamlessly make the transition to a new long-snapper (rookie Jared Retkofsky) and three different holders in one year.
"When you talk about adversity for a kicker," Reed said, "it doesn't get much more adverse than this."
Reed is accustomed to curveballs. He got first got a taste of the unpredictability that is the NFL during his rookie year in 2002.
Following a solid college career at the University of North Carolina, Reed went undrafted and was unable to land on an NFL roster. So the Charlotte native went back to the Tar Heel state to work on a dairy farm cleaning debris.
"Everyone thinks I was a farmer, which is not true," Reed said, smiling. "I was just working on a farm for a friend who was actually a true farmer."
Reed then took the winding path to Pittsburgh.
An injury to former Steelers kicker Todd Peterson earned Reed a tryout for the Steelers in November 2002. Pittsburgh was the seventh team Reed tried out for that year.
It was a typical winter mosh pit at Heinz Field when Reed joined three other kickers to try out. Through sleet and approximately 30-degree weather, Reed had perhaps his worst kicking display before an NFL team.
"It was cool to get a tryout but you're thinking, 'Man, why couldn't it be a different day?'" Reed said. "We all kicked about equally. ...We all missed some that we should have made and were slipping all over the place."
Reed admits that none of the kickers were impressive enough to earn the job, but he got the nod that day. Reed said former Steelers coach Bill Cowher still jokes with him occasionally, saying he has no idea why he chose the rookie kicker six years ago.
But Cowher's intuition is still paying dividends. Reed has a career 83-percent success rate on field goals, despite kicking half his games at home on arguably the toughest surface in the NFL. The past two years Reed has made 39 of 42 field-goal attempts (92.8 percent) for Pittsburgh.
Some kickers can be outcasts in their locker rooms, but Reed is not one of them. When he arrived six years ago, teammates and coaches didn't know his name. Now he's a fan favorite. Pittsburgh quarterback Ben Roethlisberger often praises Reed, saying earlier this year that he has "the utmost confidence in him." Reed also was chosen to be a captain this year by his peers.
Without a doubt, it has been a long road for the Steelers' kicker who, after college, was working on the farm for $12 per hour.
But in a blue-collar town like Pittsburgh, Reed is an ideal fit.
"It would be great to be a first-round pick ... but I kind of like it better when you have to earn what you got," Reed said. "Coach Cowher's saying was 'It's hard to get there, but it's harder to stay.' If that's not reality, then I don't know what is."
November, 3, 2008
11/03/08
9:15
PM ET
Posted by ESPN.com's James Walker
LANDOVER, Md. -- Although it may not be a big deal nationally, those in the Steel City will be keeping a close eye on new Pittsburgh Steelers long snapper Jared Retkofsky.
Long-snapping issues hurt Pittsburgh in last week's loss to the New York Giants. Greg Warren suffered a torn ACL and linebacker James Harrison attempted to fill in but delivered a high snap that resulted in a safety.
Retkofsky was signed as a free agent last week and had ample time to get acclimated. But it's difficult to predict how any new player will respond to a hostile environment. His first snap on a punt was fine in the first quarter.
If this is the last time I mention Retkosky's name, Steelers fans probably will be satisfied with his first game.
October, 28, 2008
10/28/08
4:00
PM ET
October, 27, 2008
10/27/08
7:10
PM ET
Posted by Scouts Inc.'s Matt Williamson
With long snapper Greg Warren out of the picture after suffering a torn anterior cruciate ligament in Sunday's game against the Giants, where do the Steelers turn now? It certainly won't be in the direction of linebacker James Harrison. Harrison was pressed into emergency duty after Warren went down and the results were disastrous. Harrison's first snap in an NFL game probably also will be his last.
The Steelers obviously were completely unequipped to handle an injury to Warren, a responsibility that falls on the coaching staff. Harrison seemed like a decent enough choice at the time, if only because he was willing, had a little experience fiddling with long snaps in training camps, and clearly would be an asset covering punts. But in retrospect, he wasn't much of a backup plan. NFL rosters aren't big enough to accommodate a true reserve long snapper, and I don't know for a fact that every NFL team has an emergency backup lined up. I know every team should. I can guarantee Bill Belichick does.
But hindsight is 20/20. How do the Steelers handle their current situation? On Tuesday, they can be expected to bring in two or three long-snapping candidates -- all of which figure to have some NFL experience in the role -- to work out. Head coach Mike Tomlin, special teams coach Bob Ligashesky, the Steelers' specialists and a few front-office folks all should be involved in the sessions. You can bet they'll sign a true specialist, someone whose job it will be to handle all long snaps -- not just a position player who also happens to snap.
Berger (also the team's holder) and kicker Jeff Reed may have a fair amount of input into the decision-making process. Heinz Field is an extremely treacherous place to kick, with a soft field and hard-to-navigate winds. Their comfort level with the new long snapper could have implications for a club facing the league's most difficult schedule and a series of potentially tight matchups.
Specialists often have a lot of down time during practices, but that won't be the case for Pittsburgh's crew this week. Berger, Reed and the new guy will need all the reps they can get with one another to sharpen their timing, especially on placekicks. With three players and three separate phases -- snap, hold, kick -- involved, there's more that can go wrong on short snaps. Revolutions, location of the ball's laces and accuracy of the snap are also more important. Punters generally are more athletic than kickers, so there tends to be a bit more room for error on deep snaps than shorter ones.
Don't be surprised if that group spends a lot of time at Heinz Field this week, rather than working out at the Steelers' practice facility. When I worked at Pitt, one of my responsibilities was to take our specialists to Heinz once a week to practice and to try to get them used to kicking in difficult conditions. Considering the Steelers' new long snapper will play half his games on that field, it's likely that the team will try to get him as many reps in that environment as possible.
In the end, the identity of Pittsburgh's new long snapper probably won't make a huge difference. There are no schemes to fit into or systems to learn for a long snapper, and even the protection calls on punts generally are handled by the designated personal protector. Save for minor differences in talent and consistency, long snappers are pretty much interchangeable. Just don't tell that to Harrison.
October, 26, 2008
10/26/08
11:36
PM ET
Posted by ESPN.com's James Walker
PITTSBURGH -- After the Pittsburgh Steelers gave up 12 unanswered points and blew a fourth-quarter lead to the reigning Super Bowl champions Sunday, they came to the realization that the New York Giants are not only better than them, but they're also better than everyone else.

"They are Super Bowl champions for a reason," was the general quote uttered at least a half-dozen times Sunday night.


| | |
| --- | --- |
| | |
| | Rick Stewart/Getty Images |
| | Stopping (and sacking) Big Ben seems to be the key to beating the Steelers. |
Chalk up
Pittsburgh's 21-14 loss
and fourth-quarter meltdown as a learning experience.
The Giants (6-1) are the cream of the crop at the midpoint of the season. They earned that honor by doing what championship-caliber teams do: hang around on the road, then kick it into another gear in crunch time.
The Steelers (5-2) showed they are not far behind, but they still have a ways to go in terms of executing against the NFL's best for four quarters.
Here are some other observations in the wake of Pittsburgh's loss:
Pressure busts pipes (and Big Ben)
At the midpoint of the season, the book is out on beating the Steelers: beat up "Big Ben" and you have a great chance to win.
Coming off a 38-10 thrashing of the Cincinnati Bengals in which Ben Roethlisberger wasn't sacked, the Steelers gave up five sacks and several more shots on their quarterback against the Giants on Sunday.
As a result, Roethlisberger was never able to find a comfort zone. He completed only 13-of-29 passes for 189 yards, one touchdown and a season-high four interceptions. It was the first multi-interception game of the season for the Steelers' quarterback, who also bore some of the responsibility for the sacks after holding the ball too long.
"It's disappointing offensively from top to bottom and it starts with me," Roethlisberger admitted. "We're just not getting it done ... We saw some things today that we didn't see on film."
October, 26, 2008
10/26/08
7:40
PM ET


Posted by ESPN.com's James Walker
PITTSBURGH -- It was as competitive and physical as everyone expected.
The possible Super Bowl preview between the New York Giants and Pittsburgh Steelers went down to the final quarter as the Giants came back to win, 21-14.
Pittsburgh led 14-9 for most of the second half until a series of bad plays led to New York taking over. The Giants' John Carney kicked 24-yard field goal to get within two. Then a high snap by linebacker James Harrison on a Pittsburgh punt attempt led to a safety that tied the game. First-string long snapper Greg Warren injured his knee in the third quarter.
With 3:11 remaining, Giants tight end Kevin Boss scored the go-ahead touchdown to seal it. The Steelers had the ball in the final two minutes with a chance to tie but couldn't drive the length of the field.
Pittsburgh's offense was never able to string together enough plays as quarterback Ben Roethlisberger threw four interceptions, continually putting the Steelers defense in bad spots.
Bodies were dropping left and right in this game. It will be interesting to hear the post-game injury report from both coaches following the beat down both teams dished out on one another. For Pittsburgh alone, Warren and starting safety Ryan Clark (shoulder) appeared to have suffered significant injuries.
The defeat breaks a three-game winning streak for the Steelers (5-2), who hadn't lost in more than a month since a Sept. 21 loss to the Philadelphia Eagles. Pittsburgh will look to rebound against another tough NFC East opponent next week when the Steelers travel to play the Washington Redskins (6-2) on ESPN's "Monday Night Football."