January, 17, 2014
Jan 17
10:30
AM ET
Our most recent poll on who you'd like to see the Browns hire as head coach drew twice as many voters as any of our previous polls.

More than 4,100 voted, and the statement made was clear and strong: The people want Jim Tressel.

Even if they're not going to get him.

Fifty percent of the vote went to Tressel even though the Browns have shown no interest in talking to the former Ohio State coach (unless they're doing it secretly).

For one person to garner 50 percent of the vote in a five-person vote is significant. It means Tressel had as many votes as the other four combined.

Methinks the fans are serious about this.

If it were an electoral college, Tressel would have run away with the vote: Only six states did not vote for him: Maine, Vermont, North Dakota, Montana, Nebraska and Alaska (?). Yes, the great state of Alaska, with its majestic mountains and gnarly grizzlies, cast its two votes for the man with the vest from the great state of Ohio, Jim Tressel.

What's equally as interesting is that none of the other four names listed garnered more than 15 percent of the vote.

Adam Gase, whom the Browns have waited patiently to interview, drew 15 percent, but didn't even win in Colorado, where he coaches a guy named Manning.

Auburn's Gus Malzahn received 14 percent, former Tennessee coach Mike Munchak 14 percent and Seattle defensive coordinator Dan Quinn just seven percent.

The poll was posted before Mike Pettine (Bills DC) and Rich Bisaccia (Cowboys special teams) interviewed, but it doesn't seem those two names would have chipped away at Tressel's 50 percent.

It's clear the man they call "the Vest" remains popular, liked and respected in the state of Ohio.
January, 1, 2014
Jan 1
3:33
PM ET
Owner Jimmy Haslam talked about hiring a proven winner to replace Rob Chudzinski, so it was odd when the first names that surfaced in the
Cleveland Browns
' coaching search were coordinators.
Then on Sunday, CBSSports.com's Jason La Canfora reported that the Browns were interested in two college coaches: Auburn's Gus Malzahn and Vanderbilt's James Franklin. These names could fall under the category Haslam described.
[+] Enlarge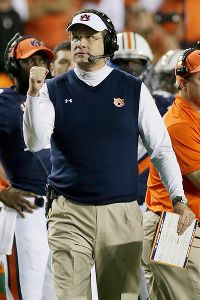 AP Photo/Dave MartinThe Browns are reportedly interested in Gus Malzahn, who led Auburn to the BCS title game in his first season as head coach.
Malzahn's name is interesting. He's this year's Chip Kelly, the guy the Browns did not get a year ago. That failure stung, especially after Kelly initially indicated he'd return to Oregon but then joined the Eagles and led them to the playoffs. The timing isn't good for Malzahn, who is preparing his Auburn team to play Florida State in the national title game. But if Malzahn's goal is to be in the NFL, the timing won't matter.
Malzahn was
Cam Newton
's offensive coordinator when the Tigers won the national title. He spent a year as head coach at Arkansas State before returning to be the head coach at Auburn this season. Like Kelly, he has been tied to the read-option offense.
Franklin is a former Packers assistant who had success in one of the toughest places in the SEC to have success, Vanderbilt. He has also been rumored to be on the list of other NFL teams with openings, and his name has been floated in relation to Penn State, which needs a coach after Bill O'Brien left for the
Houston Texans
.
The college names are interesting, because it's tough for NFL coordinators to have proven records of winning. College head coaches can.
While most in the league shook their head at the firing of Chudzinski after one season, almost as many are interested to see who is hired. In the structure the Browns have, Banner is in charge of football and personnel. A coach would have to accept that structure.
Other names that have surfaced include:
New England offensive coordinator Josh McDaniels.
At first glance McDaniels would seem to be a front-runner. He's from Northeast Ohio and went to college at John Carroll in suburban Cleveland. But sources have said Banner must be convinced, and that could be a challenge. McDaniels would seem to want control over personnel the way Belichick has it in New England. Given the Browns structure, that demand might be tough to meet.
Arizona defensive coordinator Todd Bowles.
Good guy, respected coach. He worked for the Browns from 2001 to 2004 as defensive backs coach before moving on to the Cowboys, Dolphins, Eagles and Cardinals, where he was Bruce Arians' choice to coach the defense. It's tough to find anyone who will say much negative about Bowles. He also would fill the league's Rooney Rule mandate.
Seattle Seahawks defensive coordinator Dan Quinn.
He will also interview with the Vikings. Under Quinn this season, Seattle led the NFL in points allowed, yards allowed, passing yards allowed and interceptions. He spent two years as the Florida Gators' coordinator, and has been an assistant with several NFL teams.
Denver Broncos offensive coordinator Adam Gase.
Every year there's a young coordinator who garners attention. It appears this year it's Gase, who had the benefit of working with
Peyton Manning
. That sure helps a coach look good, but it also helps a coach gain knowledge. Don't discount the recommendation Manning may have given on behalf of Gase; Manning and Haslam are friends. Gase, though, could hurt his chances by deciding not to interview until the Broncos' postseason run is over. It's an admirable stance, but the Browns may not wait.