December, 1, 2010
12/01/10
12:00
PM ET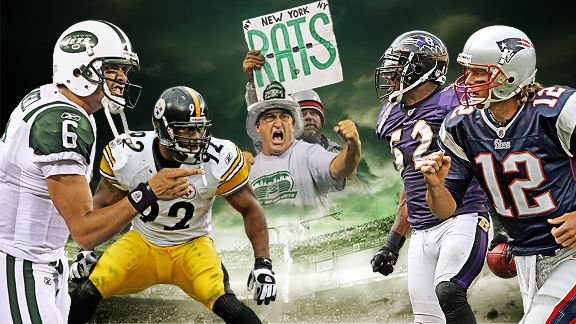 ESPN.com IllustrationTwo of our NFL bloggers weigh in on which division boasts the better rivalry.
Two of the NFL's hottest rivalries will take center stage in Week 13. Lucky for us.
The
Pittsburgh Steelers
will visit the
Baltimore Ravens
on Sunday night. The
New York Jets
then will visit the
New England Patriots
on Monday night. Combined record of the four teams: 34-10.
Millions of football fans will be tuned in to see both marquee matchups with superstars and storylines aplenty.
But which pairing represents the NFL's best divisional rivalry?
Each matchup has a history, quality quarterbacks and plenty at stake for the playoffs. A couple of feisty bloggers -- James Walker from the AFC North and Tim Graham from the AFC East -- will state a case for why his division has the better rivalry.
James Walker:
Tim, I just want to apologize in advance, because I don't think you have much of a leg to stand on comparing these two rivalries. Do you accept my apology?
Tim Graham:
If that's really what you think, then the only thing to accept is your resignation. The Jets-Patriots rivalry goes back 50 years, showcases ESPN's team of the decade versus the biggest media sensation, involves espionage, features incredible player and coaching crossover and will generate significantly more attention this week than the Steelers and Ravens. Yet I don't have a leg to stand on? This should be amusing.
Walker:
OK, let's get down to business. First, I'm going to tell you why the Jets-Patriots rivalry doesn't stack up to Ravens-Steelers. For starters, the Jets aren't even the Patriots' biggest rival in the AFC. The Colts are. Indianapolis and New England have played eight straight years in much bigger games -- sometimes with the Super Bowl at stake.
Meanwhile, there is no debating the Steelers and Ravens are each other's biggest rival. Both teams have played on the biggest stages, including the AFC Championship Game in 2008, when the Steelers went on to win Super Bowl XLIII. Finally, here's another difference: Pittsburgh and Baltimore both have championships within the past decade. When both rivals are able to reach the pinnacle while beating up each other along the way, that's when a rivalry is truly special. The Ravens and Steelers have it. The Colts and Patriots have it. The Jets and Patriots? I don't think so.
[+] Enlarge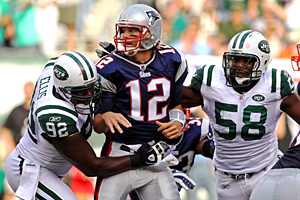 Ed Mulholland/US PresswirePatriots quarterback Tom Brady said earlier this season that he hates the Jets.
Graham:
Your opinion about the Colts representing a bigger rival than the Jets would be pertinent if the Patriots agreed with it.
Tom Brady
earlier this year declared "I hate the Jets," and he wasn't joking. The Patriots play the Jets twice a year. Division games are worth more than any other game in terms of importance. A Patriots-Colts game is more like a playoff exhibition.
You do make a good point about the Ravens and Steelers each winning a Super Bowl in the past decade. But recent titles don't necessarily make rivalries. If they did, then the Packers, Vikings and Bears don't have rivalries. Storylines and animus make rivalries. In that regard, Jets-Patriots is unsurpassed.
Walker:
Brady says he hates the Jets, but a rivalry is a two-way street. How much hatred does New York really have for the Patriots? It can't be too deep-rooted. Most of New York's key people recently came from the AFC North and other teams, including head coach Rex Ryan. I'd be willing to bet
Santonio Holmes
hates the Ravens more than he hates the Patriots. I know
Bart Scott
hates the Steelers. We've talked about it several times while he was in Baltimore.
Braylon Edwards
? He hyped his return to Cleveland 10 times more than this week's game against New England. Do you really think key players like Edwards,
LaDainian Tomlinson
and
Antonio Cromartie
have a feel for the Jets-Patriots rivalry? I doubt it.
But there is legitimate, two-way hatred between the Steelers and Ravens.
Hines Ward
hates the Ravens.
Ray Lewis
hates the Steelers. The markets of Pittsburgh and Baltimore simply cannot drive the point home like bigger cities New York and Boston can. For example, Ravens defensive end
Terrell Suggs
basically told me he doesn't like the Steelers, either, which is similar to what Brady said about the Jets. Yet it didn't get any attention. The Jets-Patriots rivalry may be unsurpassed in hype. But the Ravens-Steelers rivalry is unsurpassed in substance.
Graham:
Come on, James. You need to do more than take a glance at 2010 rosters to understand the Jets-Patriots rivalry. Every team has free agents who need to learn a rivalry. The point about Brady's hatred was that he never said that about the Colts, which you propose is a bigger rival for the Patriots than the Jets are.
But you want substance? How about Bill Parcells taking the Patriots to the Super Bowl and then leaving them for the Jets amid such controversial circumstances the NFL forced New York to send four draft picks to the Patriots over three years, including the first-round pick in 1999, as a penalty? How about the infamous
Curtis Martin
defection from the Patriots to the Jets and the infamous "poison pill" contract? How about Parcells abdicating his Jets job to Bill Belichick and then Belichick writing his resignation on a cocktail napkin moments before the Jets thought they were introducing him as their next head coach? How about the Jets blocking Belichick from joining the Patriots until he filed a federal lawsuit and then settling on the Patriots shipping five draft picks to the Jets over three years, including their 2000 first-rounder? How about Patriots defensive coordinator Eric Mangini departing to be Jets head coach and leaving the bridge in cinders? How about the Patriots filing tampering charges against the Jets on receiver
Deion Branch
? How about a little thing called Spygate? How about
Damien Woody
,
Danny Woodhead
,
Ty Law
,
Vinny Testaverde
,
Roman Phifer
,
Larry Izzo
,
Hank Poteat
and
Chris Baker
(among many other role players) wearing both uniforms within the past decade? Steelers-Ravens has nothing even remotely close to a third of that rundown.
[+] Enlarge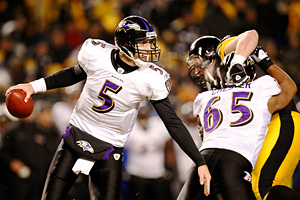 Gregory Shamus/Getty ImagesJoe Flacco will have to constantly prove himself against the Steelers and Ben Roethlisberger.
Walker:
Why you think playing for both teams makes it more of a rivalry is beyond me. I think it lessens your argument. I can't imagine
Ed Reed
or Lewis wearing a Steelers jersey. Ward would never sign a deal to play for the Ravens. Not in a million years. These two teams hate each other too much. Yet all these Jets and Patriots players simply flip-flop between teams at their leisure? That's weak and not the sign of a hated rivalry, in my opinion.
Graham:
That's rather Pollyanna to think Ravens would never go play for the Steelers or vice versa. Do you honestly believe if the Steelers had hired Ryan, then all of those players who followed him to the Jets wouldn't have gone to Pittsburgh? Please. Players pursue the best opportunity based on money, playing a system they love and a chance to win a title.
Here is how players switching teams make for a better rivalry: It thickens the plot. Fans who used to wear a player's jersey burn them. The expatriate player shares playbook secrets and other intelligence. That player has a chip on his shoulder and comes back to haunt his old team.
Walker:
Moving onto quarterbacks. I think there are some similarities between the teams' four passers.
Joe Flacco
is the third-year upstart trying to get to the championship level of
Ben Roethlisberger
, who already has two rings. Much of Flacco's status eventually will be determined by how much success he has against Roethlisberger and the Steelers within his division. It seems the Ravens and Steelers are always in the way and have to go through each other to have a deep run in the playoffs and get to the Super Bowl. What dynamic do you see developing with Brady and a young
Mark Sanchez
?
Graham:
I don't know if there's much of a quarterback comparison beyond the glamour element at this stage. Brady and Sanchez have a lot in common from an off-the-field standpoint. They sell a lot of jerseys, attract a lot of ladies, walk a lot of red carpets, appear in a lot of photo shoots and do a lot of cameos. But they're too far apart in experience to compare résumés.
[+] Enlarge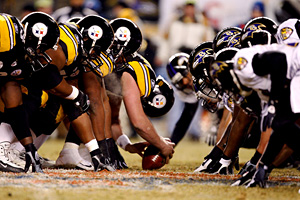 Streeter Lecka/Getty ImagesThe Ravens and Steelers have competed recently in many high-profile matchups -- including the 2008 AFC Championship Game.
I see the Jets and Patriots as more of a fan base and organizational rivalry: teams from two of the greatest sports markets, with two of the NFL's most influential owners, and two of the best defensive coaches in the game -- heck, two of the most controversial coaches of this generation. Ever since Ryan took over as Jets head coach, he has been tweaking Belichick. Some thought the rivalry would wane when the Jets fired Mangini, but Ryan -- a guy who helped build the Steelers-Ravens rivalry, by the way -- came along and made it juicier.
Walker:
Now is our favorite part. It's prediction time. It's no secret the Steelers and Ravens are built and play similarly. So it's usually a close game. Baltimore is going for its first series sweep since 2006, but Roethlisberger didn't play in the first meeting because of a suspension. Now he's back and is 7-2 all-time against Baltimore. But I have a feeling this is the Ravens' week. They are healthier overall, 5-0 at home and appear to be peaking at the right time. The Steelers, on the other hand, have been up and down. Both teams usually bring out the best in each other, but I'm picking the Ravens to win, 20-17. So who are you picking between the Patriots and Jets, Tim? Don't chicken out.
Graham:
I predict the loser of the Jets-Patriots game will have the same record as the team that wins the Ravens-Steelers game. Predicting a score has no bearing on our debate of which rivalry is better. But I will say the Jets and Patriots provide a rare showdown between teams with the NFL's best two records. This is only the fifth time in "Monday Night Football" history two clubs with records of 9-2 or better will play, and the first game under those circumstances that doesn't involve the
Joe Montana
-led
San Francisco 49ers
in Candlestick Park.
This is a special game befitting a special rivalry. Your game features clubs that needed overtime to beat the
Buffalo Bills
. I'll expect that resignation letter by kickoff.
March, 4, 2010
3/04/10
9:48
AM ET

Baltimore Ravens
Potential unrestricted free agents
: DL
Justin Bannan
, DL
Dwan Edwards
, CB
Corey Ivy
, WR
Derrick Mason
, TE
L.J. Smith
, WR
David Tyree
, CB
Frank Walker
, WR
Kelley Washington
Potential restricted free agents:
OT
Jared Gaither
, K
Billy Cundiff
, S
Dawan Landry
, CB
Fabian Washington
, P
Sam Koch
, OG
Chris Chester
, QB
John Beck
, QB
Troy Smith
, OT
Tony Moll
, FB
Le'Ron McClain
, LB
Prescott Burgess
, WR
Mark Clayton
, WR
Demetrius Williams
Franchise tag:
None
What to expect:
The Ravens have a ton of quality free agents. It will be interesting because Baltimore is the only division team which has to abide by the "
Final Eight Plan
" for making the divisional playoffs. This will restrict Baltimore from making a lot of moves. Therefore, expect the team to keep most of its key restricted free agents while trying to explore the trade market. On the unrestricted side, the Ravens are negotiating with receiver Derrick Mason and are expected to keep him. But two players who could get some interest in the open market are defensive linemen Dwan Edwards and Justin Bannan. Baltimore likes both players but could lose at least one.

Cincinnati Bengals
Potential unrestricted free agents
: K
Shayne Graham
, FB
Jeremi Johnson
, RB
Larry Johnson
, DT
Tank Johnson
, TE
Reggie Kelly
, OG
Bobbie Williams
, S
Roy Williams
, TE
J.P. Foschi
Potential restricted free agents:
LB
Brandon Johnson
, LB
Rashad Jeanty
, OL
Evan Mathis
, C
Kyle Cook
, DE
Frostee Rucker
, CB
David Jones
, LB
Abdul Hodge
, QB
Jordan Palmer
, TE
Daniel Coats
, DT
Shaun Smith
Franchise tag:
None
What to expect:
The Bengals have yet to announce their tenders, so this list could change by Thursday evening. But traditionally they are not big spenders in free agency and will stay true to that even with an uncapped year. Cincinnati could make one or two decent outside signings that may help the team. Finding a receiver would be the most likely target. The most interesting in-house name is offensive guard Bobbie Williams, who likely will test the market. Bengals defensive coordinator Mike Zimmer also would like to keep veteran Roy Williams and Tank Johnson. But the team hasn't made a major push for either player before they're let loose Friday.

Cleveland Browns
Potential unrestricted free agents:
WR
Mike Furrey
, TE
Michael Gaines
, OG
Rex Hadnot
, CB
Hank Poteat
, OL
Ryan Tucker
, OG
Billy Yates
Potential restricted free agents:
RB
Jerome Harrison
, LB
D'Qwell Jackson
, FB
Lawrence Vickers
, S
Brodney Pool
, S
Abram Elam
, DE
Matt Roth
Franchise tag:
None
What to expect:
Cleveland has the money to spend and the biggest talent deficit. So look for the Browns to attempt to make up ground in free agency. Major names like defensive end
Julius Peppers
and tailback
Thomas Jones
have been mentioned as possibilities for Cleveland, but that remains to be seen. Internally, the Browns should be interested in keeping Harrison and Vickers in their backfield. Jackson also has value. None of their unrestricted players are priorities for the team and will be allowed to hit free agency.

Pittsburgh Steelers
Potential unrestricted free agents:
QB
Charlie Batch
, LB
Rocky Boiman
, S
Tyrone Carter
, S
Ryan Clark
, DE
Nick Eason
, WR
Joey Galloway
, DE
Travis Kirschke
, RB
Willie Parker
, CB
Deshea Townsend
, FB
Carey Davis
, OG
Darnell Stapleton
Potential restricted free agents:
OT
Willie Colon
, CB
William Gay
, P
Daniel Sepulveda
, TE
Matt Spaeth
Franchise tag:
K
Jeff Reed
What to expect:
The Steelers are pretty predictable. Pittsburgh intends to keep all of its restricted free agents, get a long-term deal complete with Reed, who has the franchise tag, and let nearly all of their unrestricted free agents test the market. The exception is Clark, who the Steelers targeted as a priority but has yet to reach a long-term extension before Friday's deadline. Negotiations have been ongoing and should go to the final hour to decide whether both sides can come to an agreement or allow Clark to test the market.
February, 15, 2010
2/15/10
1:00
PM ET
»
AFC Free Agency
:
East
|
West
|
North
|
South
»
NFC
:
East
|
West
|
North
|
South
An early look at the free-agent situation in the AFC North.
Note
: These projected lists reflect notable unrestricted free agents for each team. The NFL will not issue an official list of free agents until the signing period begins March 5.
Baltimore Ravens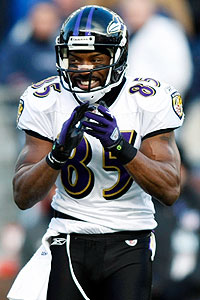 Greg M. Cooper/US PresswireThe Ravens' already-thin receiving corps will take a big hit if Derrick Mason retires.
Unrestricted free agents: DL
Justin Bannan
, K
Billy Cundiff
, DL
Dwan Edwards
, CB
Corey Ivy
, WR
Derrick Mason
, TE
L.J. Smith
, WR
David Tyree
, CB
Frank Walker
, WR
Kelley Washington
Key figures:
Derrick Mason is contemplating retirement. But if he wants to play, the Ravens have every intention of keeping their leading receiver. Look for Baltimore also to make a push for another significant addition at receiver to assist the development of budding quarterback
Joe Flacco
. Sleeper players on this list include the two defensive linemen: Justin Bannan and Dwan Edwards. The Ravens like both players and will probably make a push to keep at least one on the roster. Baltimore also lacks cornerback depth and might elect to bring back Frank Walker, despite his penchant for giving up big plays and committing penalties.
Cincinnati Bengals
Unrestricted free agents:
K
Shayne Graham
, FB
Jeremi Johnson
, RB
Larry Johnson
, DT
Tank Johnson
, TE
Reggie Kelly
, DT
Shaun Smith
, OG
Bobbie Williams
, S
Roy Williams
Key figures:
Bobbie Williams is an interesting name. He's one of Cincinnati's most consistent offensive linemen over the last several years, but he turns 34 in September. Kicker Shayne Graham, who was franchised last season, had a solid career in Cincinnati. But he missed kicks in big spots, potentially ending his run with the Bengals. Running back Larry Johnson was third string in Cincinnati and should get more playing time elsewhere in 2010.
Cleveland Browns
Unrestricted free agents:
WR
Mike Furrey
, TE
Michael Gaines
, OG
Rex Hadnot
, CB
Hank Poteat
, OL
Ryan Tucker
, OG
Billy Yates
Key figures:
This is not an impressive list as most of Cleveland's key free agents -- such as
Jerome Harrison
,
Lawrence Vickers
and
D'Qwell Jackson
-- are restricted. Mike Furrey is a high-character player that coach Eric Mangini likes on his football team, and he might be retained. The remaining players on this list likely will hit the open market. The Browns have an interesting decision to make with Harrison, who led the team in rushing after a tremendous second half of the 2009 season. Harrison could garner some interest as a restricted free agent if the Browns do not offer a high enough tender.
Pittsburgh Steelers
Unrestricted free agents:
QB
Charlie Batch
, LB
Rocky Boiman
, S
Tyrone Carter
, S
Ryan Clark
, DE
Nick Eason
, WR
Joey Galloway
, NT
Casey Hampton
, DE
Travis Kirschke
, RB
Willie Parker
, K
Jeff Reed
, CB
Deshea Townsend
Key figures:
The Steelers are aiming to keep most of their key veterans, while infusing some youth through the draft. All indications are the team will offer extensions to safety Ryan Clark and kicker Jeff Reed. Pro Bowl nose tackle Casey Hampton is the biggest name on this list. But he's a strong candidate for the franchise tag, because there is no full-time replacement on the roster. This offseason probably will mark the end of tailback Willie Parker's tenure in Pittsburgh. Parker, 29, helped lead the Steelers to two Super Bowl wins during his career. But various ailments since initially breaking his leg in 2007 hampered his production.
June, 3, 2009
6/03/09
2:00
PM ET
| | |
| --- | --- |
| | |
| | Gregory Shamus/Getty Images |
| | Cleveland's D'Qwell Jackson, who led the NFL in tackles last season, is looking to assert himself as more of a leader on defense in 2009. |
Posted by ESPN.com's James Walker
BEREA, Ohio -- When Eric Mangini first arrived in January and studied the Cleveland Browns' game tapes of 2008, there wasn't much that stood out from their 4-12 season. That was evident after the new coach swiftly executed an immense roster overhaul in his first offseason.
But there was one player who caught Mangini's eye in nearly every game he studied: Browns linebacker D'Qwell Jackson.
Mangini watched Jackson hustle. He saw Jackson flow to the football and make play after play, despite the fact most games were out of reach and playoff dreams were shattered by midseason.
The result for Jackson was an NFL-leading 154 tackles in Cleveland's No. 26-rated defense. His accomplishments last season went mostly unnoticed except in the film room of his new head coach.
"I've really enjoyed watching D'Qwell," Mangini said. "He is pretty much in the frame at the end of every play and that is always what you look for. You always try to count how many defenders are in that last frame and he seems to be everywhere."
Jackson is happy someone recognized his play last season and plans to use it as motivation.
"It's a great compliment coming from the head guy coming in," Jackson said. "Now I got to take it and run. I don't call it pressure but it's my job to fulfill that role. I have to take a bigger leadership role and I have to be the guy to count on these plays."
If Cleveland has any chance of catching up to the Pittsburgh Steelers and Baltimore Ravens in the AFC North, its defense will have to make major strides in 2009.
The Browns are a combined 5-19 against the Ravens and Steelers since 2003, because those two teams physically dominate the Browns at the line of scrimmage. The Cincinnati Bengals split with Cleveland last season but are also making significant improvements this offseason to become a more physical team, following the blueprints provided by Pittsburgh and Baltimore in the division.
Even with Jackson's production, Cleveland was very pedestrian defensively. The Browns failed to stop the run (rated No. 28) in 2008 and couldn't sack the quarterback, posting an anemic 17 sacks in 16 games.

D'Qwell Jackson
#52 LB
Cleveland Browns


2008 STATS
TACK
SOLO
FF
INT
SACK
154
95
0
3
2.0
As a point of reference, Steelers outside linebacker James Harrison had 16 sacks alone in 2008.
"If you look at that defense, he's certainly not the problem," Matt Williamson of Scouts Inc. said of Jackson. "If there are 11 starters, he's probably the second- or third-best guy. [Defensive tackle] Shaun Rogers is their best player on defense, and D'Qwell could very well be their second-best player."
Critics of Jackson often say too many of his 154 tackles were not impact plays. Williamson agrees to some extent but added that one player cannot stop the run alone. It takes all 11 defenders shooting their gaps and knowing their assignments, which has been a challenge for Cleveland in recent years.
"D'Qwell does tend to make a fair amount of his tackles further down the field than you would like, but he is still a very good player," Williamson said. "He's a very good tackler, has good reaction, and he doesn't take many false steps. He's also good in coverage, so there is a lot to like there."
For Jackson to take his game to the next level, the former second-round pick in 2006 will need a lot more help running Mangini's 3-4 defense. Cleveland's coach acquired assistance in the form of several defenders Mangini worked with in his previous stint with the New York Jets.
Veteran starting linebackers Eric Barton and David Bowens, both older than 30, will work closely with Jackson. The Browns also added former Jets at every other level of the defense with safety Abram Elam and cornerback Hank Poteat helping in the secondary and C.J. Mosley adding depth on the defensive line.
But Barton in particular has been a great tutor for Jackson, because Barton will line up next to his younger counterpart at middle linebacker. The two former Maryland Terrapins, seven years apart in terms of experience, are expected to become the leaders of Cleveland's defense and are already developing a good chemistry together.
"All of his career he is a Mangini guy, and you know Mangini is a
smart guy," Jackson said. "That's what Eric Barton stands for; that's what type of guy he is."
From the second Cleveland's new coach turned on the game film, Jackson showed potential to become the latest "Mangini guy." Now it's up to Jackson to prove on the field in 2009 that he deserves that distinct moniker from his new head coach.
March, 11, 2009
3/11/09
4:00
PM ET
Posted by ESPN.com's James Walker
The Cleveland Browns are bringing a lot of players from the New York Jets over to join new head coach Eric Mangini.
But are they good enough to make a difference?
The names C.J. Mosley, Hank Poteat, David Bowens and Abram Elam don't strike a chord with many Browns fans. The four spent a majority of their careers as backups or role players.
Yet ironically all four players have a shot for much bigger roles in Cleveland, which provides a great opportunity to shine but also demonstrates how talent-deprived the Browns are.
Bowens and Elam, a restricted free agent, have a chance to make the biggest impact. Bowens has 32.5 career sacks and, despite starting just seven games the past two years, he should start for Cleveland right away. Bowens can play both inside and outside linebacker with the Browns, replacing players such as Leon Williams or Alex Hall.
Elam had 69 tackles and an interception in 2008 and could fill the safety spot left open by Sean Jones, who joined the Philadelphia Eagles. The Jets have one week to match Cleveland's offer for Elam.
Poteat would have to beat out one of Cleveland's young corners in Eric Wright and Brandon McDonald. But at the very least, Poteat, 31, can play the nickel and teach Wright and McDonald the nuances of Mangini's system. Mosley was signed to provide depth on the defensive line, which is also an area the Browns will address in the draft.
All four signings are not overwhelming but could turn out to be solid. And when you're trying to completely rebuild a roster, that's not a bad thing.
March, 10, 2009
3/10/09
9:30
AM ET
Posted by ESPN.com's James Walker
Here are the most interesting stories Tuesday in the AFC North:
Morning take: Front loading the contract likely convinced Coles to come to Cincy. But the Bengals will need Pro Bowl-like numbers from Coles next season to break even on their nearly $10 million investment.
Morning take: This is the first free-agent interview of any kind for Pittsburgh. But I don't think it's a good move unless Galloway, 37, comes at a bargain basement price.
Morning take: I predicted this move here and here weeks ago, so this is no surprise. The next question is how many more former Jets will come to Cleveland?
Morning take: Baltimore kept two kickers on its roster for much of last season. Whatever the Ravens decide, they cannot waste a roster spot on two kickers again.
March, 2, 2009
3/02/09
3:00
PM ET
Posted by ESPN.com's James Walker
Best Match: LB Ray Lewis
The Ravens don't have to look very far for their best match. Without a doubt, the best pairing of the players still available is Baltimore in-house free agent Ray Lewis.
Negotiations have been ongoing for weeks, despite the fact that it was obvious the veteran linebacker was eager to test the market. It turned out the interest in Lewis, 33, was not as strong as anticipated as teams like the New York Jets (Bart Scott) and Dallas Cowboys (Keith Brooking) targeted other linebackers.
Now the best option Lewis has is the reported three-year deal in the range of $24 million that Baltimore put on the table last week. Unless there is a last-minute suitor that wants to go beyond $8 million a year, the Ravens will secure their longtime leader.
Best Match: RB Derrick Ward
If the season started today, oft-injured and inconsistent Chris Perry would be the starting running back for the Bengals. The team has waited long enough for the former first-round pick to develop into a featured back and it hasn't panned out.
Now the Bengals need to find a starting tailback this offseason, and former New York Giant Derrick Ward is the best on the market. He visited Cincinnati last weekend and listened to its best pitch before interviewing with other teams.
A fallback option for the Bengals would be to bring back Cedric Benson. But the team's instant courtship of Ward in free agency is a good indication of which player the Bengals prefer.
Best Match: CB Hank Poteat
Of the four AFC North teams, finding the best match for the Browns was the most difficult. Following last week's trade of former Pro Bowl tight end Kellen Winslow Jr., it's clear this team is starting over. Therefore, Cleveland is more interested in draft picks than big-name acquisitions in free agency.
With that said, eight-year cornerback Hank Poteat would be the ideal fit for Cleveland. He's cheap, experienced and most importantly he is a favorite of new Browns coach Eric Mangini, who coached Poteat with the Jets.
Cleveland needs depth and experience in the secondary. Poteat can come in and compete for a starting job with young corners Eric Wright and Brandon McDonald. Or, at the very least, Poteat can play the nickel and teach the young pair.
Best Match: OT Khalif Barnes
The Steelers are rarely big players in free agency, so there are no obvious matches for the defending Super Bowl champions. But former Jacksonville Jaguars offensive tackle Khalif Barnes would be a nice addition.
In terms of age and production Barnes, 26, is arguably the best tackle remaining on the market. Pittsburgh's offensive line could use help in keeping quarterback Ben Roethlisberger upright next season.
Would the Steelers pay top dollar for a free agent like Barnes? It doesn't appear likely. But if they decide to spend this offseason, Barnes would be a good investment. Otherwise, April's NFL draft cannot come soon enough for Pittsburgh.
February, 13, 2009
2/13/09
10:00
AM ET
Posted by ESPN.com's James Walker
Here are some notes and observations from within the division:
| | |
| --- | --- |
| | |
| | Geoff Burke/US Presswire |
| | Whether linebacker Ray Lewis plays in Baltimore next season remains to be seen. |
For the many Baltimore Ravens fans who are interested, here is how the Ray Lewis negotiations are expected to break down: The team and Lewis' representation will negotiate from now until the start of free agency. Baltimore, at some point, will make what it feels is its best/final offer and hope it's enough to convince Lewis not to test the market. From there it will be up to Lewis to decide if the Ravens' best offer is better than any offer he could get elsewhere, and that will determine if he tests free agency. If Baltimore chooses, a franchise tag also is possibility to keep the negotiations between Lewis and the team.
Speaking of the franchise tag, there's growing momentum in Cincinnati that T.J. Houshmandzadeh will not get tagged by the Bengals. Things can always change, but most teams view receiver as one of the last links in the chain, and Cincinnati may fall in line with that thinking. That is why you don't see many receivers franchised, but you will see linemen, quarterbacks and linebackers, because those are considered core positions to build a team around.

Despite so much talk surrounding the franchise tag this week, one team which likely will not use it this year is the Pittsburgh Steelers. The reigning Super Bowl champions do not have a strong free-agent class. The top player available for the Steelers this year is starting cornerback Bryant McFadden.

Here is a name to watch for the Cleveland Browns: Hank Poteat. The eighth-year cornerback is an unrestricted free agent from the New York Jets and we're being told he is a "Mangini guy." New Browns coach Eric Mangini likely will bring in some of his favorite, most-reliable players from the Jets and Poteat is a prime candidate. It also doesn't hurt that the Browns could use some veteran help at the cornerback position.