December, 9, 2013
Dec 9
5:50
PM ET
PITTSBURGH --
Ryan Clark
wasted little time acknowledging an uncomfortable truth after the loss that all but eliminated the Steelers from postseason contention.
Change is coming sooner rather than later, and it could sweep away most of the remaining veterans who won at least one Super Bowl with the Steelers and played in another.
Clark
"Any time you're in the last year of a contract and a team is playing a certain way you never know what moves they want to make," Clark said Sunday after the Steelers' 34-28 loss to the Dolphins. "I think guys need to realize, and I have realized probably because I am older, faces change. You lose James Farriors and you lose Aaron Smiths, and it hurts and it's tough but everybody's time comes. For me I want to enjoy bit, keep playing, have fun."
The Steelers have their share of pending free agents and they fall into two groups: veterans they may not try to re-sign and younger players they may not be able to re-sign because they command more money somewhere else.
Clark is clearly in the first category as he is in his 12th NFL season, turned 34 in October and is part of a secondary that desperately needs an infusion of youth.
He saw the Steelers make tough business decisions a couple of years ago when they released Farrior and Ward, two players who meant everything to the organization.
The same thing happened after last season when the Steelers did not try to re-sign
Casey Hampton
, a locker room favorite and one of the best run-stuffing nose tackles of his generation.
The Steelers rarely let sentiment get in the way of making difficult personnel decisions, and they don't figure to start now.
The franchise that has won a record six Lombardi Trophies is at a crossroads, and it faces another offseason that will be marked by turnover. Letting Clark walk may be one of the easier decisions it faces given his expiring contract and declining play.
That reality is the reason Clark is looking at the Steelers' final three games as anything but meaningless.
"I know (they) matter to me because for some of us this may be the last however many games in a Pittsburgh Steeler helmet, so you want to play well, you want to enjoy the time with your friends," Clark said. "You just continue to play hard, you continue to have fun and for me that's what I'm going to do and then what happens with that happens."
October, 21, 2013
Oct 21
2:00
PM ET
An examination of four hot issues from the
Pittsburgh Steelers
' 19-16 win over the
Baltimore Ravens
:
[+] Enlarge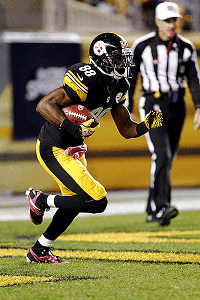 Charles LeClaire/USA TODAY SportsEmmanuel Sanders' clutch kick return set up the Steelers' winning drive in the fourth quarter.
Making a statement:
An offensive line that provided a consistent push up front and protected quarterback
Ben Roethlisberger
is what the Steelers envisioned before the start of the season. That finally translated into the Steelers controlling the line of scrimmage, and they did it against a defense that had been giving up fewer than 100 rushing yards per game. Right guard
David DeCastro
, who is really starting to come into his own, said the Steelers used some inside zone blocking on the way to a season-high 141 rushing yards. But it didn't take a Stanford education for DeCastro to break down why the Steelers were so successful on the ground. "Winning one-on-one blocks," the second-year man said. "I think we're finally starting to jell. We're communicating really well. It's a positive."
Gamble pays off:
Emmanuel Sanders
received the green light from special teams coordinator Danny Smith to return the game's final kickoff no matter how deep he fielded it in the end zone. That confidence and Sanders' speed almost delivered a dramatic touchdown. Even though Sanders stepped out of bounds -- and it appears that his left foot touched the chalk, albeit barely -- his return set up the offense with good field position at Pittsburgh's 37-yard line. That allowed the Steelers to employ a methodical approach to their game-winning drive instead of forcing Roethlisberger to take chances down the field. "It was one of those ones where [Sanders] started running out [of the end zone] and you said to yourself no, no, no and then yes, yes, yes," Roethlisberger said. "What a heck of a play by him."
A trick and a treat:
The Steelers used a trick play to score their only touchdown. But the 2-yard touchdown pass to tight end
Heath Miller
on a left-handed flip from Roethlisberger had been a part of the Steelers' offensive repertoire for years. The Steelers used the shovel pass with Hines Ward, and Roethlisberger lobbied the coaches early last week to bring the play out of retirement. The Steelers executed it perfectly and Miller crashed into the end zone for his 40
th
career touchdown. "We knew that their ends like to come up the field," Roethlisberger said. "As a quarterback you love those short, easy passes and let Heath do all the work."
Return to form:
The Steelers were as effective at stopping the run as they were running the ball. They held the Ravens to 82 yards rushing and limited them to 3.1 yards per carry. On half of Baltimore's 26 runs, it gained 2 yards or fewer. The Steelers have allowed 165 rushing yards in the two games since Minnesota's
Adrian Peterson
gashed them for 140 rushing yards and two touchdowns.
May, 31, 2013
May 31
10:00
AM ET
Baltimore Ravens
wide receiver
Jacoby Jones
became the latest NFL player to have success on "Dancing With The Stars," finishing third on the ABC television series this month. Jones is back practicing with the Ravens and is looking to avoid following in his predecessors' footsteps.
Jones
The four active NFL players to participate on DWTS before Jones -- Jason Taylor, Chad Johnson, Hines Ward and Donald Driver -- failed to play a full season in the year they competed on the show and all were either on different teams or retired by the following season.
Does Jones worry about suffering a similar fate?
"I'm on the younger side," Jones told the
team's official website
. "I'll be fine."
Jones does have youth on his side. At 28, Jones is the youngest NFL player in "Dancing With The Stars" history (according to DWTS Stats & Information).
Taylor, who was 33 when he went on the show in 2008, finished with 3.5 sacks for the
Washington Redskins
after recording 11 the previous season. He was released in 2009 and signed with the
Miami Dolphins
.
Johnson, who was 32 on DWTS and had the last name Ochocinco in 2010, managed 67 catches for 831 yards, the second-lowest during his nine seasons as a starting receiver for the
Cincinnati Bengals
. He was traded to the
New England Patriots
in 2011.
Ward, who was 35 on the show in 2011, caught 46 passes for 381 yards and two touchdowns, his lowest numbers in more than a decade. He was released in 2012 and later retired with the
Pittsburgh Steelers
.
Driver, who was 37 on DWTS in 2012, had eight receptions for 77 yards, his worst season since his rookie year. He retired with the
Green Bay Packers
in 2013.
The Ravens can't afford for Jones to decline this season. He has a chance to become a starting receiver for the Ravens after the team traded
Anquan Boldin
this offseason. At the very least, Jones will be Baltimore's primary returner, which earned him Pro Bowl honors last season.
Jones only missed one week of on-field workouts because of the show. But he hasn't been part of the team's offseason conditioning program, which began April 15.
"My conditioning is good and I'm not sore," Jones said. "I've just got to get my legs back under me, football-wise. It's not like dancing. I still don't feel like me. In a week, I'll feel like me."
April, 2, 2013
Apr 2
12:00
PM ET
For 14 years,
Hines Ward
was a Steeler. Now, his
goal is to be an Ironman
.
Ward
Ward, 37, is training for the biggest stage in triathlon, the Hawaii Ironman, which consists of a 2.4-mile swim, 112-mile ride and 26.2-mile run. My guess is this takes a little more endurance than his previous off-the-field ventures -- winning
"Dancing With The Stars"
and playing a zombie on
"The Walking Dead."
Getting ready for the world championships in October has been a grueling process for Ward. Dropping 18 pounds in two months, Ward ran his first race at 210 pounds. He even beat his time goal by three minutes. By the time he runs his half-Ironman in June, Ward should be down to 195 pounds.
Ward is being coached by Paula Newby-Fraser, who has won the Ironman World Championship a record eight times. There is no thought of Ward winning the race or even coming close to it. Success for Ward is finishing the race before the 17-hour cutoff.
"I have the mentality as a football player that I want to win every time, but you got to put things in reality when you come out here," Ward said.
March, 1, 2013
Mar 1
6:59
AM ET
For the past couple of weeks, every time a Steelers player opened his mouth, the team looked more and more splintered.
Safety
Ryan Clark
said there was a "fracture" in the locker room. Wide receiver
Antonio Brown
talked about a divided locker room. Even former Steelers receiver Hines Ward chimed in, calling it a locker room in "total disarray" last season.
The only player so far to shoot down this perception is quarterback
Ben Roethlisberger
, which is the first promising sign of the offseason. Roethlisberger insists the demise of the Steelers' locker room has been greatly exaggerated. More importantly, he sent a message through
The Pittsburgh Post-Gazette
: Move forward, guys.
[+] Enlarge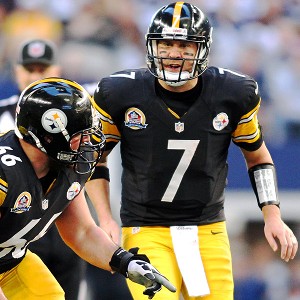 Tim Heitman/USA TODAY SportBen Roethlisberger, a leader on the field, is taking on that role for the Steelers off it, too.
"I'm hoping by doing this to put a stop to it, to say, listen, everybody, as a leader in this locker room, as a guy who has been around here for a long time, I'm hoping that by saying there is no issue and this is fine, that this could be our exclamation point," Roethlisberger told the paper. "Let's move on with this offseason, to training, to getting ready. I don't think there's a reason to look back anymore. That's what I'm hoping to just say:
Done
."
Whether you believe him or not about the locker room, you have to admire the way Roethlisberger stepped forward and took control of the situation. The Steelers need Roethlisberger to be
the
leader, and he certainly played that role perfectly in this instance. The Steelers have been their own worst enemy in February, and Roethlisberger essentially told teammates to shut up and stop rehashing the past. This sure seemed like the matured Roethlisberger, who became a husband in 2011 and a father last year.
Though Roethlisberger became the starting quarterback in 2004, he didn't have to take charge until last season. There was always Jerome Bettis or Hines Ward on offense. With both gone, Roethlisberger was far from the model leader last season. There was speculation of friction throughout the season between him and offensive coordinator Todd Haley, and there was also the time that Roethlisberger openly questioned the play calling in an overtime loss at Dallas.
There have been fewer questions about Roethlisberger's leadership on the field. He's won 87 regular-season games in nine seasons in Pittsburgh and guided the Steelers to two Super Bowl titles. He's orchestrated 22 fourth-quarter comebacks (although he showed some late-game lapses after coming back from injury last season). Now, it's apparent that Roethlisberger has to assert himself off the field. And he said all the right things in addressing the strong comments made by Clark and Brown.
"For anybody to say there are locker-room issues or leadership issues are completely off base," Roethlisberger told The Post-Gazette. "I believe that's the frustration. I believe that it's frustration of last year, I honestly do."
Roethlisberger can say there wasn't a problem in the locker room. But there was obviously something wrong with the Steelers last season. Pittsburgh finished 8-8 and half of those losses came against teams with losing records.
There are painful memories like the eight turnovers in Cleveland and Roethlisberger's interception in overtime in Dallas. Maybe the losses were more the result of a lack of focus than a fracture in the locker room. Either way, the only way the Steelers can turn it around is with Roethlisberger leading the way.
"I want it to be known there is no locker-room issue, there is no leadership issue," he said. "Even if guys say it out of frustration, they're trying to find something to say. I think it's important to know we all have each other's back."
February, 25, 2013
Feb 25
9:00
AM ET
Ravens wide receiver-returner Jacoby Jones will be the latest NFL player to show off his moves on national television, becoming
the first confirmed contestant
on ABC's "Dancing With The Stars." The show will unveil the rest of the cast Tuesday and begin filming next month.
But the most important move involving Jones next month won't have anything to do with the Salsa. The Ravens have a decision to make with Jones, who is owed a $1 million roster bonus on March 16 and $3 million in base salary in 2013.
It would seem like a no-brainer that the Ravens would keep one of their Super Bowl heroes. The Ravens, though, may have to make some salary-cap space. Baltimore will be $3 million over the cap if it puts the franchise tag on quarterback Joe Flacco (and that doesn't include signing free agents such as Ed Reed and Paul Kruger or tendering contracts to restricted free agents like Dennis Pitta).
The Ravens will probably try to extend Jones to reduce his cap hit for this season. Based on his comments earlier this month, Jones would be agreeable to it. Jones, 28, said he wanted to retire with the Ravens.
If the Ravens keep Jones, they won't see him until the mandatory minicamp in June if he's successful. "Dancing With The Stars" wraps up at the end of May, and Hines Ward won while he was a member of the Steelers in 2011. It remains to be seen whether Jones can follow in the footsteps of past DWTS champions like Ward, Emmitt Smith and Donald Driver.
February, 22, 2013
Feb 22
3:00
PM ET
A year removed from being part of the Steelers, Hines Ward sees "a locker room in disarray."

Ward, who retired after the 2012 season, told the
NFL Network
that you wouldn't hear quotes about in-house friction -- like the anonymous one about
LaMarr Woodley
-- if he was still part of the team. The Steelers parted ways with several strong leaders in Ward, linebacker James Farrior and defensive end Aaron Smith at the same time, which many think is a reason why the locker room is coming unglued.
"When you lose so much leadership in the locker room, that's when things present itself like that," Ward said. "Guys start finger-pointing, calling out other guys. That is not the Steeler way. We've always had a rule: We are a band of brothers. We've always collectively kept everything in house. ... But there was no finger-pointing and calling each other out. That's a total disarray, a locker room in disarray."
While I agree with Ward that the Steelers need leaders to step up, let's not forget that Ward created some turmoil himself when he was in Pittsburgh. In November 2009, he called out quarterback
Ben Roethlisberger
for not playing against the Ravens with a concussion. But, for the most part, Ward was viewed as a solid leader.
Ward also gave the Steelers some advice that they probably won't be able to follow: Pay
Mike Wallace
.
"The guy is a phenomena," said Ward, who clearly hasn't heard about the Steelers' cap problem. "He changes the defense. He makes you play Cover-2 all the time. You put this guy in one-on-one coverage and not too many guys who can run toe to toe with Mike Wallace. For the
Pittsburgh Steelers
, they need to try to find a way to keep this guy. He helps the other guys,
Antonio Brown
and
Emmanuel Sanders
, and opens things up for them. Hoefully he can sign and stay with Pittsburgh."
The problem is, without Ward's leadership, the Steelers young wide receivers (who were known to be selfish and focused on numbers) might have played a role in the splintering inside the locker room.
January, 28, 2013
Jan 28
7:00
AM ET
If this was the final Pro Bowl, the AFC North had some memorable performances in it. Wide receivers
A.J. Green
and
Josh Cribbs
combined for four touchdowns, and Browns kicker
Phil Dawson
delivered the most unusual play. He tried an onside kick in which he hit the ball with his heel.
In the end, the NFC won 62-35 in a game that resembled a Madden video game more than the NFL. NFL officials said earlier in the week that the league wants to decide the future of the Pro Bowl by the time next season's schedule is released in April. Of course, the players want to keep the game going. No one can blame them for wanting free trips to Hawaii. But, like most cases, I don't like sitting there for three hours looking at video of you on vacation.
RAVENS
: The Ravens didn't participate in the Pro Bowl because they have a bigger bowl to play in. The
Baltimore Sun
's Mike Preston believes the biggest questions for the Ravens in Sunday's Super Bowl involve the 49ers' pistol offense. "San Francisco is more talented than Washington and Philadelphia," Preston wrote. "The 49ers have a physically dominating offensive line and a tough runner in
Frank Gore
. Quartebrack
Colin Kaepernick
likes to throw long and has two clutch receivers in
Michael Crabtree
and tight end
Vernon Davis
. Whether the Ravens succeed Sunday or not, there is one thing certain with The Pistol offense: It's going to be around for a short while."
BENGALS
: Green had seven receptions for 119 yards and had three touchdowns in the Pro Bowl, becoming the seventh player in the game's history to have three or more scores in the game. "I came out here to play and have fun plus they got me the ball," Green said, via
The Cincinnati Enquirer
. "It's an honor to be selected. All I do is go out here and work hard. I had a good game." Bengals defensive tackle
Geno Atkins
had one tackle, and tight end
Jermaine Gresham
caught one pass for five yards.
STEELERS
: No real Pro Bowl storyline for the Steelers, who had one player (center
Maurkice Pouncey
) in the game. In other news,
Hines Ward
told
The Pittsburgh Post-Gazette
that the Steeler's young receivers (
Mike Wallace
,
Antonio Brown
and
Emmanuel Sanders
) didn't step up this season. "They have a bunch of young, talented guys," Ward said . "The organization chose to go young and in a different direction. My argument was, 'Great, but I don't think any of those guys other than Mike Wallace were in crucial situations to ask them to carry the load." Ward added, "Hopefully, the light bulb will turn on for those guys and they'll understand what the profession is on and off field."
BROWNS
: The Pro Bowl could've been the final time that Dawson and Cribbs wore a Browns helmet. Both are unrestricted free agents. Cribbs finished with three catches for 56 yards and one touchdown. He also added a 32-yard kickoff. Dawson contributed five extra points because there's no need for 40-yard field goals in a game where defenses don't like to tackle.
October, 11, 2012
10/11/12
10:57
PM ET
NASHVILLE, Tenn. --
Ben Roethlisberger
became the Steelers' all-time leading passer Thursday night, surpassing Hall of Fame quarterback Terry Bradshaw.
Roethlisberger
Bradshaw threw for 27,989 yards in 14 seasons. Roethlisberger broke the record before the halfway point of his ninth year and needed only 119 games to do so, 49 fewer than Bradshaw.
Roethlisberger set the record by converting a third down late in the third quarter. He stepped up in the pocket to complete a 17-yard pass to tight end
Heath Miller
to eclipse Bradshaw by 4 yards.
On what has been far from his best night to this point, Roethlisberger is still deserving of this record. While Bradshaw put up his numbers in an age where the rules made it tougher to throw the ball, Roethlisberger is the more talented quarterback. He's an accurate passer who can make all the throws and can carry his team.
Bradshaw had the luxury of throwing to two Hall of Fame wide receivers (John Stallworth and Lynn Swann). He had help from the ground game and Hall of Fame running back Franco Harris. He was protected by a good line and Hall of Fame center Mike Webster.
Roethlisberger passed the ball to Hines Ward, who might end up in the Hall of Fame, and the likes of
Mike Wallace
and
Antonio Brown
, who can't be mentioned in the same breath as Stallworth and Swann. Roethlisberger handed the ball off to Jerome Bettis for a couple of seasons, but for most of his career, he's been surrounded by an average running game. And, as far as pass protection, no quarterback has been sacked more often than Roethlisberger since he entered the league.
This was a record that Roethlisberger earned.
September, 3, 2012
9/03/12
5:45
PM ET
The Steelers named their captains for this season, and for the first time since 2005, it didn't include wide receiver
Hines Ward
or linebacker
James Farrior
. Ward had been a captain for the offense for the previous seven seasons, and Farrior had been one for the defense for the past eight years.
With Ward and Farrior both released in the offseason, it was time for the Steelers to select their new leaders. The players voted on quarterback
Ben Roethlisberger
and defensive end
Brett Keisel
.
This is the fourth time that Roethlisberger has been named a captain, but it's the first time he hasn't shared that title with Ward. Keisel, who is entering his 11th season, has never been selected as a captain. The team didn't name a special teams captain. Last year, the special teams captain was
Arnaz Battle
, who was released this offseason like Ward and Farrior.
The Browns players recently named their captains: offensive tackle
Joe Thomas
(offense), linebacker
D'Qwell Jackson
(defense) and kicker
Phil Dawson
(special teams). "They chose wisely," coach Pat Shurmur said.
July, 23, 2012
7/23/12
1:30
PM ET
You won't be able to see
Hines Ward
in a Steelers jersey anymore, but you can see him in the end zone as a member of the Gotham Rogues.
Ward
Ward has a memorable scene as part of the fictitious home football team in "The Dark Knight Rises," which is co-produced by Steelers co-owner Thomas Tull. It features Ward outrunning a collapsing field, which is a little cooler than his turn in "Dancing with the Stars."
He discussed the movie with
ESPN.com's Lynn Hoppes
last week:
1. What was your reaction to seeing the film?
"I actually took my 8-year-old son with me to the premieres in NYC and Pittsburgh earlier this week. It was a special time for my son and me, and the movie was amazing."
2. How did you get involved in the movie, and how do you think you did?
"The producer, Thomas Tull of Legendary Pictures, asked me if I wanted to do the cameo and I was excited. It was a big honor. I grew up watching the Batman cartoons and have seen the Batman movies. As far as my scene goes, it was surreal, and I think I did pretty well. I had a blast doing it."
Other Steelers featured in the football scene were:
Ben Roethlisberger
,
Mike Wallace
and
Troy Polamalu
. Even former coach Bill Cowher appeared in the film, which leads to an interesting question. Was Mike Tomlin not asked to be in the film, or is the current Steelers coach not a fan of Batman?
June, 20, 2012
6/20/12
7:30
AM ET
Every morning, grab a cup of coffee and get your AFC North wake-up call here:
Ravens offensive tackle Bryant McKinnie doesn't feel the scrutiny that followed him being held out of mandatory minicamp practices is deserved.
"I'm going to show up at the weight I'm supposed to be and handle my business and get everybody off my back," McKinnie told the
Carroll County (Md.) Times
. "I want to get this work done, come in at the right weight and shut everybody up. I'm only nine pounds away."
McKinnie added, "I'm getting in shape. I'm lower now in my weight than any time last year. I think people got the wrong idea about why I wasn't out there last week."
McKinnie said he currently weighs 354 pounds and wants to get down to 345 pounds. His focus has been cardiovascular workouts, not weight lifting.
"It's the type of cardio you do to keep the wind going," McKinnie said. "It's not doing as much banging on the knees. My whole goal is to slim down. It's about working smart based on losing weight."
Hensley's slant
: McKinnie played all 16 games last season around the 360-pound range, and this took its toll on him. He got off to a strong start for the Ravens, but his play tailed off late in the season. Maybe the Ravens are focusing on conditioning to avoid a repeat of last season.
BENGALS
: Cornerback Adam Jones still remembers getting burned by Texans receiver Andre Johnson on a 40-yard touchdown pass in the playoffs last season. "That game left a bad taste in our mouths, especially in mine," Jones told the
Dayton Daily News
. "I had a double-move put on and I haven't forgotten that play. And I knew that play was coming. I was tired, forgot my technique and that's the type of stuff that will happen. I'm doing everything in my power to make sure that doesn't happen again. That play is a mental note and at the top of my board."
Hensley's slant
: Jones has been working with the first-team defense all offseason because Leon Hall (Achilles) and Nate Clements (abdominal) have been sidelined with injuries. There is a chance he could be pushed back into the starting lineup if Hall isn't ready to start the season. Not counting that touchdown given up in the playoffs, Jones allowed 16 receptions in eight regular-season games, according to Pro Football Focus.
BROWNS
: The
Canton Repository
compared the 22nd overall picks in the 2007 draft (Brady Quinn) to the 2012 one (Brandon Weeden). One of the biggest disparities is the pedigree of the targets for each quarterback.
Quinn's top three targets were 2005 No. 3 overall pick Braylon Edwards, 2004 No. 6 overall pick Kellen Winslow and veteran Joe Jurevicius. Weeden's are 2011 No. 59 overall pick Greg Little, 2009 No. 50 overall pick Mohamed Massaquoi and veteran Ben Watson.
Hensley's slant
: Browns officials are banking that Weeden's strong arm will improve a pedestrian group of pass catchers. But there should be concern that this group of targets will hurt Weeden's productivity because no one has the speed to consistently get open. The Browns have to address the wide receiver position either in free agency or the draft next season. This team can't continue to ignore playmakers in the passing game.
STEELERS
: The returning wide receivers are trying to fill the leadership void left by Hines Ward, according to the
Pittsburgh Post-Gazette
. "In this business, the older guys fizzle out, and the younger guys have to step up," wide receiver Antonio Brown said. "We have to set the pace for the wideouts, let them know what we learned from Hines and lead the way."
Hensley's slant
: The player who needs to replace Ward as a leader on offense is quarterback Ben Roethlisberger. He's a two-time captain who has led the Steelers to last-minute victories. This is the time for Roethlisberger to assume control on the field, in the locker room and in the meeting rooms.
June, 2, 2012
6/02/12
11:00
AM ET
By
ESPN.com staff
| ESPN.com
Baltimore Ravens
Linebacker Michael McAdoo, one of the candidates to fill in for the injured Terrell Suggs this season,
will likely miss the season himself
after suffering a torn Achilles tendon during organized team activities. McAdoo, who was entering his second season after spending his first on injured reserve, underwent surgery Friday, the Carroll County Times reports; Suggs partially tore an Achilles tendon during an April workout.
Cincinnati Bengals
Andrea Hangst pegs quarterback Andy Dalton and receiver A.J. Green as two of the four Bengals
most likely to take a step backward
in 2012.
Cleveland Browns
Not content to rip general manager Mike Holmgren and first-round draft pick Trent Richardson, former Browns star Jim Brown lit into team owner Randy Lerner during
an interview with the NFL Network
. "There's always a question mark when your owner is in England," Brown said.
Scott Fujita
denied a charge
from the filmmaker who leaked audiotape in the New Orleans Saints bounty scandal that the linebacker knew about the bounty program and that
he pushed for the release
of the audiotape.
Pittsburgh Steelers
Hines Ward
broke his silence
in the wake of news Thursday that he'd signed on as an analyst with NBC. "I'm looking forward to starting the next chapter of my life and working on the other side of football," the retired receiver wrote.
June, 1, 2012
6/01/12
9:45
AM ET
By
ESPN.com staff
| ESPN.com
Baltimore Ravens
Ryan McBean, a former Broncos defensive lineman, appears to be
off to a good start with the Ravens
, reports Aaron Wilson of the Carroll County Times. "I just want to show my ability to get to the quarterback and stop the run," McBean said. "We've got guys here already that can do that, and I can add to that.
LaQuan Williams says he
needs to expand his game
as a receiver to make the team."I have to make plays on both sides of the field, on offense and special teams, to make sure I'm here," Williams told Matt Vensel of The Baltimore Sun.
Cincinnati Bengals
Center Kyle Cook talks about
breaking in two new teammates
-- guards Travelle Wharton and Kevin Zeitler -- on the offensive line with Geoff Hobson of the team's website.
Defensive coordinator Mike Zimmer
employed some new, complicated schemes
during this week's organized team activities, which not only showed who could handle the mental workload defensively, but also were a new challenge for second-year quarterback Andy Dalton, reports CBSSports.com's Paul Dehner Jr.
Dalton was
pleased the league decided to continue the Pro Bowl
. "It's great that they decided to keep the game around. It is an awesome experience, and an honor to get to play in the game. And I'm glad they kept the game in Hawaii. It's a great reward at the end of the season," Dalton said via Joe Reedy of the Cincinnati Enquirer.
Cleveland Browns
When asked by ESPN Playbook what his
"welcome to the NFL" moment
was, rookie quarterback Brandon Weeden said, "Honestly, just walking through the locker room, seeing the team lockers, being in an environment where you see a lot of pros. I've been through it with baseball obviously, but being in the locker room, when you're the quarterback, kind of the face of what's going on, that means a lot. After draft day, coming in on that Friday, seeing what was going on, that was special."
Playoffs?
Weeden's goal is for the Browns to make the postseason
, something the team hasn't done since 2002. "Obviously, you've got to take it one step at a time, and our goal is to get in the playoffs ... and once you get in the playoffs try to take it one step forward," Weeden said via Steve Doerschuk of the Canton Repository.
Pittsburgh Steelers
Former wideout Hines Ward has
signed on to be a TV analyst with NBC
, according to Michael Hiestand of USA Today.
Safety Myron Rolle, a Rhodes Scholar and former Tennessee Titan, is trying to
revive his football career with the Steelers
, the AP reports.
Receiver Emmanuel Sanders
on Todd Haley's new offense
(via Ed Bouchette of the Pittsburgh Post-Gazette): "It's definitely fun for a young guy like me. I was only in Bruce Arians' system two years, so the change wasn't that a big of a deal for me. But for Ben[Roethlisberger], a guy who has been in the NFL for nine years and been in the same offense, I can understand why it's a little difficult."
May, 30, 2012
5/30/12
9:50
AM ET
By
ESPN.com staff
| ESPN.com
Baltimore Ravens
The Ravens signed undrafted rookie kicker Justin Tucker, perhaps,
Matt Vensal writes
, to put some pressure on veteran Billy Cundiff.
Damian Berry, who made the team as an undrafted free agent last season,
has been getting many of the first-team reps
at running back in organized team activities with Ray Rice out of the picture, reports Jason Butt of CBSSports.com.
Cincinnati Bengals
Kicker Mike Nugent, who didn't play much of the 2009 season after being cut twice, tells CBSSports.com that
he's fine wearing the Bengals' franchise tag
.
Offensive coordinator Jay Gruden is
happy with the competition
at the wide receiver position. "We've got some good competition. They are all excelling and taking the challenge right now. Nobody is hanging their head about not getting a rep here or there, they are all competing, they are all attentive in the meetings, and they are all positive guys to have on the team right now," Gruden said.
Wide receiver Jordan Shipley, who's rehabbing from an ACL injury,
had his most active day of OTAs
on Tuesday, and Jay Gruden said he "wouldn't be surprised if [Shipley] is 100 percent by training camp," reports Paul Dehner Jr. of CBSSports.com.
Cleveland Browns
Tim Bielik of the Morning Journal
took exception with Hall of Famer Jim Brown's unflattering assessment
of new Browns running back Trent Richardson. "There is already enough negativity around the Browns that Brown just needs to shut his mouth," Bielik writes.
Pittsburgh Steelers
Ryan Clark admits he probably
talked "a little too much" last season
. So the Steelers safety says he'll make an effort this season to "be a little less controversial so the young guys can just play and not deal about hearing things about me," reports Mark Kaboly of the Pittsburgh Tribune-Review.
Ike Taylor says his teammate, receiver Mike Wallace, is
upset with his contract status
, reports Kaboly. "There is a lot of frustration with Mike right now," Taylor said. "He wants to be here. ... But at the same time he wants his paper. Mike feels like he outperformed his last contract. But he's dealing with a monster, and that's the Pittsburgh Steelers … they are not going to let you dictate to them on how you feel."
Recently retired receiver Hines Ward not only has a cameo in the upcoming Batman installment "The Dark Knight Rises," but,
USA Today reports
, that gig will also be memorialized in the form of an action figure, due in November, showing Ward in his Gotham Rogues uniform.