AFC North:

Holmgren hired 122109
December, 21, 2009
12/21/09
9:43
PM ET
It will be important for
Cleveland Browns
quarterback
Brady Quinn
to finish strong in order to keep the starting job after this season.

Quinn
A new boss is coming to Cleveland
in Mike Holmgren, who agreed to become team's president Monday. Holmgren will be watching his players closely over the next two games against the
Oakland Raiders
and
Jacksonville Jaguars
. But the player Holmgren may watch the closest is Quinn, who is in his third season.
Quinn sat for a majority of his first two years in the NFL and got the chance to become a full-time starter in 2009. He was benched after three games but started the past six. He's thrown for 1,339 yards, eight touchdowns and seven interceptions. Quinn's quarterback rating this season is 67.2.
The Browns have lacked stability at quarterback since returning to the NFL in 1999. One of Holmgren's biggest challenges is to find a long-term solution at the position.
December, 21, 2009
12/21/09
8:52
PM ET

With the news
of Mike Holmgren agreeing to become the Cleveland Browns' president Monday, it's time to begin piecing together what the team will look like in 2010.
Besides determining a coaching staff and front office, one of the first questions is if Cleveland will keep its 3-4 defense.
The Browns have been a 3-4 team since Phil Savage and Romeo Crennel took over in 2005. The trend continued as current Browns coach Eric Mangini was hired this year. That's five consecutive drafts and free-agency periods dedicated to adding 3-4 personnel.
But looking back at Holmgren-coached teams with the
Green Bay Packers
and
Seattle Seahawks
, those clubs ran a 4-3 scheme and had a lot of team success.
So what happens to a player like
Kamerion Wimbley
, for instance? Can Wimbley put his hand down in the pros and be a full-time defense end, similar to what he did at Florida State? Or is he a 4-3 linebacker in the NFL?
But other key players like
Shaun Rogers
would not face nearly as many double teams going from nose tackle to one of two defensive tackles. "Big Baby" and other defensive linemen, such as
Corey Williams
, would probably welcome the move.
This will be something to closely monitor as it will impact Cleveland's draft plans and free agency.
An educated guess is Holmgren, who has complete control of the team, will move Cleveland to a 4-3 defense in 2010. His previous teams didn't run a 3-4 defense. So how could Holmgren feel comfortable picking the right players for that scheme?
December, 21, 2009
12/21/09
7:42
PM ET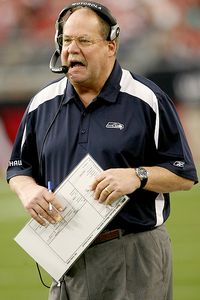 Stephen Dunn/Getty ImagesHolmgren will be the Cleveland Browns' third front-office leader in the past year.
It took a lot of money and complete control of the organization, but the
Cleveland Browns
pulled off
a major coup
in landing Mike Holmgren. The former
Green Bay Packers
and
Seattle Seahawks
coach agreed to terms with the Browns to become the team's president on Monday.
Holmgren brings instant credibility and leadership to an organization that has lacked those qualities since returning to the NFL a decade ago. Holmgren will be the Browns' third front-office leader in the past year, following George Kokinis and Phil Savage.
Now that all the speculation is over, it's time for Holmgren to get to work. His first order of business is to figure out what to do with Cleveland's coaching staff.
Head coach Eric Mangini is in his first year with the Browns, who are 3-11 but have won their past two games. When a new leader takes over, he usually hires his own people, and most league observers expect Holmgren to do the same. But Mangini will have two more games to prove that he deserves another season in Cleveland.
From there, Holmgren and his front office will begin evaluating the draft and free agency. The Browns will be major players next April with 11 draft picks, and owner Randy Lerner has never been afraid to spend money on free agents. Therefore, Cleveland has an opportunity to significantly improve its thin roster in the offseason.
It's fair to point out that Holmgren had mixed results evaluating talent in Seattle, and at one point the Seahawks stripped him of that role. This will be Holmgren's second attempt to lead a front office.
With the
Baltimore Ravens
(8-6) and
Pittsburgh Steelers
(7-7) consistently competitive, and the
Cincinnati Bengals
(9-5) currently on the upswing, getting the Browns out of the basement in the AFC North will not be easy. But Holmgren has a pedigree of success that should instill hope in a disgruntled fan base.
Lerner deserves a lot of credit for convincing Holmgren to join the Browns. Now it's up to the "Big Show" to make the organization respectable again.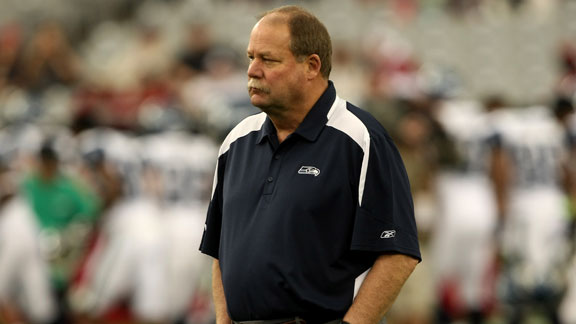 December, 21, 2009
12/21/09
6:41
PM ET
The
Cleveland Browns
have officially announced Mike Holmgren will
become team president.
Here is a statement from Browns owner Randy Lerner:
"We are pleased to announce that Mike Holmgren has agreed to join the Cleveland Browns. We will spend the rest of the week finalizing the details of the agreement and will make a formal announcement next week, at which time we will make him available to the media."
I will be back with more soon.