April, 27, 2011
4/27/11
6:20
PM ET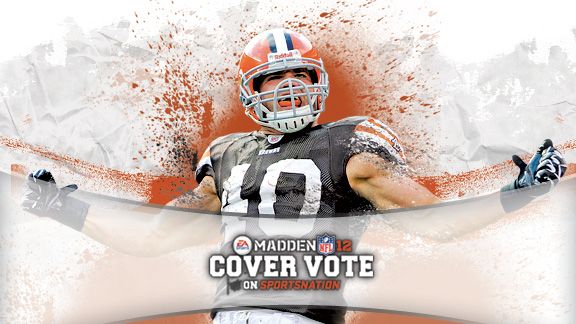 ESPN.com IllustrationPeyton Hillis does not believe in the Madden curse and says he's looking forward to bucking the trend.
Whether
you believe in the infamous "Madden curse"
or not, it's worth noting the popular video game series is undefeated when it comes to injuring players in the AFC North.
Cleveland Browns
running back
Peyton Hillis
received
a great honor Wednesday
by becoming the third AFC North player on the "Madden" cover. He capped
an amazing run
through the tournament by beating
Philadelphia Eagles
quarterback
Michael Vick
in the finals. But history suggests Hillis should beware, because once selected, players in this division have not been able to avoid injuries.
Pittsburgh Steelers
safety
Troy Polamalu
was the most recent AFC North player on the "Madden" cover in 2009. Coming off a Super Bowl victory, things immediately went downhill the following season as Polamalu injured his knee in Week 1 and missed 11 games. The Steelers imploded without their star safety by failing to defend their title and missing the playoffs.
In 2004
Baltimore Ravens
middle linebacker
Ray Lewis
was on the cover. He broke his wrist but only missed one game. He tried to play through the injury but it wasn't enough, as the Ravens missed the postseason. The following season Lewis injured his thigh and missed 10 additional games.
Will Hillis do what Lewis and Polamalu could not by avoiding injuries in 2011? Hillis believes he can.
"For people to believe in this so-called curse, I can't wait to prove people wrong," Hillis told ESPN.com Wednesday. "From what I believe and where I am in my spiritual life, it would be good to prove them wrong in that sense."
The Browns cannot afford to lose Hillis, who rushed for 1,177 yards last season. They do not have many weapons on offense and relied heavily on Hillis in both the running and passing game. Cleveland's 2010 season tanked towards the end when Hillis injured his ribs.
Cleveland is hoping second-year tailback
Montario Hardesty
can come back strong from a torn ACL. The team also will explore getting another running back in this week's NFL draft.
Based on the lengthy history
of the "Madden curse," adding insurance behind Hillis is probably a good idea.
January, 18, 2011
1/18/11
6:00
PM ET
Here are the latest happenings Tuesday evening in the AFC North:
December, 20, 2010
12/20/10
6:00
PM ET
Here are the latest happenings (and injuries) Monday evening in the AFC North:
November, 29, 2010
11/29/10
11:00
AM ET
Here are seven notes and observations from Week 12 in the AFC North:
[+] Enlarge

AP Photo/Bill KostrounCincinnati quarterback Carson Palmer's production has continued to fall this season.

Expect plenty of behind-the-scenes conversations at Cincinnati Bengals headquarters regarding quarterback Carson Palmer's future. The face of the franchise is no longer playing like it, and the Bengals have to decide if it's worth continuing to make Palmer the team's highest-paid player. Palmer, who has five multi-interception games this season, is due a base salary of $11.5 million in 2011. That puts him near the top of the entire NFL, despite a stark decline in production. In our opinion, still paying Palmer like an elite quarterback wouldn't make much sense for the Bengals. Cincinnati also could ask Palmer to take a pay cut, but there's no guarantee Palmer would accept, especially for a rebuilding team. That would back Cincinnati into a corner to either pay the high salary or release Palmer and allow him to become a free agent for the first time in his career. This will be one of the biggest offseason decisions in the entire division.

Cincinnati's call on Palmer also will weigh heavily on the team's draft plans. If the Bengals keep Palmer, don't expect them to draft a quarterback in the top five, which is where Cincinnati is expected to land. Palmer already has a $118.75 million contract with the team, and a top-five pick next year could command anywhere between $50-$75 million. That's too much money tied into one position, which is why the Bengals have to decide one way or the other between Palmer or starting over next year with a rookie quarterback.

Speaking of quarterbacks, Joe Flacco of the Baltimore Ravens continues to show growth in his third season. In Sunday's win over the Tampa Bay Buccaneers, Flacco threw for 289 yards, two touchdowns and had a 103.2 passer rating. It was the sixth time this season that Flacco has eclipsed a 100-plus passer rating. Baltimore is 5-1 in those games, with the only loss coming in overtime to the New England Patriots.

If you're looking for a major difference between last year and this year with the Ravens, the team has been fortunate to avoid major injuries. The Ravens are one of the healthier NFL teams heading into December. They dodged a few scares, including Sunday when left tackle Michael Oher (knee) and safety Dawan Landry (concussion) were knocked out of the game. Both players were in the locker room Sunday evening and said they will be fine for Sunday's showdown against the Pittsburgh Steelers.

At some point, the Steelers have to take better ownership in cleaning up their penalties. The past two weeks have been atrocious, as the Steelers recorded 24 penalties for 270 yards. Yes, there have been questionable calls in that span -- Steelers linebacker James Harrison earned another debatable personal foul Sunday against Buffalo -- but many of those two-dozen flags are legit. Giving up this many free yards likely will get Pittsburgh beat next week.

Is Cleveland Browns running back Peyton Hillis Pro Bowl worthy? The AFC North blog thinks it's time to strongly consider his candidacy. Hillis added another 131 yards rushing and three touchdowns in a win over the Carolina Panthers. He has 905 rushing yards, leads the Browns in receptions (46) and became only the third running back in team history to record 11 or more rushing touchdowns in a season. But there is stiff competition at running back in the AFC. Hills has no chance of winning the fan voting because he isn't a household name and plays for a losing team. So his nod would have to come from opposing players and coaches, who select the reserves.

Finally, we want to give a special "Seven-step drop" congratulations to AFC North alums Jerome Bettis, Art Modell, Dermontti Dawson and Kevin Greene. They were all selected as semifinalists for the Hall of Fame Class of 2011. Finalists will be chosen at a later date and the selection process will continue through Super Bowl week in February, when the 2011 class is announced.
September, 10, 2010
9/10/10
7:14
PM ET
Here is the injury report for Week 1 in the AFC North:


Atlanta Falcons at Pittsburgh Steelers
Falcons
OUT:
WR
Michael Jenkins
(shoulder)
QUESTIONABLE:
CB
Brent Grimes
(hip), C
Joe Hawley
(hip), DT
Corey Peters
(knee)
STEELERS
OUT:
QB
Byron Leftwich
(knee)
PROBABLE:
G
Chris Kemoeatu
(foot)


Cincinnati Bengals at New England Patriots
Bengals
DOUBTFUL
: CB
Brandon Ghee
(head)
QUESTIONABLE
: WR
Andre Caldwell
(groin), RB
Brian Leonard
(foot)
PROBABLE:
DT
Geno Atkins
(knee), DT
Jonathan Fanene
(hamstring)
Patriots
OUT
: T
Nick Kaczur
(back), CB
Terrence Wheatley
(foot)
QUESTIONABLE:
CB
Kyle Arrington
(groin), WR
Julian Edelman
(foot), RB
Laurence Maroney
(thigh)
PROBABLE:
DT
Ron Brace
(ankle), QB
Tom Brady
(right shoulder), LB
Jermaine Cunningham
(ankle), DE
Brandon Deaderick
(toe), TE
Aaron Hernandez
(knee), S
Jarrad Page
(back), DE
Myron Pryor
(knee), WR
Matt Slater
(hamstring)


Cleveland Browns at Tampa Bay Buccaneers
Browns
OUT:
LB
D'Qwell Jackson
(chest), S
Nick Sorensen
(head)
DOUBTFUL:
G
Shawn Lauvao
(ankle)
QUESTIONABLE:
LB
Marcus Benard
(shoulder), DT
Shaun Rogers
(ankle), G
Floyd Womack
(knee)
PROBABLE:
TE
Robert Royal
(ankle)
Buccaneers
PROBABLE:
QB
Josh Freeman
(right thumb), DT
Brian Price
(hamstring), WR
Maurice Stovall
(ankle)
The
Baltimore Ravens
and
New York Jets
play Monday and will not turn in their final injury report until Saturday. So far, Ravens offensive tackle
Jared Gaither
(back), receiver Donte Stallworth (foot) and defensive lineman
Terrence Cody
(knee) have been ruled out.
November, 23, 2009
11/23/09
5:00
PM ET
Injuries can make or break a team's season.
So far the
Pittsburgh Steelers
,
Cincinnati Bengals
,
Cleveland Browns
and
Baltimore Ravens
have all had their share of players to go down. With that in mind, RJ from Virginia Beach suggests that I list my 2009 All-Injury Team in the AFC North.
Keep in mind some injuries vary and were/are more serious than others.
All-Injury Offense
Quarterbacks:
Ben Roethlisberger
, head, Steelers;
Carson Palmer
, left thumb, Bengals
Running backs:
Cedric Benson
, hip, Bengals,
Lawrence Vickers
, shoulder, Browns
Receivers:
Chris Henry
, arm, Bengals; Second receiver TBD
Tight Ends:
Todd Heap
, chest, Ravens;
Steve Heiden
, knee and ankle, Browns
Offensive line:
Jared Gaither
, neck, Ravens;
Andre Smith
, foot, Bengals;
Evan Mathis
, ankle, Bengals,
Rex Hadnot
, knee, Browns;
Justin Hartwig
,toe, Steelers
All-Injury Defense
Defensive line:
Aaron Smith
, shoulder, Steelers;
Antwan Odom
, Achilles, Bengals,
Haloti Ngata
, ankle, Ravens
Linebackers:
Terrell Suggs
, knee, Ravens;
Eric Barton
, neck, Browns;
D'Qwell Jackson
, biceps, Browns;
Lawrence Timmons
, ankles, Steelers
Cornerbacks:
Johnathan Joseph
, foot, Bengals;
Eric Wright
, shoulder, Browns
Safeties:
Roy Williams, arm, Bengals;
Troy Polamalu
, knee, Steelers
Special Teams
Kicker:
Phil Dawson
, calf, Browns
Punter:
Dave Zastudil
, knee, Browns
Returner:
Josh Cribbs
, neck, Browns
January, 16, 2009
1/16/09
4:17
PM ET
Posted by ESPN.com's James Walker
PITTSBURGH -- After days of questions, interviews and missed practices, here are the final injury reports for the Baltimore Ravens (13-5) and Pittsburgh Steelers (13-4) leading up to Sunday's AFC Championship Game.
The biggest injury involves Baltimore cornerback Samari Rolle, who likely won't play with a thigh injury. Linebacker/defensive end Terrell Suggs also is questionable with a bad shoulder.
Overall, the Steelers are very healthy entering this game.
Baltimore Ravens
Out: LB Antwan Barnes (shoulder)
Doubtful: CB Samari Rolle (thigh)
Questionable: LB Terrell Suggs (shoulder), WR Derrick Mason (shoulder), DL Justin Bannan (foot), WR Mark Clayton (thigh), TE Todd Heap (back), LB Jarret Johnson (calf), RB Le'Ron McClain (ankle)
Probable: LB Ray Lewis (shoulder), S Ed Reed (knee), FB Lorenzo Neal (shoulder)
Pittsburgh Steelers
Probable: S Troy Polamalu (calf), C Justin Hartwig (knee)