November, 27, 2013
Nov 27
10:00
AM ET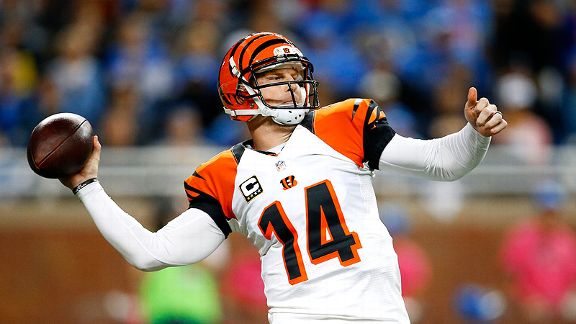 AP Photo/Rick OsentoskiThe Cincinnati Bengals are counting on Andy Dalton to return to the form that helped lead the team to a 4-1 record in October.
CINCINNATI -- Earlier this week,
Cincinnati Bengals
players like cornerback
Chris Crocker
were adamant in pointing out the urgency they need to play with throughout the
month of December
.
"It's all about winning in December," Crocker said. "Let's win out and see where the chips lay. Why can't we win out? I don't see why we can't."
If you ask some Bengals fans and most NFL analysts, they'll give you one big reason why they don't believe Cincinnati will be able to go 5-0 to close out the regular season: No. 14.
That's right. To some, the primary obstacle in the way of end-of-season perfection for the Bengals is
Andy Dalton
, the player who has quarterbacked the franchise into the playoffs each of the past two seasons, and who constantly is trying to prove himself to those who consider him just another member of a mostly failed 2011 quarterback draft class.
For that reason, as the Bengals gear up for a stretch run that could give them a first-round bye and home-field advantage in the playoffs, an important question has to be asked.
Can December Andy mimic October Andy?
As we've written countless times in the past month, October Andy was indeed a dandy. Through the first four games of that month, Dalton threw for 1,243 yards and 11 touchdowns. He also completed 67.9 percent of his passes, won four games, had a passer rating higher than 116.0 and a QBR above 83.0. He was, quite simply, brilliant. His play was so sharp back then that on the final day of the month, hours before the Bengals were set to take on the Dolphins in a road Thursday night game, he was named the AFC's Offensive Player of the Month.
And, yes, even though, comparatively speaking, he didn't look as good overall against the Dolphins and ended up taking the game-winning sack for a safety in overtime, Dalton still had a rather special performance in the 22-20 loss. Aside from not completing a touchdown pass and getting intercepted three times, he threw for 338 yards, marking the fourth straight game he had gone over the 300-yard passing mark.
Overall, October Andy was Good Andy.
But now here comes December with all of its postseason potency. If Cincinnati hopes to set itself up for the type of playoff seeding Crocker believes it deserves, then it will have to play its best ball across the next five weeks. That's especially the case for Dalton and a Bengals offense that has looked rather anemic in the past three games.
One look at Dalton's previous December stats and it doesn't appear the third-year star should have any problem showcasing even a sliver of the success that made him and his team so good about two months ago.
After a rocky December as a rookie in 2011, Dalton was among the difference-makers last season when the desperate Bengals were in need of a strong final month just to secure a playoff berth. One year after going 2-2 in the month, Dalton went 4-1 during December 2012. The lone loss came after the
Dallas Cowboys
made a field goal in the final seconds to win 20-19.
While the level of desperation may be different this December, the Bengals are looking for Dalton to thrive under similar pressure-packed moments during this one. This time around, the pressure on Dalton mainly stems from the fact that so many are fed up with his play from the past three games. In them, he's thrown eight interceptions and been sacked 10 times. Across the latter two of those games, he's completed fewer than 50 percent of his passes and hasn't posted a QBR higher than 18.0.
Weather factored heavily in Dalton's inability to move the ball in those two games. Windy conditions at Baltimore and windy and rainy conditions against the Browns sent some of his passes sailing and forced others into the hands of defensive backs.
Although weather shouldn't be a concern this weekend in San Diego (the forecast calls for partly cloudy skies and a delightful high of 71 degrees Sunday), it could be the rest of the season. Farmer's Almanac projects cold, damp conditions for all of December in the Ohio Valley. It should be noted that after Sunday's game, the Bengals are home three of the next four weeks. Their only remaining road game is at Pittsburgh.
Throughout his career, Dalton has performed better in warmer games. In games with temperatures 50 degrees or higher, he has a 20-14 record, an 85.1 passer rating and a 52.5 QBR. In games with temperatures at 49 and lower, he has a 5-5 record, a 75.4 passer rating and a 32.9 QBR. Dalton's last three sub-49-degree wins came last December, though; a sign that perhaps he's turning a corner in cold-weather contests.
Whatever the conditions and whomever their opponents are, when it comes to the next five weeks, the Bengals can only hope that Dalton turns into the same man who torched through this October.
September, 17, 2013
Sep 17
2:28
AM ET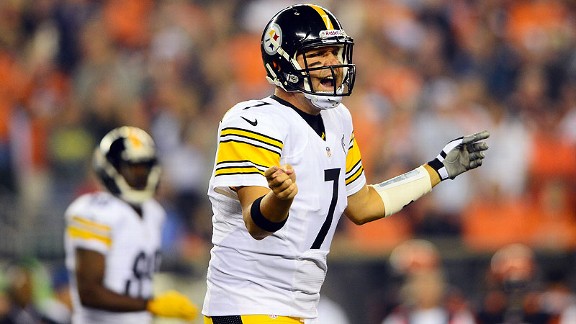 Andrew Weber/USA TODAY SportsMonday was frustrating for Ben Roethlisberger, who got little help from his backs and receivers.
CINCINNATI -- This is it, right? There is no fixing it, not now, not in a matter of weeks or even months. The team the
Pittsburgh Steelers
put on the field Monday night looked old, slow and -- blasphemous as it might seem in the Iron City -- a little soft. Shut down and manhandled in a
20-10 loss
to the
Cincinnati Bengals
, the Steelers did nothing to contradict the notion that their well-worn nucleus is in decline.
A "Monday Night Football" audience witnessed what close observers have suspected for some time: The Steelers' offense is punchless, and their defense, while still stout at times, no longer can be counted on to make big plays. These roster-wide symptoms have left the Steelers 0-2 for the first time in the seven-year Mike Tomlin era, and they have the potential to take this franchise to unprecedented places.
"If we don't shore something up," safety
Ryan Clark
said, "if we don't play better than we did tonight, we won't win a game. Period. Point blank."
We should acknowledge that the Bengals played a role in what we saw Monday night. They are a good team and could be the best the AFC North has to offer, but to me the Bengals' performance only accentuated the Steelers' step back.
We saw Bengals running back
Giovani Bernard
darting through the Steelers' defense, averaging 7.2 yards every time he touched the ball, while the Steelers' crew of grinders slogged to 44 yards on 16 carries.
Every time we looked up, it seemed, a Steelers ball carrier was being tackled at the line of scrimmage. Most egregious: Receiver
Jerricho Cotchery
was dragged down for a 5-yard loss on an ill-fated reverse. In all, the Steelers ran 16 plays in the first three quarters that netted 3 or fewer yards.
Meanwhile, quarterback
Ben Roethlisberger
had one of the worst games of his career as a downfield passer. He overthrew nine passes, which, according to ESPN Stats & Information, was the highest total of his career. Was Roethlibserger that off? I don't think so. Watching with an amateur eye, it didn't look like he had much room to squeeze in the ball to receivers who got little separation.
Everything that I'm used to seeing from -- and thinking about -- the Steelers was missing Monday night. They didn't run well. None of their pass-catchers enhanced a play beyond what the scheme called for. Their defense still hasn't forced a turnover this season. Indeed, the Bengals averaged a modest 5.2 yards per play, but they managed to run 79 of them because the Steelers couldn't get them off the field.
"We weren't good enough tonight," said Tomlin, who lost for the first time as a head coach when taking the field with a losing record. "We have to accept that. But I emphasize tonight, like I just emphasized to our group, there's a certain amount that we need to swallow and rightfully so, but we've got to maintain our way."
I didn't expect the Steelers to give up on their season after this loss, but other than Clark's pointed statement, I found a staunch refusal to process the evidence that played out Monday night.
Roethlisberger, in fact, suggested that Steelers receivers lost balls in the lights at Paul Brown Stadium. As well, Tomlin and every player I listened to mentioned a debatable tripping call that negated a 33-yard pass to receiver
Antonio Brown
in the third quarter. The play was a significant turning point, but it wasn't insurmountable. In fact, the Steelers were within seven points in this game until midway through the fourth quarter.
"That's part of the game," receiver
Emmanuel Sanders
said. "Sometimes we connect. Sometimes we don't. But I think we still made enough plays. Some plays got called back, and sometimes we didn't execute to the best of our ability."
Again, the Steelers have 14 games left to play, and presumably plenty of time to change their identity. The return of tight end
Heath Miller
would help, and Tomlin promised that speedy receiver
Markus Wheaton
could get involved.
But a 30-year-old tight end and a rookie receiver aren't going to rescue this team. The Steelers' roster can't change substantively during the season. Perhaps they can find a way to grind out victories without splash plays on offense and regular turnovers on defense, but that path offers no margin for error.
My lasting impression of this team, at least for now, will be of the final play Monday night. With 16 seconds left, Roethlisberger completed an 18-yard pass over the middle to Brown. The Steelers rushed to the line of scrimmage, and Roethlisberger motioned as if he wanted to spike the ball for one final play.
Players lined up, the clock ticked down and center
Fernando Velasco
-- starting one week after the Steelers signed him to replace the injured
Maurkice Pouncey
-- snapped the ball with one second left.
Roethlisberger spiked it, looked up and saw no seconds remaining. He and the rest of the team were just a step slow. Is this it for this group of Steelers? Watching Monday night, it sure looked like it.