January, 9, 2014
Jan 9
11:30
AM ET
A pair of
Detroit Lions
topped the list of the NFL's
most feared players
following a league-wide survey in which more than 320 players participated.
Defensive tackle
Ndamukong Suh
received 61 votes to edge wide receiver
Calvin Johnson
(58), according to ESPN's NFL Nation Confidential.
Suh received two votes among the players I surveyed in the Steelers locker room with former Pittsburgh outside linebacker
James Harrison
leading the way with three votes.
The choice of Suh for most feared player across the league is hardly surprising. It reflects the three-time Pro Bowler's reputation for blurring the line between aggressiveness and dirty play as it does the quality of his play.
That an offensive player would finish a close second to Suh is surprising, unless you consider what a nightmare matchup Johnson poses for opposing teams.
Johnson's size and speed have allowed him to establish himself as the best receiver in the NFL, and one of the best players in the league regardless of position. He caught 84 passes for 1,492 yards and 12 touchdowns this season despite playing through a nagging knee injury.
Johnson caught six passes for 179 yards and two touchdowns against the Steelers, though they held the player known as Megatron without a catch in the second half of a 37-27 win.
Finishing behind Suh and Johnson in the confidential survey was
Houston Texans
defensive end
J.J. Watt
(24 votes).
No Steelers players finished in the top 10 of voting for most feared player.
October, 18, 2012
10/18/12
12:00
PM ET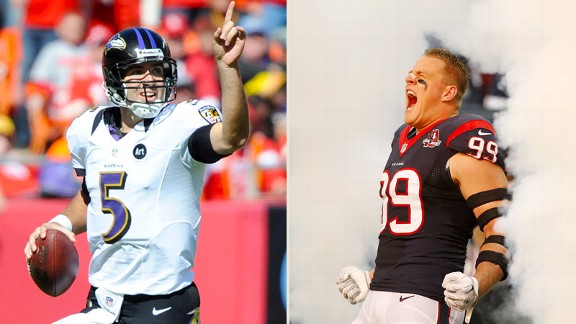 US Presswire, AP ImagesHow Baltimore's Joe Flacco, left, fares against Houston's explosive J.J. Watt could be key Sunday.
The last time we saw the Texans and Ravens square off, we were watching a divisional-round playoff game at M&T Bank Stadium in Baltimore.
Terrell Suggs
had six tackles and a pass defended as the Ravens' rush linebacker. Houston featured third-string rookie
T.J. Yates
at quarterback, and his three interceptions -- paired with multiple special-teams gaffes by Texans returner
Jacoby Jones
-- were big factors in a 20-13 Baltimore victory.
The Texans returned home to rave reviews for their first playoff season but also couldn't help wonder what might have been if they'd had injured starting quarterback
Matt Schaub
and played a cleaner game. Baltimore advanced to the AFC Championship Game in New England, where it lost to the Patriots, but a near-catch for a touchdown by
Lee Evans
could have won it with 27 seconds left and a missed 32-yard field goal by
Billy Cundiff
could have forced overtime.
This rematch doesn't carry the same stakes but could have big implications. The winner will have the AFC's best record at 6-1.
AFC North blogger Jamison Hensley and AFC South blogger Paul Kuharsky will be watching closely.
HENSLEY
: I think it's easy to say this is a battle of the two best teams in the AFC. Not really going out on a limb here because the Ravens and Texans are the only teams with winning records in this mediocre conference. I know there are going to be nine games after this one, but this is shaping up to be the Ravens' most important game of the regular season.
The result of this game could become a tiebreaker for home-field advantage or a first-round bye at the end of the season. The Ravens, who have won a league-best 14 consecutive games at home, don't want to go on the road in the playoffs. The Ravens' mindset is that they won't have to come back to Houston this year if they win there Sunday. What's the mindset of the Texans after what happened in Houston last Sunday night?
KUHARSKY
: Because the Texans are so young, they've played a lot of "biggest games in franchise history." This is certainly the newest one to top the list. Their critics look at the 5-1 record and see wins over mostly softies and a pasting by the Packers on Sunday night. A victory over the Ravens validates everything they've done and regains a firm hold on Best in the AFC. A loss would create some serious concerns. They do have the cushion of playing in a terrible division they simply can't lose. But Baltimore has been an obstacle and ended the Texans' last season in the playoffs. If they meet again with such high stakes, they don't want to be traveling.
It might be a good time to draw the Ravens, too, right? I know
Ray Lewis
wasn't what he has been, but their first game without a leader like that and without an underrated, great corner like
Lardarius Webb
may make them a bit more susceptible, no?
HENSLEY
: This is the most vulnerable I've seen the Ravens' defense in 13 seasons. Lewis wasn't playing like the Lewis from 10 years ago, but he was still an above-average linebacker in this league. The Ravens have given up more than 200 yards rushing in each of the past two games, and losing Lewis only makes that run defense shakier.
Dannell Ellerbe
, who has made seven starts since entering the league as an undrafted free agent in 2009, will take Lewis' spot.
Though the Ravens will miss Lewis' leadership, the bigger loss is Webb. He was emerging as one of the top cornerbacks in the league. His nine interceptions since the start of the 2011 season was tied for the league lead. So, the Ravens have taken shots to both their run and pass defenses this week. How do you see the Texans attacking the Ravens' defense Sunday?
KUHARSKY
: Although they might not run first chronologically Sunday, the Texans are a run-first team. Everything they do offensively is keyed on the one-cut-and-go running of
Arian Foster
, who did great work running for 132 yards in that playoff game on Jan. 15. They send him left most often now, because
Duane Brown
and
Wade Smith
are steadier blockers than the guys on the right side, where they have two new starters who aren't even full time.
Spinning off that run game, we'll see play-action heavy with bootlegs and rollouts. It's always remarkable to see
Owen Daniels
out in space awaiting a Matt Schaub pass.
Andre Johnson
is certainly dangerous too, though they've not been able to feed him the ball as much as usual. He hates the talk that he's getting older and slowing down, but he hasn't looked like the same player so far this season. Two weeks ago, Jets cornerback
Antonio Cromartie
really smothered Johnson. I figured Webb would be a guy who could do similar work. If AJ sees someone like
Cary Williams
instead, it could be a different story.
Speaking of Schaub, let's turn to quarterbacks. He has been quite efficient this year, doing what Houston needs and not getting caught up at all in his numbers. I came into the season not sold on
Joe Flacco
and thinking the Ravens didn't have the right guy under center to become an offensive team. But he has done some very good work in the games I've seen and started to change my opinion. Even minus
Brian Cushing
, the Texans' front throws a lot at a quarterback. Green Bay might have exposed some coverage deficiencies. How's Flacco at assessing such things on the fly and taking advantage?
HENSLEY
: Flacco's biggest improvement this season has been his ability to audible at the line. The Ravens are using the no-huddle more than any other time in Flacco's five seasons. It's not to the point of being
Peyton Manning
, but Flacco is constantly changing the play at the line. Flacco, who ran the no-huddle during his college days, is comfortable with this. He has wanted to have more control of the offense and he's now getting it.
A lot of credit goes to quarterbacks coach Jim Caldwell, who is familiar with this style from his days with the Colts. Flacco makes his mistakes when he gets pressured. His pocket awareness has improved and he can scramble for yards. But Flacco will rush and make poor throws when a defender is in his face. Left tackle
Michael Oher
(four sacks) and rookie right tackle
Kelechi Osemele
(three sacks) have struggled at times keeping rushers away from Flacco. Is there any chance the Ravens slow down
J.J. Watt
and Houston's pass rush?
KUHARSKY
: It sure seems like the key to the game for me. Watt is going to get his at some point, and it's not just sacks. Watch how he'll stop rushing when he knows he's not getting there and time his jump to bat down, or even pick off, a pass.
And although the numbers of the other guys aren't in his stratosphere,
Brooks Reed
,
Antonio Smith
and
Connor Barwin
are very effective rushers who will have a bearing on Flacco's pocket comfort. Force some mistakes with that rush, and I like Houston's chances. Get stonewalled and fall victim to the ball coming out super-fast, and I feel differently.
One note about the quicker Ravens offense: With Cushing out,
Brice McCain
, the nickelback, will have a bigger role in covering players such as
Ray Rice
and
Dennis Pitta
on routes. If the Ravens run hurry-up or no-huddle, they can potentially trap the Texans in base if they want McCain off the field. I am eager to see whether they try that. The Texans are obviously are familiar with Jim Caldwell's no-huddling.
How about special teams? Tell me how Jacoby Jones is now reliably explosive? The Texans have some serious special-teams issues.
HENSLEY
: Jacoby Jones has been one of the bigger surprises this season for Baltimore. The Ravens were looking to upgrade the return game this offseason and failed to sign
Eddie Royal
or
Ted Ginn
in free agency. That's why they jumped on Jones when he was cut by the Texans. He has been average as a punt returner (9 yards per return), but he really keyed the win over the Cowboys on Sunday. His 108-yard kickoff return for a touchdown, which tied an NFL record, was the big play in that game.
The only reason the Ravens turned to Jones on kickoffs was because rookie
Deonte Thompson
fumbled a kickoff the week before. If you think about it, it's kind of funny that Jones got his chance to be explosive because another player couldn't hold onto the ball, especially after Jones' problems fielding kicks in the past. But that really hasn't surfaced so far with the Ravens.
Baltimore's coverage teams are both ranked in the top half of the league, which is a big improvement from last year. In 2012, the Ravens allowed three touchdowns on returns. Another improvement is at kicker. Rookie
Justin Tucker
has made 12 of 13 field goals this season and has hit both attempts beyond 50 yards. If this game is close, the Ravens have a lot of confidence in Tucker to make a pressure kick. So, what are the issues with the Texans' special teams?
KUHARSKY
: Well,
Trindon Holliday
was absolutely electric as their returner in the preseason. But it didn't carry over and they gave up on him. You saw Holliday playing for the Broncos on Monday night.
Keshawn Martin
is the man now. The team averages only 9.8 yards a punt return and 18.5 yards a kick return.
Their average start after a kickoff is the league's worst -- the 17.7-yard line. Their coverage isn't that bad -- it's 31st in the league instead of 32nd. Opponents start at the 26.9-yard line.
Donnie Jones
is a middle-of-the-pack punter in net average.
Shayne Graham
has been good on field goals, hitting 11 of 12, but is tied for 24th in touchbacks playing at home in what amounts to a domed stadium.
It's gambler's logic that the Texans are due to break through against the Ravens. Maybe they will, maybe they won't. If they don't and Jacoby Jones has something to do with it, it'll hurt a little bit extra.
It's certainly no stretch to predict we'll see these teams facing off again in the playoffs. In what round and where is the question, and Sunday's winner will lead the race to be in position to host.
September, 19, 2012
9/19/12
2:00
PM ET
The Bengals'
Adam Jones
was named AFC special teams player of the week after he returned a punt 81 yards for a touchdown in Cincinnati's 34-27 win against the
Cleveland Browns
. He also returned one kickoff for 31 yards.
Jones
Jones has three career punt returns for touchdowns that have covered at least 80 yards. There are three other active players who have accomplished that feat:
Devin Hester
(five),
Patrick Peterson
(four) and
Nate Burleson
(three).
This marks the second time in Jones' six-year career that he has won the AFC special teams player of the week award. He previously won the award in 2005 (Week 14) with the
Tennessee Titans
.
Dolphins running back
Reggie Bush
won the offensive player of the week award. He beat out four nominees from the AFC North: Browns running back
Trent Richardson
, Steelers quarterback
Ben Roethlisberger
, Bengals quarterback
Andy Dalton
, and Browns quarterback
Brandon Weeden
.
Texans defensive end
J.J. Watt
won the defensive player of the week award. Cleveland linebacker
D'Qwell Jackson
was a nominee after recording five tackles, three sacks and one interception against the Bengals.
January, 7, 2012
1/07/12
9:17
PM ET
Three things to know about next Sunday's Houston Texans-Baltimore Ravens divisional game:


1. Tough against the run
. The second-seeded Ravens (12-4) know the third-seeded Texans (11-6) will run the ball after Houston handed it off 59 percent of the time against the Bengals in today's wild-card game. Baltimore has a strong history of shutting down the run, and this season was no different. The Ravens finished ranked No. 2 in run defense, giving up 92.6 yards on the ground. Only five defenses allowed fewer rushing touchdowns than Baltimore this season. In the previous meeting with the Texans this season, the Ravens limited Houston to 93 yards rushing and held
Arian Foster
to 3.3 yards per carry.
2. Pass protection will be a major factor
. One of the reasons why the Texans beat the Bengals was their ability to pressure the quarterback and protect their own. After giving up seven sacks in San Diego, Baltimore allowed just two sacks of
Joe Flacco
over the final two games of the regular season. In the previous meeting, the Ravens shut out
Connor Barwin
,
Antonio Smith
and
J.J. Watt
. On defense, the Ravens led the AFC with 48 sacks and need to get more pressure on Texans rookie quarterback
T.J. Yates
than the Bengals did. Baltimore sacked
Matt Schaub
four times when the Ravens beat Houston on Oct. 16.
3. Dominant at home
. The Ravens put themselves in position to host a playoff game for the first time in five years by going undefeated at home for the first time in their 16-year existence. Baltimore roughed up teams at M&T Bank Stadium, where it won by double digits five times this season. One of those times was
a 29-14 victory
over the Texans when they had Schaub at quarterback. The Ravens have won 10 consecutive games at M&T Bank Stadium, the second-longest current home win streak in the NFL.
January, 7, 2012
1/07/12
7:38
PM ET
HOUSTON -- Here are my thoughts on the
Cincinnati Bengals
'
31-10 loss
at the
Houston Texans
:
What it means
: The Bengals extended the longest current streak in NFL playoff futility. Cincinnati now hasn't won a postseason game in 21 seasons. Careless mistakes led to the Bengals' third postseason loss in seven seasons. After allowing 24 straight points, Cincinnati fell to 1-7 against teams with winning records. It was a disappointing way to end a season in which the Bengals went from 4-12 in 2010 to a playoff team this season.


Turning point
: An
Andy Dalton
pass was intercepted at the line by Houston's
J.J. Watt
, who ran 29 yards for a touchdown late in the first half. This came three plays after the Texans had tied the game with a field goal. So, in a matter of 56 seconds, the Bengals went from being up by three points (10-7) to being down by seven (17-10). Cincinnati never recovered.
Costly drop
: Bengals safety
Chris Crocker
had a chance to tie the game in the third quarter, but an interception bounced off his hands. It would have likely been a touchdown because only quarterback
T.J. Yates
stood between Crocker and the end zone. Three plays later, Crocker failed to provide help for a faked-out
Adam Jones
on a 40-yard touchdown pass to
Andre Johnson
that put the Bengals behind 24-10. In the fourth quarter, Crocker didn't push
Arian Foster
out of bounds on a fourth-quarter touchdown run.
Seeing red
: Head coach Marvin Lewis made the head-scratcher of a decision to use both of his replay challenges in the first half. It was compounded by the fact that both challenges failed. That meant the Bengals couldn't contest a play after 4:33 in the second quarter.
Dalton's turnovers
: Dalton threw three interceptions after only one in his previous six games. Of course, he wasn't helped by the pressure generated by the Texans' front seven.
Can't stop the run
: It was another bad day for the Bengals' run defense, especially when it came to defending the outside. Foster ran for 153 yards and two touchdowns. This comes one game after the Ravens'
Ray Rice
ran for 191 yards and two touchdowns.
Wide right again
: Bengals kicker
Mike Nugent
missed wide right on his first field goal attempt, which was nine yards longer because of a third-down sack. He sliced it wide right just like he did last week against Baltimore. This was his fourth miss in the past three weeks.
What's next
: The Bengals head into what should still be a bright future. Cincinnati has two first-round picks as it looks to address the running back, guard and safety positions.
February, 17, 2011
2/17/11
11:30
AM ET
ESPN's draft guru Mel Kiper provided his
latest mock draft

this week with some intriguing picks for the AFC North.
Let's take a look.

Cincinnati Bengals (No. 4)
Kiper's current pick:
A.J. Green
, WR, Georgia
Kiper's previous pick:
Da'Quan Bowers
, DE, Clemson
Analysis:
I liked Kiper's previous pick from January because it fills a need. But with early projections, it doesn't appear Bowers will make it this far. Veteran receiver Chad Ochocinco has one year left on his contract. But even if he's traded, I think the Bengals have bigger holes to fill than receiver. Green could be a pick to appease disgruntled quarterback Carson Palmer, and that may have factored into Kiper's thinking. Cincinnati may also want to look at quarterbacks come April if the team still has no answer from Palmer, who has
threatened to retire if he's not traded.

Cleveland Browns (No. 6)
Kiper's current pick:
J.J. Watt
, DE, Wisconsin
Kiper's previous pick:
Green, WR, Georgia
Analysis:
This is a surprise pick, and Kiper admits as much. Although this may change during the workout and combine process, Watt seems like a reach right now with the No. 6 pick. But the Browns will be looking for defensive ends to help in their new 4-3 defense under defensive coordinator Dick Jauron. Cleveland recently cut
two veteran linebackers and two defensive linemen
, leaving the team thin at both positions. Receiver also is a major need, hence the Green pick by Kiper last month.

Baltimore Ravens (No. 26)
Kiper's current pick:
Aaron Williams
, CB, Texas
Kiper's previous pick:
Brandon Harris
, CB, Miami
Analysis:
With Kiper's first two mock drafts, he's convinced the Ravens will go with a cornerback. I'm not so sure, as needs at right tackle and another pass-rusher may be too great to ignore. Kiper likes Williams, who is physical and could fit in well with Baltimore. But with starting cornerback Domonique Foxworth returning from a knee injury, I think he's just as good as adding a high draft pick. Josh Wilson also is a free agent who may be retained, Lardarius Webb is a growing young talent and Chris Carr is a solid backup. The Ravens don't have nearly that kind of depth at offensive tackle or with pass-rushers behind Terrell Suggs and would be better served filling one of those two positions.

Pittsburgh Steelers (No. 31)
Kiper's current pick:
Cameron Heyward
, DE, Ohio State
Kiper's previous pick:
Tyron Smith
, OT, USC
Analysis:
Although I like Heyward the player, I don't like this pick for Pittsburgh. Kiper mentions the Steelers need additional 3-4 defensive ends. But with the emergence of Ziggy Hood, Brett Keisel making the Pro Bowl last season and Aaron Smith (triceps) getting healthy, I don't view this as a big need. Coming off a Super Bowl appearance, Pittsburgh does have the luxury to take the best available player. But the Steelers
are by no means a perfect team
and could use some youth and depth on the offensive line and at cornerback.