June, 13, 2013
6/13/13
12:00
PM ET
I was aware of how the
Pittsburgh Steelers
rarely start rookies. Since the Steelers selected tight end
Heath Miller
eight years ago, only one first-round pick (center
Maurkice Pouncey
) was an immediate starter for Pittsburgh.
But I didn't realize how long it's been since the Steelers put a rookie in the starting lineup on defense. The
Pittsburgh Post-Gazette
's Ed Bouchette provided an eye-opening history lesson on this subject.
The last rookies to start on the Steelers' defense were nose tackle
Casey Hampton
and inside linebacker
Kendrell Bell
, both of whom did it in 2001. Hampton became a five-time Pro Bowl player while Bell only lasted four seasons in Pittsburgh.
The only rookie to start at outside linebacker for the Steelers since 1970 has been Jack Ham. That was in 1971. To put it in perspective, that was the second year for Three Rivers Stadium, which is currently a parking lot.
While the odds seem stacked against
Jarvis Jones
, he isn't battling history. He just has to beat out
Jason Worilds
, an underachieving second-round pick from 2010. The Steelers didn't show much faith in Worilds when they tried to restructure
James Harrison
's contract (instead of just cutting him immediately) and used the No. 17 overall pick on Jones in April.
As the Steelers wrap up their offseason spring workouts today, Jones has stood out to the coaching staff.
"He's showing us things, and, if he keeps showing those things he's going to be a big part of that, hopefully," linebackers coach Keith Butler said. "The best thing for him is his background, he played linebacker at Georgia, so he understands concepts as opposed to being a defensive end who doesn't know anything. He's picked some things up. There's a lot we're throwing at him right now, as we do everybody. He's still learning, but he's learning at a quicker pace than most guys we drafted at that position as a defensive end."
April, 23, 2011
4/23/11
8:00
AM ET
Here are the most interesting stories Saturday in the AFC North:
Morning take: Longtime readers of the AFC North blog know I believe this is long overdue. I've heard plenty of grumbling about this behind the scenes in Cincinnati and perhaps this is a good first step in the right direction.
Morning take: The 1974 draft was even better. But landing players like Jack Ham, Mike Wagner and Dwight White three years prior helped set up Pittsburgh's Super Bowl runs in the 1970s.
Morning take: Quarterback, more than any other position, is defined by winning. They are the biggest decision-makers on the field and touch the ball on every play. It's no secret Flacco needs to perform better in big games.
Morning take: This week we did a poll and only 38 percent of fans believe Hillis will suffer from the vaunted Madden curse if he wins. But don't count Hillis among that 38 percent.
June, 23, 2010
6/23/10
11:00
AM ET
Notable players:
QB Terry Bradshaw, LB Jack Lambert, RB Franco Harris, DB Mel Blount, LB Jack Ham, WR Lynn Swann, DT Joe Greene, WR John Stallworth.
[+] Enlarge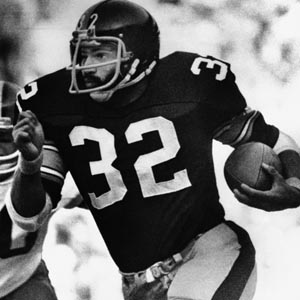 AP Photo/JJWFranco Harris posted career-high numbers during the 1975 season.
Analysis:
The '75 Steelers were the first Pittsburgh team to win back-to-back Super Bowls. It was also the best team from the famed Pittsburgh dynasty of the '70s, which included a bevy of Hall of Famers.
Led by the Bradshaw -- aka the "Blonde Bomber" -- Pittsburgh was able to win through the air and on the ground in an era when most teams were one-dimensional offensively and thrived on ground-and-pound football.
Pittsburgh's famed "Steel Curtain" defense was one of the best of all time and held seven opponents to single-digit scoring during the '75 season. In three playoff games, including the Super Bowl, offenses averaged only 12.3 points per game.
The '78 and '79 Pittsburgh title teams were also tremendous. But the '75 group had several key advantages.
For starters, every key member in '75 was in, or approaching, his prime. Hall of Famers Bradshaw (27), Blount (27), Ham (27), Lambert (23), Harris (25), Swann (23) and Stallworth (23) came into their own during this first run of back-to-back titles. By the time the second run of championships came at the end of the decade, this core group was four years older and some were approaching the end of their storied careers.
Further displaying their dominance, the '75 Steelers won by an astounding average of 15.1 points per game in the regular season, which led the NFL. It was also the highest margin of victory for any of Pittsburgh's championship teams. The '78 team won by an average of 10.1 points per game, while the '79 team won by 9.6 points per game.
Most impressive win:
The Steelers' 21-17 victory over the Dallas Cowboys in Super Bowl X was the team's crowning achievement. The Steelers won the turnover battle 3-0 to pull out a historic and close game. It completed the first of Pittsburgh's two back-to-back championships in the decade.
Research Room:
The Steelers allowed 17 touchdowns in 14 regular-season games in '75. In contrast, Pittsburgh scored 46 touchdowns, including two fumble returns for scores and one kickoff return.
Big Franco:
Harris is best known for the "Immaculate Reception" in '72 during a playoff win over the Oakland Raiders. But his best season rushing the football came three years later.
Harris recorded a career-high 1,246 yards rushing and 11 touchdowns during Pittsburgh's title run in '75. He averaged 4.8 yards per carry and also caught 28 passes out of the backfield. The nine-time Pro Bowler and Hall of Famer had eight 1,000-yard seasons.
Honorable mentions (in order):
1978:
A dominant group that won 14 games in the regular season and a Super Bowl. They scored at least 33 points in all three playoff victories.
1979:
The last championship team of the Steelers dynasty of the '70s. This group was No. 1 in total offense and No. 2 in total defense.
1974:
This team started the run of four championships in the '70s. But it wasn't until a year later that the core group of Hall Famers all blossomed and came into their own.