AFC North:

Jadeveon Clowney
October, 18, 2014
Oct 18
3:20
PM ET
PITTSBURGH -- Knee injuries likely won't prevent
Pittsburgh Steelers
free safety
Mike Mitchell
and defensive end
Brett Keisel
from playing Monday night against the
Houston Texans
.
Mitchell and Keisel are listed as probable for the 8:30 p.m. ET game at Heinz Field in the Steelers' final injury report of the week.
Starting inside linebacker
Ryan Shazier
is listed questionable after missing the past three games because of a sprained right knee.
Safety
Shamarko Thomas
will miss his second consecutive game because of a hamstring injury. Starting nose tackle
Steve McLendon
(shoulder) and cornerback
Ike Taylor
(forearm) were declared out at the beginning of the week.
Texans outside linebacker
Jadeveon Clowney
is listed as questionable. The No. 1 overall pick of the 2014 NFL draft has missed the past five games after having early season knee surgery.
Texans coach Bill O'Brien has said Clowney will be a game-time decision.
October, 16, 2014
Oct 16
6:30
PM ET
PITTSBURGH --
Pittsburgh Steelers
defensive end
Brett Keisel
and starting safety
Mike Mitchell
did not practice on Thursday, but inside linebacker
Ryan Shazier
participated in drills on a limited basis for the second consecutive day.
Keisel
Mitchell
Keisel and Mitchell are working their way back from knee injuries, and the latter said on Wednesday that he plans on playing Monday night against the
Houston Texans
.
Starting nose tackle
Steve McLendon
(shoulder) and cornerback
Ike Taylor
(forearm) have already been ruled out for the 8:30 p.m. ET game at Heinz Field.
In addition to Keisel and Mitchell, fullback
Will Johnson
did not practice on Thursday because of an illness. Strong safety
Troy Polamalu
was given a veteran's day off.
Shazier, who has missed the past three games with a sprained knee, is still limited as he tries to work his work way back to the field.
Strong safety
Shamarko Thomas
(hamstring) and defensive end
Cameron Heyward
(ankle) were also limited in practice. Heyward has said he will play against the Texans.
In Houston, linebackers
Jadeveon Clowney
(knee),
Brian Cushing
(knee), and
Brooks Reed
(groin) did not practice because of injuries. Cornerback
Darryl Morris
(ankle) also missed drills.
Running back
Arian Foster
(groin), wide receiver
Andre Johnson
(ankle), cornerback
Johnathan Joseph
(knee) and linebackers
Mike Mohamed
(calf) and
Jeff Tarpinian
(knee) all practiced on a limited basis.
February, 26, 2014
Feb 26
3:00
PM ET
Player:
Jadeveon Clowney
(going in alphabetical order)
Position/College:
Defensive end, South Carolina
Combine impression (1-10, 10 the best):
9.8.
Likelihood he's there at Browns fourth pick:
10 percent.
Other teams interested:
What team is not interested?
The skinny:
There is surprisingly little chatter about Clowney and the
Cleveland Browns
.
[+] Enlarge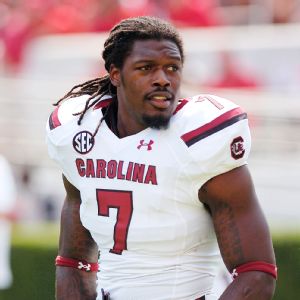 AP Photo/Mike StewartThe Browns, who have the No. 4 overall pick, could have a tough decision to make if South Carolina defensive end Jadeveon Clowney is available.
Perhaps it's because of the team's needs on offense, starting with quarterback and running through receiver and running back. Perhaps it's because few expect Clowney to get past the first two picks. The belief is either Houston takes him first and pairs him with J.J. Watt, or the
Atlanta Falcons
will trade up with St. Louis, from the No. 6 overall pick to No. 2, to take him.
Clowney is some kind of athlete. His 4.53-second 40-yard dash was faster than some receivers, and he's 266 pounds.
The guy is an aggressive, attacking pass-rusher with the bravado of a guy who believes he's worthy of every word written about him.
But -- and there is always a "but" about every draft pick -- Clowney decided not to do some drills, and arrived with the burden of his college coach making an offhand reference to him not being the hardest worker.
He has the reputation for turning it on when he wants to -- the 40 -- and turning it off when he doesn't. The publicity over one hit against Michigan in a 2013 bowl game almost seems to have propelled his career.
Some scouts wonder
how a guy with his ability can have just 3.5 sacks his final season.
"I wasn't worried about my stats really," Clowney said. "A lot of game-changing went on when we played teams. Quick passes, two-on-one, opposite-side runs, but that happens. I wasn't really worried about my stats, I just wanted to win."
And as he pointed out, South Carolina did go 11-2 and finish fourth in the country for the first time in its history.
The biggest question with Clowney might be how he's used, and whether he can play every down in a 3-4 defense. He had his hand on the ground at South Carolina, and in a 3-4 he would probably be light for a defensive end, where his skills would be wasted in a two-gap system that asks linemen to plug the run and let linebackers tackle.
That doesn't mean a clever coordinator couldn't make use of Clowney's skills. It's pretty much why coaches are hired, and Clowney promises he can play standing up (as a linebacker).
Either way, in time it would seem that if he is dedicated, he would grow into a fierce pass-rusher.
If he's there at the fourth pick, it would certainly force the Browns to make an interesting decision between a defensive player like Clowney, a quarterback, and perhaps receiver
Sammy Watkins
.
Clowney used three words to explain why he should be the choice: The Super Bowl.
"Defense won that game, shut them down, shut them out," he said of Seattle's win against Denver. "It takes defense to win championships, hands down. You had a great quarterback in Peyton Manning, hats off to him also, but defense wins the Super Bowl."
February, 24, 2014
Feb 24
3:35
PM ET
INDIANAPOLIS -- In a time when defenses believe that the rulebook and the league's decision-makers are stacked against them, defense has increasingly become a numbers game.
Or perhaps just a single number game. As in just one number. As in the number four.
In a pass-happy world gone mad, where
Denver Broncos
quarterback
Peyton Manning
led an offense that shattered the league's single-season scoring record with 606 points and tossed a never-before-seen 55 touchdowns, the best defense is as easy as 1-2-3 and, yes, 4.
"I think it's been proven, the best defenses can rush four and get to the quarterback," Broncos head coach John Fox said. "They don't always have to be the same four from the same spots, but the best defenses can do more things to inhibit offenses in a time when it's difficult, when they can consistently make a pass rush with four [players]. It might be more important than ever."
And certainly Fox, Manning, the Broncos and the rest of the league saw just how important it can be earlier this month in a 43-8 loss to the
Seattle Seahawks
in Super Bowl XLVIII. In that game the Seahawks essentially dismantled history as they stifled the Broncos' record-setting offense, repeatedly unsettled Manning in the pocket, sacked Manning once, intercepted him twice and returned one of those interceptions for a touchdown.
So dominant was the Seahawks' performance that even South Carolina defensive end
Jadeveon Clowney
got into the act. Clowney was asked at the scouting combine this past weekend why he should be the No. 1 pick of the May draft.
"The Super Bowl, defense won that game, shut them down, shut them out," Clowney said. "It takes defense to win championships, hands down. You had a great quarterback in Peyton Manning, hats off to him also, but defense wins the Super Bowl."
And with offenses trotting out more and more wide-open sets all the time, quarterbacks in the shotgun picking away at defensive formations with five, six or seven defensive backs in them, the defenses that are surviving enough to flourish are those with the best four-man rushes. The Seahawks, for example, sent an extra rusher at Manning on just six snaps in the title game.
The
St. Louis Rams
, not considered a blitz-heavy team -- as coach Jeff Fisher said, "we like to get there with four" -- have generated 105 sacks in Fisher's two seasons as head coach. And although disruptive players on the interior of a defensive line are certainly still coveted, rushing with four will push the draft's best edge rushers up the board. They may be drafted even higher than their actual grades -- and perhaps even into the No. 1 spot overall if the
Houston Texans
take the plunge.
Clowney, UCLA's
Anthony Barr
, Buffalo's
Khalil Mack
and Auburn's
Dee Ford
are among the best pass-rushers on this year's draft board. Of that top group, Clowney, who weighed in at 266 pounds at the combine and will get some attention as a possible No. 1, is both the biggest and the fastest, having run an official 4.53 clocking in the 40-yard dash Monday at Lucas Oil Stadium.
Barr, Mack and Ford, all between 251 and 255 pounds, are slightly smaller than Clowney and may get at least some looks from 3-4 defenses looking for outside linebackers. Mack is still the riser of the group.
Mack had 19 tackles for loss, 10.5 sacks, five forced fumbles and three interceptions this past season. In the season opener against Ohio State, he had nine tackles and 2.5 sacks and returned an interception for a touchdown.
"It helped with the stage, I feel like there was a lot of people watching that game," Mack said. "It helped me tremendously."
Because of Mack's play speed and power, much like the Broncos'
Von Miller
showed during an 18.5-sack season in 2012, some teams think Mack may fit more of the league's defensive schemes than any of the other top prospects at the position.
But there are players to complement that speed-first crowd, as well. Oregon State's
Scott Crichton
and Missouri's
Kony Ealy
may not have tested as well at the combine as some of the others but are productive players who have given scouts plenty to look at in their games. So much so, Ealy, a teammate of SEC co-defensive player of the year
Michael Sam
, is expected to be selected long before Sam.
Ealy has plenty of athleticism in his game, has a natural dip to his shoulder in his outside move and has plenty of upside. A player like Crichton, who is considered raw, plays with power and high effort to go with 10 forced fumbles in his career.
"You've just got to get off the ball and attack, attack the opposing player, and you've got to just play on their side of the ball," Crichton said. "Coaches always told me, whatever you do, no matter if you are wrong, you've got to play on their side of the ball, and that's what I really took pride in this year and it's worked out for me."
Nine quarterbacks topped 4,000 yards in 2013 -- Manning and
Drew Brees
had more than 5,000 yards -- and 10 quarterbacks had more than 4,000 yards in 2012 and 10 others in 2011. The need for help across the defensive front isn't set to decrease anytime soon.
Or as Broncos cornerback
Champ Bailey
has put it:
"If you can't get to the quarterback, I don't care who you have covering back there, it won't matter," Bailey said. "They want passing in this league, they want points, and with the way these quarterbacks are now, how they get the ball out, how accurate they are, if you're blitzing them all the time, they'll throw it all over you. You have to rush four and you have to get there, it's the best formula, maybe the only one now."
AFC NORTH SCOREBOARD
Sunday, 10/19
Monday, 10/20