AFC North:

Jamaal Charles
October, 8, 2012
10/08/12
10:30
AM ET
Revisiting the Baltimore Ravens' 9-6 victory at the Kansas City Chiefs:
The Ravens took a step forward in beating the Chiefs on Sunday. No, you didn't read that wrong.
Last season, all four of the Ravens' losses came on the road against teams that had losing records at the time. Baltimore shouldn't apologize for winning by a field goal Sunday because its players know there is a worse alternative.
A loss at Kansas City would've kept the Ravens tied with the Bengals and closed their gap over the Steelers to a half-game. Instead, the Ravens hold a one-game lead over Cincinnati and a 1 1/2-game advantage over Pittsburgh.
There should be concern that the Ravens have played down to their competition the past two games. Baltimore outlasted the winless Browns for a seven-point victory on Sept. 27 and escaped Kansas City with a three-point win. The combined records of those two teams are 1-9. The Ravens shouldn't be sweating out the final minutes of games against teams like that.
The next two weeks will put these closer-than-expected wins in proper perspective. If the Ravens take care of Texas (Dallas and Houston) to finish out October, no one will hold these recent ragged performances against Baltimore.
STAT THAT STICKS
: 2 -- Running backs who had rushed for 125 yards in a game against the Ravens since the start of 2008. The Chiefs'
Jamaal Charles
had that many yards at halftime Sunday. But the Ravens closed in on Charles significantly in the second half, allowing him 2 total rush yards before contact and hitting him in the backfield on four of his 10 rushes, according to ESPN Stats & Information.
OVERHEARD
: "I knew it was a quarterback sneak. He was going to snap it so quick and that's probably why he fumbled it. He was trying to get it so quick and you just saw it coming. It was just right there and the gap was open. I'm sure if he doesn't fumble that, then it's a touchdown, different ballgame." Ravens safety
Ed Reed
on recovering a
Matt Cassel
fumble at the Baltimore 1-yard line in the third quarter when the game was tied at 3.
WHAT'S NEXT
: The Ravens play the
Dallas Cowboys
(2-2), who are coming off their bye. Baltimore has won 13 straight games at M&T Bank Stadium, which is a Ravens' franchise record.
October, 5, 2012
10/05/12
12:30
PM ET
Not only am I coming off a perfect week, I was very close with the predicted scores as well. Here are my predictions for the Week 5 games involving AFC North teams:
Steelers 23, Eagles 17
: The focus will be the return of linebacker
James Harrison
and safety
Troy Polamalu
. The bigger factor is the return to Heinz Field after two road losses. In their past nine home games, the Steelers have held visitors to 10 points per game. That means it will be a long day for
Michael Vick
.
Ravens 31, Chiefs 20
: The Ravens will jump out to a fast start to silence both
Jamaal Charles
and the noisy Arrowhead Stadium crowd.
Joe Flacco
threw for 265 yards and two touchdowns in a playoff game at Kansas City two seasons ago. He will surpass those totals Sunday.
Dolphins 21, Bengals 16
: Over the past two seasons, the Bengals have beaten the teams they were supposed to beat. Not this time. Although the Bengals were able to shut down
Maurice Jones-Drew
last Sunday,
Reggie Bush
lights up the 23rd-ranked run defense to pull off the upset.
Giants 24, Browns 13
: This is a bad matchup for the winless Browns.
Eli Manning
will pick on a Cleveland secondary that will be vulnerable until cornerback
Joe Haden
returns.
Trent Richardson
will have a productive game, but
Brandon Weeden
will make costly mistakes against the Giants' pass rush.
---
Last week's recap
: 2-0.
Season record
: 6-3.
Ravens 23, Browns 16 (prediction: Ravens 20, Browns 10)
Bengals 27, Jaguars 10 (prediction: Bengals 27, Jaguars 17)
October, 5, 2012
10/05/12
7:00
AM ET
It's almost time to watch some AFC North teams in action again. The NFL schedule-makers have created quite a gap for the division. The Ravens and Browns haven't played since Sept. 27, and the Steelers haven't been on the field since Sept. 23. Division teams can't complain about needing some rest. But there's no such thing as rest with the AFC North blog. Here's your wake-up call ...
RAVENS
: Nose tackle
Terrence Cody
, a second-round pick two years ago, isn't complaining about losing his starting job to free agent
Maake Kemoeatu
. "I'm staying patient," Cody told
The Baltimore Sun
. "It really isn't a big issue who starts because the playing time is similar. It's a long season and anything can happen." Well, that's not exactly right. Cody played 79 snaps on defense, which is 53 fewer than Kemoeatu. Cody's biggest contribution over the past couple of seasons was knocking out Chiefs running back
Jamaal Charles
in the playoffs two seasons ago by landing on top of him. The Ravens may need Cody to neutralize Charles, who is averaging 5.7 yards per carry, once again Sunday.
BENGALS
:
Taylor Mays
wants to be an "intimidating presence" on defense. But Mays understands the difference between big hits and big penalties. "I think earlier in the season, and at the end of the preseason, I ended up hurting the team by getting personal foul penalties on hits," Mays told the
Cincinnati Enquirer
. "I can't get the personal-foul penalties, because when that happens you're pretty much setting the offense up for a score. That's too much of a liability to the defense." A week after being flagged for a helmet-to-helmet hit in the opener, Mays didn't play a defensive snap the next game. His playing time has increased the past two games and he could be in line to start at strong safety again Sunday.
STEELERS
: The Steelers-Eagles game isn't a division game, but quarterback
Ben Roethlisberger
said this intra-state matchup is still a rivalry. It stems from Pittsburgh's dislike for the city of brotherly love. "No matter what sport it is, it seems to be Pittsburgh versus Philly and a general hatred," Roethlisberger told the
Beaver County Times
. "That's what I've noticed since I moved here about Philadelphia." Roethlisberger isn't just talking about the fans. He acknowledged that he doesn't like Philadelphia teams either. "I like to watch the [Penguins] fans boo the Flyers," he said. "So I boo, too." Roethlisberger is 1-1 against the Eagles.
BROWNS:
Rookie running back
Trent Richardson
told New York reporters in a conference call that he sees room to run on the Giants. According to the
Newark Star-Ledger
, the Giants allowed 132 rushing yards on the edges Sunday against Philadelphia. "If we put a hat on a number, just cover them up, I think we can get yards on them," Richardson said. "But at the same time, I know they're going to throw everything they can at us. I'm pretty sure they're going to game plan on our running game, and so we've got to make sure we open up the passing game so we can get some good runs in." Richardson has 64 carries this season, which is tied for 15th in the league. That's not exactly the workload everyone expected when the Browns selected Richardson with the third overall pick in the draft.
April, 26, 2011
4/26/11
6:00
PM ET

Will
Cleveland Browns
running back
Peyton Hillis
be on the "Madden NFL 12" cover?
After receiving
millions of votes
since last month, ESPN's SportsNation will crown a champion of the 2012 Madden cover tournament on Wednesday. Hillis, a No. 10 seed, is facing
Philadelphia Eagles
quarterback and No. 3 seed
Michael Vick
in
the finals.
Hillis, thanks to the tremendous support from Browns fans, has upset higher seeds four consecutive weeks. Hillis beat
Baltimore Ravens
tailback and No. 7 seed
Ray Rice
,
Atlanta Falcons
quarterback and No. 2 seed
Matt Ryan
,
Kansas City Chiefs
tailback and No.6 seed
Jamaal Charles
and
Green Bay Packers
quarterback and No. 1 seed
Aaron Rodgers
to get to the finals.
SportsNation is keeping the results under wraps, and there were no official updates on who was leading last week. Check back with the AFC North blog on Wednesday to find out this year's winner.
April, 18, 2011
4/18/11
12:33
PM ET
Peyton Hillis
is one step away from becoming the first
Cleveland Browns
player to grace the cover of the popular "Madden" video game series.
Vick
Hillis
ESPN.com's SportsNation announced Monday
that Hillis, a No. 10 seed, pulled another upset in the "Madden NFL 12" cover tournament. He garnered 61 percent of the vote to defeat
Green Bay Packers
quarterback and No. 1 seed
Aaron Rodgers
. Hillis will face
Philadelphia Eagles
quarterback
Michael Vick
in the finals.
This is the fourth consecutive week Hillis advanced against a higher seed. He also defeated No. 7 seed
Ray Rice
of the
Baltimore Ravens
, No. 2 seed
Matt Ryan
of the
Atlanta Falcons
and No. 6 seed
Jamaal Charles
of the
Kansas City Chiefs
.
In many ways, Cleveland fans have treated this tournament like their Super Bowl.
The rebuilding Browns are just 64-128 since returning to the NFL in 1999 and are coming off back-to-back 5-11 seasons. But the Dawgpound has come out in droves to support Hillis, who is coming off a breakout 2010 season where he rushed for 1,177 yards and scored 13 total touchdowns.
April, 14, 2011
4/14/11
2:00
PM ET
Can
Cleveland Browns
running back
Peyton Hillis
pull off another stunning upset?
Hillis
The Final Four of the "Madden NFL 12" cover tournament is heating up, and the AFC North blog checked in with the folks at SportsNation to get the latest update. Although the numbers could not be revealed, we're told that Hillis, a No. 10 seed, continues to lead
Green Bay Packers
quarterback and No. 1 seed
Aaron Rodgers
as of Thursday afternoon.
Hillis has run off a string of upsets to make it to the Final Four. Hillis beat No. 7 seed
Ray Rice
of the
Baltimore Ravens
in the first round,
Atlanta Falcons
quarterback and No. 2 seed
Matt Ryan
in the second round, and No. 6 seed
Jamaal Charles
of the
Kansas City Chiefs
last week. But knocking off Rodgers, the perennial favorite coming off a Super Bowl win, would be the biggest upset of the tournament.
If Browns fans want one of their own on the "Madden NFL 12" cover this year, they can
click here to vote
for Hillis. Even Ravens,
Pittsburgh Steelers
and
Cincinnati Bengals
fans can vote for Hillis if they want him to be the latest victim of the dreaded "Madden curse."
In the other bracket, No. 3 seed
Michael Vick
of the
Philadelphia Eagles
is facing No. 9 seed
Adrian Peterson
of the
Minnesota Vikings
.
We will have results from the Final Four on Monday.
April, 11, 2011
4/11/11
1:30
PM ET
The string of upsets continue for
Cleveland Browns
running back
Peyton Hillis
.
Hillis
On Monday, ESPN.com announced that Hillis has advanced to the Final Four of the
"Madden NFL 12" cover tournament
. Hillis, a No. 10 seed, defeated
Kansas City Chiefs
running back and No. 6 seed
Jamaal Charles
by garnering 60 percent of the vote.
It's the third consecutive week Hillis upset a higher seed. He also beat
Baltimore Ravens
tailback and No. 7 seed
Ray Rice
in the first round and
Atlanta Falcons
quarterback and No. 2 seed
Matt Ryan
in the second round.
But Hillis will face his biggest challenge to date trying to upend top-seeded
Aaron Rodgers
of the
Green Bay Packers
. Coming off a Super Bowl XLV victory over the
Pittsburgh Steelers
, Rodgers is the heavy favorite to win the entire tournament.
The Final Four consists of Hillis, Rodgers,
Philadelphia Eagles
quarterback
Michael Vick
and
Minnesota Vikings
tailback
Adrian Peterson
.
April, 7, 2011
4/07/11
4:00
PM ET
I knew
Cleveland Browns
running back
Peyton Hillis
gained popularity following his breakout season in 2010. But is he popular enough to be on the "Madden NFL 12" cover?

Hillis
The EA Sports cover tournament
has reached the Elite Eight and Hillis, a No. 10 seed and dark horse of the tournament,
is in strong standing
to pull off another upset against a No. 6 seed,
Kansas City Chiefs
tailback
Jamaal Charles
. As of midweek Hillis has 58 percent of the voting, which closes this weekend.
Hillis is putting together a
Virginia Commonwealth-like run
through the tournament. He's already knocked off higher seeds
Ray Rice
(No. 7) of the
Baltimore Ravens
and
Matt Ryan
(No. 2) of the
Atlanta Falcons
.
Place your votes if you want Hillis to advance to the Final Four, where he would likely meet
Green Bay Packers
quarterback and No. 1 seed
Aaron Rodgers
.
January, 9, 2011
1/09/11
2:22
PM ET
January, 7, 2011
1/07/11
7:51
PM ET

The
Baltimore Ravens
enter their wild-card game against the
Kansas City Chiefs
with injury concerns on defense. Safety
Ed Reed
(chest), defensive lineman
Haloti Ngata
(thigh), linebacker
Terrell Suggs
(knee) and cornerback
Josh Wilson
(head) -- all starters -- are listed as questionable for Sunday's playoff game.
Considering the stakes, there is a good chance all four players will go for Baltimore. But Suggs and Ngata returned to practice for the first time this week on a limited basis Friday and are probably the biggest concerns. Both are needed to help stop Kansas City's strong running game led by Pro Bowl running back
Jamaal Charles
, who rushed for 1,467 yards and averages 6.4 yards per carry this season.
Everything seems fine on offense for the Ravens. Starting left tackle
Michael Oher
injured his knee in the regular-season finale against the
Cincinnati Bengals
. But Oher practiced every day this week and is listed as probable. Veteran receiver
Derrick Mason
(abdomen, ankle) and starting center
Matt Birk
(knee) are also probable.
January, 7, 2011
1/07/11
4:00
PM ET
»
Wild-card Final Word
:
NY Jets-Indy
|
Baltimore-K.C.
|
N.O.-Seattle
|
G.B.-Philadelphia
Three nuggets of knowledge about Sunday's Ravens-Chiefs wild-card game:
[+] Enlarge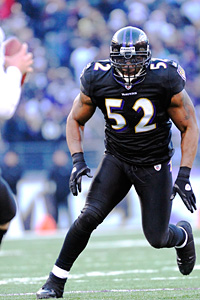 David Drapkin/AP PhotosBaltimore's Ray Lewis leads the NFL's No. 5 run defense against Kansas City's Jamaal Charles.
Road warriors:
Historically, the Ravens have not been fazed by playing on the road in the postseason. The Ravens (6-3) are tied with the
Carolina Panthers
(4-2) for the best road playoff winning percentage (.677) since 1960. Baltimore has another tough assignment playing in Kansas City. The Chiefs are 7-1 this year at Arrowhead Stadium, which is one of the loudest stadiums in the NFL.
Stopping Charles:
Baltimore also has a tall task of slowing down Kansas City's running game, led by Pro Bowl tailback
Jamaal Charles
. Charles rushed for 1,467 yards this season and averages an impressive 6.4 yards per carry. Charles rushed for more than 170 yards in a game twice. But Baltimore boasts the NFL's fifth-best run defense, allowing just 93.9 yards per game and 3.9 yards per carry. It will be an interesting clash of strengths.
The third phase:
An under-rated part of Baltimore's success this season has been its stellar play on special teams. Pro Bowl kicker
Billy Cundiff
made 26 of 29 field goals and tied an NFL record with 40 touchbacks. Punter
Sam Koch
averaged 43.6 yards per kick, including 39 punts inside the 20, and rookie receiver
David Reed
averages 29.3 per kickoff return. Winning the third phase of the game is important in the playoffs and could bode well for Baltimore.
January, 6, 2011
1/06/11
1:30
PM ET
Our latest
"Take your pick"
in the AFC North blog involved this weekend's wild-card game between the
Baltimore Ravens
(12-4) and
Kansas City Chiefs
(10-6).
Who will win this big matchup? Here are some predictions from our
division inbox
and
AFC North Twitter
:

Ravens advance!
Tom Cheek from Baltimore
writes: Baltimore is going to win this one despite being on the road at K.C., which is a tough place to play. However, look at what Baltimore did to New England last year, which is a tough place to play. Even though Kansas City leads the league in rushing, the Ravens are fifth in rush defense, which should be able to hold
Jamaal Charles
under 100 yards on the day.
Jason from Pasadena, MD,
writes: The Ravens defense will come up big with multiple turnovers and the offense will make the Chiefs pay. I smell a nice game from
Ray Rice
and
Willis McGahee
, 31-17, Ravens.
TheNFLChick via Twitter
writes: Charlie Weis hiring is a distraction. Ravens know how to win playoffs on the road...I'm taking my boys! Tell Pitt we're gunning for them!
BlacknGoldGlen via Twitter
writes: Ravens will beat the Chiefs. Then it's a trip to Pittsburgh before going home to watch the Big Game on TV.
Tyson from Newark, OH,
writes: I think the Ravens will win this game with ease. Not taking away from the great season the Chiefs have had. But the Ravens are a veteran team who has been down this path before; much like when the played in Miami in 2008.

Chiefs protect home!
Bryce from Tucson, AZ,
writes: I am actually going to take Kansas City at home over the Ravens. The New Arrowhead has been rocking like the Arrowhead of old, which makes life extremely difficult for opponents. While I think Baltimore can handle it, Kansas City is going to be extremely excited about playing in their first playoff game (for most of them) and will just feed off the crowd's energy.
Meyers2305 via Twitter
writes: Chiefs are a great team. They need to play Charles the majority of the game.
Thomas Jones
doesn't have it anymore! Chiefs, 27-21.
BrockDulco via Twitter
writes: I'm taking the Chiefs, 14-10. Chiefs' defense is good and Arrowhead can never be discounted.
BigPaych via Twitter
writes: I like the Chiefs. Dual-threat running game could wear on the older Ravens' D and win in the fourth quarter.
Ben from Pensacola, FL,
writes: I'll take the Chiefs over the Ravens in a close game. The Ravens have been good on the road, but the Chiefs are just as good at home, and you have to think Arrowhead will be even louder than usual given how long it's been since K.C. has hosted a playoff game. I'll take a blazing hot hand in
Matt Cassel
over
Joe Flacco
, too.
AFC North final say
After finishing the
regular season 32-20
, the AFC North blog is no longer predicting games now that the playoffs are underway. So we check in with Scouts Inc.'s Matt Williamson to get his take.
Williamson:
I predict a close one, 21-20 in favor of Baltimore. I just think the Ravens are so much further along as an organization. With Kansas City, no matter what happens, if the team loses 51-0 this weekend the season has been a success. I don't think the Chiefs have true Super Bowl aspirations. They're content that they had a great year, all is well, and K.C. fans are going to be talking about the Chiefs all offseason. I don't think Baltimore is a really good matchup for K.C., either. The big key to me is if you can stop the Chiefs' running game, they don't know what to do with themselves. Matt Cassel can't put the team on his shoulders and air it out all day, and think the Ravens will stop their running game.