December, 24, 2014
Dec 24
5:30
PM ET
CINCINNATI -- Four
Cincinnati Bengals
missed practice Wednesday, being told to stay away because a flu has run amok throughout the team.
The virus has affected different position groups and different corners of the locker room.
Quarterback
Andy Dalton
was the biggest name player who was sidelined because of it, forced to head home about a half hour before his regularly-scheduled Wednesday news conference. Along with him, tight end
Jermaine Gresham
, safety
Reggie Nelson
and cornerback
Terence Newman
had illnesses, too.
It's the second time a contagious bug has hit the team, following the spread of a stomach bug four and five weeks ago. In all, seven Bengals were hit by that one, including Dalton who got it the night before the Bengals' Week 13 game at Tampa Bay. After taking three IVs before the game and throwing up in the locker room during pregame introductions, Dalton threw three first-half interceptions before tossing a touchdown pass and running for another in the second half.
Along with the sick quartet, the Bengals were unsurprisingly without receiver
A.J. Green
, too. Although he participated in the stretching period, he didn't go through any other part of the practice as he starts trying to recover from a right biceps bruise. Green suffered the injury Monday night when the helmet of a Broncos defensive back barreled hard into him as he leaped for a high pass.
When the ball deflected off Green's hand, it ricocheted into cornerback's
Aqib Talib
's hands. Untouched, he got off the ground and ran 33 yards for a touchdown on the Bengals' fifth offensive play.
Green told ESPN on Wednesday that he initially thought he had broken his arm on the hit.
During his news conference, coach Marvin Lewis said Green was "progressing." Lewis added that he thought Green had a shot to play Sunday at Pittsburgh in the unofficial AFC North title game. The winner of the matchup will win the division.
Along with the notes on Dalton and Green, the Bengals also are hopeful that receiver
James Wright
and linebacker
Emmanuel Lamur
will return this week. Both missed Monday night's game, and Wright missed the two before that. They both practiced Wednesday, going in limited capacity during the Christmas Eve session.
Unlike most teams the Bengals will practice on Christmas Day. Part of the reason they aren't taking the day off is because this keeps them in a daily rhythm ahead of the big Sunday game. It also made sense that they practice after being done no favors by the NFL schedule-makers.
The same week as Christmas, the Bengals had a Monday night game and a Sunday one immediately after it. Normally they'd have six days of practice between games. They would have had only four if they took Thursday off.
Here's the full Wednesday injury report:
DID NOT PRACTICE
QB Andy Dalton (illness)
TE Jermaine Gresham (illness)
CB Terence Newman (illness)
S Reggie Nelson (illness)
LB
Chris Carter
(knee)
DE
Wallace Gilberry
(hamstring)
LIMITED PRACTICE PARTICIPATION
CB
Darqueze Dennard
(shin)
LB Emmanuel Lamur (hamstring)
WR James Wright (knee)
December, 20, 2014
Dec 20
3:00
PM ET
CINCINNATI -- If
Peyton Manning
ends up playing for the
Denver Broncos
on Monday night, the
Cincinnati Bengals
could be without one of their best weapons for combating him.

Lamur
Although he practiced Saturday morning for the first time this week, linebacker
Emmanuel Lamur
was listed later in the day as doubtful on the Bengals' final injury report of the week.
He could be a game-time decision.
"He's made a lot of progress," coach Marvin Lewis said. "With the extra day this week, obviously that helps a lot."
Lamur had an extra day early in the week to rest his sore hamstring, and he will have time even early Monday to get it treated several hours before the game if need be.
"It wasn't real severe, and we shut him down right away," Lewis said of the injury.
Lamur was run from last Sunday's 30-0 win against the Browns because of the issue.
If Lamur is ruled unable to play, the Bengals likely will use a combination of backups
Marquis Flowers
,
Chris Carter
and
Nico Johnson
at the "Sam" linebacker position he occupies in the base defense. When Cincinnati shifts into nickel packages as it likely will do often against the Broncos' multi-receiver and tight end sets, safety
Taylor Mays
likely will come off the bench and shift into Lamur's role as the cover linebacker. Despite playing the "Sam" in base, it has been Lamur's responsibility to defend tight ends in passing situations this season.
Last season, with Lamur out for the season, Mays moved down into a linebacker role. He was covering tight ends in a similar capacity before suffering his own season-ending shoulder injury in Week 8.
In addition to watching Lamur, eyes will be on Manning before Monday's game, too. After fighting through a thigh injury and an illness this week, the quarterback was listed as questionable on the Broncos' Saturday injury report.
Here is Cincinnati's full injury report*:
DOUBTFUL
WR
James Wright
(knee)
LB Lamur (hamstring)
QUESTIONABLE
QB
AJ McCarron
(illness)
PROBABLE
WR
Brandon Tate
(illness)
OL
Mike Pollak
(knee)
CB
Dre Kirkpatrick
(Achilles)
DE
Carlos Dunlap
(calf)
TE
Jermaine Gresham
(toe)
DE
Margus Hunt
(ankle)
CB
Terence Newman
(ankle)
OT
Marshall Newhouse
(illness)
Receiver
A.J. Green
was taken off the injury report. He's healthy after dealing with an illness this week.
December, 18, 2014
Dec 18
5:00
PM ET
CINCINNATI -- In their first practice of the week, the
Cincinnati Bengals
got tight end
Jermaine Gresham
back from a toe injury that forced him to miss last Sunday's game at Cleveland.
Gresham was in and out of practice last week after picking up the injury in one of the week's workouts. He tested out the toe before Sunday's game and, for the most part, looked pretty good. But he apparently didn't feel good enough.
He told coaches and trainers he was in too much pain and was thus declared inactive.
On Thursday, he not only was active, but he participated fully alongside defensive end
Margus Hunt
and cornerback
Terence Newman
. Hunt returned after missing four weeks with an ankle injury. He was injured in the Week 11 game at New Orleans and was quickly placed into a walking boot and crutches. Newman practiced after also being inactive last Sunday due to his own ankle injury.
Of concern Thursday was the absence of
A.J. Green
. The Pro Bowl receiver was sent home after the Bengals' morning walk-through because of an illness. It is believed he'll be OK to practice Friday, and his status for Monday night's game against the
Denver Broncos
isn't in doubt.
While there doesn't appear to be any issue with Green this week, the same can't be said just yet about linebacker
Emmanuel Lamur
and receiver
James Wright
. Neither practiced, but they did participate in rehab and conditioning exercises on the side of the practice fields. This was only the second time Wright has gone through rehab drills in the nearly three weeks he has missed with a knee injury. It's a promising sign that he could be activated this week if the Bengals are comfortable with the injury's progress.
Lamur hurt his hamstring in the second half of the 30-0 win over the Browns on Sunday.
Here is the complete Thursday injury report:
DID NOT PRACTICE
WR A.J. Green (illness)
LB Emmanuel Lamur (hamstring)
WR James Wright (knee)
OL
Mike Pollak
(knee)
LIMITED PRACTICE PARTICIPATION
CB
Dre Kirkpatrick
(Achilles)
DE
Carlos Dunlap
(calf)
FULL PRACTICE PARTICIPATION
DE Margus Hunt (ankle)
CB Terence Newman (ankle)
TE Jermaine Gresham (toe)
December, 5, 2014
Dec 5
1:57
PM ET
CINCINNATI -- While broader long-term uncertainty looms about two of the
Cincinnati Bengals
' biggest stars, they have one other young player whose anticipated absence Sunday against the
Pittsburgh Steelers
comes just when he was beginning to peak.
Receiver
James Wright
, the rookie who was one of the heroes of last week's win at Tampa Bay, was tabbed as doubtful on the injury report released Friday afternoon.
Wright
Wright has a knee injury that has kept him out of practice all week. Coach Marvin Lewis doesn't think the injury is anything to be overly concerned about. It's one he believes Wright will return from soon. As for whether that return would be this weekend, Lewis, before the injury report was released, offered his patented "we'll see."
With Wright likely not playing, look for veteran
Brandon Tate
to resume his duties as the team's third receiver. Tate had been in that role early in the season before Wright began soaring in recent weeks. The seventh-round draft pick had the best game of his young career last week when he caught three passes for 59 yards. Each of them converted pivotal third downs, but none was more impressive than his catch along the Bengals' sideline with 2:37 to go. His leaping, 30-yard grab extended a key late Bengals drive and helped take time off the clock the Buccaneers needed on their ensuing possession.
After averaging 12.8 snaps in the first nine games he played this season, Wright was part of 39 snaps two weeks ago and played 22 last week.
Wright's absence could mean the Bengals place receiver
Greg Little
on the active gameday roster for the first time in four weeks.
Dane Sanzenbacher
also has a chance to be part of the active group after being on the fringe all season.
Long-term uncertainty remains for linebacker
Vontaze Burfict
and tight end
Tyler Eifert
. Neither will be playing this weekend. It still isn't clear when the pair will rejoin the team, or even if that will happen before the postseason begins.
Here's the Bengals' complete Friday injury report:
OUT
LB
Jayson DiManche
(forearm -- placed on IR earlier this week)
LB Vontaze Burfict (knee)
DOUBTFUL

DE
Margus Hunt
(ankle)
WR James Wright (knee)
QUESTIONABLE
DT
Domata Peko
(elbow)
PROBABLE
DE
Robert Geathers
(hip)
WR A.J. Green (thigh)
H-back
Ryan Hewitt
(illness)
OT
Marshall Newhouse
(hip)
OL
Mike Pollak
(knee)
CB Adam Jones (concussion)
November, 5, 2014
Nov 5
3:15
PM ET
CINCINNATI --
Dre Kirkpatrick
was laughing when he said it, but he was serious.
If the
Cincinnati Bengals
are no longer in the Super Bowl hunt in late January, he wants to make the Pro Bowl as a special teamer.
"Y'all got to get me in there," Kirkpatrick said earlier this week, half-joking with reporters. "Ramp this thing up."
Huber
It wasn't the first time he mentioned the end-of-season all-star game, and it probably won't be the last, especially if he continues playing the way he has on the Bengals' punt coverage team. As one of the team's star gunners, he has helped punter
Kevin Huber
lead the NFL in net punting average by getting downfield quickly enough to record tackles deep in opposing territory, and down Huber's kicks as close to the goal line as possible.
In addition to leading the league with his 44.1-yard net punting average, Huber also has the highest percentage of punts to get downed inside the 10- and 5-yard lines. Kirkpatrick has downed the many of them. So have
Darqueze Dennard
,
Cedric Peerman
and
James Wright
, other key contributors to the Bengals' punt coverage team.
"He's playing fast," Huber said of Kirkpatrick. "He's hitting his stride right now where he's getting out quick, making a good move off the line. He's naturally fast. He's got the ability once he gets a step on a guy that they have no chance to get him.
"He's taking pride in his special teams play. He's taken that to heart and put everything he can into it."
Kirkpatrick
Kirkpatrick admitted last week to
fighting frustrations related to being relegated
to the bottom of the Bengals' depth chart at cornerback. Three veterans are playing ahead of him, and he's splitting time with the rookie Dennard in a backup capacity. Despite those frustrations, though, he has realized his best chance of getting on the field is to continue performing well on special teams.
"That's his role on our team right now," special teams coordinator Darrin Simmons said. "Until he's told differently, that's his contribution to our team."
Huber, who claimed punter of the week honors Tuesday from ESPN Stats & Information's Mark Simon for a third time, credited Kirkpatrick and the other gunners for helping erase some of his mistakes this season.
"My punt team is bailing me out," Huber said. "I've got faith in the gunners that they are going to get down there and make plays. You can be a little bit more aggressive when you have that. At the same time, you don't want to be overly aggressive and pipe the ball as far down the field as you can and not even give them a chance. You still have to give them the opportunity to get down the field and get in position."
Huber has been doing that so far, and it's worked out quite well for Cincinnati. But time will tell if Kirkpatrick does enough to make it to Arizona for the Pro Bowl.
"It's a passion. You're fighting for your brothers," Kirkpatrick said of his punt-team duties. "They're out there going hard so I feel like it's my job to go out there and go hard. Because of that, I feel like I'm one of the best gunners in the league."
October, 11, 2014
Oct 11
12:00
PM ET
CINCINNATI -- Three storylines to watch Sunday when the
Cincinnati Bengals
host the
Carolina Panthers
at Paul Brown Stadium:
Replacing Green:
It has been the biggest issue involving the Bengals this week, and with good reason. Once
A.J. Green
left the practice field early Wednesday because of an aggravation of an old toe injury, it became clear he probably would be absent Sunday. His teammates are now charged with trying to account for him not being on the field. Who will be the one who rises up and becomes big playmaking star? The Bengals spent the offseason lauding themselves for the high volume of playmakers in their system. But with Green joining tight end
Tyler Eifert
and receiver
Marvin Jones
on the shelf, the number of key skill players has been greatly diminished. Watch for running backs
Giovani Bernard
and
Jeremy Hill
and receiver
Mohamed Sanu
to be the biggest difference-makers.
Defending the run:
The Bengals' rushing defense last week could best be summed with the following word: "atrocious." Indeed, there have been better days for the unit. New England rushed for 220 yards, including 112 of those yards on six plays. The other 108 came on another 40 carries. While the Bengals were mostly good against the run, they had some glaring missed tackles and a few misfits as they slipped into incorrect gaps for run support. It was primarily on those six plays in which the missed tackles and poor gap support and gap angles were the most costly.
Part of the issue stemmed from "Will" linebacker
Vontaze Burfict
being out with a concussion. In his place,
Emmanuel Lamur
was charged with calling plays for only the second time in his career. With the Patriots quick-snapping Lamur and the rest of the defense, the Bengals barely had time to get plays set before the Patriots were running. With Burfict back this week, the Bengals ought to get their calls in more efficiently and smoother this week, even if the Panthers quick-snap them. Burfict knows the defense a little better and can anticipate plays slightly better than Lamur. If the rush defense improves, you can thank Burfict for some of that.
Keep an eye on punts:
In the event Sunday's game is close, it could be decided by special-teams play. So keep an eye on two of the Bengals' special-teams units in particular. When it comes to punt coverage, Cincinnati has been one of the best, routinely pinning opposing return teams deep. According to ESPN Stats & Information, punter
Kevin Huber
leads the NFL in percentage of punts inside the 10 and inside the 5. A whopping 25 percent of his punts (that's four of his 16 total) have been stopped inside the 5-yard line. At one point across the second and third games of the year, he had three consecutive punts that were downed on the opposing 4, 1 and 2. While you have to credit Huber for some of that, also tip a cap to his coverage team, including gunners
Darqueze Dennard
and
Dre Kirkpatrick
. Kirkpatrick in particular has consistently stopped returners as soon as they touch the ball.
With respect to the Bengals' punt return unit, chew on this stat: Returner
Adam Jones
hasn't had a fair catch since Nov. 2006, when he was at Tennessee. He's returned 82 straight punts without waving for a fair catch, meaning he'll be looking to take one back Sunday.
August, 25, 2014
Aug 25
2:30
AM ET
GLENDALE, Ariz. -- Injuries marred the final minutes of the
Cincinnati Bengals
' 19-13 preseason win over the Cardinals on Sunday night as three Bengals were carted off University of Phoenix Stadium's field in the fourth quarter alone.
Coach Marvin Lewis didn't have any updates on the injured in the locker room after the game, but he did acknowledge that having to deal with the injuries was "the only negative part" of the night. His defensive starters played well and for the third straight preseason game didn't allow a touchdown. His offense played turnover-free football, and his reserves held their own and played well enough to preserve the win.
Throughout the physical game several Bengals needed medical attention, but it was the injuries to
James Wright
,
T.J. Johnson
and
Trey Hopkins
that caused a series of stoppages and had fans hushed. All three were on the ground for several minutes and needed assistance getting off the field after getting banged up late in the ballgame.
All three also find themselves on the bubble, needing every opportunity they can to make the team.
First, it was Hopkins, the undrafted rookie free agent from Texas. He went down with 12:35 remaining in the game after a couple of players rolled on top of his leg. For some time, trainers evaluated his right leg before a cart came onto the field and he was loaded on it. The Bengals later announced that he had a right shin injury. Hopkins was spotted immediately after the game walking through the locker room with his leg already inside a boot.
As if that moment wasn't enough for the Bengals, two plays later, seventh-round draft pick James Wright required a cart when he went down awkwardly at the end of an attempted touchdown reception. While trying to make the 15-yard catch in the back of the end zone, he took what appeared to be a blow to the head from safety
Curtis Taylor
's forearm before going down hard to the turf. Instantly after his head hit the ground, Wright's body locked up.
A few minutes went by before medical personnel got him to sit up before helping him onto the cart. He was not strapped onto a stretcher.
On the next drive, running back
Cedric Peerman
received what appeared to be a serious leg injury but walked off on his own power after getting some treatment on the field. On the drive after that, Johnson went down with an undisclosed issue. Like Hopkins and Wright, a cart eased the offensive lineman into the locker room.
In addition to those injuries, linebacker
Vontaze Burfict
and defensive tackle
Devon Still
went down in the first half with hamstring injuries.
When asked if Burfict would be available for the season opener in two weeks, Lewis simply said, "Yes."
The Bengals won't have much time to rest the injured before their preseason finale. With days off Monday and Wednesday, they will only practice Tuesday before Thursday's game at home against the Colts.
August, 8, 2014
Aug 8
11:30
AM ET
A look at a few
Cincinnati Bengals
offensive players who made strong impressions in Thursday night's preseason opener at Kansas City:
QUARTERBACKS
Andy Dalton:
Cincinnati's starting signal-caller was impressive on his lone drive, going 3-for-5 and 71 yards in the passing game. The highlights of his night were his three straight completions to start the series, including a 53-yard first-down pass to
A.J. Green
.
[+] Enlarge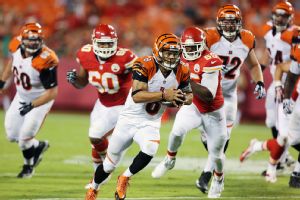 AP Images/Ed ZurgaQuarterback Matt Scott had a busy night, going 7-for-11 for 66 yards and rushing for a game-high 68 yards.
Matt Scott:
The third-string quarterback played well in relief of fellow backup
Jason Campbell
, who left in the third quarter with an elbow injury. Scott helped spark a comeback (that still came up two points short) that was capped by two touchdown passes and a two-point conversion. Scott was 7-for-11 with 66 yards in the air. He also rushed for a team-high 68 yards.
RUNNING BACKS
BenJarvus Green-Ellis:
Think Green-Ellis' time with the Bengals is done? The veteran subtly said "think again" with his play against Kansas City. He only had four carries in limited action, but he picked up 19 yards to average 4.8 yards per carry. His longest run was 8 yards.
Jeremy Hill:
The rookie also had an impressive outing in limited action, running six times for 36 yards. Those yards made him the Bengals' most productive running back. Only Scott had more rushing yards, many of which came on a 25-yard scramble.
Rex Burkhead:
Visited before and after the game by Jack Hoffman, the 8-year-old brain cancer survivor (whose tumor, previously in remission,
recently started growing
) he befriended while playing at Nebraska, Burkhead ran with purpose Thursday night. He picked up 21 yards on his five carries, including a 9-yarder that came after he spun and fell forward a few extra steps while avoiding a tackle. Burkhead continues fighting for a roster spot.
Ryan Hewitt:
Technically, Hewitt could be listed with the tight ends, but since he is playing out of the backfield often as an H-back, it made sense for him to be included here, too. It's possible he fills the role the Bengals hoped
Orson Charles
would have last year. Hewitt caught two passes for 15 yards.
RECEIVERS
A.J. Green:
The fourth-year Pro Bowl wideout only caught two passes, but both were spectacular grabs. The first came when he had to reach out into a near-dive as he hauled in a 9-yard reception from Dalton. The second was the 53-yard bomb he caught right in stride after running past Kansas City's secondary.
Dane Sanzenbacher:
As he competes for one of the final receiver spots, Sanzenbacher will want to continue having performances like Thursday's. He caught two passes for 46 yards, with one of them resulting in a 26-yard touchdown reception from Campbell. The score came after Sanzenbacher dove from about 4 yards out and hit the pylon with the ball. Along with the touchdown, he also averaged 29.3 yards on his three kick returns; the most any Bengal had. His longest return was 34 yards. He had another 52-yard return that was called back after
James Wright
was flagged for a block in the back.
Wright:
Speaking of Wright, excluding that special-teams penalty, he had a relatively encouraging night. He caught two passes, one of them a 9-yard touchdown.
OFFENSIVE LINEMEN
Trey Hopkins:
Since we devoted an entire post to the
offensive line Friday morning
, we're going to avoid highlighting the entire unit, but Hopkins stood out for the way he handled his first NFL game. Fellow rookie
Russell Bodine
was good overall, but had a couple of noticeable miscues, including one that led to a sack.
Marshall Newhouse
also had a noteworthy night protecting Dalton and Campbell.
July, 31, 2014
Jul 31
6:30
PM ET
CINCINNATI -- A daily review of the hot topics coming out of
Cincinnati Bengals
training camp:
As compelling, edge-of-your seat excitement goes, Thursday's practice, from an observer's standpoint, ranked somewhere around a 3 on a 0-to-10 scale. I'm sure it's possible for coaches and players to view it much differently. During what was a special teams-heavy workout, there were very few 11-on-11 drills that featured as much worth noting as there had been in days past. When the Bengals did get into offense vs. defense action, they did so at a rather conservative pace. There was no hitting (players were in shorts and shoulder pads for the second straight day), and plays were run at a significantly slower speed than how they'll be executed in games. We ought to point out that while the players might not have been running at the same speed they soon will be, they still got into a bit of a hurry-up pace as coaches had them go through a few two-minute-drill plays.
To be sure, a day like Thursday had probably long been on the schedule as the Bengals try to mix in light, low-speed days with their hit-filled afternoons. It couldn't have come at a better time, too. Cincinnati is dealing with a couple of camp injuries, including four players sidelined with head issues. Linebackers J.K. Schaffer and Jayson DiManche, offensive tackle Andre Smith and tight end Kevin Brock remained on concussion protocol.
One day after receiving medical clearance to practice again, Pro Bowl defensive tackle Geno Atkins was back on the sidelines. He didn't participate in any of Wednesday's team drills, only really taking part in the position-specific exercises that came before practice. Coach Marvin Lewis said Wednesday that Atkins wouldn't be rushed back into the line rotation. Coaches and trainers want to ease him back into the mix. When I asked defensive coordinator Paul Guenther after practice about Atkins, he indicated there wasn't anything to worry about. The day off was part of the slow process of getting Atkins back onto the field fully, he said.
To close out the day's injury report, it's worth noting that both Mike Pollak and Clint Boling took a day off. They had been trading off days at left guard until this point. In their place, undrafted free agent Trey Hopkins got repetitions at the position. Hopkins is beginning to look like the undrafted free agent who stands the best chance at making the 53-man roster. While Pollak and Boling didn't even dress, defensive tackle Domata Peko and cornerback Dre Kirkpatrick did. Both participated fully in the practice after not working out Wednesday. Kirkpatrick hadn't practiced since Saturday.
As mentioned before, Day 7 was all about special teams. In particular, the Bengals were working on their kickoff coverage and kickoff returns. Routine deep kicks, squib kicks and onside kicks were part of what they practiced. After the bulk of the kickoff activities, in an 11-on-11, quarterback Andy Dalton was nearly perfect, going 9-for-10. His lone incompletion came when defensive end Robert Geathers broke up a pass at the line of scrimmage. Dalton might have had another incompletion had safety George Iloka been able to sprint at game speed. Iloka had closed on tight end Tyler Eifert, who barely caught a pass in the seam before Iloka pulled up. Later in that drill, on the very last play, came the highlight of the day. Seventh-round receiver James Wright, who didn't catch a pass last season at LSU, caught a key first-down pass on a third-and-5 play. A.J. Green gave him a high-five after the reception.
Up next: The Bengals won't practice until 6 p.m. Friday, in a workout that's open to the public.
June, 11, 2014
Jun 11
10:00
AM ET
CINCINNATI -- Since Tuesday ended up being a more news-filled day on the
Cincinnati Bengals
beat than anticipated, the following observations from the first day of the Bengals' minicamp are coming a little later than anticipated, too.
But here they are, in all their glory. In no particular order, a few observations from Cincinnati's first minicamp practice:
As Leon Hall enters the final stage of the rehab process, tight end Jermaine Gresham was at the workout, albeit as a spectator. According to our Field Yates, Gresham has been missing the past few weeks because he's been recovering from hernia surgery performed earlier this offseason. He had previously missed the first two organized team activities, both open and voluntary, with an injury coach Marvin Lewis declined to give specifics on. His sighting at the minicamp was his first since he was spotted during voluntary workouts in early May.

[+] Enlarge

Al Behrman/AP PhotoBengals tight end Tyler Eifert runs through drills on the sideline during Tuesday's minicamp.

Fellow tight end Tyler Eifert returned to practice after missing the last open OTA with a shoulder injury. He was limited for part of Tuesday's workout, though. After beginning the session in uniform, he shed his jersey in the final hour to conduct conditioning exercises off to the side. Along with him, Hall went through a conditioning circuit. Injured left guard Clint Boling also went through his share of rehab exercises to help his ACL get back to 100 percent.

Another tight end, unrestricted Bengals free agent Alex Smith, not only re-signed Tuesday, but he practiced. It was his first practice since December, when he dislocated his wrist during a start he made for both Gresham and Eifert who were out with injuries.

The only absence was defensive tackle Devon Still, who was cleared to leave last week to attend to personal matters. Still announced via social media last week that his young daughter was recently diagnosed with cancer.

As far as on-field notes, the phrase of the day was "Dalton to Green" (or "Dalton to Jones," worked, too). Showing off what offensive coordinator Hue Jackson says are real improvements, quarterback Andy Dalton was right in sync with receivers A.J. Green and Marvin Jones. He completed several difficult passes to them in one-on-one, seven-on-seven and 11-on-11 drills. Arguably his best throw of the day was a cross-field bomb to Green that was thrown from the left hashmark to the right sideline. He had a couple of other deep passes to Green that turned heads, too.

The moment when Dalton caused the most audible "ohhs" and "ahhs" among his teammates, though, came during the rushing portion of an 11-on-11 drill. Dalton faked an option pitch that completely duped the nearby defender, and the quarterback kept going through the hole untouched. In addition to all the running the Bengals are going to do this year, read options and other quarterback runs could be part of the arsenal, too. As much as his arm gets criticized, Dalton does have mobility that was seldom used the past three years. Late last season they started running more zone read for him. When they did, the offense more times than not, picked up big yards whether he kept the ball or not.

Along with Green and Jones, rookie James Wright seemed to catch his share of attention from the coaches. His cuts looked crisp, and his moves in single coverage drew regular praise from Jackson. If there's a first-year player on offense to watch during training camp, it could be him. The Bengals already are loaded at receiver, but the seventh-round pick stands a good chance to shake up the lower reaches of the depth chart.

Brandon Tate also had a strong showing during the practice, catching most everything thrown his way. Often he was matched against cornerback Dre Kirkpatrick, who struggled to break up passes both deep and short against him. Kirkpatrick also seemed to struggle with figuring out exactly where Tate was going when he made a move. Perhaps it's simply springtime adjustments, but Kirkpatrick certainly will be one to keep an eye on as Cincinnati continues tweaking its deep cornerback group. Rookie Darqueze Dennard continues to receive action both in the slot and on the outside.

Center Russell Bodine will be another rookie to track during training camp. He received first-team snaps Tuesday, getting an opportunity to play as veteran Mike Pollak continues rehabbing from a knee injury that he said flared up earlier in the offseason. We'll have more on Bodine later in the week, but Jackson, Pollak and others credited the way he's adapted to the offense so far.

During the two open OTAs the past two weeks Carlos Dunlap was primarily lining up at the right defensive end position. During Tuesday's minicamp, he switched a little more than he had between the left and right end spots. He'll likely end up playing his share of both positions during the season, although it seems he primarily is in line to take over Michael Johnson's duties at right end. We'll have more on just how he's embracing that role change later this week, too.