January, 26, 2013
1/26/13
1:00
PM ET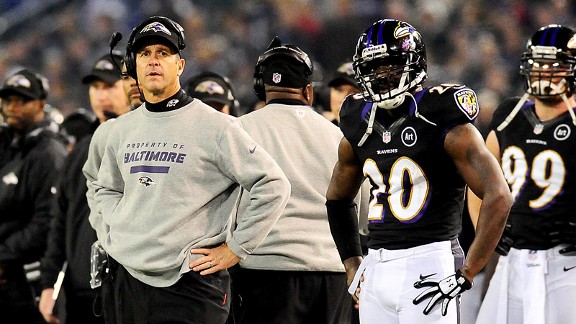 Evan Habeeb/USA TODAY SportsJohn Harbaugh's hearing players out has earned the respect of Ed Reed (20) and his fellow Ravens.
OWINGS MILLS, Md. -- The Baltimore Ravens didn't look much like a Super Bowl team three months ago. If not for coach John Harbaugh, the Ravens wouldn't have been much of a team at all.
After getting routed by 30 points in Houston, the most lopsided loss of the Harbaugh era, the Ravens returned from their bye week only to be greeted with the last announcement they wanted to hear. Harbaugh informed the team it would be practicing in full pads.
As grumbles filled the team meeting room, safeties
Ed Reed
and
Bernard Pollard
spoke out against Harbaugh's decision. Most coaches, maybe even Harbaugh five years ago, would have told the players to sit down, be quiet and get prepared for a physical practice. Instead, Harbaugh wanted to have a discussion. The players talked about how he treated them, and Harbaugh listened.
What could have escalated into an ugly argument essentially became a town hall meeting. And, by the way, the Ravens didn't practice in full pads that day.
"Every coach talks about how players have ownership and it's your team. But when push comes to shove, is that really true? With Harbs, it is," center
Matt Birk
said. "Everybody walked out there feeling really good about our head coach."
That was the turning point of the Ravens' season, and it's the major reason they are playing the San Francisco 49ers in the Super Bowl. Not
Ray Rice
's fourth-and-29 conversion. Not the firing of offensive coordinator Cam Cameron. Not
Ray Lewis
' retirement announcement.
All of those moments affected the season, but none resonated more with the players on a personal level. Ravens players have always played hard for Harbaugh. This season, however, they truly bonded with him.
"One thing about our guys, we like our guys talking things out and confronting issues," Harbaugh said. "We've been doing that throughout the course of the season, and it's pushed us so close as a football team. I think you're seeing the results of that right now."
It was so meaningful that Reed brought it up after the Ravens won the AFC Championship Game.
"He humbled himself to really listen to the players," Reed said. "It was just something we had to go through as men."
When Harbaugh was named the third coach in Ravens history, he didn't have to rebuild the roster. Baltimore was two years removed from being the AFC's second seed and had Pro Bowl players sprinkled throughout the lineup, including surefire Hall of Famers Reed and Lewis.
The challenge for Harbaugh was rebuilding the team's image. Under coach Brian Billick, the old Ravens boasted about their swagger. Under Harbaugh, the new Ravens promote discipline. The old Ravens embraced being the bad boys. The new Ravens rally around their faith and recite Bible passages in postgame news conferences.
"For everything we've been through since Coach Harbaugh got here," Reed said, "he had a vision of working us a certain way and taking us through something to build and to create this moment."
The foundation of Harbaugh's coaching philosophy can be summed up in what he said at his introductory news conference five years ago: "There are three important things in putting together a football team: No. 1 is the team, the second-most important thing is the team, and the third-most important thing is the team."
Harbaugh, who had never been a head coach at any level, was ready to play hardball in his first season with a locker room filled with powerful personalities. Each player was allowed just one locker; in the past, the star players had two or three. Benches were removed from practices because no one was allowed to sit anymore. Shirts had to be tucked in, and chinstraps had to be buckled even during walk-throughs.
"

For everything we've been through since Coach Harbaugh got here, he had a vision of working us a certain way and taking us through something to build and to create this moment.

"

-- Ravens safety Ed Reed, on coach John Harbaugh
Although players weren't thrilled with the stricter rules, no one could argue with the results. The franchise had been to the playoffs four times in its first 12 years of existence, and Harbaugh has guided the Ravens to the postseason in each of the past five seasons.
Harbaugh became the first head coach in NFL history to win a playoff game in his first five seasons and reach three conference championship games in that span. Since 2008, Harbaugh's first season as coach, only the Patriots have won more games than the Ravens. Not bad for the guy who was the Ravens' second choice, after Jason Garrett, and who was considered an outside-the-box candidate because he had never been an offensive or defensive coordinator.
"Coach brought a winning mentality here," running back Rice said. "He built a physical team, and him being a tough coach makes us a tough team. He's our head coach, and if you believe in his vision and chase what he sees, it eventually becomes the whole team's vision."
Harbaugh now has an "open mike" where players can say anything they want. He seeks out player feedback whether they agree or disagree with him. If Harbaugh disagrees with the player, he'll explain why.
It's not about who's right or wrong. For Harbaugh, it's about what's right or wrong for the team. That was never more apparent than during that team meeting in October.
"He's a special kind of coach," Birk said. "When you want to play for a guy, I think you play a little harder. You do some of the extra things that it takes to be successful."
August, 31, 2012
8/31/12
1:30
PM ET
Perhaps the most popular aspect of ESPN.com's season preview is
the predictions page
, where 16 experts (well, 15 plus whatever you would label yours truly) forecast 2012 division winners, wild cards, individual award winners, conference champions and the Super Bowl titlist.
When it came to predicting the AFC North champion, the vote was split. Eight picked the defending division champion Ravens and eight chose the Steelers. Well, I guess we'll just have to settle this on the field.
Of the 16 panelists, 14 expect the AFC North to send at least two teams to the playoffs. The two who had the division winner being the lone postseason representative from the AFC North was myself (I had the Titans and Bills as the wild cards) and AFC West blogger Bill Williamson (his wild cards were the Broncos and Chargers). The reason I have one division team heading to the playoffs is the schedule. I can see a team taking down this division with 10 victories this year.
There was one expert, Andrew Brandt, who had the AFC North repeating its playoff trifecta from last year, sending the Steelers, Ravens and Bengals to the postseason. Brandt was the only one to predict a return to the postseason for the Bengals.
While I was the only one who didn't have the Ravens reaching the playoffs for a fifth consecutive season (I know I'm going to be parking five miles away from the stadium on game days because of this), I can pass along some optimistic predictions for John Harbaugh,
Joe Flacco
and the gang. Baltimore was one of three AFC teams picked by the experts to reach the Super Bowl (sadly, none predicted a Super Bowl title). Brandt, Williamson, NFC East blogger Dan Graziano and NFC North blogger Kevin Seifert all tabbed the Ravens as AFC champions. Only the
New England Patriots
received more votes.
The Browns weren't totally ignored from the predictions. Four panelists (including myself) went with running back
Trent Richardson
as the offensive rookie of the year. He finished a distant second to Colts quarterback
Andrew Luck
overall.
Making predictions is a fun part of the job. Fans just have to remember that these are educated guesses, not guarantees. I also don't like to go with the obvious choice in a lot of cases (like taking the Packers or Patriots to win the Super Bowl) because the NFL is so unpredictable from week to week, much less from season to season. How many people had the Giants winning the Super Bowl before the 2011 season began? If you look back at
last year's prediction page
, no one had the Giants even winning the division and only one had them making the playoffs.
Keeping that in mind, here are my take-it-to-the-bank picks for the 2012 season:
AFC North
: Steelers
AFC East
: Patriots
AFC South
: Texans
AFC West
: Broncos
Wild cards
: Titans, Bills
NFC North
: Packers
NFC East
: Cowboys
NFC South
: Falcons
NFC West
: Cardinals
Wild cards
: Eagles, Lions
Coach of the year
: Jason Garrett, Cowboys
MVP
:
Tom Brady
Offensive rookie of the year
: Trent Richardson
Defensive rookie of the year
:
Morris Claiborne
AFC champion
: Texans
NFC champion
: Cowboys
Super Bowl champion
: Cowboys
Feel free to tell me how crazy and ridiculous I am by
dropping me a line
in the AFC North mailbag.
September, 7, 2010
9/07/10
12:10
PM ET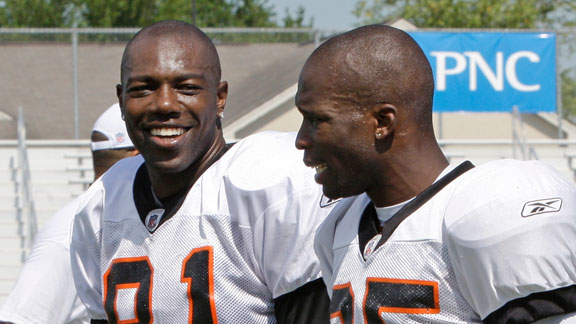 Receivers
Chad Ochocinco
and
Terrell Owens
are known as much for their boisterous personalities as they are for their immense talent. But this high-profile tandem has never played together on the same team -- until now.
The
Cincinnati Bengals
signed Owens before training camp, sparking questions and sending shockwaves through the NFL. Can this pair coexist in Cincinnati? Is Owens the missing ingredient in the Bengals' struggling passing game?
ESPN.com AFC North blogger James Walker and The Football Scientist, KC Joyner, debate whether this duo will work well together in 2010.
James Walker:
KC, let me start right away by presenting the facts. This pair has combined for 1,690 receptions, 24,903 yards, 206 touchdowns and 12 Pro Bowls. There cannot be questions about their production on the field, because Ochocinco and Owens are among the most consistently productive receivers of the past decade.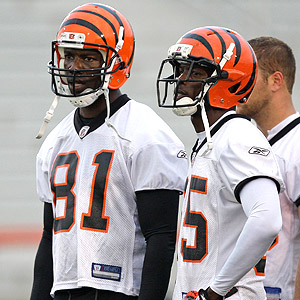 AP Photo/Al BehrmanTerrell Owens and Chad Ochocinco are good friends off the field, but can they maintain that relationship on it?
Owens gets a bum rap for his 2009 totals. Let's not forget who the quarterbacks were for the
Buffalo Bills
. I don't know if any receiver could make the Pro Bowl with
Ryan Fitzpatrick
starting a majority of the season.
Trent Edwards
began the year, and he's nothing to write home about, either. Still, Owens stayed quiet and played football, recording 55 receptions for 829 yards (15.1 yards per catch average) and five touchdowns. Even if the Bengals get that same production this year from Owens, Cincinnati could be playoff bound, because Ochocinco will do the heavy lifting as the Bengals' No. 1 receiver for quarterback
Carson Palmer
.
I'm sure we will touch on the personality and locker room concerns later. But I wanted to point out right away that there's no reason to believe this tandem won't be dangerous on the field.
KC Joyner:
James, not to be a buzzkill, but using Owens and Ochocinco's historical numbers really isn't relevant here.
Marvin Harrison
is one of the most productive receivers over the past decade as well and yet no team is counting on him to lead its receiving corps.
The issue with Owens isn't that the Buffalo offense crushed his numbers. His totals have been on a slide for three years now, as his receptions have steadily dropped (81 to 69 to 55) along with his yardage (1,355 to 1,052 to 829) and touchdowns (15 to 10 to five).
The Dallas Cowboys let him go because offensive coordinator Jason Garrett found out the only way to get Owens open on a consistent basis anymore was to use picks, bunch/stack formations and motion tricks. Buffalo didn't use those subterfuges last year and history says Bengals offensive coordinator Bob Bratkowski won't do that either.
JW:
I think you're making two major oversights, KC. First, Owens didn't have another perennial Pro Bowl receiver on the opposite end in Dallas or Buffalo to take the pressure off as Ochocinco will. Those two will help each other. You can't double-team both players and each will win against single coverage. That's the sign of a great tandem.
Second, the Bengals are not making T.O. the focal point of their offense as the Cowboys and Bills did. So I think some of those comparisons don't add up. Owens is now a complementary piece to Cincinnati's passing game that already has a Pro Bowl receiver (Ochocinco) and a strong running game. Owens as a No. 2 receiver is a great role for him at this stage of his career.
But enough talk about Ochocinco and Owens on the field. I'm sure you have questions about these two coexisting in the same locker room, correct?
KC:
There is ample statistical evidence that Owens would have a lot of trouble against his cornerback matchups all season even if he had
Jerry Rice
in his prime opposite him, but you hit the nail on the head with the real reason adding Owens is a bad idea. Bengals coach Marvin Lewis sometimes seems to approach his job less like he is coaching a football team and more like he is running the Lewis school for wayward players.
[+] Enlarge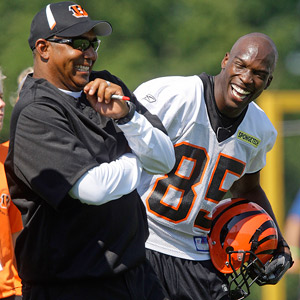 AP Photo/Al BehrmanMarvin Lewis has a history of coaching "high maintenance" players such as Chad Ochocinco.
It is as I wrote in Scientific Football 2007, "Lewis strikes me as a man who has a soft spot for being a father figure to players. I also believe that Lewis subscribes to the philosophy that people are generally good. The combination of these two traits means that he enjoys mentoring younger players and wants to believe that, with help and support, any player can be turned around. Because of this, Lewis tends to gravitate toward players other people would view as risks. If Lewis' heart is in the right place, his approach to these players could be creating something of a vicious cycle. If you are a parent, you can relate to this. You want your kids to behave and do what they are supposed to do. They want to keep you happy but when they behave, you don't pay them as much attention as you do when they aren't behaving. They quickly figure out that the way to get your attention all the time is to act up all of the time. Some of Lewis' players may have a similar mindset. I think they know that the best way to get his attention is to appeal to his mentoring side, so they end up doing things that they shouldn't in order to get his father-figure side to come out."
That would explain why the Bengals would pick up an aging veteran on the downside of his career who has a history of being a divisive locker-room presence. Lewis thinks he can turn around Owens but, in my estimation, Owens has absolutely no interest in whatever personality fixes Lewis is proposing. It's a no-win situation for Cincinnati unless Owens turns around his subpar on-field performance, and that isn't a likely scenario.
JW:
I cover the Bengals, KC, and I can tell you Cincinnati taking in character risks and providing multiple chances is much more a creation of owner Mike Brown than it is Lewis. But that's a story for another day.
With Owens you get the player and the persona, and although I wouldn't venture to say he's a fit for all 32 NFL teams, there are plenty of reasons why he will mesh well in Cincinnati.
For starters, Ochocinco and Palmer lobbied to get Owens. That gives T.O. instant credibility in Cincinnati's locker room when its most well-known players are backing Owens from Day 1. Also, Ochocinco and Owens are great friends. They're happy to be together for the first time in their careers, which means these two will not bicker over who's the top receiver. Don't forget Owens is playing on a one-year deal and will be on his best behavior.
Finally, if any team knows how to handle Owens, it's the Bengals. They've had plenty of practice over the years with Ochocinco, and six Pro Bowls later, I think that has worked out pretty well for Cincinnati. Why can't Owens?
KC:
For all of the success that Brown and/or Lewis have had with players, they've had plenty of failures as well. The successes also almost always stem from players who have elite skills. Owens used to possess talents of that level, but some metrics from last year show that is no longer the case.
The marker for top-of-the-line cornerback play is to allow a yards per attempt (YPA) total of less than 7 yards. That will typically place a cornerback in the upper third of the league in that category. When Owens faced corners of that caliber last year, he gained only 3.9 YPA. That ranked tied for 77th among wide receivers last year. To put it another way, there were only eight wideouts who fared worse in that metric. Owens is slated to face seven cornerbacks of that caliber this year, so there is a good chance he will do next to nothing in nearly half of the Bengals' contests.
As to the idea that being paired with Ochocinco will help Owens here, think again. Ochocinco was one of the players who tied Owens at 77th in that red-rated CB YPA total. Because he has six red cornerbacks on his schedule, he will be hard-pressed to do anything to assist Owens.
Maybe the best way to close this out is to imagine what would happen if the matchups cause both of these guys to have subpar seasons. If one prima donna can fracture a locker room, imagine the damage two could do. It's the kind of thing that could take a great turnaround story like the 2009 Bengals and turn it into a cautionary tale about taking on too many personnel personality risks.