December, 6, 2012
12/06/12
1:48
PM ET
An onside kick during practice will likely cause the
Cincinnati Bengals
to be without their top kicker for the next two games.

Mike Nugent
reportedly strained his right calf Wednesday while trying an onside kick. It's not believed to be serious, and might only be a tweak. But the schedule isn't helping Cincinnati. The Bengals play the Cowboys on Sunday, but then face a short week with a trip to the Eagles on Thursday night. Nugent should be available when the Bengals play the Steelers Dec. 23 in a game that could decide the final playoff team in the AFC.
Cincinnati signed veteran
Josh Brown
, who beat out Billy Cundiff and Neil Rackers in Thursday's tryout. Brown kicked the past four seasons for the Rams and was cut in August by the Jets after losing the preseason battle with
Nick Folk
.
Last season, Brown made 21 of 28 kicks (75 percent). The Bengals won't be able to rely on Brown for long kicks. He was 8 of 14 (57.1 percent) last season from beyond 40 yards. But Nugent wasn't much better this season, hitting 7 of 11 (63 percent) from beyond 40 yards.
To make room for Brown, the Bengals released center
Jeff Faine
. He had lost the starting job to rookie
Trevor Robinson
, and injured starter
Kyle Cook
(ankle) could return as soon as Sunday after his first full practice Wednesday.
November, 6, 2012
11/06/12
7:30
AM ET
The NFL season has reached the halfway point, and that will be a theme all week here on the AFC North blog. We'll post the midseason stock watch a little later this morning and the all-division team for the first half of the season will roll out Wednesday. Here's your wake-up call ...
RAVENS
: Both of the Ravens' starting guards are dealing with minor injuries, according to
The Baltimore Sun
. Pro Bowl right guard Marshal Yanda, who left Sunday's game briefly, "tweaked" his knee and ankle, coach John Harbaugh said. Right guard Bobbie Williams has a sprained ankle. Meanwhile, linebacker Ray Lewis won't be around Baltimore anytime soon as he recovers in Florida from his torn triceps injury. "He probably won't be in the building for a little while," Harbaugh said. "He's got the best doctors in the world, to my understanding, working on his triceps. So, I fully trust Ray with his rehab right now. I know he's doing everything he can to get back."
STEELERS
: Safety Ryan Clark believes he's being targeted by officials after being flagged for a "hit to the head" on Giants receive Victor Cruz. It looked like Clark hit Cruz's midsection and it was later announced that Cruz had injured his ribs. The penalty gave the Giants the ball at the 1 and set up a touchdown. "I thought I did the right thing," Clark told
The Pittsburgh Post-Gazette
. "I thought I hit him in the ribs. I tried to get my head to the side, tried to obey the rules as they've been laid out to me. I think referees have meetings about me before the game. I think anytime they see '25' flash and a hit be made, there's going to be an opportunity for me to get a flag."
BENGALS
: The center position is a major area of weakness for the Bengals. Jeff Faine and Trevor Robinson have struggled and can't stay healthy in trying to replace starter Kyle Cook (ankle), who is not close to returning. On the second-to-last drive, Faine was called for holding and then allowed a pressure that led to an Andy Dalton interception. "That was a three-man rush," offensive coordinator Jay Gruden told
CBS Sports
. "Clint (Boling) could have helped out a little bit. There's no reason for them to get that pressure."
BROWNS
: In a problem that should've been rectified in training camp, coach Pat Shurmur vowed to make play calls quicker than he did in Sunday's loss to Baltimore. The Browns were forced to use three timeouts to avoid delay of game penalties because they couldn't get plays called and players lined up in time. "We need to be better at that," Shurmur said, via
The Plain Dealer
. "I'll take full responsibility for all of it. We can streamline some things." One reason for the holdup is the fact that Shurmur talks to offensive coordinator Brad Childress about the plays before relaying them to quarterback Brandon Weeden.
October, 26, 2012
10/26/12
8:00
AM ET
Good morning AFC North blog family. It's Friday and that means my predictions for Sunday's games and the always-popular Final Word will get posted later today. But let's not forget about the First Word, which we refer to as the wake-up call around these parts ...
RAVENS
: Even team physician Andrew Tucker was surprised by
Terrell Suggs
' quick recovery from Achilles surgery. He acknowledged there was no certainty that Suggs would return this season and thought "at best" he would be back by November or December. "To get back to play
this
game at
this
level, in five to 5 ½ months is really extraordinary," Tucker told the
team's official website
. "He's set the standard for recovery from an Achilles rupture." Tucker explains it was a combination of hard work, good doctors and rare genetics.
STEELERS
: The
Pittsburgh Post-Gazette
's Ed Bouchette points out that
Maurkice Pouncey
has made the Pro Bowl multiple times just like past Steelers centers Mike Webster and Dermontti Dawson. Unlike Webster and Dawson, Pouncey has yet to put together a lengthy consecutive-games streak. Pouncey missed Sunday night's game with a knee injury, the third time in his career that an injury has sidelined him. But Pouncey is expected to return for Sunday's game against the Redskins. "It's terrible, man," Pouncey told the paper. "You want to be out there helping your guys at every point, but injuries happen, and, sometimes, you just have to sit back and accept it."
BENGALS
: The Bengals offensive line is ranked eighth in the league by Pro Football Focus (via the
Cincinnati Enquirer
). Cincinnati's highest-rated lineman is rookie first-round pick
Kevin Zeitler
, who is third among right guards. The worst lineman is center
Jeff Faine
, who was signed after
Kyle Cook
was injured. Faine is last overall and in pass blocking. He's 21st among the 34 centers in run blocking. As the Enquirer points out, six of the teams in the top 10 offensive-line rankings have losing records, including the Bengals.
BROWNS
: There's a chance that the Browns could have a top pick in next year's draft and have a shot at taking West Virginia's
Geno Smith
and USC's
Matt Barkley
. But ESPN analyst Trent Dilfer believes there is no one in the 2013 draft that's more talented than
Brandon Weeden
. Dilfer is confident that new Browns owner Jimmy Haslam has his franchise quarterback in Weeden. "From a talent, leadership, and intangibles standpoint, yes, they have the guy that deserves at least two years under their full leadership to build around," Dilfer told
The Plain Dealer
. "Given the right situation, Brandon Weeden could put the Browns back on the map."
September, 8, 2012
9/08/12
2:00
PM ET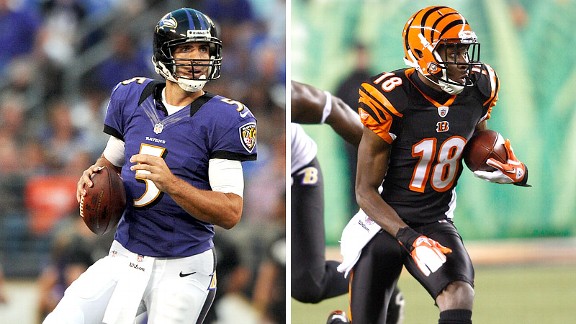 Getty ImagesBaltimore's Joe Flacco, left, and Cincinnati's A.J. Green could hold the keys to victory Monday.
Thanks to Marvin Lewis, the
Cincinnati Bengals
match up pretty well against the
Baltimore Ravens
.
The Ravens have been a perennial playoff team, but Lewis, the Ravens' defensive coordinator from 1996 to 2001, builds his Bengals roster to counter that of his division rival. Because he helped hand-pick several of the top defensive players who have helped make the Ravens one of the best defenses in the league, the Bengals usually know they can give the Ravens a game.
Since 2006, this competitive series has had only two games in which the margin of difference was bigger than 10 points. In fact, Lewis has a 10-8 career record against the Ravens. Since John Harbaugh arrived in Baltimore in 2008, though, he has won five of eight against the Bengals.
Here's what to watch for in this competitive Monday night game:
Baltimore Ravens
1. Will the Ravens have a pass rush?
The loss of linebacker
Terrell Suggs
was huge for the Ravens. His Achilles tendon injury has created an Achilles' heel for their defense. They need a pass rush, and this goes beyond replacing Suggs' 14 sacks. In the preseason, the Ravens didn't show they were consistently getting to the quarterback. Second-round linebacker
Courtney Upshaw
is still getting his feel for the NFL but might offer some hope. The pressure will fall on
Paul Kruger
, who takes over Suggs' spot. The Ravens are blessed with good coverage cornerbacks, which might allow them to try some blitzes.
2. More will fall on the arm of Joe Flacco:
Offensive coordinator Cam Cameron plans to let Flacco take more leadership on the field and let him use more no-huddle. Although the Ravens don't plan to abandon the run, they will be running a quicker offense. Normally, the Bengals play the Ravens to low-scoring games in which both teams end up scoring in the teens. Last season, offense became more of a factor. The Ravens won those games 31-24 and 24-16. Flacco would love to get three or four touchdown drives against the Bengals.
3. More speed at wide receiver:
One of the reasons the Bengals and Lewis keep the scores low against the Ravens is the Bengals use plenty of man-to-man schemes. In the past, the Ravens didn't have a lot of speed at wide receiver. This year, they have speed.
Torrey Smith
, in his second season, is now a complete receiver with speed instead of being only a deep threat like in his rookie year.
Jacoby Jones
adds a sub-4.4 threat.
LaQuan Williams
is fast. Watch to see whether the Ravens' receivers can win the battle against the Bengals' cornerbacks.
4. Are the Ravens solid up front?
The Ravens are fielding one of the oldest offensive lines in football. Left tackle
Bryant McKinnie
is 32. Guard
Bobbie Williams
is 35. Center
Matt Birk
is 36. One of the keys to the running game is how Williams and Birk will do against defensive tackle
Geno Atkins
. If Atkins' quickness beats the aging legs of Birk and Williams, the Ravens might have trouble running the football up the middle. They might also be vulnerable to inside blitzes.
5. Will Ray Rice's role change?
Rice has carried the Ravens' offense for years, but the subtle changes in this year's offense could adjust his role. First, will the no-huddle limit some of the runs Rice could make? Second, if the Ravens have problems in the middle of the line, will he have to bounce more plays to the outside? Rice is a threat running and receiving, but the new emphasis on throwing the ball could make him more of a threat through the air.
Cincinnati Bengals:
1. Problems in the middle of the Bengals' offensive line:
The Bengals lost guard
Travelle Wharton
and center
Kyle Cook
for the season, and they have to make do with
Clint Boling
at left guard and
Jeff Faine
at center. Faine is an established NFL veteran, but he sometimes has trouble against big 3-4 defensive tackles. How he handles
Terrence Cody
,
Haloti Ngata
and
Ma'ake Kemoeatu
could be the key to the game for the Bengals. If the pocket collapses in the middle of the field, it could be a tough day for quarterback
Andy Dalton
.
2. Establishing the man-to-man matchups:
Defensive coordinator Mike Zimmer is a master of matching up his cornerbacks against receivers. He has plenty of options.
Nate Clements
and
Leon Hall
are the starters, but also at his disposal are longtime Cowboys cornerback
Terence Newman
,
Adam "PacMan" Jones
and
Jason Allen
.
3. Making sure Taylor Mays has a good game:
Mays won the strong safety job, so this will be his most extensive playing time as he enters his third year in the league. Mays has cornerback speed and is a big hitter, but he is still raw at the position. The Ravens will try to challenge him by sending tight ends
Ed Dickson
and
Dennis Pitta
in his direction. Flacco also will try to get him out of position with play-action fakes that could free up Torrey Smith for some deep completions.
4. Establishing a running game:
The Bengals had a solid running back with
Cedric Benson
. Now, the
BenJarvus Green-Ellis
era begins. Green-Ellis is a smart player who doesn't fumble, but he has yet to prove he can be an every-down back week in, week out. The Bengals still have a young quarterback in Dalton, so it would be nice if he could count on Green-Ellis getting 16 to 18 carries a week.
5. Sorting out the receiving corps:
Everyone knows
A.J. Green
has established himself as one of the best young receivers in football. Tight end
Jermaine Gresham
is a big-play target. But the Bengals have revamped everything behind him.
Andrew Hawkins
takes over as the slot receiver.
Brandon Tate
is the starter at wide receiver for now, but third-round pick
Mohamed Sanu
is an intriguing prospect. With defenses figuring to double-team Green, Dalton has to see who can establish themselves as dependable pass-catching options.
September, 5, 2012
9/05/12
7:00
AM ET
Injuries, suspensions and even contract disputes (the Ravens'
Bryant McKinnie
) have taken over the headlines in the AFC North leading up to the season opener. If you're anything like me, you're always kind of "questionable" in terms of getting out of bed. Well, I hope today's wake-up call will get you on the right track ...
BENGALS
: As expected, the Bengals placed center
Kyle Cook
(high ankle sprain) on the new injured reserve-recall list. Under that designation, Cook will be eligible to return to practice as early as Week 7 and will be eligible to play as early as Week 9. According to the
Cincinnati Enquirer
, Cook had started the last 50 regular-season and postseason games, which had been tied with left tackle
Andrew Whitworth
for the team's longest current streak. The Bengals recently signed
Jeff Faine
to fill in for Cook, who hasn't disclosed a timetable to return.
BROWNS
: While cornerback
Joe Haden
awaits word on his suspension, there is a chance that linebacker
Scott Fujita
could be removed from the suspended list this week. The NFL Players Association has asked a federal judge for
a temporary restraining order
that would allow players suspended in connection with the NFL's bounty investigation to rejoin their teams in time to play regular season openers. Fujita has been suspended for three games for his alleged role in the Saints' bounty scandal.
RAVENS
: Injuries to
Terrell Suggs
(Achilles) and
Courtney Upshaw
(sprained shoulder) played a role in
Sergio Kindle
making the season-opening roster. "Sergio's potential as a pass rusher is something that's really important," Ravens coach John Harbaugh said, via
The Baltimore Sun
. Kindle, the team's top pick in the 2010 draft, has yet to show the same potential since he fell down two flights of stairs before his rookie training camp. "He's got some talent, obviously," Harbaugh said. "He's still probably on his way back from a really bad brain injury. It's remarkable how far he's come, and we're not ready to give up on him. We never would 'give up on him' -- that's probably a bad choice of words -- but we're still looking at him as a pass-rusher and a physical edge-setter as an outside linebacker."
STEELERS
: Linebacker
James Harrison
has never been known as a conversationalist. That's why it wasn't surprising to hear how he communicated the status of his knee. According to the
Pittsburgh Post-Gazette
, Harrison, who wasn't wearing a brace on his knee, gave the "A-OK" sign when he was asked how it reacted to treatment. "I know that if it's within his power to be there and perform and, particularly for his teammates, he will be," coach Mike Tomlin said. "I have had no reservations about him in that regard. The issue is just whether or not he gets a clean bill of health from our medical staff. He has to this point in terms of being able to practice. We'll see how his body responds to that work and let that be a determinant about how we move forward."
September, 4, 2012
9/04/12
4:55
PM ET
All this week the AFC North will look at the biggest concern facing each team in the division for the 2012 season.
BENGALS

Many would point to the lack of experience at the No. 2 wide receiver. That is a big question mark on offense, but tight end
Jermaine Gresham
should fill the role as a complimentary target to
A.J. Green
. The bigger concern is the Bengals' running game.
Coach Marvin Lewis wants his team to be a physical, run-first one. Injuries in the preseason have hurt that game plan for the Bengals. Left guard
Travelle Wharton
, whose strength is run blocking, is out for the season with a knee injury and has been replaced by
Clint Boling
, a 2001 fourth-round pick who has three career starts. The Bengals are also without center
Kyle Cook
(foot) and had to sign veteran
Jeff Faine
, who isn't a solid run blocker.
Running back
BenJarvus Green-Ellis
is a power runner who does a lot of damage in between the tackles. Now, two of the three starting interior linemen are hurt. Green-Ellis has been injured as well, which is why he's only played one preseason game. It wouldn't be a surprise if it took time for Green-Ellis to get his timing down with this reshuffled offensive line.
Green-Ellis, who averaged 3.7 yards per carry last season, won't provide much explosiveness to the offense. He had no 20-yard rushes among his 181 attempts in 2011. According to ESPN Stats & Information, no other running back had more rushes without a 20-yard gain than Green-Ellis last season.
August, 31, 2012
8/31/12
9:03
PM ET

Click
here
for a complete list of the
Cincinnati Bengals
' roster moves.
Significant move
: The Bengals' final spot likely went to wide receiver
Ryan Whalen
over middle linebacker
Roddrick Muckelroy
. What weighed in the decision was the Bengals' increasing confidence in rookie
Vontaze Burfict
, whose character issues caused him to plummet from being a first-round pick to an undrafted free agent. Muckelroy, a 2010 fourth-round pick who isn't eligible for the practice squad, was supplanted by Burfict as the primary backup to
Rey Maualuga
. Whalen, a 2011 sixth-round pick, is the seventh wide receiver on the roster. Guard-center
Trevor Robinson
joined Burfict as the only undrafted rookies to make the final major cutdown. The Bengals decided to keep 10 defensive backs, which includes seven players who have been drafted in the first round.
Onward and upward
: The only one of the 10 Bengals draft picks this year not to make the team (or get placed on injured reserve) was running back
Dan Herron
. He was projected to go on the practice squad when Cincinnati made him its final pick of the draft and he didn't earn his way onto the roster. Herron led the team with 25 carries in the preseason but he averaged 1.7 yards per carry. Another draft pick on the bubble, fourth-round tight end
Orson Charles
, beat out
Colin Cochart
. The Bengals can put their third quarterback
Zac Robinson
on the practice squad just like last season.
What's next
: The Bengals are expected to put center
Kyle Cook
on injured reserve Tuesday, taking advantage of that new rule that allows them to bring him back after eight weeks. Cook injured his right foot and ankle in a preseason game on Oct. 23, and the Bengals signed veteran
Jeff Faine
this week to replace him. After placing Cook on IR, Cincinnati can use that roster spot to bring back guard
Otis Hudson
, a 2010 fifth-round pick.
August, 29, 2012
8/29/12
2:07
PM ET
As expected, the Bengals signed veteran center
Jeff Faine
to replace
Kyle Cook
, who is dealing with a serious ankle injury.
Faine has experience playing in the AFC North. He was with the Browns for three seasons after the Browns drafted him in the first round in 2003.
More importantly, Faine has experience in a Gruden offensive system. He was with the Buccaneers in 2008, when Jon Gruden was the head coach and current Bengals offensive coordinator Jay Gruden was an offensive assistant.
But this move looks like a downgrade for the Bengals. While Cook took a step backward last season, especially in pass protection, he was still a solid run blocker in a division that features interior defensive linemen like Haloti Ngata, Casey Hampton and Ahtyba Rubin. Faine was the 31st-ranked center by Pro Football Focus last season and was the eighth-worst in 2010. The biggest knock on Faine was his struggles as a run blocker.
The Bengals, though, had no other choice than to sign Faine. After losing left guard
Travelle Wharton
for the season, the team couldn't start two rookies in the season opener at Baltimore. As the Bengals' official website points out, the 31-year-old Faine becomes the oldest starter on the Bengals offense.
August, 28, 2012
8/28/12
8:00
AM ET
Welcome to the offensive line edition of the wake-up call. The Cincinnati Bengals and Pittsburgh Steelers are adjusting to injuries to their starting lines, and the Cleveland Browns are dealing with bruised egos after a brutal effort last week. The Baltimore Ravens have injury issues as well on their line (center Matt Birk and right guard Marshal Yanda), but the hot topic in Baltimore is the decision at kicker. For further explanation, continue on to the wake-up call ...
BENGALS
: Starting center Kyle Cook could have a serious foot injury, and there's a couple of clues that indicate that. For one, he's visiting a foot specialist and won't play in Thursday's preseason finale. The other tip-off is that the Bengals are
bringing in veteran free-agent Jeff Faine
, according to the Cincinnati Enquirer. It could be an easy transition for Faine, who is familiar with a Jay Gruden offense. Faine joined the Buccaneers in 2008, when current Bengals offensive coordinator Gruden was an offensive assistant there. In other news, rookie cornerback Dre Kirkpatrick might not make his NFL debut in the preseason finale like he wanted. The first-round pick sat out Monday's practice with soreness in his injured knee.
BROWNS
: The starting offensive line vows to have a much better performance in the season opener against the Philadelphia Eagles than it did in last week's preseason game, when the first team gave up three sacks -- including two forced fumbles -- in the first quarter and committed four penalties in the first half. "If you take a bad pass-set against a guy, it doesn't matter how fast or slow he is, you're probably not going to be successful,"
right tackle Mitchell Schwartz told
the Cleveland Plain Dealer. "If you don't use your hands against a guy, you're not going to be successful. There's a lot of things that go into it, but a lot of stuff is correctable. I don't think were over-matched or anything like that."
RAVENS
: Ravens coach John Harbaugh said Justin Tucker's age (he's 10 years younger than Billy Cundiff) and his performance this summer influenced the decision to give the kicking job to the undrafted rookie out of Texas. Harbaugh was adamant that Cundiff's last-minute miss in the AFC championship game wasn't a factor. "We brought Billy back [after that miss]," Harbaugh said. "If it had been [a factor] he wouldn't be back. We had confidence. Billy kicked well. Billy could very easily be the kicker here. He'll definitely be the kicker somewhere else." According to the
Baltimore Sun
, Tucker hit field goals from 61 and 63 yards in his first practice since earning the job. Harbaugh can say that monumental miss didn't weigh into his decision, but he has to feel some relief that he doesn't have to witness the home crowd's reaction when Cundiff missed his first field goal at M&T Bank Stadium.
STEELERS
: First-round pick David DeCastro is scheduled for surgery on his right knee Wednesday, but it may not be a season-ending procedure. "It's sad, man, to see that happen," center Maurkice Pouncey told the
Pittsburgh Post-Gazette
. "But it's a good thing it ain't season-ending. He'll be able to fight back toward the end of the year." The Steelers have given injured players the chance of playing later in the season. Pittsburgh used a roster spot on cornerback Rod Woodson and defensive end Aaron Smith for an entire year to give them a chance to play in the Super Bowl (Woodson played but Smith did not).