March, 11, 2014
3/11/14
8:50
PM ET
PITTSBURGH -- The Steelers made an earlier-than-usual foray into free agency.
In the process they got younger and faster in the secondary and found a new running mate for
Troy Polamalu
on the back end of their defense.
The signing of
Mike Mitchell
-- the former Panthers safety agreed to a five-year, $25 million contract per ESPN NFL Insider Adam Schefter -- confirms that the Steelers weren't just willing to address their defensive backfield through the draft.
[+] Enlarge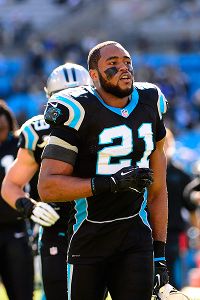 Bob Donnan/USA TODAY SportsMike Mitchell will replace Ryan Clark in Pittsburgh's secondary.
Mitchell, who turns 27 in June, fits the profile of the defensive backs that the Steelers had inquired about prior to the start of free agency. He is young but has starting experience and will help the Steelers immediately, something they are loathe to expect out of rookies.
Mitchell spent his first four seasons with the Raiders but came into his own after signing a one-year deal with the Panthers last year. Starting on a regular basis for the first time in his career, Mitchell recorded 66 tackles while intercepting four passes and forcing a pair of fumbles in 15 games.
The 6-foot, 215-pounder will take over at free safety for
Ryan Clark
, and the Steelers hope they get a return from Mitchell similar to what they received from Clark after signing him to a four-year, $7 million contract in 2006.
Clark started eight seasons after signing with the Steelers as an unrestricted free agent, and he and Polamalu became close friends and played as well off one another as any safety tandem in the NFL before age starting catching up with the duo.
The Mitchell signing drops the curtain on Clark's Steelers career though he said on ESPN's "NFL Live" on Tuesday that he intends to keep playing.
It is also the latest move that will shape the Steelers' secondary in 2014 and the first one that should provide stability beyond next season.
The Steelers had previously re-signed Polamalu to a three-year contract and restructured cornerback
Ike Taylor
's contact with the 11th-year veteran accepting a $4.5 million pay cut.
Taylor's new deal put the Steelers around $7 million under the salary cap, allowing them to sign the biggest free agent from a financial standpoint since Mike Tomlin took over as head coach in 2007.
The Steelers generally wait until after the frenzied first wave of free agency before going shopping.
They have made exceptions as far as pursuing higher-profile free agents, and the Steelers hit pay dirt in the early 2000s when they signed center
Jeff Hartings
and linebacker
James Farrior
in back-to-back years.
Hartings, who signed with the Steelers in 2001, continued the line of excellence that the Steelers have enjoyed at center. Farrior, who signed with the Steelers the year after Hartings, blossomed into one of the best inside linebackers in the NFL and became one of the driving forces behind a run in which the Steelers won a pair of Super Bowls and played in three of them from 2005-10.
The Steelers didn't do nearly as well in 2007 when they signed former Buccaneers center
Sean Mahan
to a five-year, $17 million contract. Mahan lasted just one season in Pittsburgh, and the Steelers traded him to the Buccaneers in 2008 after he lost his starting job to
Justin Hartwig
.
January, 28, 2010
1/28/10
12:30
PM ET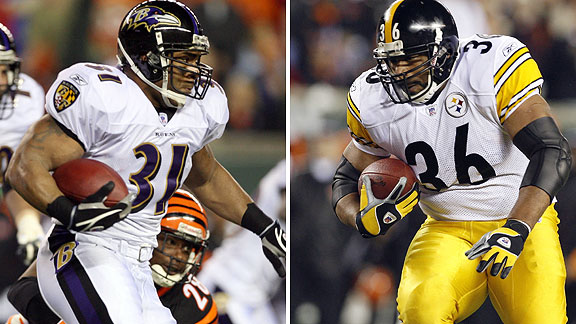 Matthew Emmons/US PresswireRunning backs Jamal Lewis and Jerome Bettis combined to rush for 15,806 yards during the 2000s.
The AFC North earned three Super Bowl titles this past decade, which means there were plenty of great players in the division over that span.
Here is our AFC North all-decade team.
Quarterback:
Ben Roethlisberger
(
Pittsburgh Steelers
)
Analysis:
You can really start and stop this argument with Roethlisberger's two Super Bowls wins in the decade. In terms of starting quarterbacks, Roethlisberger trails only the
New England Patriots
'
Tom Brady
, who won three titles in the decade. Outside of
Carson Palmer
of the
Cincinnati Bengals
, no one was even remotely close for consideration, unless you wanted to reach for quarterbacks who had one or two good seasons in the decade, such as Kordell Stewart,
Joe Flacco
or
Derek Anderson
.
Other considerations:
Palmer (Bengals)
Running backs:
Jamal Lewis
(
Cleveland Browns
/
Baltimore Ravens
) and
Jerome Bettis
(Steelers)
Analysis:
Typical of the AFC North, our all-decade backfield is as physical and heavy duty as it gets. Lewis, who retired after the 2009 season, registered 10,607 total rushing yards as a member of the Browns and Ravens. He had a 2,000-yard season with Baltimore in 2003. Bettis played six seasons (2000-05) in the decade with the Steelers and rushed for 5,199 yards in that span. Both players won Super Bowls and will be considered for the Hall of Fame. Although we don't have a traditional fullback, Bettis is versatile and big enough for the position.
Other considerations:
Willie Parker
(Steelers),
Rudi Johnson
(Bengals)
[+] Enlarge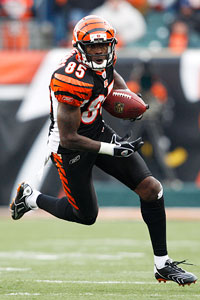 Frank Victores/US PresswireChad Ochocinco is just 48 yards short of reaching 10,000 career receiving yards.
Receivers:
Chad Ochocinco
(Bengals) and
Hines Ward
(Steelers)
Analysis:
We have a good mix at receiver. Ochocinco came to Cincinnati as a raw second-round pick who worked his way to become a six-time Pro Bowler and one of the biggest personalities in the NFL. Ward, a four-time Pro Bowler in the decade, was a former college quarterback who now is one of the toughest and smartest players in the league.
Other considerations:
T.J. Houshmandzadeh
(Bengals),
Derrick Mason
(Ravens)
Tight End:
Todd Heap
(Ravens)
Analysis:
When you look at the total numbers over the past decade, Heap was the clear choice as the top tight end in the division. Heap caught 427 passes over that span and made two Pro Bowls. Pittsburgh's
Heath Miller
, who has 244 receptions, is two years younger and may eventually match Heap's production. But Heap has the better numbers to date. Former Browns tight end
Kellen Winslow
Jr. also put up impressive numbers in just three full seasons with Cleveland.
Other considerations:
Miller (Steelers), Winslow Jr. (Browns)
Offensive line:
OT
Jonathan Ogden
(Ravens), OT
Willie Anderson
(Bengals/Ravens), G
Eric Steinbach
(Browns/Bengals), G
Alan Faneca
(Steelers), C
Jeff Hartings
(Steelers)
Analysis:
Besides leaving off three-time Pro Bowler
Joe Thomas
, putting the offensive line together was easier than I thought. Anderson of the Bengals got the edge over Thomas for two reasons: He's a natural right tackle and played nine years last decade at a high level. Thomas, with just three years, doesn't have the same longevity.
Other considerations:
OT Thomas (Browns), OT
Levi Jones
(Bengals), C
Rich Braham
(Bengals)
Specialists:
K
Matt Stover
(Ravens), P
Chris Gardocki
(Steelers/Browns), KR
Josh Cribbs
(Browns), LS
Ryan Pontbriand
(Browns)
Analysis:
Stover made the Pro Bowl in 2000, and his 93.3 field goal percentage in 2006 led the NFL. He's been consistent for a very long time, which is all you ask from kickers. Gardocki and
Dave Zastudil
is a toss up. But Gardocki led the NFL in punts two years in a row (2000 and 2001) as well as punting yards in 2000. Zastudil cannot boast those claims. Cribbs was a no-brainer, and teammate Pontbriand made two Pro Bowls as Cleveland's long-snapper.
Other considerations:
K
Phil Dawson
(Browns), K
Jeff Reed
(Steelers), P Zastudil (Ravens/Browns),
B.J. Sams
(Ravens)
Defense line:
Casey Hampton
(Steelers),
Aaron Smith
(Steelers),
Justin Smith
(Bengals)
Analysis:
It's only fair that the AFC North all-decade defense runs a 3-4 scheme. Since 2001, Hampton has embodied what a 3-4 nose tackle looks like and plays like. He has five Pro Bowls in the decade, including this past season. Aaron Smith also is a prototype for 3-4 defensive ends. He's always put personal numbers aside so other defenders in Pittsburgh could flourish. Justin Smith of Cincinnati never quite lived up to his lofty draft status. But he was a consistent player for the Bengals.
Other considerations:
DT
Kelly Gregg
(Ravens), DE
Kimo von Oelhoffen
(Steelers), DE
Trevor Pryce
(Ravens)
[+] Enlarge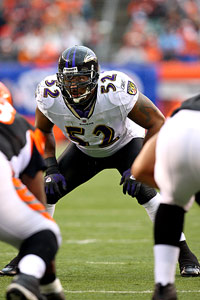 Tom Szczerbowski/US PresswireRay Lewis was the AP Defensive Player of the Year in 2000 and 2003.
Linebackers:
ILB
Ray Lewis
(Ravens), ILB
James Farrior
(Steelers), OLB
Joey Porter
(Steelers), OLB
Terrell Suggs
(Ravens)
Analysis:
You can win a lot of games with this group. You have intelligence and physicality in the middle, and plenty of pass-rush ability on the outside. Lewis, a future Hall of Famer, is the captain and emotional leader of the all-decade defense. Farrior also has the smarts to keep everyone in line, while Suggs and Porter can fly around and wreak havoc on the quarterback. There were several very good candidates at outside linebacker. But Porter and Suggs were dominant forces in the AFC North for a longer period.
Other considerations:
OLB
James Harrison
(Steelers), OLB
Adalius Thomas
(Ravens)
Defensive backs:
CB
Chris McAlister
(Ravens), CB
Ike Taylor
(Steelers), S
Troy Polamalu
(Steelers), S
Ed Reed
(Ravens)
Analysis:
Polamalu and Reed are two of the all-time great safeties, so there is no debate there. Also, fans may recently remember the aging and injured McAlister who was cut by the Ravens last year. But at one point "C-Mac" was the most physically dominant cornerback in the division. Taylor won two Super Bowls with the Steelers and is the best of what's left at cornerback. I also considered
Anthony Henry
, who played in Cleveland for four years during the decade and had one stellar season when he led the NFL with 10 interceptions in 2001.
Other considerations:
CB Henry (Browns), S
Rod Woodson
(Ravens)