AFC North:

Jeremi Johnson
March, 8, 2011
3/08/11
9:00
AM ET
Tuesday we continue our week-long series on the top AFC North draft classes of the past decade.
Here is a look at the
Cincinnati Bengals
:
No. 3:
Class of 2006
Best picks:
CB
Johnathan Joseph
(first round), OT
Andrew Whitworth
(second round), DT
Domata Peko
(fourth round)

Joseph
Analysis:
Following the first playoff appearance under head coach Marvin Lewis, Cincinnati found three starters in the 2006 draft. Joseph, Whitworth and Peko are all solid players who later contributed to Cincinnati's playoff run and division sweep in 2009. The Bengals locked up Peko and Whitworth to long-term extensions and are negotiating Joseph, although it
appears he's likely leaving
Cincinnati for free agency. The Bengals also drafted third-round defensive end
Frostee Rucker
, who has been a backup in the rotation the past four seasons. This might not count for the Bengals, but in 2006 they picked up linebacker
Ahmad Brooks
in the supplemental draft. Brooks didn't do much in Cincinnati, where he started just seven games. But he's recorded 11 sacks the past two seasons with the
San Francisco 49ers
.
No. 2:
Class of 2003
Best picks:
QB
Carson Palmer
(first round), G
Eric Steinbach
(second round), FB
Jeremi Johnson
(fourth round)

Palmer
Analysis:
Coming off a 2-14 record the year prior, the Bengals owned the top pick of every round in the first year under Lewis. Cincinnati naturally hit big, particularly early. The Bengals took Palmer and Steinbach with back-to-back picks, and they were great additions during Cincinnati's first playoff run under Lewis in 2005. The Bengals gave Palmer a long-term extension and made him the franchise building block. They let Steinbach walk, which hurt the offensive line for several seasons. Steinbach signed with the division rival
Cleveland Browns
in 2007 and is having a good stint there. Johnson also was a quality find in the fourth round. He was a good blocking fullback for six seasons with the Bengals before weight issues caught up with him. A sleeper from the 2003 class was former third-round pick
Kelley Washington
, who didn't pan out as a top-flight receiver but was a good special-teams contributor during various stops in Cincinnati, New England and Baltimore.
No. 1:
Class of 2001
Best picks:
DE
Justin Smith
(first round), WR
Chad Johnson/Ochocinco
(second round), RB
Rudi Johnson
(fourth round), WR
T.J. Houshmandzadeh
(seventh round)

Ochocinco
Analysis:
Without a doubt this is the Bengals' best draft class of the past 10 years. In fact, Cincinnati's 2001 draft is in strong consideration as one of the top drafts in the division for the past decade, which we will reveal in the AFC North blog on Friday. The Bengals landed four longtime starters, and what's impressive is they did it from the top (Smith and Ochocinco), middle (Johnson) and bottom (Houshmandzadeh) of the draft. Even though Lewis didn't join the team for another two years, this class was the start of Cincinnati turning things around. Lewis was able to hit the ground running in 2003 after adding Steinbach and Palmer to this foundation. At one time Cincinnati was considered the team of the future with this young nucleus that included the 2001 and 2003 draft classes. But after the Bengals' wild-card loss to the
Pittsburgh Steelers
in 2005, this group fell apart. Palmer and Ochocinco are the only remaining players from Cincinnati's top two drafts of the past decade, and both of their futures are in doubt this offseason. Palmer has demanded a trade and
threatened to retire,
while Ochocinco, now 33,
could be moved
in the final year of his contract.
On Wednesday we will take an in-depth look at the top draft classes of the
Baltimore Ravens
.
May, 20, 2010
5/20/10
4:00
PM ET
Let's see what's in our
division inbox
this week.

David from Lubbock, Texas,
wants to know about the development of 2009 draft picks
Ziggy Hood
and
Keenan Lewis
.
James Walker:
Both are coming along, David. The luxury for Pittsburgh is that the team doesn't need most of its draft picks to become starters right away. That's simply not the culture there. Veteran defensive end
Aaron Smith
has done a lot of tutoring with Hood. I think you'd be hard pressed to find a better mentor in terms of playing defensive end in a 3-4 defense. As far as Lewis, I've always liked his size and length for a cornerback. The Steelers want him to contribute this year. But I haven't seen enough this offseason to have a firm grasp on where Lewis stands.

Ben from College Park, Md.,
writes: I hear a lot of people saying if the
Baltimore Ravens
get
Lardarius Webb
back healthy, our secondary will be saved. Don't you think they are jumping the gun? Do you really think a second-year corner with limited game experience can solve our secondary woes?
Walker:
That's a fair point, Ben. Webb is not
Darrelle Revis
. He is not the cure for all of Baltimore's secondary struggles last year. But, if healthy, Webb is better than any of the backups the Ravens currently have, and that will go a long way to helping one of the team's few weaknesses. Teams passed on the Ravens, because that was the best way to have consistent success against their defense.
Domonique Foxworth
, Webb and
Fabian Washington
don't have to be superstars. But if they all step it up a notch or two this year, Baltimore will be really tough to score against. That's why it's important for Webb and Washington to get healthy and play well.

Sam Rugg from Columbus, Ohio,
wants to know if the
Cleveland Browns
have any interest in
Dallas Cowboys
receiver
Patrick Crayton
.
Walker:
Sam, the Browns are leaving the possibility open to adding a veteran receiver. But to date, I haven't heard of any interest in Crayton specifically. That can always change. Cleveland likely will go through organized team activities and possibly minicamp before determining if it needs to make a move. The issue with Crayton is it would require a trade, and I'm not sure the Browns want to give up draft picks for next year as opposed to signing an available free agent.

Will from Nashville, Tenn.,
writes: What are the Bengals going to do at fullback this season?
Walker:
That's a good question, Will, that's been under the radar this offseason. Right now
Fui Vakapuna
is probably the favorite.
Brian Leonard
and recent addition
Walter Mendenhall
are also versatile enough to play fullback.
Jeremi Johnson
is still available for insurance. But I get the sense the Bengals have grown increasingly tired of dealing with Johnson's weight issues. Cincinnati still has plenty of time to see if Vakapuna is ready to handle the position, and if that's not the case, the Bengals could look to add more competition this summer.
March, 4, 2010
3/04/10
9:48
AM ET

Baltimore Ravens
Potential unrestricted free agents
: DL
Justin Bannan
, DL
Dwan Edwards
, CB
Corey Ivy
, WR
Derrick Mason
, TE
L.J. Smith
, WR
David Tyree
, CB
Frank Walker
, WR
Kelley Washington
Potential restricted free agents:
OT
Jared Gaither
, K
Billy Cundiff
, S
Dawan Landry
, CB
Fabian Washington
, P
Sam Koch
, OG
Chris Chester
, QB
John Beck
, QB
Troy Smith
, OT
Tony Moll
, FB
Le'Ron McClain
, LB
Prescott Burgess
, WR
Mark Clayton
, WR
Demetrius Williams
Franchise tag:
None
What to expect:
The Ravens have a ton of quality free agents. It will be interesting because Baltimore is the only division team which has to abide by the "
Final Eight Plan
" for making the divisional playoffs. This will restrict Baltimore from making a lot of moves. Therefore, expect the team to keep most of its key restricted free agents while trying to explore the trade market. On the unrestricted side, the Ravens are negotiating with receiver Derrick Mason and are expected to keep him. But two players who could get some interest in the open market are defensive linemen Dwan Edwards and Justin Bannan. Baltimore likes both players but could lose at least one.

Cincinnati Bengals
Potential unrestricted free agents
: K
Shayne Graham
, FB
Jeremi Johnson
, RB
Larry Johnson
, DT
Tank Johnson
, TE
Reggie Kelly
, OG
Bobbie Williams
, S
Roy Williams
, TE
J.P. Foschi
Potential restricted free agents:
LB
Brandon Johnson
, LB
Rashad Jeanty
, OL
Evan Mathis
, C
Kyle Cook
, DE
Frostee Rucker
, CB
David Jones
, LB
Abdul Hodge
, QB
Jordan Palmer
, TE
Daniel Coats
, DT
Shaun Smith
Franchise tag:
None
What to expect:
The Bengals have yet to announce their tenders, so this list could change by Thursday evening. But traditionally they are not big spenders in free agency and will stay true to that even with an uncapped year. Cincinnati could make one or two decent outside signings that may help the team. Finding a receiver would be the most likely target. The most interesting in-house name is offensive guard Bobbie Williams, who likely will test the market. Bengals defensive coordinator Mike Zimmer also would like to keep veteran Roy Williams and Tank Johnson. But the team hasn't made a major push for either player before they're let loose Friday.

Cleveland Browns
Potential unrestricted free agents:
WR
Mike Furrey
, TE
Michael Gaines
, OG
Rex Hadnot
, CB
Hank Poteat
, OL
Ryan Tucker
, OG
Billy Yates
Potential restricted free agents:
RB
Jerome Harrison
, LB
D'Qwell Jackson
, FB
Lawrence Vickers
, S
Brodney Pool
, S
Abram Elam
, DE
Matt Roth
Franchise tag:
None
What to expect:
Cleveland has the money to spend and the biggest talent deficit. So look for the Browns to attempt to make up ground in free agency. Major names like defensive end
Julius Peppers
and tailback
Thomas Jones
have been mentioned as possibilities for Cleveland, but that remains to be seen. Internally, the Browns should be interested in keeping Harrison and Vickers in their backfield. Jackson also has value. None of their unrestricted players are priorities for the team and will be allowed to hit free agency.

Pittsburgh Steelers
Potential unrestricted free agents:
QB
Charlie Batch
, LB
Rocky Boiman
, S
Tyrone Carter
, S
Ryan Clark
, DE
Nick Eason
, WR
Joey Galloway
, DE
Travis Kirschke
, RB
Willie Parker
, CB
Deshea Townsend
, FB
Carey Davis
, OG
Darnell Stapleton
Potential restricted free agents:
OT
Willie Colon
, CB
William Gay
, P
Daniel Sepulveda
, TE
Matt Spaeth
Franchise tag:
K
Jeff Reed
What to expect:
The Steelers are pretty predictable. Pittsburgh intends to keep all of its restricted free agents, get a long-term deal complete with Reed, who has the franchise tag, and let nearly all of their unrestricted free agents test the market. The exception is Clark, who the Steelers targeted as a priority but has yet to reach a long-term extension before Friday's deadline. Negotiations have been ongoing and should go to the final hour to decide whether both sides can come to an agreement or allow Clark to test the market.
February, 15, 2010
2/15/10
1:00
PM ET
»
AFC Free Agency
:
East
|
West
|
North
|
South
»
NFC
:
East
|
West
|
North
|
South
An early look at the free-agent situation in the AFC North.
Note
: These projected lists reflect notable unrestricted free agents for each team. The NFL will not issue an official list of free agents until the signing period begins March 5.
Baltimore Ravens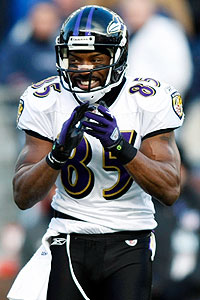 Greg M. Cooper/US PresswireThe Ravens' already-thin receiving corps will take a big hit if Derrick Mason retires.
Unrestricted free agents: DL
Justin Bannan
, K
Billy Cundiff
, DL
Dwan Edwards
, CB
Corey Ivy
, WR
Derrick Mason
, TE
L.J. Smith
, WR
David Tyree
, CB
Frank Walker
, WR
Kelley Washington
Key figures:
Derrick Mason is contemplating retirement. But if he wants to play, the Ravens have every intention of keeping their leading receiver. Look for Baltimore also to make a push for another significant addition at receiver to assist the development of budding quarterback
Joe Flacco
. Sleeper players on this list include the two defensive linemen: Justin Bannan and Dwan Edwards. The Ravens like both players and will probably make a push to keep at least one on the roster. Baltimore also lacks cornerback depth and might elect to bring back Frank Walker, despite his penchant for giving up big plays and committing penalties.
Cincinnati Bengals
Unrestricted free agents:
K
Shayne Graham
, FB
Jeremi Johnson
, RB
Larry Johnson
, DT
Tank Johnson
, TE
Reggie Kelly
, DT
Shaun Smith
, OG
Bobbie Williams
, S
Roy Williams
Key figures:
Bobbie Williams is an interesting name. He's one of Cincinnati's most consistent offensive linemen over the last several years, but he turns 34 in September. Kicker Shayne Graham, who was franchised last season, had a solid career in Cincinnati. But he missed kicks in big spots, potentially ending his run with the Bengals. Running back Larry Johnson was third string in Cincinnati and should get more playing time elsewhere in 2010.
Cleveland Browns
Unrestricted free agents:
WR
Mike Furrey
, TE
Michael Gaines
, OG
Rex Hadnot
, CB
Hank Poteat
, OL
Ryan Tucker
, OG
Billy Yates
Key figures:
This is not an impressive list as most of Cleveland's key free agents -- such as
Jerome Harrison
,
Lawrence Vickers
and
D'Qwell Jackson
-- are restricted. Mike Furrey is a high-character player that coach Eric Mangini likes on his football team, and he might be retained. The remaining players on this list likely will hit the open market. The Browns have an interesting decision to make with Harrison, who led the team in rushing after a tremendous second half of the 2009 season. Harrison could garner some interest as a restricted free agent if the Browns do not offer a high enough tender.
Pittsburgh Steelers
Unrestricted free agents:
QB
Charlie Batch
, LB
Rocky Boiman
, S
Tyrone Carter
, S
Ryan Clark
, DE
Nick Eason
, WR
Joey Galloway
, NT
Casey Hampton
, DE
Travis Kirschke
, RB
Willie Parker
, K
Jeff Reed
, CB
Deshea Townsend
Key figures:
The Steelers are aiming to keep most of their key veterans, while infusing some youth through the draft. All indications are the team will offer extensions to safety Ryan Clark and kicker Jeff Reed. Pro Bowl nose tackle Casey Hampton is the biggest name on this list. But he's a strong candidate for the franchise tag, because there is no full-time replacement on the roster. This offseason probably will mark the end of tailback Willie Parker's tenure in Pittsburgh. Parker, 29, helped lead the Steelers to two Super Bowl wins during his career. But various ailments since initially breaking his leg in 2007 hampered his production.
August, 13, 2009
8/13/09
11:30
AM ET
Posted by ESPN.com's James Walker
HBO's much-anticipated "Hard Knocks" series featuring the Cincinnati Bengals made its debut Wednesday night. Every week the AFC North blog we will break down highlights of the show for ESPN.com readers.
| | |
| --- | --- |
| | |
| | AP Photo/Al Behrman |
| | Chad Ochocinco unveiled his new catchphrase during the first episode of "Hard Knocks." |
Here is a recap of the first episode:
Synopsis: After a 4-11-1 season that Bengals owner Mike Brown deemed "an embarrassment," the team is trying to fight back from the bottom to the top of the NFL. The series starts with the Olympics-style competition that the team held during minicamp, which displayed an attempt to build unity and a willingness to compete. Once arriving in Georgetown, Ky., the Oklahoma drill serves as an early highlight. The injury bug also strikes the tight end position, where starter Reggie Kelly (Achilles) is lost for the season and Ben Utecht suffers a severe concussion.
Next tight end up: Last year, then-rookie tight end Martellus Bennett of the Dallas Cowboys was the "Hard Knocks" goat early in training camp. This season Bengals rookie tight end Chase Coffman filled the same void in the debut episode. The show displayed all of Coffman's early mistakes in camp, such as poor routes and sloppy footwork. Ironically, I detailed many of those same initial struggles during my visit to Georgetown. But Coffman has actually improved since and is challenging for first-team reps.
Funny moment No. 1: In a welcome-to-Bengaldom moment, new safety Roy Williams -- who had spent his entire career in Dallas -- is shocked that players have to pay money to rent televisions for their dorm rooms. "There's no TV?" a startled Williams asked. The prices range from $93 to $266 depending on the size. The Bengals are notorious for their cost-cutting ways and this was yet another example.
Funny moment No. 2: Fullback Jeremi Johnson entered training camp 11 pounds overweight. And with team trainers working with Johnson every day, he somehow gained three additional pounds in the first week. Weight has always been an issue for Johnson since he arrived to Cincinnati in 2003. But lately he's gotten it together and is getting work with the first team.
Brown vs. the media: The Bengals have been a running joke in the media for quite some time and Brown acknowledged that in his address to the team.
"We exposed ourselves to the media, which criticized us and mocked us," the Bengals owner said. "This is a hard business. It can be a tough, bottom-line business where all that matters is did you win or did you lose? Now is the time for us to answer back, and the place for us to answer back is on the playing field. From there, our critics will hear us loud and clear."
The Ocho Show: In somewhat of an upset, entertaining receiver Chad Ochocinco didn't get his own segment until about 40 minutes into the hour-long program. At that time Ochocinco explained one of his favorite sayings: "Child please!"
"Child please is a nice way to say [expletive] you," said Ochocinco, who recommends that everyone try his new catchphrase.
Ochocinco also explains why Cowboys quarterback Tony Romo split up with Jessica Simpson.
"She bought him a $100,000 boat and now her birthday is coming up. That's a lot of pressure," Ochocinco said to laughing teammates. "As an athlete, we got money. But we don't got money like they [entertainers] got money, so pressure caused the breakup."
Spin control: Executive vice president Katie Blackburn displayed a perfect example of the Bengals being able to control the message. Wednesday's episode briefly touched on Cincinnati first-round pick Andre Smith being the lone absentee because of a contract dispute. But instead of being fair to both sides and pointing out Cincinnati's awful track record with rookie holdouts, Blackburn had an open forum.
"It's extremely frustrating," Blackburn said. "You're offering them so much money, and yet for some reason they're saying it's not enough."
Grade: B
Why: I'm intrigued by the potential of this show, but I thought the first episode was just good, not great. It focused mostly on the players, where I believe the most-compelling stories and mystery surrounding the Bengals involves ownership and the family-run business. I want to see more of Mike Brown, who is a polarizing figure in Cincinnati and rarely in the public eye. I want to see more of the Bengals' football operation, which is scant compared to other NFL teams and has been criticized tremendously over the years. Although I cover the Bengals regularly, I'm still eager to learn something new about the organization with its doors completely open this summer. The debut episode failed to accomplish that goal.
June, 30, 2009
6/30/09
9:40
AM ET
Posted by ESPN.com's James Walker
Here are the most interesting stories Tuesday in the AFC North:
Morning take: In the NFL, players use all kinds of techniques to get an edge. It's all about what program works best for the individual.
Morning take: There are some interesting surprises on this list, including Jeremi Johnson taking his old post as the first-team fullback. He's been battling weight issues all offseason.
Morning take: Two years ago, Derek Anderson was a fantasy surprise on his way to the Pro Bowl. But I'm not sure there will be any statistical studs from Cleveland's offense this year.
Morning take: All indications are Hood will be no problems, meaning Pittsburgh could look to extend a veteran before the start of the regular season.
June, 18, 2009
6/18/09
6:45
PM ET
Posted by ESPN.com's James Walker

CINCINNATI -- The Cincinnati Bengals concluded their first day of mandatory minicamp, which will run until Saturday.
Here are some Day 1 observations:
It was good to see quarterback Carson Palmer throwing again effortlessly and without pain. The Bengals kept their star quarterback on a pitch count Thursday, which is in line with the entire offseason plan. Palmer participated fully in the morning practice but was limited to only one dump-off pass in the afternoon session.
Bengals receiver Chad Ochocinco looks impressive. It appears he's added some definition to his upper body and is cat-quick out of his breaks. He also caught a pair of beautiful deep balls and was hard to cover throughout the two practices. If Ochocinco maintains this level of dedication and work ethic this offseason, he's going to be a headache again for opposing defenses. He also predicted the Bengals would make the playoffs this year.
The funniest sequence of the day involved Cincinnati middle linebacker Dhani Jones in the morning practice. First, Jones was engaged in a block from center Kyle Cook when the two got a little too excited for non-contact drills. The violation of space resulted in Jones and Cook fighting for a short time before teammates broke up the scrum. Two plays later, Jones got sweet revenge with a pick-six off of Palmer.
Veteran safety Roy Williams worked with the first team at safety Thursday along with Chris Crocker, while Chinedum Ndukwe played on the second team. Williams is a big hitter but his biggest question mark will be pass coverage if he remains in the starting lineup.
Thursday was the first practices for fullback Jeremi Johnson, who is a former starter but has been battling weight issues. It still appears he has some work to do to get to his ideal playing weight.
Bengals starting defensive end Robert Geathers (knee) and Marvin White (knee) both sat out the first day and most likely will not be available for the entire minicamp. Geathers, who had micro-fracture surgery this offseason, said he's confident that he will be ready for training camp.
The Bengals signed seventh-round draft pick Freddie Brown to a four-year, $1.787 million contract on Thursday.
May, 7, 2009
5/07/09
3:27
PM ET
Posted by ESPN.com's James Walker
The Cincinnati Bengals hope they've finally found their fullback following Thursday's trade for Brian Leonard. Cincinnati in return shipped defensive tackle Orien Harris to the St. Louis Rams.
The versatile Leonard is a former second-round pick who didn't live up to expectations with the Rams, where he started just seven games in two seasons. The Bengals, who are searching for a starting fullback, will add Leonard to a group which also includes Jeremi Johnson and tight end/fullback Daniel Coats, among others.
At Rutgers, Leonard also ran the football a lot and could spell starting tailback Cedric Benson, if needed.
In other Bengals news, the team officially announced the signing of former Pro Bowl safety Roy Williams Thursday afternoon.
"Roy had his best years when we were together in Dallas, and I think we can take advantage of his strengths in our scheme," Cincinnati defensive coordinator Mike Zimmer said in a statement.
May, 3, 2009
5/03/09
10:23
AM ET
Posted by ESPN.com's James Walker
Here are the most interesting stories Sunday in the AFC North:
Morning take: This would reunite Beck with Ravens offensive coordinator Cam Cameron. It also makes for an interesting battle with Troy Smith for the No. 2 quarterback position.
Morning take: Veteran Jeremi Johnson was solid when he was healthy and in shape. An influx of young talent at the position should keep him motivated to compete this year and possibly get back to his old form.
Morning take: This is the time of year when unknown players emerge, and there are some pleasant surprises from this weekend such as second-year quarterback Dennis Dixon.
Morning take: I'm hearing good things so far from new coach Eric Mangini's practices. I'm told it's very organized, which the team hopes can translate on the field.
September, 4, 2008
9/04/08
8:00
AM ET
Posed by ESPN.com's James Walker
Here are the most interesting stories currently in the AFC North:
Morning take: Based on the numbers, it's a pretty good chance Roethlisberger will take some shots from the Texans' defense Sunday. The bigger questions are how hard and how many?
Morning take: We see this happen all the time. A player comes to training camp out of shape or holds out, and the first thing that happens upon their return is the player gets hurt. Johnson spent the entire summer trying to cut weight then couldn't make it through the first practice.
Morning take: Browns cornerback Brandon McDonald and safety Sean Jones seem confident that the secondary can get the job done. Yet just about everyone outside the locker room is taking a wait-and-see approach.
Morning take: This likely signals the end of the "Kyle Boller era" in Baltimore. What's ironic is it happens the same week the "Joe Flacco era" begins.
August, 28, 2008
8/28/08
3:00
PM ET
Posted by ESPN.com's James Walker
With the final week of preseason games starting Thursday night, it's a good time to keep close tabs on bubble players from each AFC North team. Rosters will be trimmed from 75 to 53 players by Saturday, which means there are a lot of big decisions to be made on players in the next 48 hours.
Here are some notable bubble players that could help their cause with big preseason games this week:

Pittsburgh Steelers
Players: Receivers Willie Reid and Dallas Baker
Skinny: Both young players have been around, know the system well and have shown flashes. But Pittsburgh is stacked with skill players and don't have to wait for both to develop. Receivers Hines Ward, Santonio Holmes, Nate Washington and Limas Sweed will be the top four in this group. Our guess is the Steelers only take five receivers into the regular season.
Prediction: Reid stays, Baker goes
Players:
Punters
Mitch Berger
and
Paul Ernster
Skinny: This competition was created by the season-ending knee injury to punter Daniel Sepulveda. Ernster has been around a little longer and has the edge, especially after last week's performance with three punts inside the 20. But he still could use a strong finish.
Prediction: Ernster stays, Berger goes
---

Cincinnati Bengals
Players: Fullbacks Daniel Coats and Jeremi Johnson
Skinny: Coats, a former tight end, has been impressive this summer making the move to fullback. He earned most of the reps, and most likely a roster spot, because Johnson's weight kept him out for most of camp. The Bengals are tired of dealing with Johnson coming into camp out of shape every year. But he's been too good a player for the Bengals to let go so far.
Prediction: Coats and Johnson (barely) stay
Players: Receivers Glenn Holt and Antonio Chatman
Skinny: There are a lot of young receivers on this roster behind starters Chad Johnson and T.J. Houshmandzadeh. So don't be surprised if one of the proven veterans is let go. Holt and Chatman are both on the bubble because they're undersized and don't fit the system -- Cincinnati prefers bigger, stronger pass catchers. Injuries to Johnson (shoulder) and rookie Andre Caldwell (toe) may scare the team into keeping both Chatman and Holt, but we doubt it.
Prediction: Chatman stays, Holt goes
---

Cleveland Browns
Players: Receivers Travis Wilson, Steve Sanders and Paul Hubbard
Skinny: The battle for the No. 3 receiver spot in Cleveland has been underwhelming, to say the least. Now all three of these players could use a big performance tonight against the Chicago Bears to solidify a roster spot. With Syndric Steptoe likely on the 53-man roster, at least two of these receivers, if not all three, will be cut by Saturday.
Prediction: Hubbard stays (or practice squad), Wilson and Sanders goes
Players: Linebackers Kris Griffin, David McMillan and Alex Hall
Skinny: This decision is more important than it appears on the surface. Hall, a rookie, has been a nice sleeper this summer, and Griffin and McMillan are important cogs on special teams. Luckily, they all play linebacker and Cleveland is a 3-4 team. But one still has to go.
Prediction: Hall and Griffin stay, McMillan goes
---

Baltimore Ravens
Player: Fullback Le'Ron McClain
Skinny: The banged-up Ravens have seven guys already on injured reserve, so there aren't as many significant bubble players. But McClain is one because the team recently signed Pro Bowler Lorenzo Neal. New offensive coordinator Cam Cameron wants more of his style of players to run his offense. The question is, with Neal's injury history, does Baltimore want to risk taking one fullback into the season? Probably not.
Prediction: McClain stays
July, 28, 2008
7/28/08
2:00
PM ET
Posted by ESPN.com's James Walker
| | |
| --- | --- |
| | |
| | AP Photo/Al Behrman |
| | Quarterback Carson Palmer calls a play during the Bengals' first practice at training camp. |
GEORGETOWN, Ky. -- Following an interesting offseason, the Cincinnati Bengals opened training camp Monday looking forward to getting back to football.
Here are some first-day observations from training camp:
"Antwan, they took in and they will do some scans and so forth on his foot and see what it is," Lewis said. "I have an idea what it is but we'll wait until we get something confirmed."
"What he's got going on right now with his body and his ankle is tough, but it's cool," teammate T.J. Houshmandzadeh said. "He will get better, and we will win some games."
"They keep going back and forth a little bit," Lewis said. "It's a shame because I think Keith would benefit (from reporting on time)."
"No question about it, he's battling for a spot on this football team," Lewis said. "Guys are asked to report at a certain level and be there. We gotta move forward. So we're going to move on and hope that he can catch up and earn a spot."