AFC North:

Jermon Bushrod
November, 27, 2013
Nov 27
10:00
AM ET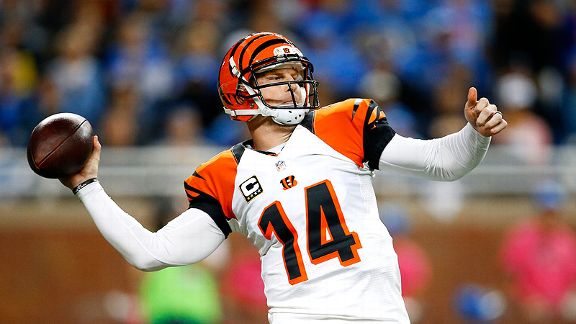 AP Photo/Rick OsentoskiThe Cincinnati Bengals are counting on Andy Dalton to return to the form that helped lead the team to a 4-1 record in October.
CINCINNATI -- Earlier this week,
Cincinnati Bengals
players like cornerback
Chris Crocker
were adamant in pointing out the urgency they need to play with throughout the
month of December
.
"It's all about winning in December," Crocker said. "Let's win out and see where the chips lay. Why can't we win out? I don't see why we can't."
If you ask some Bengals fans and most NFL analysts, they'll give you one big reason why they don't believe Cincinnati will be able to go 5-0 to close out the regular season: No. 14.
That's right. To some, the primary obstacle in the way of end-of-season perfection for the Bengals is
Andy Dalton
, the player who has quarterbacked the franchise into the playoffs each of the past two seasons, and who constantly is trying to prove himself to those who consider him just another member of a mostly failed 2011 quarterback draft class.
For that reason, as the Bengals gear up for a stretch run that could give them a first-round bye and home-field advantage in the playoffs, an important question has to be asked.
Can December Andy mimic October Andy?
As we've written countless times in the past month, October Andy was indeed a dandy. Through the first four games of that month, Dalton threw for 1,243 yards and 11 touchdowns. He also completed 67.9 percent of his passes, won four games, had a passer rating higher than 116.0 and a QBR above 83.0. He was, quite simply, brilliant. His play was so sharp back then that on the final day of the month, hours before the Bengals were set to take on the Dolphins in a road Thursday night game, he was named the AFC's Offensive Player of the Month.
And, yes, even though, comparatively speaking, he didn't look as good overall against the Dolphins and ended up taking the game-winning sack for a safety in overtime, Dalton still had a rather special performance in the 22-20 loss. Aside from not completing a touchdown pass and getting intercepted three times, he threw for 338 yards, marking the fourth straight game he had gone over the 300-yard passing mark.
Overall, October Andy was Good Andy.
But now here comes December with all of its postseason potency. If Cincinnati hopes to set itself up for the type of playoff seeding Crocker believes it deserves, then it will have to play its best ball across the next five weeks. That's especially the case for Dalton and a Bengals offense that has looked rather anemic in the past three games.
One look at Dalton's previous December stats and it doesn't appear the third-year star should have any problem showcasing even a sliver of the success that made him and his team so good about two months ago.
After a rocky December as a rookie in 2011, Dalton was among the difference-makers last season when the desperate Bengals were in need of a strong final month just to secure a playoff berth. One year after going 2-2 in the month, Dalton went 4-1 during December 2012. The lone loss came after the
Dallas Cowboys
made a field goal in the final seconds to win 20-19.
While the level of desperation may be different this December, the Bengals are looking for Dalton to thrive under similar pressure-packed moments during this one. This time around, the pressure on Dalton mainly stems from the fact that so many are fed up with his play from the past three games. In them, he's thrown eight interceptions and been sacked 10 times. Across the latter two of those games, he's completed fewer than 50 percent of his passes and hasn't posted a QBR higher than 18.0.
Weather factored heavily in Dalton's inability to move the ball in those two games. Windy conditions at Baltimore and windy and rainy conditions against the Browns sent some of his passes sailing and forced others into the hands of defensive backs.
Although weather shouldn't be a concern this weekend in San Diego (the forecast calls for partly cloudy skies and a delightful high of 71 degrees Sunday), it could be the rest of the season. Farmer's Almanac projects cold, damp conditions for all of December in the Ohio Valley. It should be noted that after Sunday's game, the Bengals are home three of the next four weeks. Their only remaining road game is at Pittsburgh.
Throughout his career, Dalton has performed better in warmer games. In games with temperatures 50 degrees or higher, he has a 20-14 record, an 85.1 passer rating and a 52.5 QBR. In games with temperatures at 49 and lower, he has a 5-5 record, a 75.4 passer rating and a 32.9 QBR. Dalton's last three sub-49-degree wins came last December, though; a sign that perhaps he's turning a corner in cold-weather contests.
Whatever the conditions and whomever their opponents are, when it comes to the next five weeks, the Bengals can only hope that Dalton turns into the same man who torched through this October.
September, 5, 2013
Sep 5
1:00
PM ET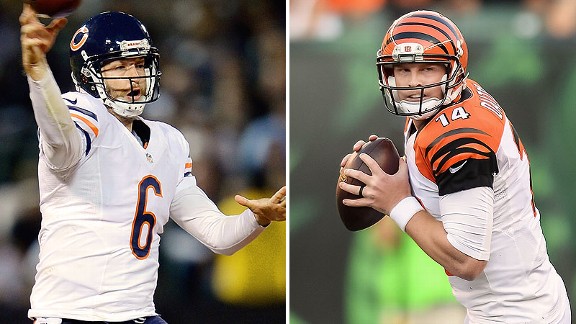 Getty ImagesChicago's Jay Cutler, left, and Cincinnati's Andy Dalton lead their respective offenses against very stingy defenses.
Two strong defensive teams led by highly scrutinized quarterbacks in
Jay Cutler
and
Andy Dalton
set the scene for what should be a hotly-contested matchup between what are expected to be ascending clubs.
Marc Trestman makes his debut as an NFL head coach at Soldier Field on Sunday, leading a Bears team with plenty of roster turnover on offense, including a totally revamped line expected to better protect Cutler as he operates the club's new scheme. That group will be tested by a Bengals defensive line, led by
Geno Atkins
, that accounted for 43 of the team's franchise-record 51 sacks in 2012, and also paved the way for the defense to finish the season ranked No. 6 for fewest yards allowed.
Chicago's defense in 2012 was even better, finishing fifth in net defense, third in scoring defense (17.3 points per game) and No. 2 in turnover differential while leading the NFL in interceptions (24) and total takeaways (44).
While home-field advantage can be key for teams, it's certainly been a factor in this series. The Bengals hold a 4-1 road record against the Bears and own a 6-3 series lead, which includes victories in their last outings (2005 and 2009).
Chicago hasn't beaten the Bengals since 2001.
ESPN.com's Matt Williamson and Bears team reporter Michael C. Wright discuss the matchup.
Wright:
The Bears hope they fixed the offensive line with a combination of scheme (shorter drops for Cutler), beefed up protection with
Jermon Bushrod
at left tackle and a pair of draft picks in
Kyle Long
(first round) and
Jordan Mills
(fifth) at right guard and right tackle, and another weapon for Cutler to find down the middle of the field when he's in trouble. But the inexperience of Long and Mills will be question marks against Cincinnati's active defensive line.
It seems Cincinnati's defense is built around Atkins, but how much of a factor are guys like
Carlos Dunlap
and
Michael Johnson
?
Williamson:
Atkins is the foundation of the defense for sure and everyone thrives off his presence, but the Bengals have a lot invested in the defensive line now in terms of finances and draft picks. This is an extremely deep and talented group that makes the entire defense go. Dunlap might be a little underrated and Johnson a little overrated, but they form an impressive pair of defensive end. These three players, along with the rest of Cincinnati's defensive front, will prove a very steep challenge for Chicago's rebuilt offensive line in Week 1.
What can the Bengals' defense expect from this new Trestman offense?
Wright:
The Bears will utilize zone blocking in the running game, which should allow
Matt Forte
to pick his own holes. That should open up the passing game, where the Bears will use West Coast philosophies such as shorter routes and drops for Cutler so he can get rid of the ball quickly. Look for the Bears to also try to use
Earl Bennett
down the seams to exploit potential matchup problems, especially on traditional running downs where the Bengals might be using base personnel.
Speaking of the Bengals, they've made the playoffs in three of the last four years, but really haven't made much noise. What are the expectations for this team now?
Williamson:
Expectations must go up. They had yet another high-quality offseason and this team has an exceptional young core of players on both sides of the ball. They clearly play in a tough division, but going one-and-done in the playoffs yet again will not be considered a successful season in Cincinnati. I fear they will only go as far as their quarterback will take them. But Bengals fans have a lot to be excited about.
Do you think this Bears defense can defend
A.J. Green
?
Wright:
They should be able to keep him from dominating the game. It's likely the Bears match
Charles Tillman
up against Green, but if the receiver winds up in front of
Tim Jennings
, the team is confident he can get the job done, too. The Bears typically don't double or shade coverage against players such as Detroit's
Calvin Johnson
, so don't count on seeing the Bears try that against Green. Cincinnati's tight ends could be an issue now that they've got two good ones in
Jermaine Gresham
and
Tyler Eifert
.
With such a talented supporting cast, do you see Dalton as just a guy surrounded by weapons, or a blossoming young quarterback?
Williamson:
He shows signs of blossoming into a solid young quarterback, and has been especially adept in the red zone, which is very noteworthy for a young quarterback. But I think he is more of the former. He is a limited passer who lacks great tools, and isn't as accurate or on time with his throws as you would like for someone with his limitations. The Bengals knew this and landed two very "Dalton-friendly" receivers for him in Eifert and
Giovani Bernard
. Eifert should develop into an exceptional target in the middle of the field as well as the red zone, while Bernard provides an easy dump-off option for Dalton. With all the Bengals' resources over the past two offseasons, it really surprises me that Cincinnati didn't do more to challenge Dalton or greatly improve its backup quarterback spot.
March, 8, 2013
Mar 8
12:00
PM ET
»
NFC Eight in the Box
:
East
|
West
|
North
|
South
»
AFC
:
East
|
West
|
North
|
South
Welcome to Eight in the Box, an NFL Nation feature that will appear each Friday during the offseason. This week's topic: Who should be the primary target (including trades) for each team when free agency begins?

Baltimore Ravens
: Jermon Bushrod, OT, Saints. To answer the question, the Ravens will target their own players when free agency begins. The focus will be on inside linebacker
Dannell Ellerbe
and safety
Ed Reed
, and it's likely that order. But a primary target for the Ravens should be Bushrod. He's not a top-tier left tackle but he went to two Pro Bowls, owns a Super Bowl ring and knows what it takes to play in a fast-paced offense. Bushrod, who played college locally at Towson, is also more dependable than Bryant McKinnie. Adding Bushrod would allow Michael Oher to play right tackle, his more natural position. There's two problems with this working out: the Ravens may not have the salary-cap room to sign a free-agent offensive tackle and the Saints have made Bushrod a priority to re-sign.

Cincinnati Bengals
:
Dashon Goldson
, SS, 49ers. He was going to be my targeted player for the Bengals even before an overblown radio interview linked him to Cincinnati. The Bengals ignored the strong safety position last season, and it resulted in the team shuffling through
Taylor Mays
,
Nate Clements
and
Jeromy Miles
in the first seven games. Cincinnati eventually had to bring back
Chris Crocker
to stabilize the spot. Goldson is a tough, physical player who is in the prime of his career. The Bengals have the cap room to meet Goldson's high price tag (likely about $8 million per season), but they might not want to invest so much in the safety position after signing
Reggie Nelson
to a four-year, $18 million contract last year.

Cleveland Browns
:
Cliff Avril
, DE-LB, Lions. It would be a big statement by the new regime to land a top-five free agent like Avril. He upgrades the pass rush in a major way (29 sacks in his past three seasons) and can bring leadership to a young defense. There are concerns about giving a big contract to a player who has to switch positions. Avril would move from a 4-3 defensive end to a 3-4 outside linebacker, but it's not a major shift because he played linebacker in college. If the Browns are unable to get Avril, they can turn their attention to Ravens free agent
Paul Kruger
, or the draft. Oregon's
Dion Jordan
and Georgia's
Jarvis Jones
have been linked to Cleveland.

Pittsburgh Steelers
:
LaRod Stephens-Howling
, RB, Cardinals. Sure, this isn't a big name like Goldson or Avril. But the Steelers don't have the salary-cap room to pursue top free agents. And, let's be honest, the Steelers don't step into the free-agent waters very much, and it would be accurate to list "none" as the targeted player. Still, if I had to pick a free agent who fits a need and can come at a reasonable price, it would be Stephens-Howling, a former star at Pitt. With
Chris Rainey
gone, Stephens-Howling is an elusive back who can provide a big-play spark, whether it's as a runner or receiver out of the backfield. His low per-carry average is more a reflection of the Cardinals' offense than his speed. This doesn't change the fact that Pittsburgh needs to find a young featured back in the draft. It's a bonus that Stephens-Howling can make an impact on special teams and has experience as a returner.