February, 6, 2012
2/06/12
12:00
AM ET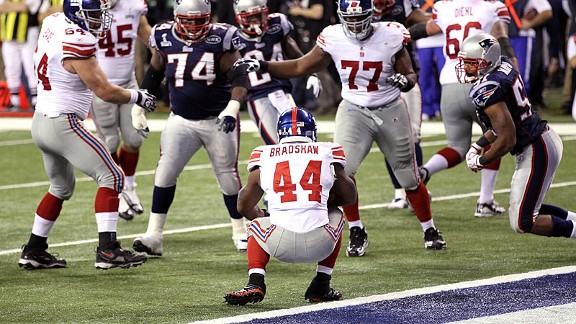 Andy Lyons/Getty ImagesAhmad Bradshaw was supposed to stop short of scoring the touchdown late in the fourth quarter.
INDIANAPOLIS -- It's easy to second-guess coach Bill Belichick because you have the best argument: the
New England Patriots
lost the Super Bowl
21-17
to the
New York Giants
.
But Belichick was right in letting the Giants score the go-ahead touchdown in the final minute of the fourth quarter. He was right in telling his defense to give Giants running back
Ahmad Bradshaw
a clear path to the end zone from 6 yards out.
Here are the two options that the Patriots faced late in the fourth quarter:
Belichick's decision to give up the touchdown: Down by four points (21-17), Tom Brady and the Patriots' offense needed to go 80 yards in 57 seconds (with one timeout) to score the winning touchdown.

The alternative of holding the Giants to a field goal: Down by one point (18-17), the Patriots would have had 20 seconds (or possibly less if the Giants decided a squib kick) to march about 50 to 55 yards to get into field-goal position with no timeouts.
"Bill [Belichick] has always put us in the best position to succeed no matter what. We trust him," safety
James Ihedigbo
said. "We want the ball in Tom's hands. That's his call. We are behind him in everything."
Belichick did put New England in the best position to win its fourth Super Bowl. It wasn't like the Patriots could bank on another
Billy Cundiff
moment.
As Belichick put it after the game: "[The ball] was inside the 10-yard line. A 90 percent field-goal conversion [in that territory]."
If you want to be angry with someone in the fourth quarter, it should be the receivers that dropped passes:
Wes Welker
,
Deion Branch
and
Aaron Hernandez
. If you want to be angry with Belichick, it should be for his decision to throw the ball on the Patriots' second-to-last possession which stopped the clock and gave
Eli Manning
more time for the winning drive.
Honestly, the one at fault is Bradshaw for scoring the touchdown.
As soon as Bradshaw took the handoff, Manning was telling him to go down and not to score. Bradshaw ran through the huge hole and tried to stop at the 1-yard line. He twisted around before awkwardly falling backward into the end zone.
"I tried to declare myself down and tapped down," Bradshaw said. "My momentum took me into the end zone."
Bradshaw needed to stop short of the end zone so the Giants could have run more time off the clock. He was a Hail Mary catch away from being remembered as the player who gave the ball back to Brady for the winning touchdown pass.
"They didn't score at the end and that's all I was hoping for," Bradshaw said.
The Patriots said it didn't matter if Bradshaw would have stopped short of the end zone. "We were going to drag him into the end zone," linebacker
Jerod Mayo
said.
New England put itself in such a precarious position after five straight Manning completions of 38, 16, 2, 14 and 4 yards moved the Giants to the Patriots' 7-yard line with 69 seconds left. After a Bradshaw 1-yard run, the Patriots called their second timeout to stop the clock with 64 seconds remaining.
The Patriots' defense then just stood up as soon as the ball was snapped and watched Bradshaw score the 6-yard touchdown. Defensive end
Mark Anderson
, who had never given up a touchdown like that, wasn't totally sold on the idea.
"I still wanted to try to get a turnover," Anderson said. "But the captain says what to do and I follow his orders."
Belichick's plan almost worked. Unlike his previous three Super Bowl comebacks, Brady couldn't carry the Patriots to victory this time, although his desperation pass into the end zone on the final play fell just beyond the grasp of tight end
Rob Gronkowski
.
"You want to let them score so you can get your offense back on the field," Mayo said. "It's situational football. We go over those situations all the time."
This isn't like Belichick's controversial fourth-down decision in Lucas Oil Stadium two seasons ago. He was right in this situation. Belichick just doesn't have the victory to support it.
January, 19, 2012
1/19/12
1:00
PM ET
OWINGS MILLS, Md. -- Ravens running back
Ray Rice
said the "fondest moment" of his four-year NFL career came in the 2009 playoff game in New England, when he broke an 83-yard touchdown run on the first playoff from scrimmage.
It was the longest rushing play in Ravens history and the second-longest rushing touchdown in NFL postseason history.
"When you can do something that special in a playoff game in another team's stadium, that was huge," Rice said. "And that's something that I'll cherish for the rest of my life. And obviously, we didn't go on and win the Big Dance, but playoffs are [what] separates everybody. There's a reason why there's only four teams, and there's only one true champion at the end of the year. But when you can do something special in the playoffs, it's definitely remembered. And, that's something that I'll definitely take with me for the rest of my life."
But how many Patriots really remember it? Only two starters from that New England front seven will start Sunday against Rice and the Ravens (defensive tackle
Vince Wilfork
and linebacker
Jerod Mayo
).
"I think they've gotten over it," Rice said of his playoff run. "Obviously, they're back in the AFC Championship Game, and if I'm not mistaken, besides the playoffs, the last time we faced them we didn't win that game. And they did a great job of containing me."
In the last meeting (October 2010), Rice was limited to 88 yards on 28 carries, a 3.1-yard average. His longest run was eight yards.
April, 12, 2011
4/12/11
1:00
PM ET
The AFC North had the most linebackers (three) in the top 10 of any division in this
week's positional Power Rankings
.
[+] Enlarge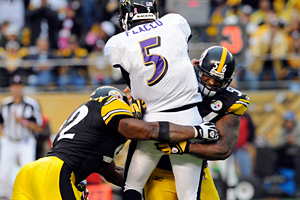 AP Photo/Tom E. PuskarThe Steelers boast two of the NFL's best linebackers in James Harrison, left, and LaMarr Woodley.
This should not be a surprise. Linebackers are the strength of this division, and that's especially the case for the
Baltimore Ravens
and
Pittsburgh Steelers
, who are perennial contenders.
Pittsburgh's
James Harrison
(No. 2) and
LaMarr Woodley
(No. 8 ) both made the list. So did Baltimore's
Ray Lewis
(No. 5). Ravens teammate
Terrell Suggs
just missed the cut and finished 11th.
Lawrence Timmons
of the Steelers also registered a vote and finished 15th.
Rating middle and outside linebackers
was very difficult
and not an exact science. But on my ballot, I decided to put more emphasis on pass-rushers than middle linebackers, because pressuring the quarterback is the most effective way to stop an offense in what's become a pass-heavy league. That is why you see players like
DeMarcus Ware
on my ballot ahead of
Patrick Willis
,
Clay Matthews
Jr. ahead of
Jerod Mayo
and Suggs ahead of Lewis. But all are great linebackers and probably interchangeable in these rankings, depending on what you prefer defensively.
Here is the full list:
ESPN.com's linebacker Power Rankings
1. Patrick Willis, 49ers
2. James Harrison, Steelers
3. DeMarcus Ware, Cowboys
4. Clay Matthews Jr., Packers
5. Ray Lewis, Ravens
6. Jerod Mayo, Patriots
7.
Brian Urlacher
, Bears
8. LaMarr Woodley, Steelers
9 (tie).
Tamba Hali
, Chiefs
9 (tie).
Jon Beason
, Panthers
Walker's linebacker Power Rankings
1. DeMarcus Ware, Cowboys
2. Patrick Willis, 49ers
3. James Harrison, Steelers
4. Clay Matthews, Packers
5. Jerod Mayo, Patriots
6. Brian Urlacher, Bears
7. Terrell Suggs, Ravens
8. LaMarr Woodley, Steelers
9. Ray Lewis, Ravens
10.
London Fletcher
, Redskins