AFC North:

Jets-Bengals 010910
January, 9, 2010
1/09/10
10:52
PM ET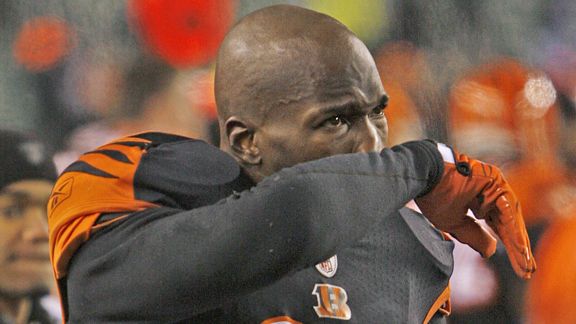 AP Photo/David KohlThe Jets limited Chad Ochocinco to just two receptions for 28 yards.
CINCINNATI -- The blank stare on
Carson Palmer
's face told the story Saturday night.
After posting 10 victories and convincingly taking the AFC North, the Bengals quarterback was in total disbelief that he was addressing the media following another late-season failure.
Welcome to the harsh reality of the NFL playoffs.
Cincinnati's season came to an abrupt end with a
24-14 loss
to the
New York Jets
(10-7). It was the second consecutive one-and-done postseason for the Bengals (10-7). Cincinnati also suffered a quick hook after winning the division in 2005.
But the Bengals felt this season would be different.
Cincinnati's locker room was more professional. Core players such as Palmer and receiver
Chad Ochocinco
were more experienced, and this team -- with a strong defense and running game -- appeared to be built to thrive this time of year.
"We had such big plans," a shocked Palmer said. "We had such great expectations for ourselves."
In an awkward playoff game, Cincinnati's season came crashing down in a rash of errors.
The Jets forced two Cincinnati turnovers (one interception, one fumble). Bengals kicker
Shayne Graham
missed two second-half field goals, and coach Marvin Lewis failed on two challenges that blew a pair of timeouts in the first half.
Add in several blown assignments on both sides of the ball, and it was a recipe for postseason disaster.
"Because of the quality of the team you face in the playoffs, missed opportunities, turnovers in the red zone, whatever it might be, they are very hard to overcome," Bengals offensive coordinator Bob Bratkowski said.
With a steady defense and solid running game led by rookie
Shonn Greene
(135 yards, one touchdown), the Jets shortened the game with each possession. New York dominated the field-position battle and eventually turned it into points, as the Jets scored 21 unanswered in the second and third quarters.
That was all the Jets needed on the road. Every time the Bengals tried to make a comeback, they would ruin it with self-inflicted mistakes.
[+] Enlarge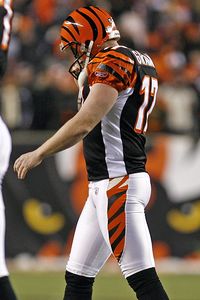 AP Photo/David Kohl Graham missed two field goals in Cincinnati's loss.
Graham's kicks in particular ended any hopes of a Bengals rally. He missed two fairly routine field goal attempts of 42 and 28 yards in the second half that kept the game out of reach. Graham was the team's designated franchise player this season.
"There isn't anything you can say about that," Lewis said. "When you miss the field goal, you miss the field goal. It is a shame, and it killed us. Unfortunately, in this case, it is mostly a one-man operation and that is the sad part of it."
The Bengals liked this matchup entering the game. But many of the advantages they thought they had did not pan out.
Rookie quarterback
Mark Sanchez
, who has been inconsistent all season, had a near-perfect game, completing 12 of 15 passes for 182 yards and a touchdown. He had a 139.4 passer rating.
Cincinnati also ran the ball well with tailback
Cedric Benson
, who had 169 rushing yards. But the Bengals fell to 6-1 this season when Benson has more than 100 rushing yards.
The general feeling in Cincinnati's locker room was the Bengals let a golden opportunity get away.
"There's only one team that feels good in the end, and it won't be us," Bengals linebacker
Brandon Johnson
said.
The playoff drought continues for the Bengals, who haven't won a postseason game since the 1990 season. But in many ways this was a landmark season for the franchise.
Cincinnati has a good, young nucleus of players and ran roughshod through the AFC North, going 6-0. The team also overcame a pair of tragedies in the passing of wide receiver
Chris Henry
and Vikki Zimmer, the wife of defensive coordinator Mike Zimmer.
The Bengals haven't had back-to-back winning seasons since 1981-82, so expect a lot of doubters next fall. But the players are confident this team is finally built for long-term success.
"How can you not like the foundation and the things that we've done?" Bengals linebacker
Dhani Jones
said. "We're one of the youngest football teams to make it to the playoffs and swept the division. We've done a lot of phenomenal things. It's just in the end, we didn't do that one phenomenal thing, and that's to continue."
The last time the Bengals were in this position, it took four years to bounce back from a playoff defeat to the
Pittsburgh Steelers
. It will be up to Cincinnati's leaders, such as Palmer and Jones, to make sure this organization continues to stay on the upswing.
It won't be easy. The Steelers and
Baltimore Ravens
are consistent threats in the division. The
Cleveland Browns
also finished the season with four straight wins and have newfound optimism with the arrival of team president Mike Holmgren.
The Bengals were good enough to make the playoffs this season. But their quick exit Saturday proved that they are far from an elite team.
"We definitely got a lot of work to do," Palmer said. "We definitely have a young team. I think someone said we were the third-youngest team in the league. In order for us to be where we expect to be, we got to improve."
January, 9, 2010
1/09/10
10:32
PM ET
CINCINNATI--Bengals starting quarterback
Carson Palmer
is
scheduled to have surgery
on his left thumb next week, the quarterback said after the team's
24-14
playoff loss to the
New York Jets
.
Palmer suffered ligament damage to his thumb on his non-throwing hand in October and played with a protective glove the rest of the season. He said the injury never impacted his play, besides being forced to hand off from either side with his right hand.
January, 9, 2010
1/09/10
7:40
PM ET
CINCINNATI -- The AFC North champions experienced a quick hook in the playoffs.


In the opening game of the postseason, the
Cincinnati Bengals
fell behind early and couldn't make up ground in a 24-14 defeat to the
New York Jets
. It was the second time in six days Cincinnati (10-7) lost to New York (10-7).
The playoffs are all about making the most of opportunities, and the Bengals failed at that miserably Saturday. They blew two timeouts with poor coaching challenges, allowed big passing plays to a rookie quarterback, and kicker
Shayne Graham
missed two key field goals in the second half.
These openings were all the Jets needed to advance to the divisional round. New York proved last week was no fluke by scoring 21 unanswered points to take control of the game.
Cincinnati has not won a playoff game since the 1990 season. This was the first postseason berth in four years for the Bengals, who finished 1-4 in their last five games.
The 2009 season for the Bengals included several landmarks, such as sweeping the AFC North division. But an early playoff exit was not what this team had in mind.
January, 9, 2010
1/09/10
6:51
PM ET
CINCINNATI -- It's not looking good for the Bengals.

After scoring the opening touchdown, Cincinnati has allowed 21 straight points to fall behind, 21-7. Paul Brown Stadium is very quiet, as fans wait for a spark from the Bengals.

New York has outplayed Cincinnati since the second quarter on both sides of the football. The Jets are winning the field-position battle and eventually turning it into points.

The Bengals have been good in the fourth quarter this season. But they will need to make a lot of plays against the NFL's top-rated defense to have a chance.
January, 9, 2010
1/09/10
6:08
PM ET
CINCINNATI--The
New York Jets
lead the Bengals, 14-7, at intermission.
Here are some halftime observations:
Bengals receiver Chad Ochocinco said he would play much better against New York Jets Pro Bowl cornerback Darrelle Revis. But in the first half that hasn't been the case. Revis has shut out Ochocinco so far, and intercepted a pass in the second quarter. Revis was in the hip pocket of Ochocinco when Bengals quarterback Carson Palmer threw the ball up for grabs.
Cincinnati tailback Cedric Benson has fresh legs in this game. He is running hard against the NFL's top defense, gaining 73 yards in the first half on 13 carries. Bengals coach Marvin Lewis opted to rest Benson in Week 17 to get him ready for the playoffs, and it appears to be a good decision.
In terms of bad decisions, both challenges by Lewis were pretty poor. Lewis had a lot of time, including a commercial break, to see the first replay and still made a failed challenge. The second happened on Cincinnati's sideline, so the Bengals should've had a good angle to see the play was a completed pass. Cincinnati has zero challenges remaining in the game, which could be huge in the playoffs.
Bengals defensive tackle Domata Peko returned from knee surgery Saturday and is holding his ground well. Cincinnati was pushed around last week and hoping that Peko could change that, and he has done a decent job, with the exception of a 39-yard touchdown run by Jets tailback Shonn Greene.
January, 9, 2010
1/09/10
5:47
PM ET
CINCINNATI -- It started with two false starts.
Next there was an interception by
Cincinnati Bengals
quarterback
Carson Palmer
.
A few plays later, a blown coverage in the secondary led to another touchdown by the
New York Jets
, and suddenly Cincinnati is trailing for the first time in the game.
Jets tight end
Dustin Keller
's 45-yard touchdown catch gave New York a
14-7 lead
. The Bengals started the game well but became sloppy and have allowed 14 straight points.
It will be interesting to see how Cincinnati responds.
January, 9, 2010
1/09/10
5:04
PM ET
CINCINNATI -- Receiver
Laveranues Coles
didn't have his most productive season for the
Cincinnati Bengals
. But he has come up big early in the playoffs.
Coles caught an 11-yard touchdown to give the Bengals a 7-0 lead. It was a big confidence boost for Cincinnati after suffering a 37-point loss the previous week.
Good defense and a solid punt return set up a short field for the Bengals. They drove 45 yards in seven plays.
January, 9, 2010
1/09/10
4:49
PM ET
CINCINNATI -- Bengals outside linebacker
Rashad Jeanty
sprained his knee and ankle in the first quarter against the
New York Jets
and is doubtful to return, the team announced.
Jeanty injured himself on the opening kickoff. He was the starting linebacker last week in place of the also injured
Rey Maualuga
(ankle).
Brandon Johnson
has replaced Jeanty against New York.
(Update: Bengals announce Jeanty has a fractured left fibula and is out for the playoffs.)
January, 9, 2010
1/09/10
4:16
PM ET

CINCINNATI -- The Bengals were trounced by the
New York Jets
, 37-0, last week. Cincinnati is also 1-3 in its past four games.
Therefore, a fast start by the Bengals (10-6) would make a world of difference in Saturday's wild-card matchup against the Jets (9-7).
Despite sweeping the AFC North this season, plenty of questions surround the Bengals after struggling in December and January. Did Cincinnati hold back in preparation for the playoffs? Or is this team setting itself up for an early postseason exit?
These questions could be answered in the first half. If the Bengals get off to a fast start, no one will look back at the team's poor finish or last week's debacle.
But if Cincinnati falls behind early, it will look very similar to the past four weeks.
January, 8, 2010
1/08/10
4:01
PM ET
AFC
:
Ravens-Patriots
:
Graham
|
Walker
»
Jets-Bengals
:
Graham
|
Walker
NFC
:
Cowboys-Eagles
:
Mosley
»
Packers-Cardinals
:
Sando
|
Seifert
Three nuggets of knowledge about Saturday's wild-card game between the New York Jets (9-7) and Cincinnati Bengals (10-6):
[+] Enlarge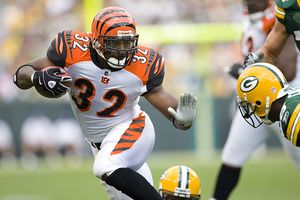 Jeff Hanisch/US PresswireCedric Benson and the Bengals will be facing the NFL's No. 1 defense.
Bounce back:
The Bengals are trying to shrug off last week's
37-0
loss to New York, but the Jets gained a lot of confidence in the victory. Cincinnati rested several starters and was vanilla with its offensive and defensive schemes. Cincinnati's poor tackling and penalties in that loss are a concern. According to Elias Sports Bureau, there are 13 cases in NFL history in which teams met in the final week of the regular season and first week in the playoffs. The team that lost in the regular season is 8-5 in playoff rematches.
Fresh legs:
Starting tailback
Cedric Benson
has been a workhorse for Cincinnati with 301 carries for 1,251 rushing yards. That is why Bengals head coach Marvin Lewis gave Benson last week's game off against the Jets. Now Benson has fresh legs for the matchup against the NFL's No. 1 defense. New York is big and physical up front. The Bengals are 6-0 this season when Benson rushes for more than 100 yards.
Look at QBs
: The Jets and Bengals are very similar, but the biggest difference could be at quarterback. New York has rookie
Mark Sanchez
, who has thrown 20 interceptions this year. Cincinnati has two-time Pro Bowl quarterback
Carson Palmer
, who has been very efficient this season with 3,094 passing yards, 21 touchdowns and an 83.6 passer rating. The focus of both teams will be on stopping the run. Therefore, it's likely one of these quarterbacks will have to make plays to keep the chains moving.