February, 6, 2014
Feb 6
1:30
PM ET
By my count, the
Baltimore Ravens
parted ways with six coaches. They either moved on to other jobs or got fired. Let's take a look at where they landed:
Jim Caldwell, offensive coordinator:
Detroit Lions
head coach
Teryl Austin, secondary coach:
Lions defensive coordinator
Wade Harman, tight ends:
No new team
Jim Hostler, wide receivers:
Buffalo Bills
senior offensive assistant
Andy Moeller, offensive line:
Cleveland Browns
offensive line coach
Wilbert Montgomery, running backs:
Browns running backs coach
January, 21, 2014
Jan 21
2:15
PM ET
Baltimore Ravens
coach John Harbaugh named his four candidates for offensive coordinator on Tuesday: former
Washington Redskins
offensive coordinator Kyle Shanahan, former
Detroit Lions
offensive coordinator Scott Linehan, Ravens wide receiver coach Jim Hostler, and
Pittsburgh Steelers
running backs coach Kirby Wilson.
Three of the candidates (Shanahan, Linehan and Hostler) have previous coordinator experience, and Wilson was reportedly given additional responsibilities after the season when Todd Haley was retained as the Steelers' offensive coordinator.

As far as surprises, I'm wondering why Gary Kubiak isn't on this list. He has just as good -- if not better -- credentials than these finalists. His offenses with the
Houston Texans
(as the head coach) and
Denver Broncos
(as the offensive coordinator) were regularly in the top 10.
Here is my initial reaction to the Ravens' candidates:
If the Ravens want the most experienced coordinator who has the most proven track record, that's Linehan.
If the Ravens want a young play-caller with familiarity in the zone-blocking scheme, that's Shanahan.
If the Ravens want someone who maintains continuity with the staff and players, that's Hostler.
If the Ravens want to put the emphasis in reviving a historically bad running game, that's Wilson.
And here's a breakdown of the four candidates:
SCOTT LINEHAN
Age:
50
Coordinator experience:
Minnesota Vikings
(2002-04),
Miami Dolphins
(2005) and Detroit Lions (2009-13).
What to like:
The Lions ranked in the top six in offense the past three seasons. Linehan has nine years of experience as a coordinator.
What not to like:
Quarterback
Matthew Stafford
plateaued under Linehan. The Lions failed to score more than 20 points in the season-ending four-game losing streak.
KYLE SHANAHAN
Age:
34
Coordinator experience:
Houston Texans (2008-09), and Washington Redskins (2010-13).
What to like:
Under Shanahan, quarterback
Robert Griffin III
was the NFL Offensive Rookie of the Year in 2012. He also had the NFL's top passing attack in Houston in 2009, when
Matt Schaub
was his quarterback. Plus, last year was the fourth time in his six seasons as an offensive coordinator that his offenses ended up in the top 10 in total yards.
What not to like:
It's tough to forget he was involved in one of the ugliest seasons in NFL history with that implosion in Washington. The Redskins went from fourth in points per game a year ago to No. 23 this season.
JIM HOSTLER
Age:
47
Coordinator experience:
San Francisco 49ers
(2007).
What to like:
It would be a seamless transition with Hostler, who has been the Ravens' wide receivers coach since 2008. He's played a big part in the development of
Torrey Smith
and
Marlon Brown
.
What not to like:
It's that one year where he was the coordinator of the 49ers. Under Hostler in 2007, the San Francisco 49ers ranked last in total yards and points (13.7).
KIRBY WILSON
Age:
52.
Coordinator experience:
None.
What to like:
Hiring Wilson would be a statement that the Ravens are committed to running the ball again. In his seven seasons as the Steelers' running backs coach, Wilson has gotten the most out of the running backs who played under him, from undrafted runners (
Willie Parker
and
Isaac Redman
), to an overrated first-round pick (
Rashard Mendenhall
). He was supposed to be in line for the Steelers' offensive coordinator position when the team was replacing Bruce Arians, but he was severely burned in a house fire at the time.
What not to like:
Wilson is the only candidate who has never been an offensive coordinator at any level. The Steelers haven't been a great running team lately, ranking No. 26 in 2012, and No. 27 in 2013.
January, 21, 2014
Jan 21
2:05
PM ET
PITTSBURGH -- A surprising name has surfaced in connection with the opening the
Baltimore Ravens
have at offensive coordinator.
Coach John Harbaugh announced on Tuesday that
Pittsburgh Steelers
running backs coach Kirby Wilson is among four finalists for the job that became open when the
Detroit Lions
hired Jim Caldwell as their head coach.

Wilson is eminently qualified for the job, and he probably would have been promoted to offensive coordinator in Pittsburgh had he not been badly burned in a house fire in January, 2012.
The surprise is that the Steelers have granted Wilson permission to interview with their chief rival. Wilson is to meet with Harbaugh this week, presumably in Mobile, Ala., where NFL coaches are scouting Senior Bowl practices and interviewing draft prospects.
The Steelers could have blocked Wilson from interviewing with the Ravens since it is not for a head-coaching job. The guess here is that Mike Tomlin does not want to deny Wilson, who has been with him since 2007 in Pittsburgh, an opportunity given how loyal Wilson has been and what he persevered through to return to coaching.
Wilson would be attractive to the Ravens because of Baltimore's need to fix a running game that faltered badly in 2013. The Ravens averaged just 83.0 rushing yards per game, ranking 30th in the NFL in that cateogry. They averaged just 3.1 yards per cary, last in the NFL.
Wilson is the second Steelers assistant coach who has been linked to a coordinator job elsewhere.
Linebackers coach Keith Butler was considered one of the favorites to become new coach Ken Whisenhunt's defensive coordinator in Tennessee. But Butler, who is considered the heir apparent to Dick LeBeau in Pittsburgh, never interviewed for the job.
In addition to Wilson, the other finalists for the job in Baltimore are former Rams head coach and Lions offensive coordinator Scott Linehan, former Redskins offensive coordinator Kyle Shanahan, and Ravens wide receivers coach Jim Hostler.
There has been only one change to Tomlin's coaching staff so far, as he fired offensive line coach Jack Bicknell Jr., this month.
Former Titans coach Mike Munchak interviewed for the job of offensive line coach last week in Pittsburgh.
January, 15, 2014
Jan 15
10:30
AM ET
The
Baltimore Ravens
are going to hire their third offensive coordinator in 13 months. This comes after Cam Cameron was the play-caller for quarterback
Joe Flacco
's first five seasons in the NFL.

So, who is going to be the Ravens' next offensive coordinator?
Rob Chudzinski, the former Cleveland Browns head coach, is considered an innovator after bringing the read-option offense to the NFL in Carolina.
Jim Hostler, the Ravens' wide receivers coach, is the top in-house candidate who is the most familiar with the Ravens' personnel and would deliver the most seamless transition.
Gary Kubiak, the former Houston Texans head coach, has the proven track record with seven top-10 offenses in his past 11 years of coaching.
And Norv Turner, the Cleveland Browns offensive coordinator, is considered one of the brightest offensive minds in the game.
After you have voted for one of these candidates (or you have someone else in mind), tell me why you made that decision
by dropping me a line
in my mailbag. It could be used on the blog later in the week.
January, 14, 2014
Jan 14
1:44
PM ET
If you're asking me who the
Baltimore Ravens
' next offensive coordinator
will
be, I would say their wide receivers coach Jim Hostler. If you're asking me who the Ravens
should
hire as their next offensive coordinator, that's an easy answer -- Norv Turner.
If you don't agree with that, look at the magic Turner performed in one season with the
Cleveland Browns
. He turned wide receiver
Josh Gordon
into the NFL's leading receiver and tight end
Jordan Cameron
into a Pro Bowl player. And Turner did this with three mediocre quarterbacks.
[+] Enlarge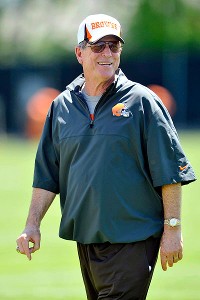 AP Photo/David RichardNorv Turner's ability to get the most out of QBs would make him a good fit with Baltimore.
The Browns finished 18th in the NFL in offense, 11 spots higher than the Ravens. And, again, Turner did this with
Jason Campbell
,
Brandon Weeden
and
Brian Hoyer
at quarterback, and past-his-prime
Willis McGahee
at running back. Imagine the improvement the likes of wide receiver
Torrey Smith
and tight end
Dennis Pitta
could make.
The biggest reason to bring Turner to Baltimore is his potential impact on quarterback
Joe Flacco
. Look at Turner's history with quarterbacks:
Troy Aikman
,
Alex Smith
and
Philip Rivers
. Everything the Ravens do this offseason should be focused on helping Flacco rebound. And, in terms of a play-caller and mentor, the Ravens couldn't do any better than finding a way to get Turner to Baltimore.
Turner would be the best offensive coordinator available. That is, if he was actually available. The problem is Turner is still under contract with the Browns even though they fired head coach Rob Chudzinski. The Browns said they would be liberal in granting permission for assistant coaches to interview with other teams, but I'm guessing Cleveland won't be doing Baltimore any favors. Turner's situation might not be resolved until after the Super Bowl, because the Browns are reportedly waiting to talk to
Denver Broncos
offensive coordinator Adam Gase for their head coaching job.
The Ravens have plenty of options, and Turner wouldn't be the only solid hire. Baltimore could look at the young hot candidate,
Green Bay Packers
quarterbacks coach Ben McAdoo. The Ravens can go with a more experienced play-caller in Gary Kubiak, the former
Houston Texans
head coach.
Or the Ravens can simply promote Hostler to offensive coordinator. The Ravens and coach John Harbaugh have a history of staying in-house. When there were openings at defensive coordinator, the Ravens promoted linebackers coach Greg Mattison (2009), secondary coach Chuck Pagano (2011) and linebackers coach Dean Pees (2012). And when the Ravens fired Cam Cameron, they moved quarterbacks coach Jim Caldwell to offensive coordinator.
Hostler is the only coach who has experience as an NFL offensive coordinator, and he's well-respected by the front office. What works in Hostler's favor is he already knows the personnel as well as the coaching staff. There would be a seamless transition.
But Hoster didn't have much success in his one year as an offensive coordinator. Under Hostler in 2007, the
San Francisco 49ers
ranked last in total yards, passing yards and points scored (13.7). Now, six seasons later, Hoster might be given a chance to redeem himself in that role.
The Ravens are getting a fresh start with Caldwell being hired by the
Detroit Lions
on Tuesday. The best hire for the Ravens and Flacco would be Turner. But, based on the Ravens' track record, I wouldn't be surprised to see Hostler take over as offensive coordinator.