November, 27, 2013
Nov 27
10:00
AM ET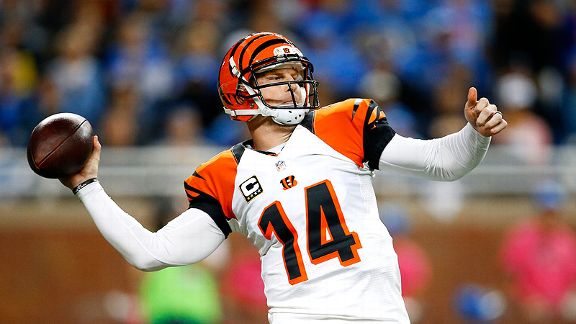 AP Photo/Rick OsentoskiThe Cincinnati Bengals are counting on Andy Dalton to return to the form that helped lead the team to a 4-1 record in October.
CINCINNATI -- Earlier this week,
Cincinnati Bengals
players like cornerback
Chris Crocker
were adamant in pointing out the urgency they need to play with throughout the
month of December
.
"It's all about winning in December," Crocker said. "Let's win out and see where the chips lay. Why can't we win out? I don't see why we can't."
If you ask some Bengals fans and most NFL analysts, they'll give you one big reason why they don't believe Cincinnati will be able to go 5-0 to close out the regular season: No. 14.
That's right. To some, the primary obstacle in the way of end-of-season perfection for the Bengals is
Andy Dalton
, the player who has quarterbacked the franchise into the playoffs each of the past two seasons, and who constantly is trying to prove himself to those who consider him just another member of a mostly failed 2011 quarterback draft class.
For that reason, as the Bengals gear up for a stretch run that could give them a first-round bye and home-field advantage in the playoffs, an important question has to be asked.
Can December Andy mimic October Andy?
As we've written countless times in the past month, October Andy was indeed a dandy. Through the first four games of that month, Dalton threw for 1,243 yards and 11 touchdowns. He also completed 67.9 percent of his passes, won four games, had a passer rating higher than 116.0 and a QBR above 83.0. He was, quite simply, brilliant. His play was so sharp back then that on the final day of the month, hours before the Bengals were set to take on the Dolphins in a road Thursday night game, he was named the AFC's Offensive Player of the Month.
And, yes, even though, comparatively speaking, he didn't look as good overall against the Dolphins and ended up taking the game-winning sack for a safety in overtime, Dalton still had a rather special performance in the 22-20 loss. Aside from not completing a touchdown pass and getting intercepted three times, he threw for 338 yards, marking the fourth straight game he had gone over the 300-yard passing mark.
Overall, October Andy was Good Andy.
But now here comes December with all of its postseason potency. If Cincinnati hopes to set itself up for the type of playoff seeding Crocker believes it deserves, then it will have to play its best ball across the next five weeks. That's especially the case for Dalton and a Bengals offense that has looked rather anemic in the past three games.
One look at Dalton's previous December stats and it doesn't appear the third-year star should have any problem showcasing even a sliver of the success that made him and his team so good about two months ago.
After a rocky December as a rookie in 2011, Dalton was among the difference-makers last season when the desperate Bengals were in need of a strong final month just to secure a playoff berth. One year after going 2-2 in the month, Dalton went 4-1 during December 2012. The lone loss came after the
Dallas Cowboys
made a field goal in the final seconds to win 20-19.
While the level of desperation may be different this December, the Bengals are looking for Dalton to thrive under similar pressure-packed moments during this one. This time around, the pressure on Dalton mainly stems from the fact that so many are fed up with his play from the past three games. In them, he's thrown eight interceptions and been sacked 10 times. Across the latter two of those games, he's completed fewer than 50 percent of his passes and hasn't posted a QBR higher than 18.0.
Weather factored heavily in Dalton's inability to move the ball in those two games. Windy conditions at Baltimore and windy and rainy conditions against the Browns sent some of his passes sailing and forced others into the hands of defensive backs.
Although weather shouldn't be a concern this weekend in San Diego (the forecast calls for partly cloudy skies and a delightful high of 71 degrees Sunday), it could be the rest of the season. Farmer's Almanac projects cold, damp conditions for all of December in the Ohio Valley. It should be noted that after Sunday's game, the Bengals are home three of the next four weeks. Their only remaining road game is at Pittsburgh.
Throughout his career, Dalton has performed better in warmer games. In games with temperatures 50 degrees or higher, he has a 20-14 record, an 85.1 passer rating and a 52.5 QBR. In games with temperatures at 49 and lower, he has a 5-5 record, a 75.4 passer rating and a 32.9 QBR. Dalton's last three sub-49-degree wins came last December, though; a sign that perhaps he's turning a corner in cold-weather contests.
Whatever the conditions and whomever their opponents are, when it comes to the next five weeks, the Bengals can only hope that Dalton turns into the same man who torched through this October.
May, 9, 2011
5/09/11
8:00
AM ET
Here are the most interesting stories Monday in the AFC North: Morning take: Sorgi could be the kind of quarterback the Bengals look for. He's an inexpensive, veteran backup who won't push rookie Andy Dalton -- or Carson Palmer providing a change of heart -- for the starting job next season.
Morning take: As the years go by, there's more and more speculation Newsome could retire and take a cushy job at the University of Alabama, his alma mater. Newsome probably wants to win at least one more championship in Baltimore before he steps down.
Morning take: With labor uncertainty, it's hard to determine who will be available as restricted and unrestricted free agents. Either way, the Browns need help patching holes and providing depth at safety and defensive end.
Morning take: It's no secret the Steelers would've liked to reunite Mike Pouncey with his twin Maurkice. But Mike Pouncey went too high, and Pittsburgh would have had to give up the farm to move up 16 spots in the first round.
August, 22, 2010
8/22/10
11:00
AM ET
Three AFC North teams played their second preseason game Saturday night.
Here are some thoughts and observations:

Pittsburgh Steelers 24, New York Giants 17
The Good
The quarterback play was solid across the board for Pittsburgh. Ben Roethlisberger made his 2010 debut and completed 6 of 8 passes for 76 yards and one interception with the first-team offense. His interception was thrown short on a deep pass intended for receiver Mike Wallace, which was Roethlisberger's only poor pass of the night. Byron Leftwich had his best preseason game, throwing for 95 yards and a touchdown. His 68-yard bomb to Wallace in the second quarter was the highlight of the game for Pittsburgh. Dennis Dixon continued his sharp preseason by completing 7-of-8 passes for 82 yards. Dixon also added 27 yards rushing, as he pushes for more opportunities with the first team.
Reserve tailback Isaac Redman continues to make a strong impression. "Red-zone" lived up to his nickname with a tough, 12-yard touchdown run in the third quarter. He recorded 34 yards on six carries and averaged 5.7 yards per attempt. The AFC North blog predicted this week that Redman will make the 53-man roster, and he continues to help his case.
The Bad
Steelers No. 1 cornerback Ike Taylor was ejected in the first quarter following his fight with New York receiver Hakeem Nicks, who also was ejected. Sure, it's the preseason, but Taylor is a veteran who should know better. Pittsburgh cannot afford to lose its top cornerback under these circumstances in the regular season.
The defense was pretty good overall, but there was one drive by New York that will get some attention in Pittsburgh's film room. Third-string quarterback Rhett Bomar marched the Giants 75 yards for a touchdown against Pittsburgh's first-team defense. The Giants were short-handed with starter Eli Manning (head) and backup Jim Sorgi (shoulder) sitting out. The defensive standards are always high in Pittsburgh, which is why the Steelers have to be disappointed that New York's third-string quarterback had a successful drive in the first half.

Baltimore Ravens 23, Washington Redskins 3
The Good
Baltimore linebacker/defensive end hybrid Terrell Suggs is rounding back into form. Suggs was consistently in Washington's backfield Saturday, recording a sack, a tackle for loss and an additional hit on the quarterback. Baltimore's pass rush looks improved, and Suggs' resurgence from a poor 2009 season is a big reason. Baltimore had four sacks and seven hits on the quarterback.
Backup quarterback Marc Bulger had his best preseason game. He completed 13 of 16 passes for 130 yards. Bulger was solid during my time in Baltimore's training camp last week, and it's clear he's solidified the No. 2 quarterback job behind starter Joe Flacco.
The Bad
Despite the low point total, the Ravens allowed 206 passing yards to Redskins quarterback Donovan McNabb. Backup Rex Grossman threw for 195 yards. Nineteen of Washington's 20 first downs were passing, and the Ravens allowed five pass plays of 23-yards or more. Baltimore doesn't have many weaknesses, but opponents will continue attacking the secondary until the Ravens prove they can cover receivers consistently.
Baltimore's offense stalled on third down. The Ravens were 1-for-10 in third-down efficiency. That number should be better with all the weapons Baltimore has on offense. But putting everything together remains a work in progress.

Cleveland Browns 17, St. Louis Rams 19
The Good
Starting quarterback Jake Delhomme continues to play well. Despite a slow start, Delhomme put up good numbers for the second straight preseason game, completing 12 of 16 passes for 127 yards and a touchdown. Delhomme handled the rainy weather conditions in Cleveland well, and was decisive. He zipped a 6-yard pass to tight end Ben Watson through good coverage for a second-quarter touchdown.
One Browns player who stood out was fullback Lawrence Vickers. He punished Rams linebackers and defensive backs. The Browns like their big package with Vickers blocking for running back Peyton Hillis, who had a team-high 12 carries for 51 yards.
The Bad
Cleveland did not take care of the football. The Browns are a bad-weather team, but sure didn't play like it. Cleveland had five turnovers (three fumbles, two interceptions) and didn't force any on defense. Browns head coach Eric Mangini despises sloppy play, and the Browns must play much smarter.
Surprisingly, the Browns' pass rush didn't show up. Cleveland had zero sacks against the shaky offensive line of the Rams, who are projected to be one of the worst teams in the NFL this season. St. Louis passed 34 times without allowing a sack.