July, 6, 2012
7/06/12
12:30
PM ET
All this week, the AFC North blog has taken a look back at the 2009 draft for each team in the division. For Friday, we'll wrap up the draft reviews with the
Pittsburgh Steelers
:
First round
:
Ziggy Hood
, DE

Third round
:
Kraig Urbik
, G,
Mike Wallace
, WR, and
Keenan Lewis
, CB
Fifth round
:
Joe Burnett
, DB,
Frank Summers
, RB
Sixth round
:
Ra'Shon Harris
, DT
Seventh round
:
A.Q. Shipley
, C, and
David Johnson
, TE
Thumbs up
: The Steelers came away with one of the steals of the 2009 draft by getting Wallace at the 84th pick. He was the 11th wide receiver taken in this draft after the likes of
Darrius Heyward-Bey
(Raiders),
Mohamed Massaquoi
(Browns),
Brian Robiskie
(Browns),
Derrick Williams
(Lions) and
Brandon Tate
(Patriots). Wallace's 3,206 yards receiving are the second-most by an active wide receiver in his first three seasons (ranks only behind
Anquan Boldin
). Hood has quietly stepped up as a starter the past two years when
Aaron Smith
was injured. Some suggest he's been a disappointment. Hood was the lowest graded 3-4 defensive end, according to Pro Football Focus. The Steelers have gotten some use out of Johnson, who could become the team's fullback this season.
Thumbs down
: Urbik was a bust for the Steelers, getting cut after one full season when he lost the backup job to
Ramon Foster
. But Urbik proved to be one of the top pass-protecting guards in the NFL after making 13 starts last season for the Bills. Maybe the Steelers gave up on Urbik too quickly. Lewis, the last of the Steelers' three third-round picks in this draft, has been a role player behind
William Gay
and
Bryant McFadden
. With those veterans gone, this year will tell a lot about Lewis and his future with the Steelers. Burnett is now playing for the CFL's Edmonton Eskimos after playing 15 games and recording no interceptions for Pittsburgh.
Hensley's grade
: B-minus. The only established starter in this draft has been Wallace, who happens to be the AFC North's best player from this draft. It's not even close. Hood has been adequate as a fill-in starter, and Lewis has yet to make a significant impact. Johnson has provided production as a seventh-round pick, which is a pleasant surprise.
February, 24, 2011
2/24/11
3:48
PM ET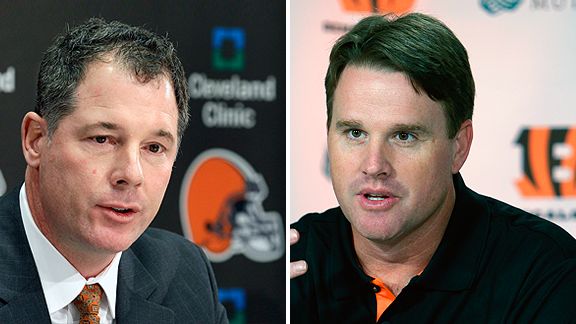 AP PhotoPat Shurmur, left, and Jay Gruden are two of the new faces in the AFC North.
The offseason has just begun, but the coaching carousel has been spinning for all four teams in the AFC North.
Often the struggling teams make significant coaching changes, and that was the case with the
Cincinnati Bengals
(4-12) and
Cleveland Browns
(5-11). But playoff teams like the
Baltimore Ravens
(12-4) and even the Super Bowl runner-up
Pittsburgh Steelers
(12-4) also experienced some turnover on their staff.
Here is a look at each change and what it means for the division:

Cleveland Browns
In:
Head coach Pat Shurmur, defensive coordinator Dick Jauron and a new staff.
Out:
Former head coach Eric Mangini, former defensive coordinator Rob Ryan and former offensive coordinator Brian Daboll.
What happened?
Mangini entered this past season on the hot seat and went 5-11 for the second consecutive year. There were a lot of philosophical differences between Mangini and Browns president Mike Holmgren. So when the team wasn't winning, it made for an easy decision to go in a different direction. Enter Shurmur, who was a surprise hire for Cleveland. Shurmur has no prior head-coaching experience and wasn't on the radar of other teams. The Browns have pretty much cleaned house and hired a new staff, which includes Jauron and veteran defensive assistant Ray Rhodes.
Analysis:
Last year, Holmgren was dumbfounded by some of the things the Browns were doing, particularly on offense. But Holmgren and Shurmur share many of the same views, which will give Holmgren more say in what goes on, and I think being on the same page is important for any team. The Browns are one of the few teams this year that will change both their offense
and
defense. Cleveland will go to a West Coast offense under Shurmur, who did not hire an offensive coordinator and will call the plays. The Browns also will switch to a 4-3 defense, which is something they haven't run since 2004. Shurmur is taking on a lot of responsibility as a rookie head coach and de facto offensive coordinator, which raises some concerns. Cleveland hopes veteran coaches like Jauron and Rhodes will take care of the defense, giving Shurmur one less thing to worry about. In terms of personnel, the Browns have a lot of work to do. They need better receivers on offense if they plan to pass more and playmakers at defensive end to run a 4-3 scheme.

Cincinnati Bengals
In:
Offensive coordinator Jay Gruden, receivers coach James Urban.
Out:
Former offensive coordinator Bob Bratkowski, former receivers coach Mike Sheppard.
What happened?
Changes were inevitable for Cincinnati's coaching staff this season. There was a lot of unrest among players internally who didn't like the scheme on offense. The Bengals entered the season with playoff aspirations but had an abysmal four-win campaign. Quarterback
Carson Palmer
was so unhappy that he demanded a trade after the season. Receivers
Terrell Owens
publicly criticized the coaching staff several times and starting tailback
Cedric Benson
said he was not returning if Bratkowski was still the offensive coordinator. Bratkowski was let go and later hired by the
Atlanta Falcons
, and Sheppard went to the
Jacksonville Jaguars
. Gruden, a former UFL head coach and the brother of former NFL coach Jon Gruden, was hired as offensive coordinator, and Urban was hired as receivers coach from the
Philadelphia Eagles
.
Analysis:
Cincinnati will be the second team in the division implementing a West Coast offense. Gruden also says he wants to make sure Cincinnati has a power running game, which is needed in this division. When the Bengals were at their best in 2009, they ran the football effectively and played tough defense. Cincinnati went away from that last year and had an awful season. How Gruden's offense translates from the UFL to the NFL remains to be seen. Cincinnati also has to handle a lot of personnel issues. Will Palmer retire? If so, who will be the new quarterback? Should the team trade
Chad Ochocinco
? Will Benson return? Cincinnati will have a very busy offseason trying to figure out these questions before putting together its new offense.
February, 23, 2011
2/23/11
7:22
AM ET
With the offseason in full swing, let's take a look at one major question facing each AFC North team as it begins preparations for the 2011 season:
CINCINNATI BENGALS
Should the Cincinnati Bengals give into Carson Palmer's trade demands?

After eight underachieving seasons in Cincinnati,
Palmer wants out
and everyone from his agent
to teammates
to his realtor believe Palmer is absolutely serious. So how should the Bengals handle this situation?
Cincinnati is consistently one of the NFL's more downtrodden franchises and has been through this before. In the past, players such as
Takeo Spikes
,
Corey Dillon
and
Chad Ochocinco
have expressed the desire to get out of Cincinnati and couldn't leave on their terms.
But Palmer's situation is different for two reasons. First, he's the franchise quarterback, the most important player on the team. Second, he's threatened to retire if he's not traded, which is something Spikes, Dillon and Ochocinco never did. These two factors up the ante tremendously in terms of putting pressure on the Bengals.
If Palmer, 31, holds firm on his demands, that leaves
Dan LeFevour
and
Jordan Palmer
as the other quarterbacks on Cincinnati's roster. The Bengals cannot start the 2011 season with either of those players under center. As more time goes by with uncertainty, it becomes more likely the Bengals must
do something to get quarterback help
in the draft or free agency.
In my opinion
, the Bengals should trade Palmer while they can still get decent value for him. Cincinnati will be rebuilding for the next two years anyway -- with or without Palmer -- and there are plenty of teams in need of a good quarterback.
But the
Bengals are standing their ground
, hoping Palmer will have a change of heart. That's a dangerous assumption with free agency potentially starting next month and the NFL draft coming in April.
BALTIMORE RAVENS

Are concerns about Baltimore Ravens quarterback Joe Flacco legit?
As we continue the subject of quarterbacks, we move over to Baltimore. Flacco is getting drilled this offseason by media and fans for not leading the Ravens past the divisional round. Baltimore entered last season as a Super Bowl favorite and by those standards the team -- and particularly the offense -- underachieved.
Now people are starting to doubt Flacco. He has struggled in the playoffs, recording just one passer rating above 90.0 in seven career postseason games. It's no secret an organization is tied into the success and development of its quarterback. But are the expectations of Flacco, in his third season, too high too soon? The answer is, yes.
Flacco has become a victim of his own early success. He advanced to the AFC title game as a rookie and has had expectations of getting to the Super Bowl thrust upon him since.
Last season, Flacco set career-highs in passing yards (3,622), touchdowns (25) and passer rating (93.6) for the Ravens (12-4). But it's the second-round loss to the
Pittsburgh Steelers
that stands out in most people's mind.
Flacco likely must
get past rival
quarterback
Ben Roethlisberger
of Pittsburgh for the Ravens to take that next step. But there is no shame in losing to the eventual AFC champions in the postseason.
Young quarterbacks such as
Matt Ryan
,
Mark Sanchez
and
Josh Freeman
are viewed in a much more favorable light in their cities. Flacco has had as much career success and put up equal or better numbers than all of them. He deserves a break.
PITTSBURGH STEELERS
What will the Steelers do at cornerback?

As their Super Bowl XLV loss to the
Green Bay Packers
proved, the Steelers must add quality depth in the secondary. The Packers,
New England Patriots
and
New Orleans Saints
provide the blueprint of how to beat Pittsburgh's vaunted defense: spread the Steelers out with multiple receivers.
The Steelers simply don't have enough good cornerbacks to defend three- and four-receiver sets. This also takes Pittsburgh's strongest players-- its linebackers -- off the field in favor of players such as
William Gay
and
Anthony Madison
.
Now that linebacker
LaMarr Woodley
received
the franchise tag
, veteran cornerback and pending free agent
Ike Taylor
is Pittsburgh's No. 1 priority. Taylor is Pittsburgh's best corner, but he's also 31 and the Steelers must gauge how much money and how many years to give to him.
The draft will also be important. Previous draft picks at corner such as
Keenan Lewis
,
Joe Burnett
and
Crezdon Butler
have not panned out for the Steelers, who typically address this position in the middle rounds. It's time Pittsburgh invests a high draft pick at this position to increase the probability of finding a future starter.
Do not be surprised if Pittsburgh retains Taylor in free agency and spends its first- or second-round pick on a cornerback in April to fix this issue.
CLEVELAND BROWNS
Are the Cleveland Browns fine without an offensive coordinator?

Pat Shurmur of the Browns has a lot on his plate this year. Not only is he a first-time head coach, but Shurmur is also taking over the role as offensive coordinator in his first season with Cleveland.
Is this a good idea?
After a brief search, the Browns decided to leave the position vacant. Shurmur is a former offensive coordinator for the
St. Louis Rams
and didn't want to give up those responsibilities after becoming a head coach.
A head coach's first responsibility is to manage all 53 players. But Shurmur clearly will give more special attention to his players on offense. That's a major reason the Browns hired experienced defensive coaches such as Dick Jauron and Ray Rhodes to manage the other side of the football.
President Mike Holmgren and general manager Tom Heckert have both done a good job so far in Cleveland. But I have reservations about creating this type of setup with a rookie head coach on a rebuilding team.
September, 4, 2010
9/04/10
6:22
PM ET
Check
here
for a full list of Pittsburgh's roster moves.

Biggest surprise:
Although it was somewhat expected this week,
Justin Hartwig
's release is the biggest for the Steelers. There is no doubt Hartwig was one of the team's top 53 players, but he was released after losing his job to first-round pick
Maurkice Pouncey
. Hartwig also made starter money, an estimated $2 million. Kick returner
Stefan Logan
was solid last year, but his lack of versatility made him expendable. Pittsburgh will be looking for a new kick returner as a result. Both rookie receivers,
Antonio Brown
and
Emmanuel Sanders
, made the team. Most projected Pittsburgh would only keep one and try to get the other on the practice squad.
No-brainers:
Running back
Justin Vincent
showed a few flashes, particularly early in the preseason. But a crowded group of running backs in Pittsburgh made Vincent expendable. There were also a pair of recent draft picks who never panned out in cornerback
Joe Burnett
and offensive guard
Kraig Urbik
. Because of need, both players had chances to contribute to their respective positions but never developed. Rookie defensive lineman
Doug Worthington
is considered a project, and he's a candidate for the practice squad.
What's next:
Pittsburgh's veteran-laden roster is pretty much set. It doesn't appear the team will make any major moves at quarterback following
Byron Leftwich
's injury. But the team could search the waiver wire for depth on the offensive line, which was inconsistent this preseason. With
Frank Summers
' release, the team may also be in search for a fullback.
June, 22, 2010
6/22/10
8:00
AM ET
Here are the most interesting stories Tuesday in the AFC North:
Morning take: But it's still a good sign the Bengals are open to negotiating with younger players. Last week, the AFC North blog reported Cincinnati also began talks with fourth-year cornerback Johnathan Joseph.
Morning take: What are you waiting for? Click the link and find out, silly.
Morning take: Grubbs remains a stable force on Baltimore's offensive line. He's an underrated player in my book.
Morning take: I like the idea of bringing back veteran corner Bryant McFadden. But the Steelers still need one of the younger players like Keenan Lewis or Joe Burnett to step up for depth purposes.
June, 1, 2010
6/01/10
2:00
PM ET
PITTSBURGH -- The Steelers took the practice field Tuesday with
Ben Roethlisberger
's much-anticipated return.
Here are several notes and observations:
Roethlisberger played with the first team and he looked pretty good. He even looked slimmer than he did earlier this offseason. We will have more on Roethlisberger later in the AFC North blog.
Veteran quarterback Byron Leftwich did not participate in practice -- he was out with an excused absence. It's unknown how the Steelers would have divided the snaps had Leftwich been available, because he has run the first team so far. At some point that will be something the Steelers have to figure out.
Rashard Mendenhall ran the ball well today. I try not to overrate football in shorts -- especially with running backs because there is no contact -- but Mendenhall looks very comfortable in his role as the go-to guy.
Watch out for second-year cornerback Keenan Lewis. He's big and he's fast, which always looks impressive this time of year. Lewis will have to make a lot more plays in camps this year if he wants to earn playing time. But at the very least, he looks the part physically. Lewis will compete with William Gay and Joe Burnett for the nickel and dime roles.
December, 10, 2009
12/10/09
8:34
PM ET
CLEVELAND -- Pittsburgh Steelers coach Mike Tomlin said he would look at roster changes, particularly on defense, for Thursday's game against the Browns.

It turns out it didn't happen until the second series.

Everything was status quo for Pittsburgh's 11 defensive starters on the first series. But cornerback William Gay was replaced by rookie Joe Burnett in the second series and will probably be rotated throughout the game.

Burnett received playing time towards the end of last week's loss to the Oakland Raiders when Gay suffered a concussion.
December, 7, 2009
12/07/09
1:20
PM ET

PITTSBURGH -- To break a four-game losing streak, Steelers (6-6) head coach Mike Tomlin
promised to make changes
in the starting lineup for Thursday's game against the
Cleveland Browns
(1-11).
Tomlin added that he will be looking at all three phases up until game time.
So what are the potential lineup changes? After giving up three touchdowns in the fourth quarter against the
Oakland Raiders
, I anticipate most of them coming on defense.
Here are some possibilities:
CB William Gay replaced by Joe Burnett
Why:
This is the easiest to predict because Gay (concussion) is injured and unlikely to play on a short week. Tomlin said Burnett likely will be the starter if Gay cannot play.
Keenan Lewis
also is in the mix. But even if Gay is available, I think he's skating on thin ice. He has struggled in recent weeks in coverage.
S Ryan Clark/Tyrone Carter replaced by Ryan Mundy
Why:
Tomlin could have an interesting decision at safety with Mundy waiting in the wings. He's a young player the coaching staff has liked since training camp. And with Clark playing poorly and Carter limited as a playmaker, Mundy could start in place of either player. It's really a matter of who Tomlin feels needs to be replaced.
LB Lawrence Timmons replaced by Keyaron Fox
Why:
Fox replaced Timmons earlier this season when he was hurt, and Pittsburgh played some of its best defense of the season. Tomlin likely remembers and could look to Fox again. Timmons has been at his best as a specialty player who can come off the bench and cover a tight end or rush the passer. But, whether it's injuries or performances, he has struggled at times as an every down player.
CB Ike Taylor replaced by Keenan Lewis
Why:
Could Tomlin really go with two rookie cornerbacks against Cleveland? I don't think so. Taylor has allowed some big plays and struggled to hold on to potential interceptions. But he's still the team's best cover cornerback, and it would be a huge risk to pull Taylor from the starting lineup.
Also on the injury front, receiver
Hines Ward
injured his hamstring late against the Oakland Raiders and is "very questionable." Rookie receiver
Mike Wallace
likely would start if Ward cannot go. Safety
Troy Polamalu
(knee) also is not expected to play Thursday.
December, 6, 2009
12/06/09
7:37
PM ET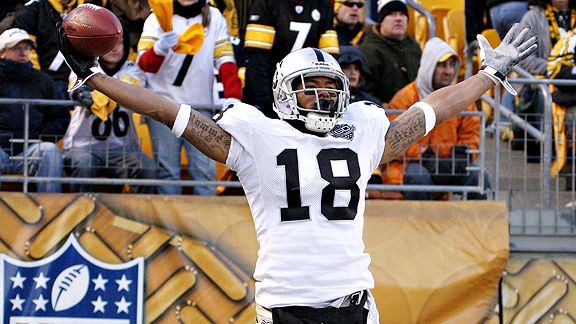 Gregory Shamus/Getty ImagesRaiders wide receiver Louis Murphy's touchdown grab in the fourth quarter against the Steelers won the game -- and might have cost the Steelers a chance at the postseason.
PITTSBURGH -- Months from now when we look back at the 2009
Pittsburgh Steelers
, Sunday's fourth-quarter meltdown against the
Oakland Raiders
could turn out to be the defining moment of their season.
Pittsburgh's defense, which entered Sunday ranked No. 3 in the NFL, gave up three touchdown drives in the final 8:21 of the fourth quarter during a
27-24 loss to the Raiders
(4-8), the Steelers' fourth straight defeat.
Defensive players were completely befuddled in the locker room afterward.
Cornerback
Ike Taylor
, who was beaten for a 75-yard touchdown catch by Oakland receiver
Louis Murphy
in the final quarter, wasn't sure if he should have had backside help on the play. Although there wasn't any, Steelers head coach Mike Tomlin said that should have been the case.
"I mean, if the coach said it, it is what it is," Taylor said. "But it's tough having the receiver with a two-way [route] on a corner with that much field, inside or out."
Safety
Ryan Mundy
sat at his locker with a blank stare on his face. Mundy had a big personal foul penalty on a late hit that helped extend Oakland's game-winning drive.
"I'm just trying to make a play for my team, that's all," Mundy said. "I felt like I was there at the appropriate amount of time. You got to accept the referee's call and you can't let that affect you."
Steelers rookie cornerback
Joe Burnett
also dropped an easy interception when the ball went right through his hands. Five plays later, Raiders quarterback
Bruce Gradkowski
(308 yards, three touchdowns) connected with Murphy for the game-winning 11-yard touchdown.
"If I get 10 more [chances to make that catch], I'll make it 10 times," Burnett said of the key drop. "That was one where I wish I could have that opportunity back. That normally doesn't happen to me."
It was that kind of day for Pittsburgh.
In fact, it's been that kind of
season
for the Steelers (6-6).
Blowing fourth-quarter leads is nothing new. The Steelers have blown leads in the final quarter in all six losses. Sunday's game against Oakland was just the most extreme case, considering it was at home against a bad team, and the Steelers were desperate for a victory.
Despite Tomlin's claim that Pittsburgh would "unleash hell" in December, the Steelers were flat throughout the game and didn't play with much urgency until late.
Pittsburgh let the Raiders hang around in the first half. Quarterback
Ben Roethlisberger
, who returned after missing one game with a concussion, failed to get a fourth-down conversion inside Oakland's 5-yard line. He also threw an interception in Oakland's end zone to thwart another potential scoring drive in the first half. The Steelers led 10-6 at intermission.
When the reigning Super Bowl champions failed to deliver a knockout blow early, the Raiders gradually gained more confidence at Heinz Field, particularly when they realized they were still in the game during a frantic fourth quarter.
In the NFL, the ball can bounce in strange ways in the final quarter, and Oakland made several tremendous plays offensively. Roethlisberger, who threw for 278 yards, two touchdowns and an interception, led Pittsburgh's offense to two scoring drives that gave the Steelers the lead. But the defense couldn't hold down the stretch.
"We didn't make
a
play to win that football game," Tomlin said.
The loss to Oakland may have sealed the Steelers' fate this season.
At the very least, Pittsburgh has to win its final four games to finish 10-6 with a shot at the playoffs. But the way the Steelers are playing, suddenly going on a four-game winning streak is a very tall task.
And 10 wins doesn't even guarantee Pittsburgh a chance to defend its championship. The Steelers probably will need a lot of help.
The
Denver Broncos
(8-4) and
Jacksonville Jaguars
(7-5) currently hold the two wild cards in the AFC. The
Baltimore Ravens
(6-5) also have a chance to help their chances Monday night in a key game against the
Green Bay Packers
(7-4). The
Miami Dolphins
(6-6) and
New York Jets
(6-6) are in the mix, making for a crowded field where a lot has to go right for Pittsburgh in the final month.
If the Steelers don't make the playoffs, it would be one of the most disappointing seasons for Pittsburgh in recent memory. How they found themselves in that position would be a question the Steelers would ponder all offseason.
Pittsburgh has a talented roster that was good enough to beat the Broncos,
San Diego Chargers
(9-3) and
Minnesota Vikings
(10-2). But the Steelers also were inconsistent enough to lose to the lowly Raiders and
Kansas City Chiefs
(3-9) during a four-game skid.
"It's not about those teams, it's about us," Steelers defensive back
Deshea Townsend
said. "Every time we go out to play, it's about us. If we play the ball that we know we're capable of playing, we have a chance to win every game. But when we don't, we find ways to lose."
July, 21, 2009
7/21/09
12:00
PM ET
Posted by ESPN.com's James Walker
Baltimore Ravens/McDaniel College: Westminster, Md.
| | |
| --- | --- |
| | |
| | Al Messerschmidt/Getty Images |
| | Baltimore running back Le'Ron McClain might not get as many carries this season. |
Campfires:
Coming off an appearance in the AFC Championship Game, Baltimore is a veteran-laden team set at a lot of positions. So there aren't many training camp battles to look forward to.
One of the few open competitions is the battle to replace Bart Scott, involving young linebackers Tavares Gooden and Antwan Barnes. Gooden, with his energy and athleticism, is the early favorite but will have to solidify the starting job with a good camp this summer.
Although the Ravens' coaching staff has downplayed it this offseason, there seems to be a shift in the backfield toward giving more carries to the tailbacks -- Ray Rice and Willis McGahee -- and fewer carries to Le'Ron McClain, who is a natural fullback. McClain was the hot hand last year and led Baltimore in rushing with 902 yards, while Rice and McGahee were in and out of the lineup with injuries. But McClain only averaged 3.9 yards per carry and it appears Baltimore is hoping for more big rushing plays from its tailbacks. But similar to last year, all three components of the "three-headed monster" will get their share of opportunities.
Camp will be a downer if ... the Ravens fail to find a replacement for retired receiver Derrick Mason. Baltimore already had the tall task of finding a young receiver to fill the No. 3 option. Mason's surprise announcement this month leaves the team in search of a top receiver. The team also plans to meet with Mason to see if it's possible he could have a change of heart.
Baltimore could stay in-house and hope Mark Clayton develops into a No. 1 receiver this season, which is a risky proposition. Or the Ravens could look outside at a veteran free agent such as Marvin Harrison, who is similar to Mason in terms of skills. Making a trade for a receiver such as Anquan Boldin or Brandon Marshall doesn't appear likely, and the team recently signed veteran Drew Bennett to help with depth.
The Ravens have high aspirations this year and a starting lineup of Clayton and possibly Demetrius Williams isn't good enough to win a Super Bowl this season. Baltimore doesn't have many glaring weaknesses, but the hole at receiver could become a major issue if it is not addressed.
Camp will be a success if ... rookie right tackle Michael Oher adjusts to the NFL game quickly. Oher has a major responsibility of protecting one of the edges for second-year quarterback Joe Flacco.
Baltimore traded up in the first round to draft Oher, which shows how much the team likes the rookie from Mississippi. Barring injury, Oher will be the Week 1 starter at right tackle. So the Ravens coaching staff would love to see continual progress from the rookie during training camp.
Getting a kick: This year could mark the first time in franchise history that Matt Stover is not Baltimore's kicker. The 18-year veteran who has been with the team from its inception in 1996 was not re-signed by the Ravens because of declining leg strength on kickoffs.
The Ravens kept an additional kicker on their roster for most of last season to help with kickoffs, while Stover handled field goals and extra points. But Baltimore doesn't want to do that again, so they have Steve Hauschka and rookie Graham Gano battling it out for both duties.
Neither kicker got off to a great start this offseason. So Stover remains on
call in case Hauschka or Gano do not perform well in the preseason.
---
Cincinnati Bengals/Georgetown College: Georgetown, Ky.
| | |
| --- | --- |
| | |
| | AP Photo/David Kohl |
| | Cincinnati linebacker Rey Maualuga will be given every opportunity to compete for a starting job. |
Campfires:
When a team is coming off a four-win season, naturally there are a lot of interesting camp battles to look forward to the following year.
Perhaps the most compelling battle will be at outside linebacker between incumbent Rashad Jeanty and hotshot rookie Rey Maualuga, whom the Bengals were thrilled to land in the second round. Maualuga is a natural inside linebacker, but that position is already filled by team leader Dhani Jones. So Cincinnati's coaching staff is giving the former USC linebacker every opportunity to see the field, and Maualuga's best chance is to beat out Jeanty in training camp.
Also look for an interesting three-way competition at center between Kyle Cook, Dan Santucci and rookie Jonathan Luigs, and an interesting battle at safety between veteran free-agent signing Roy Williams and the underrated Chinedum Ndukwe.
Camp will be a downer if ... the offensive line fails to get it together. There are expected to be four players at new positions on the offensive line this season. That means developing continuity will be vital during training camp.
First-round pick Andre Smith comes in with a gaudy résumé and is expected to start at right tackle. The Bengals also will have a new center between the aforementioned Cook, Santucci or Luigs. Andrew Whitworth is moving from left guard to left tackle this season, and Nate Livings probably will take Whitworth's place at guard. That is a lot of new faces in new places for Cincinnati.
Camp will be a success if ... quarterback Carson Palmer returns to form and remains healthy. It sounds simple, but two of the past four years Palmer has suffered season-ending injuries.
Last year alone, Palmer had his nose broken in the preseason and later suffered an elbow injury that forced him to shut it down for the year. With Palmer approaching 30 in December and Cincinnati's poor performance on the offensive line the past couple of seasons, getting Palmer to the regular season without a scratch should not be taken for granted.
Show and prove: Cincinnati's defense finished 12th in the NFL last season despite little help or points scored from its offense.
Defensive coordinator Mike Zimmer has done a tremendous job with this scrappy group, and now that the Bengals expect to score points again, there is some talk of Cincinnati's defense becoming a top 10 group. With good, young players such as linebacker Keith Rivers, defensive tackle Domata Peko and cornerback Johnathan Joseph, Cincinnati's defense will be out to prove that last year was not a fluke.
July, 2, 2009
7/02/09
4:00
PM ET
Posted by ESPN.com's James Walker
Let's see what's on the minds of AFC North readers this week.

Ryan from Kalamazoo, Mich., writes: James, the Pittsburgh Steelers special teams have been shaky for several seasons; any reason to expect different this season?
James Walker: Yes, there are several reasons, Ryan. The first reason is Pittsburgh punter Daniel Sepulveda is healthy again. If he returns to form, that would be a huge boost for the Steelers after just getting by on special teams last season. Second, the Steelers drafted several players who are versatile enough to return kicks, such as receiver Mike Wallace and cornerback Joe Burnett. Therefore, if the team doesn't find a better return game this year it won't be for a lack of effort.
---
Warren Johnson from Baltimore writes: I have not heard a lot being said of the open kicker spot for the Baltimore Ravens. Is this Graham Gano's job to lose, or is there still a chance we will see Matt Stover before the end of the summer?
James Walker: Gano and Steve Hauschka are being given every chance to win the job, while Stover remains on call. Ideally, the Ravens hope one of the two kickers currently on the roster wins the job in training camp, because Baltimore doesn't want to spend (waste?) two roster spots on a kicker and a kickoff specialist. Stover is 41 and struggles on deep kickoffs, which is ultimately why he wasn't brought back this year. Like most teams, the Ravens prefer both duties to be filled by one player.
---
Austin Blunt from Charleston, SC, writes: James, please save and letters or quotes that say the Cincinnati Bengals will finish better than the Ravens. They will be great for the feature you run at the end of the year that has all of the dumb stuff Bengals and Browns fans were saying during the offseason.
James Walker: No problem, Austin. I run a very accountable AFC North blog. Our community is extremely knowledgeable and rightfully holds me to a high standard. So it's only natural that I do the same with my fellow bloggers.
---
Nick from Cincinnati, Ohio, writes: With the Bengals drafting inside linebacker Rey Maualuga, will he sit behind starter Dhani Jones or be moved to left outside linebacker so he can start?
James Walker: Because Jones is one of the most important pieces to Cincinnati's defense, the Bengals have worked Maualuga primarily as an outside linebacker this offseason. Although he may return to his natural position of middle linebacker later in his career, Maualuga's best chance to see the field as a rookie is on the outside. There is really no left or right outside linebacker in the NFL. It's more so strongside and weakside as the tight end shifts back and forth. The Bengals have been playing Maualuga on the strong side, opposite of Keith Rivers. The problem is Maualuga may struggle in coverage when he faces tight ends and running backs in open space.
May, 20, 2009
5/20/09
11:21
AM ET
| | |
| --- | --- |
| | |
| | Joe Robbins/Getty Images |
| | Brady Quinn and Derek Anderson will compete for the starting quarterback job during Cleveland's training camp. |
Posted by ESPN.com's James Walker
As the weather heats up, it's time to start looking ahead to this summer's NFL training camps.
The AFC North should be very interesting as several key position battles could make or break a team's 2009 season. Here is a look at the seven most intriguing competitions from around the division:
7. Cornerback: William Gay vs. field
Team: Pittsburgh Steelers
Why it's important: With a veteran-laden team that returns 20 of 22 starters, Gay is the only projected starter in any real danger of losing his job in training camp. All indications are that the job is his to lose. The Steelers signed veteran cornerback Keiwan Ratliff and drafted rookies Keenan Lewis and Joe Burnett to provide depth and possibly be there in case Gay falters. But the organization has shown a lot of confidence in Gay since last season when he filled in for former Steeler Bryant McFadden, who signed a two-year deal with the Arizona Cardinals. Gay worked exclusively with the first team in Pittsburgh's full-squad minicamp.
Early favorite: Gay
6. Kicker: Steve Hauschka vs. Graham Gano
Team: Baltimore Ravens
Why it's important: According to Ravens coach John Harbaugh, this kicking competition in Baltimore is going to be "very interesting." Perhaps Harbaugh, a former special-teams coach, is overhyping this battle. But what is interesting is Baltimore is looking for just its second full-time kicker in franchise history. The position was held since the Ravens' inception in 1996 by veteran kicker Matt Stover. But Stover's age (41) finally started to show last season and opened the door for Hauschka and Gano to compete this year. Both young kickers have strong legs, but so far this offseason Hauschka and Gano haven't displayed Stover-type accuracy. If neither kicker comes into his own this summer, things might get "very interesting," as Harbaugh promised.
Early favorite: Even
5. Center: Alex Mack vs. Hank Fraley
Team: Cleveland Browns
Why it's important: This is a classic battle between a first-round pick and an experienced veteran who's started for winning teams and played in the postseason. Mack comes to Cleveland with lofty credentials and expectations. He's strong, smart and expected to be a starter from Day 1. The only person standing in his way is Fraley, 31, who's done a solid job in his two stops with the Browns and Philadelphia Eagles. That Cleveland's new regime, led by coach Eric Mangini, took a center in the first round is a sign that Mack is the favorite to win the job. But if Fraley finds a way to hold the rookie off in training camp, Mack has the versatility to play guard, most likely on the right side.
Early favorite: Mack
4. Linebacker: Rey Maualuga vs. Brandon Johnson
Team: Cincinnati Bengals
Why it's important: Cincinnati's defense, which was ranked No. 12 in 2008, is trying to take another step forward. In order to do this, dynamic linebacker play will be crucial. Maualuga fell to the Bengals in the second round because of several off-the-field questions surrounding the former USC linebacker. But no one questions that Maualuga is a first-round talent on the field. The issue with the Bengals is that Maualuga, a natural middle linebacker, cannot supplant leading tackler and defensive leader Dhani Jones this year. So Maualuga needs to supplant Johnson, the outside linebacker, if he wants to play right away as a rookie. Johnson is no slouch, either. He recorded 83 tackles, two interceptions and came on late last season. Rashad Jeanty, who started 15 games last year, also is a possibility at the other outside linebacker spot. Regardless, the trio of Jones, Keith Rivers and Maualuga/Johnson/Jeanty should make for a solid group of linebackers in Cincinnati.
Early favorite: Even

3. No. 2 receiver
Team: Browns
Why it's important: Someone needs to help No. 1 receiver Braylon Edwards. The long list of candidates includes veterans David Patten, Mike Furrey, and rookies Brian Robiskie and Mohamed Massaquoi. Donte' Stallworth also remains on the roster. But based on Cleveland's roster moves, it appears the Browns expect Stallworth's legal situation to keep him out this season. With the loss of former Pro Bowl tight end Kellen Winslow Jr., Edwards is Cleveland's only real receiving threat and he likely will see a lot of double teams. That will provide plenty of opportunities for Patten, Furrey, Robiskie or Massaquoi to make plays. But it remains to be seen if these players have the ability to step up.
Early favorites: Patten and Robiskie
2. ILB: Tavares Gooden vs. Jameel McClain
Team: Ravens
Why it's important: The "bodyguard" role in Baltimore's defense is underrated but very important. There is a reason safety Ed Reed and linebackers Ray Lewis and Terrell Suggs are able to fly around the field and make plays. It's because the inside linebacker opposite Lewis, formerly the ultra-physical Bart Scott, takes on fullbacks and pulling offensive linemen at every chance. Now the Ravens are looking at Gooden or McClain as Scott's replacement. Both young players have good athleticism. But ultimately, the player who is the most physical will win this job. Gooden opened veteran minicamp as the starter, so you have to give him the edge heading into this summer.
Early favorite: Gooden
1. QB: Brady Quinn vs. Derek Anderson
Team: Browns
Why it's important: The Mangini era in Cleveland, in large part, will depend on his decision at quarterback. An antsy fan base in Cleveland is tired of waiting for a winner and will not give Mangini four years to turn it around. Therefore, the best thing Mangini can do is figure out quickly which player is the better quarterback. It's been three seasons and the Browns still haven't settled this debate. Anderson showed flashes with his Pro Bowl campaign in 2007, but his struggles last year left many questions. Quinn, a former first-round pick, looked up and down in limited playing time. Ironically, the two never directly competed against each other -- until now. According to the coaching staff, both players will be given a fair opportunity. But Cleveland's offensive system under Mangini is being built around a power running game and an efficient and conservative passing game, which seems to favor Quinn.
Early favorite: Quinn
April, 1, 2009
4/01/09
5:00
PM ET
Posted by ESPN.com's James Walker
Here are the latest developments Wednesday in the AFC North: