November, 27, 2013
Nov 27
10:00
AM ET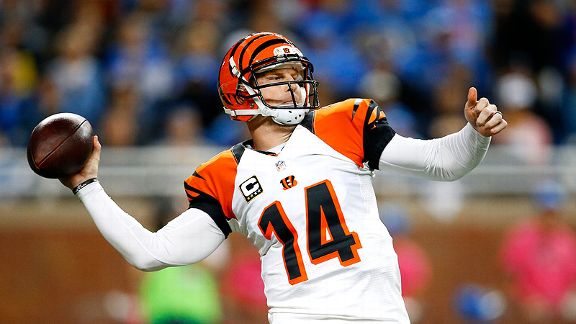 AP Photo/Rick OsentoskiThe Cincinnati Bengals are counting on Andy Dalton to return to the form that helped lead the team to a 4-1 record in October.
CINCINNATI -- Earlier this week,
Cincinnati Bengals
players like cornerback
Chris Crocker
were adamant in pointing out the urgency they need to play with throughout the
month of December
.
"It's all about winning in December," Crocker said. "Let's win out and see where the chips lay. Why can't we win out? I don't see why we can't."
If you ask some Bengals fans and most NFL analysts, they'll give you one big reason why they don't believe Cincinnati will be able to go 5-0 to close out the regular season: No. 14.
That's right. To some, the primary obstacle in the way of end-of-season perfection for the Bengals is
Andy Dalton
, the player who has quarterbacked the franchise into the playoffs each of the past two seasons, and who constantly is trying to prove himself to those who consider him just another member of a mostly failed 2011 quarterback draft class.
For that reason, as the Bengals gear up for a stretch run that could give them a first-round bye and home-field advantage in the playoffs, an important question has to be asked.
Can December Andy mimic October Andy?
As we've written countless times in the past month, October Andy was indeed a dandy. Through the first four games of that month, Dalton threw for 1,243 yards and 11 touchdowns. He also completed 67.9 percent of his passes, won four games, had a passer rating higher than 116.0 and a QBR above 83.0. He was, quite simply, brilliant. His play was so sharp back then that on the final day of the month, hours before the Bengals were set to take on the Dolphins in a road Thursday night game, he was named the AFC's Offensive Player of the Month.
And, yes, even though, comparatively speaking, he didn't look as good overall against the Dolphins and ended up taking the game-winning sack for a safety in overtime, Dalton still had a rather special performance in the 22-20 loss. Aside from not completing a touchdown pass and getting intercepted three times, he threw for 338 yards, marking the fourth straight game he had gone over the 300-yard passing mark.
Overall, October Andy was Good Andy.
But now here comes December with all of its postseason potency. If Cincinnati hopes to set itself up for the type of playoff seeding Crocker believes it deserves, then it will have to play its best ball across the next five weeks. That's especially the case for Dalton and a Bengals offense that has looked rather anemic in the past three games.
One look at Dalton's previous December stats and it doesn't appear the third-year star should have any problem showcasing even a sliver of the success that made him and his team so good about two months ago.
After a rocky December as a rookie in 2011, Dalton was among the difference-makers last season when the desperate Bengals were in need of a strong final month just to secure a playoff berth. One year after going 2-2 in the month, Dalton went 4-1 during December 2012. The lone loss came after the
Dallas Cowboys
made a field goal in the final seconds to win 20-19.
While the level of desperation may be different this December, the Bengals are looking for Dalton to thrive under similar pressure-packed moments during this one. This time around, the pressure on Dalton mainly stems from the fact that so many are fed up with his play from the past three games. In them, he's thrown eight interceptions and been sacked 10 times. Across the latter two of those games, he's completed fewer than 50 percent of his passes and hasn't posted a QBR higher than 18.0.
Weather factored heavily in Dalton's inability to move the ball in those two games. Windy conditions at Baltimore and windy and rainy conditions against the Browns sent some of his passes sailing and forced others into the hands of defensive backs.
Although weather shouldn't be a concern this weekend in San Diego (the forecast calls for partly cloudy skies and a delightful high of 71 degrees Sunday), it could be the rest of the season. Farmer's Almanac projects cold, damp conditions for all of December in the Ohio Valley. It should be noted that after Sunday's game, the Bengals are home three of the next four weeks. Their only remaining road game is at Pittsburgh.
Throughout his career, Dalton has performed better in warmer games. In games with temperatures 50 degrees or higher, he has a 20-14 record, an 85.1 passer rating and a 52.5 QBR. In games with temperatures at 49 and lower, he has a 5-5 record, a 75.4 passer rating and a 32.9 QBR. Dalton's last three sub-49-degree wins came last December, though; a sign that perhaps he's turning a corner in cold-weather contests.
Whatever the conditions and whomever their opponents are, when it comes to the next five weeks, the Bengals can only hope that Dalton turns into the same man who torched through this October.
May, 29, 2013
May 29
2:05
PM ET
In a story that refuses to die,
Baltimore Ravens
quarterback
Joe Flacco
told the
team's official website
on Wednesday that he disagrees with his agent's comments that the team was "dumb" not to sign him before the 2012 season. His agent, Joe Linta, has already apologized to the Ravens if they were offended by his use of the word "dumb."

Story over, right? Well, it would be probably dumb to think that. In 2016, Flacco's salary-cap number jumps to $28.55 million, which means the sides will be at the negotiating table once again in three years.
Will Linta's comments have any effect on those future talks? Flacco doesn't believe so.
"I think the good thing about the whole process was that when we were negotiating the deal, there was always respect," Flacco said. "I had respect for them with the deal they offered, and I think they respected my decision to not take it. I think throughout the whole process, it's been very good."
I really can't see Linta's comments playing any role in the next round of talks. The Ravens are smart enough to know that Linta was defending Flacco against assertions that he was being greedy for signing his $120 million deal, and Linta is smart enough to know he should have chosen his words better in doing so.
In the end, Flacco's play on the field will dictate what happens in 2016. If he continues his hot streak from this past postseason, Flacco will again receive a big payday from the Ravens. If he doesn't, that's when it will get interesting, because the Ravens won't be able to carry Flacco at that salary-cap number. To think anything else will be a factor is, well, just dumb.
May, 27, 2013
May 27
10:00
AM ET
The agent for
Joe Flacco
criticized the
Baltimore Ravens
for
not signing the quarterback
before the 2012 season.
[+] Enlarge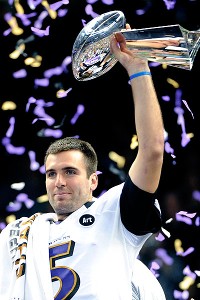 Robert Deutsch/USA TODAY SportsBy winning the Lombardi Trophy, QB Joe Flacco forced the Ravens to pay up with a lucrative deal.
"I've never in my life seen a dumber move," agent Joe Linta told
USA Today Sports
.
Was it the wrong move financially to let Flacco play out the final year of his rookie contract? Absolutely. Linta estimates the Ravens would've saved $35 million if they hadn't waited.
Was it a dumb move by the Ravens? Not necessarily. There's something to be said for dangling a big pay day in front of an athlete to get the best possible performance. The Ravens have enjoyed putting the franchise tags on players because it puts pressure on them to play well since it's essentially a one-year contract. Likewise, the Ravens put that same pressure on Flacco by letting him play his contract year.
Baltimore was really in a no-lose situation with Flacco. The only way the Ravens were either going to have to pay him more than $16 million per season, the offer before the 2012 season, was if Flacco had a Pro Bowl season or if he led them to the Super Bowl. Up until last season, Flacco had failed to do either one.
Let's put it this way: If Flacco hadn't completed that miracle throw to
Jacoby Jones
in the AFC divisional playoff game in Denver, the Ravens probably could've signed him to a deal that averaged $16 million per season. Baltimore wouldn't have had to pay more for Flacco given his solid but far from spectacular regular season (3,817 yards passing with 22 touchdowns and 10 interceptions).
But Flacco guided the Ravens to the Super Bowl title with a postseason for the ages and became the Super Bowl Most Valuable Player. The Ravens had little choice but to sign him to a deal that averaged $20.1 million per season ($120.6 million over six years). Yes, Flacco made the Ravens pay for not signing him before the season. But don't forget that the Ravens got what they wanted in the end, too, and that's their first Lombardi Trophy in 12 years. If you told Ravens owner Steve Bisciotti that it would cost him an additional $35 million to win the Super Bowl, my guess is he wouldn't think twice in opening up the check book.
I understand Linta's reasoning for what he said. Some fans think Flacco was selfish for signing that then-record deal when the Ravens lacked salary-cap room and had to part ways with wide receiver
Anquan Boldin
and safety
Ed Reed
. Linta was defending Flacco when he explained that the Ravens put themselves in this situation by not signing him earlier. They were unwilling to add $1 million more to the final year of that deal, according to Linta.
"So I have no sympathy," Linta said. "None."
Linta could've handled the situation more deftly. He should've made the point that Flacco actually helped out the Ravens' salary-cap situation by agreeing to a long-term deal rather than play under the franchise tag. His salary-cap figure for 2013 is $6.8 million. Instead, Linta chose to gloat.
The negotiations over the past two years between the Ravens and Linta were always regarded as cordial and professional. Let's see if that's the same tone when the sides will have to rework Flacco's deal in 2016 when his cap number balloons to $28.55 million.
May, 26, 2013
May 26
12:15
PM ET
By
ESPN.com staff
| ESPN.com
Joe Flacco
's agent told USA Today Sports that the
Baltimore Ravens
made a dumb move by not signing the quarterback before last season.
Flacco signed a six-year, $120.6 million extension this offseason after helping the Ravens win the Super Bowl. He has been criticized by some Ravens fans for the contract after Baltimore purged its roster of several high-priced veterans after re-signing its franchise quarterback.
Agent Joe Linta, however, told USA Today he has "no sympathy" for the Ravens, who could have signed his client to a much-more cap-friendly contract last year.
Read more
.
February, 7, 2013
Feb 7
11:00
AM ET

Joe Flacco's agent Joe Linta joins NFL Live to discuss why the Super Bowl MVP should be one of the highest-paid players in the NFL and the current state of contract negotiations with Baltimore.
March, 17, 2012
3/17/12
8:00
AM ET
A look at what's happening around the AFC North:
BENGALS
: The team has yet to sign anyone after seven visits with players: Defensive linemen
Kendall Langford
(Dolphins),
Andre Fluellen
(Lions) and
Jamaal Anderson
(Colts); guard
Jacob Bell
(Rams); cornerbacks
Aaron Ross
(Giants),
Tracy Porter
(Saints) and
Jason Allen
(Texans). According to the
Cincinnati Enquirer
, the visits with Ross and Langford "went well," but both left without contracts. Langford is visiting the Rams and Ross is meeting with the Redskins. ... The Bengals have lost four players in free agency including both starting guards from last season (
Nate Livings
went to Dallas and
Mike McGlynn
joined Indianapolis). ... Safety
Reggie Nelson
is visiting the
New York Jets
.
Hensley's slant
: The Bengals will inevitably sign a defensive lineman and a cornerback, but they should put equal importance in upgrading at least one of the two open guard spots.
BROWNS
: The Browns aren't interested in a reunion with former first-round pick
Kamerion Wimbley
, according to the
Cleveland Plain Dealer
. The Raiders cut Wimbley to avoid guaranteeing him $17.5 million over the next three seasons. ... The Browns officially announced the re-signing of cornerback
Dimitri Patterson
."Dimitri came in last year and was an important part of our defense," Browns coach Pat Shurmur said in a statement. "He helped solidify our defensive backfield and we are happy to have him back with the Browns."
Hensley's slant
: With
Mario Williams
off the free-agent market, Wimbley is the most sought-after edge rusher and should draw heavy interest. Even if the Browns wanted to bring him back, the cost of doing so would be out of the team's current price range.
RAVENS
: Free-agent guard
Evan Mathis
was offered a contract from the Ravens yesterday, but he decided to return to his Arizona home to think over the deal. He's been linked to the Colts and Redskins, but the
Carroll County (Md.) Times
indicates his choices are joining the Ravens or re-signing with the Eagles. "I think the Ravens are a good fit," Mathis said. "I had a good visit." ... There's some confusion over whether backup safety
Tom Zbikowski
has reached an agreement with the Colts. Zbikowski's agent
disputed reports
that the deal is done after Zbikowski announced that he's
going to Indianapolis
. ...
Joe Flacco
's agent and the Ravens met for a second time as the sides work toward an extension for the quarterback, who is heading into the final year of his contract. "It's very clear that they want him there for a long time, and he wants him to be there for a long time," agent Joe Linta told the
Baltimore Sun
. "There's just a lot of stuff to consider as you move forward."
Hensley's slant
: The fact that Mathis left without signing a contract makes you think that he is giving the Eagles an opportunity to make a counteroffer. I wouldn't rule out Mathis signing with the Ravens, but Baltimore's chances looked better before he left town.
STEELERS
:
CBSSports.com
's Clark Judge writes that the Steelers aren't in the clear yet even though no team has pursued restricted free agent
Mike Wallace
. The deadline to extend offer sheets to restricted free agents is April 20, so there's no rush for a team to go after the speedy wide receiver.
Hensley's slant
: I still feel the odds are very strong that the Steelers will keep Wallace this season. The Steelers don't have a history of re-signing wide receivers in free agency, but the team seems committed to Wallace based on what Steelers officials have said.
July, 1, 2011
7/01/11
11:00
AM ET
By
ESPN.com staff
| ESPN.com
Baltimore Ravens
Ravens wide receiver Donte' Stallworth: "There's already been
irreparable damage for the season
. Look at a guy like Cam Newton. How is he supposed to compete with defenses like Baltimore when they haven't had the opportunity to prepare? He's going to get a few weeks and be expected to suit up and play like the No. 1 pick. That's going to be tough."
T.J. Houshmandzadeh is
hoping for a fresh start
in 2011 after a bitter end to last season.
Cincinnati Bengals
Dhani Jones says "
Jordan Palmer's not the answer
" in Cincinnati.
Houshmandzadeh also
weighed in on a few of his former teammates
in an interview with the National Football Post.
Cleveland Browns
The team on Thursday announced plans for a
one-hour radio show
that will air weekdays from 6-7 p.m. on ESPN 850 WKNR.
Defensive lineman Travis Ivey has
resorted to wearing cloth shoes
as part of his rehabilitation process.
Pittsburgh Steelers
Willie Colon's agent isn't optimistic
about the offensive tackle returning to Pittsburgh. "They haven't called about Willie in three years," said agent Joe Linta. "I'm not expecting them to call because they haven't yet. That's the way they do business, and that's fine. But if they do call we'll pick up the phone."
June, 29, 2010
6/29/10
10:53
AM ET

Medical tests confirmed Tuesday that
Pittsburgh Steelers
offensive tackle
Willie Colon
suffered a torn Achilles tendon, which will knock him out for the entire 2010 season.
According to Colon's agent, Joe Linta, the rehab process will take about nine months. But Colon is expected to have a full and healthy recovery.
For more on this story,
check out ESPN.com.
July, 8, 2008
7/08/08
4:30
PM ET
Posted by ESPN.com's James Walker
| | |
| --- | --- |
| | |
| | AP Photo/Rob Carr |
The Baltimore Ravens and the representation for rookie first-rounder Joe Flacco are expected to meet again next week in an effort to work out a five-year contract.
Flacco clearly understands the importance of being on time for training camp when the Ravens report July 21. The two sides opened negotiations May 12 and have met four times total. The two sides have taken steps forward with each meeting.
"We're progressing," Flacco's agent Joe Linta said Tuesday. "Hopefully we can continue to make progress as we aim to get him into camp on time."
The Ravens and Flacco want to ensure the rookie gets a fair chance to win the starting job in Baltimore. He will compete with Kyle Boller and Troy Smith in a three-way quarterback race.
Last year a pair of first-round quarterbacks -- JaMarcus Russell of the Oakland Raiders and the Cleveland Browns' Brady Quinn -- had lengthy holdouts that affected their rookie seasons. Both players missed part or all of training camp and were trying to play catch up their entire first season.