March, 4, 2010
3/04/10
9:48
AM ET

Baltimore Ravens
Potential unrestricted free agents
: DL
Justin Bannan
, DL
Dwan Edwards
, CB
Corey Ivy
, WR
Derrick Mason
, TE
L.J. Smith
, WR
David Tyree
, CB
Frank Walker
, WR
Kelley Washington
Potential restricted free agents:
OT
Jared Gaither
, K
Billy Cundiff
, S
Dawan Landry
, CB
Fabian Washington
, P
Sam Koch
, OG
Chris Chester
, QB
John Beck
, QB
Troy Smith
, OT
Tony Moll
, FB
Le'Ron McClain
, LB
Prescott Burgess
, WR
Mark Clayton
, WR
Demetrius Williams
Franchise tag:
None
What to expect:
The Ravens have a ton of quality free agents. It will be interesting because Baltimore is the only division team which has to abide by the "
Final Eight Plan
" for making the divisional playoffs. This will restrict Baltimore from making a lot of moves. Therefore, expect the team to keep most of its key restricted free agents while trying to explore the trade market. On the unrestricted side, the Ravens are negotiating with receiver Derrick Mason and are expected to keep him. But two players who could get some interest in the open market are defensive linemen Dwan Edwards and Justin Bannan. Baltimore likes both players but could lose at least one.

Cincinnati Bengals
Potential unrestricted free agents
: K
Shayne Graham
, FB
Jeremi Johnson
, RB
Larry Johnson
, DT
Tank Johnson
, TE
Reggie Kelly
, OG
Bobbie Williams
, S
Roy Williams
, TE
J.P. Foschi
Potential restricted free agents:
LB
Brandon Johnson
, LB
Rashad Jeanty
, OL
Evan Mathis
, C
Kyle Cook
, DE
Frostee Rucker
, CB
David Jones
, LB
Abdul Hodge
, QB
Jordan Palmer
, TE
Daniel Coats
, DT
Shaun Smith
Franchise tag:
None
What to expect:
The Bengals have yet to announce their tenders, so this list could change by Thursday evening. But traditionally they are not big spenders in free agency and will stay true to that even with an uncapped year. Cincinnati could make one or two decent outside signings that may help the team. Finding a receiver would be the most likely target. The most interesting in-house name is offensive guard Bobbie Williams, who likely will test the market. Bengals defensive coordinator Mike Zimmer also would like to keep veteran Roy Williams and Tank Johnson. But the team hasn't made a major push for either player before they're let loose Friday.

Cleveland Browns
Potential unrestricted free agents:
WR
Mike Furrey
, TE
Michael Gaines
, OG
Rex Hadnot
, CB
Hank Poteat
, OL
Ryan Tucker
, OG
Billy Yates
Potential restricted free agents:
RB
Jerome Harrison
, LB
D'Qwell Jackson
, FB
Lawrence Vickers
, S
Brodney Pool
, S
Abram Elam
, DE
Matt Roth
Franchise tag:
None
What to expect:
Cleveland has the money to spend and the biggest talent deficit. So look for the Browns to attempt to make up ground in free agency. Major names like defensive end
Julius Peppers
and tailback
Thomas Jones
have been mentioned as possibilities for Cleveland, but that remains to be seen. Internally, the Browns should be interested in keeping Harrison and Vickers in their backfield. Jackson also has value. None of their unrestricted players are priorities for the team and will be allowed to hit free agency.

Pittsburgh Steelers
Potential unrestricted free agents:
QB
Charlie Batch
, LB
Rocky Boiman
, S
Tyrone Carter
, S
Ryan Clark
, DE
Nick Eason
, WR
Joey Galloway
, DE
Travis Kirschke
, RB
Willie Parker
, CB
Deshea Townsend
, FB
Carey Davis
, OG
Darnell Stapleton
Potential restricted free agents:
OT
Willie Colon
, CB
William Gay
, P
Daniel Sepulveda
, TE
Matt Spaeth
Franchise tag:
K
Jeff Reed
What to expect:
The Steelers are pretty predictable. Pittsburgh intends to keep all of its restricted free agents, get a long-term deal complete with Reed, who has the franchise tag, and let nearly all of their unrestricted free agents test the market. The exception is Clark, who the Steelers targeted as a priority but has yet to reach a long-term extension before Friday's deadline. Negotiations have been ongoing and should go to the final hour to decide whether both sides can come to an agreement or allow Clark to test the market.
February, 15, 2010
2/15/10
1:00
PM ET
»
AFC Free Agency
:
East
|
West
|
North
|
South
»
NFC
:
East
|
West
|
North
|
South
An early look at the free-agent situation in the AFC North.
Note
: These projected lists reflect notable unrestricted free agents for each team. The NFL will not issue an official list of free agents until the signing period begins March 5.
Baltimore Ravens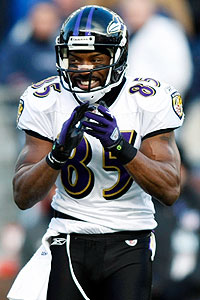 Greg M. Cooper/US PresswireThe Ravens' already-thin receiving corps will take a big hit if Derrick Mason retires.
Unrestricted free agents: DL
Justin Bannan
, K
Billy Cundiff
, DL
Dwan Edwards
, CB
Corey Ivy
, WR
Derrick Mason
, TE
L.J. Smith
, WR
David Tyree
, CB
Frank Walker
, WR
Kelley Washington
Key figures:
Derrick Mason is contemplating retirement. But if he wants to play, the Ravens have every intention of keeping their leading receiver. Look for Baltimore also to make a push for another significant addition at receiver to assist the development of budding quarterback
Joe Flacco
. Sleeper players on this list include the two defensive linemen: Justin Bannan and Dwan Edwards. The Ravens like both players and will probably make a push to keep at least one on the roster. Baltimore also lacks cornerback depth and might elect to bring back Frank Walker, despite his penchant for giving up big plays and committing penalties.
Cincinnati Bengals
Unrestricted free agents:
K
Shayne Graham
, FB
Jeremi Johnson
, RB
Larry Johnson
, DT
Tank Johnson
, TE
Reggie Kelly
, DT
Shaun Smith
, OG
Bobbie Williams
, S
Roy Williams
Key figures:
Bobbie Williams is an interesting name. He's one of Cincinnati's most consistent offensive linemen over the last several years, but he turns 34 in September. Kicker Shayne Graham, who was franchised last season, had a solid career in Cincinnati. But he missed kicks in big spots, potentially ending his run with the Bengals. Running back Larry Johnson was third string in Cincinnati and should get more playing time elsewhere in 2010.
Cleveland Browns
Unrestricted free agents:
WR
Mike Furrey
, TE
Michael Gaines
, OG
Rex Hadnot
, CB
Hank Poteat
, OL
Ryan Tucker
, OG
Billy Yates
Key figures:
This is not an impressive list as most of Cleveland's key free agents -- such as
Jerome Harrison
,
Lawrence Vickers
and
D'Qwell Jackson
-- are restricted. Mike Furrey is a high-character player that coach Eric Mangini likes on his football team, and he might be retained. The remaining players on this list likely will hit the open market. The Browns have an interesting decision to make with Harrison, who led the team in rushing after a tremendous second half of the 2009 season. Harrison could garner some interest as a restricted free agent if the Browns do not offer a high enough tender.
Pittsburgh Steelers
Unrestricted free agents:
QB
Charlie Batch
, LB
Rocky Boiman
, S
Tyrone Carter
, S
Ryan Clark
, DE
Nick Eason
, WR
Joey Galloway
, NT
Casey Hampton
, DE
Travis Kirschke
, RB
Willie Parker
, K
Jeff Reed
, CB
Deshea Townsend
Key figures:
The Steelers are aiming to keep most of their key veterans, while infusing some youth through the draft. All indications are the team will offer extensions to safety Ryan Clark and kicker Jeff Reed. Pro Bowl nose tackle Casey Hampton is the biggest name on this list. But he's a strong candidate for the franchise tag, because there is no full-time replacement on the roster. This offseason probably will mark the end of tailback Willie Parker's tenure in Pittsburgh. Parker, 29, helped lead the Steelers to two Super Bowl wins during his career. But various ailments since initially breaking his leg in 2007 hampered his production.
December, 22, 2009
12/22/09
12:47
PM ET

Galloway
The
Pittsburgh Steelers
made an interesting roster move Tuesday, signing 15-year veteran receiver
Joey Galloway
to a contract.
Pittsburgh showed interest in Galloway during the offseason but chose not to sign him. The Steelers made the move this week after receiver
Limas Sweed
was put on the reserve/non-football illness list.
Galloway is expected to provide the Steelers depth as the No. 4 receiver behind Santonio Holmes, Hines Ward and rookie Mike Wallace. Ward also has a hamstring injury this week. So it's possible Galloway could become the third receiver if Ward cannot play Sunday against the
Baltimore Ravens
(8-6).
The Steelers also added long-snapper
Jared Retkofsky
to replace the injured
Greg Warren
(knee).
November, 18, 2009
11/18/09
9:30
AM ET
Here are the most interesting stories Wednesday in the AFC North:
Morning take: The Ravens are awaiting test results, but when I saw Suggs after Monday's game he didn't look in good shape. Baltimore's pass rush was hurting even with Suggs.

Morning take: I do believe Lerner wants his current head coach to turn things around quickly. One of the last things he wants to do is have three coaches on the payroll in 2010. So his decision will be interesting.

Morning take: It's a PCL sprain, which is different from the MCL injury he suffered earlier. But the team needs to be careful as this is the second ligament Polamalu has hurt in the knee this year.

Morning take: Cincinnati's receivers lack deep speed after the injury to Chris Henry. But I'm not sure Galloway can still provide that burst at this juncture of his career.
May, 27, 2009
5/27/09
12:00
PM ET
| | |
| --- | --- |
| | |
| | ESPN.com Illustration |
| | Who should be No. 1 heading into the season: the reigning Super Bowl champion Pittsburgh Steelers or perennial contenders the New England Patriots? Our bloggers debate. |
Posted by ESPN.com's James Walker and Len Pasquarelli

When it comes to NFL dominance and consistency, few teams rival the New England Patriots and Pittsburgh Steelers. With five Super Bowl titles between them since 2000, they're the two contenders for the mythical title of "Team of the Decade."
But which franchise deserves top billing heading into the 2009 season?
Does the return of superstar quarterback Tom Brady from a knee injury make New England the early favorite? Or should the defending champion Steelers, who return 20 of 22 starters, be considered the team to beat until proven otherwise?
To debate these topics and more, we bring in ESPN.com NFL writers Len Pasquarelli and James Walker.
In ESPN.com's May Power Rankings, the Steelers topped the poll of our experts -- despite a No. 9 overall ranking from Pasquarelli. He deems the Patriots the best team entering the season.
Who is the favorite heading into the 2009 season and why?
| | |
| --- | --- |
| | |
| | Donald Miralle/Getty Images |
| | The Steelers return 20 of 22 starters from last year's Super Bowl team, including receiver Santonio Holmes. |
James Walker
: Not much has changed since Pittsburgh hoisted its sixth Lombardi Trophy in February. The Steelers were the NFL's best team just three months ago and still deserve top honors as the preseason favorites.
Pittsburgh lost just two starters from its championship team, and a strong case can be made that replacements Lawrence Timmons and William Gay will be more productive than their predecessors, linebacker Larry Foote and cornerback Bryant McFadden. Key Steelers such as quarterback Ben Roethlisberger, receiver Hines Ward and tailback Willie Parker are healthy again. Second-year players Rashard Mendenhall and Limas Sweed appear primed to make contributions in reserve roles, which didn't happen last season.
The few weaknesses from last season also have been addressed. Pittsburgh punter Daniel Sepulveda is returning from injury and will be a major upgrade in the kicking game. Rookie first-round pick Evander Hood should provide youthful depth for an aging defensive line, and the team now has a plethora of speedy kick returners competing to fill that role.
If Pittsburgh stays healthy and the offensive line jells in 2009, as the coaching staff suggests, you'd be hard pressed to find a glaring weakness with the defending champs.
Len Pasquarelli: As an old Chuck Noll disciple, I still believe that many games are won at the line of scrimmage. And the Patriots averaged the second most points per game in the league in a season when the NFL's best quarterback, Tom Brady, played less than one full game. Perhaps more importantly, the Pats also have an edge up front on both offense and defense. From 2005-2007 -- Brady's last three full seasons in the league -- he was sacked only 73 times. That's 66 fewer times than his counterpart, Ben Roethlisberger, was sacked over the same span. Pass protection is a synergistic thing, as dependent on the quarterback unloading the ball as it is on the linemen blocking. Still, the New England offensive line, under the direction of Dante Scarnecchia, is one of the best in the league, with standouts like left tackle Matt Light, left guard Logan Mankins, and center Dan Koppen.
But the area where the Patriots own the biggest edge is on the defensive front. Both teams employ the 3-4 scheme, and the Pittsburgh line is both experienced and good. Still, their New England counterparts can be downright dominating at times. The Patriots almost always seem to choose a defensive lineman high in the draft, and that has paid off handsomely for them, with players like Richard Seymour, Vince Wilfork, and Ty Warren. Remember the old adage from cigarette commercials: "It's what's up front that counts?" New England coach Bill Belichick is a proponent of building a team from the inside out, kind of in the Noll image, and he has assembled terrific up-front units on both sides of the ball. Players at the skill positions aren't bad, either, but the Pats generally own the line of scrimmage, and that's a big plus for them.
Both teams are proponents of the 3-4 defense. How can New England's defense be any better than Pittsburgh's unit, which led the NFL in 2008?
| | |
| --- | --- |
| | |
| | AP Photo/Stephan Savoia |
| | Patriots coach Bill Belichick will figure out how to make New England's defense competitive. |
Pasquarelli
: Granted,
the Patriots' secondary was shaky in 2008, and allowed a ton of touchdown passes. Add to that the fact that New England has lost both starting cornerbacks (
Asante Samuel
and
Ellis Hobbs
) the last two offseasons, and that safety
Rodney Harrison
might not return for 2009. Yeah, the Pats have to "scheme up" a pass rush, since they don't really have an upfield force off the edge.
But with apologies to Steelers defensive coordinator Dick LeBeau, the Pats have Belichick, and he is a master at switching his fronts and disguising coverages. There aren't many 3-4 linemen who can take over a game, but as noted above, the Patriots have three of them. Certainly the performance of the Steelers' unit, which defends every blade of grass like it's their fortune, is an admirable outfit. But their secondary problems aside, the Patriots are still plenty good enough, particularly if the offense removes some of the pressure by scoring big.
Walker: Len, Pittsburgh had the NFL's best defense in 2008 and the Patriots were No. 10. I don't see a comparison.
Sure, both teams run 3-4 defenses. But when you look at every component -- be it yards, points allowed, or sacking the quarterback -- it wasn't even close. For instance, New England had 31 sacks as a team last year. Pittsburgh outside linebackers James Harrison and LaMarr Woodley combined for 27.5 sacks and the Steelers amassed 51 sacks total. The Steelers simply play defense on a much higher level.
In fact, New England's defense has been somewhat overrated in recent years. Brady's ability to put up points offensively, particularly in 2007, made a lot of opponents one-dimensional and easier to defend. If you noticed without Brady last year, the Patriots dropped six spots defensively in 2008 from No. 4 to No. 10.
Speaking of Brady, does his return shift the balance of power to New England?
Pasquarelli: Brady and Roethlisberger are both members of a small subset, the truly elite quarterbacks in the game. But as noted above, Brady is afforded better protection, and his playmakers are much more explosive. In his last three seasons before the knee injury, Brady threw 100 touchdown passes and only 34 interceptions. In his past three seasons, Roethlisberger has 67 touchdown passes and 48 interceptions, and has been sacked an incredible 139 times.
New England finished fifth in the league in total offense in 2008, second in scoring, and won 11 games, despite playing most of the year with an inexperienced backup quarterback in Matt Cassel. It would be naïve and foolhardy to think they won't do even better with their main trigger man back in the lineup. Of the Patriots' five defeats last season, two came by seven points or less, and Brady will take care of that small difference.
Walker: Anyone who automatically makes New England the Super Bowl favorite in May is making a bold assumption that Brady is 100 percent recovered from major reconstructive knee surgery. But many questions remain.
Will Brady be protective of his surgically-repaired knee? Will rust be an issue and cause Brady to get off to a slow start? How will he respond to getting hit? These questions will not be answered until months down the line. But you know exactly what you're getting from Roethlisberger and the Steelers, which is why you have to make them the favorites.
Keep in mind, Brady suffered his knee injury in the opening game last year against the Kansas City Chiefs. Therefore, he hasn't played in a full game since February of 2008, a Super Bowl loss to the New York Giants. With such an extended layoff, I doubt we're going to see the 4,800-yard, 50-touchdown version of Brady this year, and even that version wasn't good enough to win New England a Super Bowl.
Will Pittsburgh and New England meet in the AFC Championship game?
Pasquarelli: After a year out of the playoffs, New England will be poised to try to regain a title that almost seemed like its birthright. Pittsburgh faces a tough haul in its own division from Baltimore. One of the two teams won't make it to the conference championship game and -- hometown loyalties notwithstanding -- we're betting it's the Steelers who will be absent.
Inarguably, these are two of the finest organizations in the NFL, even if one is old-guard authorship and the other is new-age, and the two have terrific front office personnel. Both rely on preparing young players to step into roles as starters or contributors, as Pittsburgh will with linebacker Lawrence Timmons and cornerback William Gay, and New England will with linebacker Shawn Crable and cornerback Terrence Wheatley.
But the Patriots' veteran free agents -- guys like tailback Fred Taylor, tight end Chris Baker, wide receiver Joey Galloway, and cornerbacks Shawn Springs and Leigh Bodden -- will have more of an impact in 2009 than the Pittsburgh additions of spare parts like wide receiver Shaun McDonald and cornerback Keiwan Ratliff.
Walker: Although I easily could see other talented teams such as the Indianapolis Colts, Baltimore Ravens or Tennessee Titans spoiling the party, Pittsburgh and New England are currently the beasts of the AFC. In fact, these have been the top two teams in the NFL this decade, and they have the five combined championships over that span to prove it.
It would be fitting for these two franchises to settle this debate on the field for the right to advance to Super Bowl XLIV, and perhaps, solidify the title of "Team of the Decade." Pittsburgh and New England will not meet in the regular season in 2009. But if the Steelers and Patriots avoid the injury bug and play up to their talent levels, I have a feeling they could cross paths at some point in the postseason with a lot at stake.
March, 16, 2009
3/16/09
8:30
AM ET
Posted by ESPN.com's James Walker
Here are the most interesting stories Monday in the AFC North:
Morning take: After releasing former starter Kevin Shaffer over the weekend, the right tackle spot is up for competition. Drafting a right tackle in the top five is risky, making St. Clair an option.
Morning take: This move has been widely expected for weeks here and in other media circles. The $4.1 million Baltimore saves provides room for draft picks and likely a big extension for Terrell Suggs.
Morning take: Jones always had a lot of personality, and football fans should get to see it in this show. England, Thailand and Singapore are some of the places Jones is expected to visit.
Morning take: Things have been quiet on the Steelers' front since losing Barnes, receiver Joey Galloway and cornerback/returner Chris Carr to other teams. Barnes was one of the last quality offensive line prospects in free agency. It looks like the Steelers won't add depth there until next month's draft.
March, 10, 2009
3/10/09
9:30
AM ET
Posted by ESPN.com's James Walker
Here are the most interesting stories Tuesday in the AFC North:
Morning take: Front loading the contract likely convinced Coles to come to Cincy. But the Bengals will need Pro Bowl-like numbers from Coles next season to break even on their nearly $10 million investment.
Morning take: This is the first free-agent interview of any kind for Pittsburgh. But I don't think it's a good move unless Galloway, 37, comes at a bargain basement price.
Morning take: I predicted this move here and here weeks ago, so this is no surprise. The next question is how many more former Jets will come to Cleveland?
Morning take: Baltimore kept two kickers on its roster for much of last season. Whatever the Ravens decide, they cannot waste a roster spot on two kickers again.