November, 27, 2013
Nov 27
10:00
AM ET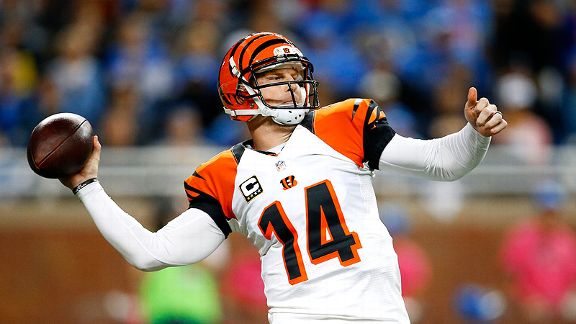 AP Photo/Rick OsentoskiThe Cincinnati Bengals are counting on Andy Dalton to return to the form that helped lead the team to a 4-1 record in October.
CINCINNATI -- Earlier this week,
Cincinnati Bengals
players like cornerback
Chris Crocker
were adamant in pointing out the urgency they need to play with throughout the
month of December
.
"It's all about winning in December," Crocker said. "Let's win out and see where the chips lay. Why can't we win out? I don't see why we can't."
If you ask some Bengals fans and most NFL analysts, they'll give you one big reason why they don't believe Cincinnati will be able to go 5-0 to close out the regular season: No. 14.
That's right. To some, the primary obstacle in the way of end-of-season perfection for the Bengals is
Andy Dalton
, the player who has quarterbacked the franchise into the playoffs each of the past two seasons, and who constantly is trying to prove himself to those who consider him just another member of a mostly failed 2011 quarterback draft class.
For that reason, as the Bengals gear up for a stretch run that could give them a first-round bye and home-field advantage in the playoffs, an important question has to be asked.
Can December Andy mimic October Andy?
As we've written countless times in the past month, October Andy was indeed a dandy. Through the first four games of that month, Dalton threw for 1,243 yards and 11 touchdowns. He also completed 67.9 percent of his passes, won four games, had a passer rating higher than 116.0 and a QBR above 83.0. He was, quite simply, brilliant. His play was so sharp back then that on the final day of the month, hours before the Bengals were set to take on the Dolphins in a road Thursday night game, he was named the AFC's Offensive Player of the Month.
And, yes, even though, comparatively speaking, he didn't look as good overall against the Dolphins and ended up taking the game-winning sack for a safety in overtime, Dalton still had a rather special performance in the 22-20 loss. Aside from not completing a touchdown pass and getting intercepted three times, he threw for 338 yards, marking the fourth straight game he had gone over the 300-yard passing mark.
Overall, October Andy was Good Andy.
But now here comes December with all of its postseason potency. If Cincinnati hopes to set itself up for the type of playoff seeding Crocker believes it deserves, then it will have to play its best ball across the next five weeks. That's especially the case for Dalton and a Bengals offense that has looked rather anemic in the past three games.
One look at Dalton's previous December stats and it doesn't appear the third-year star should have any problem showcasing even a sliver of the success that made him and his team so good about two months ago.
After a rocky December as a rookie in 2011, Dalton was among the difference-makers last season when the desperate Bengals were in need of a strong final month just to secure a playoff berth. One year after going 2-2 in the month, Dalton went 4-1 during December 2012. The lone loss came after the
Dallas Cowboys
made a field goal in the final seconds to win 20-19.
While the level of desperation may be different this December, the Bengals are looking for Dalton to thrive under similar pressure-packed moments during this one. This time around, the pressure on Dalton mainly stems from the fact that so many are fed up with his play from the past three games. In them, he's thrown eight interceptions and been sacked 10 times. Across the latter two of those games, he's completed fewer than 50 percent of his passes and hasn't posted a QBR higher than 18.0.
Weather factored heavily in Dalton's inability to move the ball in those two games. Windy conditions at Baltimore and windy and rainy conditions against the Browns sent some of his passes sailing and forced others into the hands of defensive backs.
Although weather shouldn't be a concern this weekend in San Diego (the forecast calls for partly cloudy skies and a delightful high of 71 degrees Sunday), it could be the rest of the season. Farmer's Almanac projects cold, damp conditions for all of December in the Ohio Valley. It should be noted that after Sunday's game, the Bengals are home three of the next four weeks. Their only remaining road game is at Pittsburgh.
Throughout his career, Dalton has performed better in warmer games. In games with temperatures 50 degrees or higher, he has a 20-14 record, an 85.1 passer rating and a 52.5 QBR. In games with temperatures at 49 and lower, he has a 5-5 record, a 75.4 passer rating and a 32.9 QBR. Dalton's last three sub-49-degree wins came last December, though; a sign that perhaps he's turning a corner in cold-weather contests.
Whatever the conditions and whomever their opponents are, when it comes to the next five weeks, the Bengals can only hope that Dalton turns into the same man who torched through this October.
August, 7, 2009
8/07/09
4:00
PM ET
Posted by ESPN.com's James Walker
| | |
| --- | --- |
| | |
| | David Allio/Icon SMI |
| | John Calipari picked the Steelers and Giants to be in the Super Bowl. |
LATROBE, Pa.--New University of Kentucky basketball coach John Calipari made an appearance at Pittsburgh Steelers camp this week.
Here is what Calipari had to say about the Steelers, LeBron James and several other topics:
Coach, talk about your admiration for football and the Steelers.
Calipari: I grew up in Pittsburgh and this has always been the city's team. They are a championship organization because of the people. That means the people that own it, the people that manage it, and the people that coach it. They make sure the players are quality people and they take care of everybody. That's why they are what they are. So I'm hoping at Kentucky we can do that, because we have the fans that Pittsburgh has here. It's the same. They're absolutely nuts and crazy about it and passionate.
Do you see similarities in the two sports in coaching young men how to work together while teaching life lessons?
Calipari: It is. At this level it's about winning, while in college it's about teaching life skills. But what's happened to pro sports is so many more young athletes are coming in that you are teaching them more life skills. But to me the big difference is I gotta remember 12 names. How do they remember 60 names? I'd be calling people by their numbers [laughs]. 'Hey No. 87, come over here!'
There has been some talk recently that NBA star LeBron James could have been a dominant player in the NFL had he gone that route. What are your thoughts?
Calipari: LeBron came to Kentucky two weeks ago, and I know LeBron pretty well. I will tell you that he is 6 foot 8, 260 pounds and athletically could have played any sport that he wanted to play. He could've played football and not just as a wide receiver. He probably could have been a tight end. I have not seen him throw a football, but I wouldn't bet against him.
What is your Super Bowl pick this season?
Calipari: Well, you know I gotta go with the Steelers, and I think they have a great shot at repeating. There are things that have to come into play and you have to be a little lucky, and hopefully it will because they deserve it. I'd like to see the New York Giants [from the NFC]. I liked when Fran Tarkenton was there. But the other teams don't really matter. I'm watching these guys.
August, 7, 2009
8/07/09
1:00
PM ET
| | |
| --- | --- |
| | |
| | Gregory Shamus/Getty Images |
| | Veteran receiver Hines Ward promises the Steelers will stay focused this season. |
Posted by ESPN.com's James Walker
LATROBE, Pa. -- University of Kentucky basketball coach John Calipari knows a title contender when he sees one.
Fantasy Football: 32 Questions

ESPN.com fantasy expert Christopher Harris wonders why the Super Bowl champs don't have more fantasy stars. Story

Calipari, who has led two different programs to the Final Four, was in
Steelers
training camp this week to see what he could incorporate into his program.
"They are a championship organization because of the people," said Calipari, a native of suburban Pittsburgh. "That means the people that own it, the people that manage it and the people that coach it. They make sure the players are quality people and they take care of everybody. That's why they are what they are."
After returning 20 of 22 starters, Pittsburgh is in a prime position to become the first group since the 2003-04
New England Patriots
to win back-to-back Super Bowls. But it won't be easy.
They have a shot if they can answer "yes" to these key questions.
Key questions
1. Will the offensive line improve in 2009?
The knee injury this week to guard Darnell Stapleton already hurts the depth of a unit that has struggled in recent years. Stapleton, who started in the Super Bowl, will have arthroscopic knee surgery Friday and will miss a good portion of the preseason.
Pittsburgh's offensive line remains one of the team's few glaring weaknesses. The Steelers have allowed quarterback Ben Roethlisberger to be sacked an astounding 139 times the past three seasons. The running game, normally a Steelers staple, stalled in 2008.
Knowing that Roethlisberger cannot continue to take a pounding at this clip, the Steelers have been working on improving pass protection this summer. Although Stapleton is injured, the Steelers return all five starters from the Super Bowl and hope another year together improves chemistry and helps the line's overall performance.
Pittsburgh also has backups who have the potential to contribute, including versatile guard/tackle Trai Essex and rookies Kraig Urbik and A.Q. Shipley, who were taken in the third and seventh rounds, respectively.
2. Can Pittsburgh handle distractions?
In terms of distractions, the Steelers did not get off to a glowing start. About a week before camp opened, Roethlisberger was hit with a civil lawsuit alleging sexual assault in Nevada. Pittsburgh's offseason was relatively quiet up until that point, and Roethlisberger apologized to his teammates and the organization last week for shifting the attention from football.
Whether the Steelers learned anything from 2006 remains to be seen. That was the last time the Steelers were coming off a Super Bowl victory, and the wheels came off quickly and completely as distractions, injuries and poor play led to a 2-6 start and an 8-8 finish.
But this group seems very business-like in its approach. Key veterans such as receiver Hines Ward, linebacker James Farrior and safety Troy Polamalu were also on that disappointing team in 2006 and claim to have learned from that humbling experience. Training camp practices have been crisp and players, including Roethlisberger, appear focused.
3. Will the special teams be good?
The Steelers don't have many holes, so we're just nitpicking. But Pittsburgh's special teams were the weakest of the three units (offense, defense, special teams) last season.
Kicker Jeff Reed, in the final year of his contract, is solid. But beyond that, Pittsburgh's special teams were weak.
The Steelers are trying to find a boost in the return game. In camp, Pittsburgh is working out several new players at returning kicks, including former CFL running back Stefan Logan and receiver Shaun McDonald. The goal this year is to take every-down players such as Santonio Holmes off special teams to help the offense.
Perhaps the biggest addition to special teams will be the return of punter Daniel Sepulveda, who missed all of 2008 with a torn ACL in his knee. Pittsburgh's punting was one of the league's worst last year and Sepulveda should change that. The team also is giving Sepulveda an occasional day off from punting in camp to make sure he doesn't rush back.
Market watch
Second-year receiver Limas Sweed was an enigma last season. First, he couldn't find his way on the field. Then when his number was called late in the year, Sweed wasn't ready.
But last season's disappointment led to Sweed become one of the hardest-working players on the team this offseason. In camp, the former second-round pick looks more confident and continues to make plays.
Sweed has the inside track to open the season as Pittsburgh's No. 3 receiver and knows his number will be called early if he holds onto the job. This time Sweed believes he's prepared to produce.
| | |
| --- | --- |
| | |
| | AP Photo/Michael Conroy |
| | Rookie defensive tackle Evander Hood should have time to prove himself this season. |
Newcomer to watch
The Steelers do not often take defensive linemen high in the draft, but they broke that mold with first-round pick Evander "Ziggy" Hood.
Pittsburgh likes Hood's motor and versatility. He is expected to spell both starters at defensive end and possibly play some nose tackle.
The three starting defensive linemen for the Steelers are all over 30, so it will be vital for Hood to provide depth and inject some youthful exuberance. The fact that he's not expected to start puts him in a good spot to produce without the normal pressures of a first-round pick.
Observation deck
Roethlisberger is struggling with his arm strength early in camp. After taking a pounding and playing so deep into the postseason, Roethlisberger didn't do any throwing independently away from the Steelers this offseason, choosing to rest instead. But many of his deep throws are coming up short and intercepted. With the preseason starting next week, it will be interesting to see how long it takes for Roethlisberger to regain his form. ... Tailback Rashard Mendenhall appears to have recovered from his season-ending shoulder injury. The former first-round pick lost significant weight in his upper body last year because he was unable to lift weights after surgery. But he has regained his bulk and looks more sure of himself in his second training camp. ...Pittsburgh defensive coordinator Dick LeBeau is using inside linebacker Lawrence Timmons in a variety of ways now that the former first-round pick is a full-time starter. Timmons has great range to patrol the middle of the field. But LeBeau also likes Timmons' skills as a pass-rusher and has been turning him loose in pressure packages. ...Look out for rookie receiver Mike Wallace. The third-round pick from Mississippi is making a good impression in camp. Teammates are already calling him one of the fastest players on the team.
August, 6, 2009
8/06/09
6:36
PM ET
Posted by ESPN.com's James Walker
LATROBE, Pa. -- The AFC North blog spent its first day with the Pittsburgh Steelers for training camp.

Here are some notes and observations from Thursday's practice:
Starting with some injury news, starting offensive guard Darnell Stapleton is going to have arthroscopic knee surgery on Friday. Depending on the severity, "scopes" can hold a player out anywhere between two to six weeks. The Steelers said they would have more of an update after surgery. But at the very least, Stapleton likely will miss a good portion of training camp and the preseason, which could hurt chemistry on the offensive line. Backup Trai Essex is getting work in Stapleton's place at guard.
Both receivers Mike Wallace and Limas Sweed looked good in practice Thursday. Sweed used his big body to shield defenders for several catches in team and 7-on-7 drills, and the lightning-quick Wallace looks more polished than I expected for a first-year player.
University of Kentucky basketball coach John Calipari was at practice and it turns out he's a big Steelers fan. Players such as Ben Roethlisberger, William Gay and Deshea Townsend all seemed to get a kick out of talking to one of the top college hoops coaches before practice.
It only took one practice to notice the Steelers are not holding back Lawrence Timmons. Despite playing him at inside linebacker, Timmons was turned loose several times with nice pressures on the quarterback, which is something Pittsburgh didn't do much of last season with Larry Foote.
Here is some minor but useful info: I asked one of the referees after practice what's the hardest call to make in the NFL. The ref said offensive pass interference. "It does happen, but sometimes it's just too difficult to call," the ref said.
Backup tailback Rashard Mendenhall seems to have gained his bulk back. After last year's shoulder injury he lost some weight, particularly in his upper body. But Mendenhall looked strong physically and still has his good feet in open space.