September, 17, 2011
9/17/11
10:00
AM ET
Andy Dalton
can accomplish something only
John Elway
has previously achieved, and the Bengals rookie quarterback can do it on Elway's turf.
At Denver on Sunday, Dalton could join Elway as the only rookie starting quarterbacks to win each of his team's first two games of the season that were on the road. This interesting note comes from Elias Sports via Geoff Hobson at
Bengals.com
.
Of course, this comes with an asterisk because backup
Bruce Gradkowski
actually won Sunday's game in Cleveland with a fourth-quarter touchdown pass. Dalton, who had a solid debut, left with an injury to his right wrist.
Dalton is listed as probable and is expected to start against the banged-up Broncos.
"It felt fine," Dalton told the
Cincinnati Enquirer
. "I just needed to go out there and throw some more. I felt good and comfortable out there."
February, 2, 2011
2/02/11
2:23
PM ET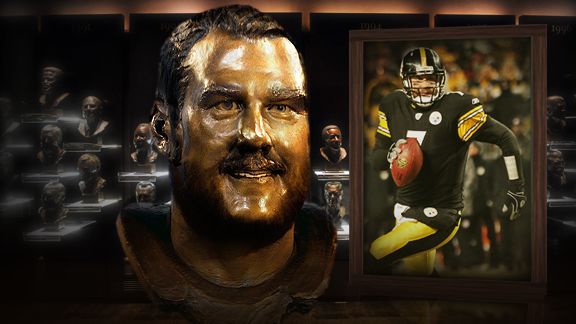 ESPN.com IllustrationBen Roethlisberger can bolster his HOF credentials with a third Super Bowl victory.
ARLINGTON, Texas -- When it comes to the Hall of Fame, three or more championships is the magic number for NFL quarterbacks.
It paved the road to Canton for
Dallas Cowboys
great
Troy Aikman
, whose three Super Bowl wins in the 1990s marked one of the NFL's most recent dynasties.
Joe Montana
of the
San Francisco 49ers
and
Pittsburgh Steelers
quarterback Terry Bradshaw became legends with four titles. In today's group, quarterback
Tom Brady
of the
New England Patriots
is a lock for the Hall of Fame after winning three championships.
Could three rings do the same for Pittsburgh Steelers quarterback
Ben Roethlisberger
?
Just seven seasons in, it's officially time to open the Hall of Fame discussion for Pittsburgh's franchise quarterback. At 28, Roethlisberger has a chance to go 3-0 in Super Bowls on Sunday when the Steelers play the
Green Bay Packers
at Cowboys Stadium.
With the exception of Brady, who is still playing, every starting quarterback who's won at least three Super Bowls has been inducted into the Hall of Fame. Although not as conventional a player as Brady, Roethlisberger has a chance to put his name in that elite category Sunday.
ESPN.com's AFC North blog surveyed Hall of Fame voters during Super Bowl week to get a feel for Roethlisberger's candidacy and where it would stand if he leads Pittsburgh to a third championship.
"If you ask me if Roethlisberger deserves to be in the Hall of Fame, I would say without a doubt," said veteran NFL writer John McClain of the Houston Chronicle. "To me, Ben doesn't have to win a third ring. But if Ben wins [Sunday], that's all that matters for a quarterback. I can't imagine there would be any hesitation."
Opinions varied from those who will eventually make the final decision.
"There's too much of a rush to judgment, not only with the Hall of Fame but with the whole world where everything that's the latest becomes the greatest," explained longtime Hall of Fame voter Ira Miller. "But the first question I always ask is, 'Can you write the history of the game without this player?' Then the second thing is, let's put him in perspective among the quarterbacks of his era.
"Is Ben the best quarterback of his era? No. Is he the second best? No. Is he the third? Maybe. He's had a nice career so far. Maybe he will win two more Super Bowls, but we don't know that."
There's no question Roethlisberger will present an interesting case for the Hall of Fame committee when he becomes eligible five years after he retires. He's a quarterback who's put up less-than-gaudy numbers in the high-flying age of fantasy football.
Roethlisberger has never led the NFL in passing yards or touchdowns. He admits he probably will never win an MVP award. But Roethlisberger also has never had a losing season and has been to four AFC title games and three Super Bowls.
Roethlisberger's playoff record is 10-2, which is a
higher winning percentage
than both Brady (14-5) and
Peyton Manning
(9-10), who are considered Hall of Fame locks from today's group of quarterbacks.
In fact, the trio's dominance has been astounding. In the past eight Super Bowls, the AFC has been represented by either Brady, Manning or Roethlisberger. No one else has had a chance to even compete in the big game. In contrast, the NFC has been represented by eight teams and eight different quarterbacks over the same span (
Brad Johnson
,
Jake Delhomme
,
Donovan McNabb
,
Matt Hasselbeck
,
Rex Grossman
,
Eli Manning
,
Kurt Warner
and
Drew Brees
).
"It drives [Steelers] Coach [Mike] Tomlin crazy, because he wants me to put myself in that category," Roethlisberger said of joining Brady and Peyton Manning. "But, I don't know, I guess I like being the hunter, not the hunted."
The biggest case against Roethlisberger's Hall of Fame candidacy appears to be longevity. Seven seasons present an unfinished résumé.
"When I'm looking at Hall of Fame guys, I'm looking at whether he's one of the best at his position over an extended period of time and does he have longevity," said former receiver
James Lofton
, who played 16 seasons and was inducted in the Hall of Fame in 2003. "It's obviously a great start, but Ben has a lot of football left to play. I think he could play a minimum of 12 years."
Although there are exceptions -- such as Gale Sayers, Dwight Stephenson and Doak Walker -- most enshrinees have had long careers that spanned at least a decade. But Roethlisberger is winning big right away, which has prompted this early discussion.
"If Roethlisberger gets his third ring, he's on pace, just like in the case of Troy Aikman," Hall of Fame voter and ESPN.com senior writer John Clayton said. "He's obviously a difference-maker. At the same time, he's not there yet. He's still 28 and longevity is very important."
Roethlisberger's recent off-the-field issues bring up another interesting debate. He has been accused of sexual assault twice in the past two years, and although never convicted of a crime, Roethlisberger was suspended four games this season for violating the NFL's personal conduct policy.
Several voters brought up the case of former Giants linebacker
Lawrence Taylor
, who has repeatedly run into legal issues but was a first-ballot Hall of Famer as one of the greatest linebackers of all time.
"Remember, our bylaws say only what happens on the field counts," McClain said.
But voters on the committee are human, after all, and it may weigh in the back of some people's minds.
"The Roethlisberger situation is a bit tricky," said Hall of Fame voter Joe Reedy of the Cincinnati Enquirer. "Yes, he could have three rings, but he wasn't great in Super Bowl XL. (Roethlisberger was 9-for-21 for 123 yards and threw two picks.) And even though the off-field stuff is not supposed to enter into the conversation, it definitely is going to be the white elephant in the room."
Roethlisberger chose to wear jersey No. 7 because one of his favorite players growing up was
Denver Broncos
Hall of Fame quarterback
John Elway
. It's fitting because Elway, in many ways, was Roethlisberger before Roethlisberger.
Elway never had the prettiest or most conventional style of quarterbacking. In terms of numbers, his career passer rating was a modest 79.9. But Elway was one of the most clutch players ever and managed to win two Super Bowls and five AFC title games.
Although his book is unfinished, Roethlisberger is building a similar case for the Hall of Fame and can add another storied chapter Sunday against Green Bay.
"I think Ben Roethlisberger is well on his way to having a Hall of Fame career. If he plays a leading role in winning this Super Bowl, he's that much closer," said Hall of Fame voter and
ESPN.com NFC West blogger
Mike Sando. "But I think the legacy is still pending and there's a reason we wait. There's a reason we don't vote players in right after they retire, let alone while they're still playing. I think this will be best judged when he's finished playing and we've had five years to figure it out.
"So far, though, so good."
June, 23, 2010
6/23/10
12:30
PM ET
Notable players:
RB Jim Brown, WR Paul Warfield, K Lou Groza, G Gene Hickerson, RB Leroy Kelly, QB Frank Ryan, LB Jim Houston.
Analysis:
Jim Brown and Paul Warfield in the same offense.
Does any more need to be said?
[+] Enlarge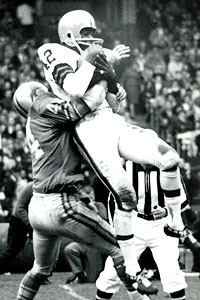 Malcolm Emmons/ US PresswirePaul Warfield averaged 17.7 yards per catch during his rookie season in 1964.
Often you hear Cleveland fans longing for the glory days, and this group led by Brown and Warfield -- perhaps the two best to play their respective positions -- tops the list.
This team was ahead of its time. Cleveland, which finished 10-3-1 in 1964, scored more than 400 points in an era when that was extremely difficult. For perspective, only eight teams scored more than 400 points in 2009 with two more regular-season games (16) and numerous advancements in the NFL game.
Brown, 28 and in his prime, rushed for 1,446 yards and averaged 5.2 yards per carry. He averaged more than 100 yards rushing per game. Warfield, then a 22-year-old rookie, had 920 receiving yards and nine touchdowns, as he was a key figure who helped revolutionize the vertical passing game. He averaged 17.7 yards per catch in '64, a stat that would still be impressive today.
To further prove Cleveland's dominance, they won the NFL Championship, 27-0, over the Baltimore Colts. The high-powered offense with Brown, Warfield and Ryan (25 touchdown passes) at quarterback was too advanced. Cleveland scored 30 points or more in half of its games that season.
Brown, Warfield, Groza, Hickerson and Kelly -- who was a rookie kick returner in '64 -- are all Hall of Famers from this group.
Most impressive win:
As mentioned earlier, Cleveland's 27-0 rout of the Baltimore Colts was the exclamation point of the '64 season.
Both teams had an amazing collection of talent. But Baltimore Hall of Famers such as quarterback Johnny Unitas, running back Lenny Moore and tight end John Mackey were stifled by Cleveland's defense, which forced four turnovers. Brown rushed for 114 yards for Cleveland and Ryan threw three touchdown passes in the blowout win.
Research room:
Groza had one of the most interesting careers in football history. He played 22 years in Cleveland and arrived as an offensive lineman. He made the Pro Bowl nine times as a left tackle and also played some right tackle, center, defensive tackle and kicker during his career. Groza was the kicker for the '64 team at age 40. He made 22 field goals and all 49 extra-point attempts.
Sudden retirement:
Following the championship in '64, Brown would play one more season before suddenly retiring to pursue a movie career.
Brown rushed for an astounding 1,544 yards and 17 touchdowns in his final season. Most of Brown's rushing records have been broken. But he's widely considered the best running back of all time.
Honorable mentions:
1950:
Another elite, championship team stacked with talented players such as Otto Graham and Marion Motley. This Browns team would give the '64 group a run for its money. But not having Warfield or Brown on this squad makes the difference.
1953:
The Browns, again led by Graham at quarterback, ran off 11 consecutive wins before losing a meaningless final regular-season game. But Cleveland lost to the Detroit Lions, 17-16, in the NFL Championship for a disappointing end to an otherwise dominant season.
1986:
This team is best known for falling victim to "The Drive" led by quarterback John Elway of the Denver Broncos. Elway orchestrated a 15-play, 98-yard drive in Cleveland to force overtime and Denver eventually won the game, costing a talented Browns team a shot at the Super Bowl. One year later, a chance at revenge against Denver in the AFC title game was thwarted by "The Fumble."
July, 9, 2008
7/09/08
4:38
PM ET
Posted by ESPN.com's James Walker
| | |
| --- | --- |
| | |
| | AP Photo/Tony Dejak |
| | Bernie Kosar hopes to bring a championship to Cleveland. |
As fans of the Cleveland Browns can attest, conference championship games have never brought much luck to Bernie Kosar. Despite how well Kosar would play, quarterback counterpart John Elway and the Denver Broncos always found a way to one-up Cleveland and punch a ticket to the Super Bowl.
But 20 and 21 years after "The Fumble" and "The Drive," respectively, Kosar is back in the conference championship game once again -- this time as president of the Cleveland Gladiators of the Arena Football League.
Cleveland will face the Philadelphia Soul Saturday, July 12, for a chance to play in the Arena Bowl.
Many football people believe conference title games can be just as difficult -- and sometimes more difficult -- to win than championship games. Kosar agreed with that assessment based on personal experience.
"Most people think that if you don't win it all, it's not a success," Kosar said Wednesday via conference call. "But basically you're playing the cream of the crop, the best-type teams [in conference championships]. It's not an accident that I believe us and Philadelphia are still playing. And when you're playing at the highest level, somebody has to lose."
Kosar aims to not come up on the short end in the conference championship again this weekend.
The matchup pits two championship-deprived cities. Philadelphia hasn't won a pro sports title since the 76ers were NBA champions in 1983. Cleveland hasn't won a pro championship since the Browns did it in 1964, before the merger.
Although Elway owns an arena team, he is not standing in Kosar's way this weekend. But former NFL quarterback and current ESPN analyst Ron Jaworski is.
Jaworski is president of the Soul and, like Kosar, also is trying to bring another title to the city he once played in.
"We really have two cities that are starving for a championship," Jaworski said. "I can speak for Philly, and I know the Cleveland organization feels the same way. We're very proud to represent our cities."