August, 19, 2014
Aug 19
8:15
PM ET
PITTSBURGH -- Fans all but begged the Steelers to bring back
Brett Keisel
during the months when it looked like the popular and hirsute defensive end would not be able to end an unlikely NFL career on his own terms.
A lot of people
got their wish Tuesday
. Not the least of them was Keisel.
The deal that returns him to the only organization he has known will also allow Keisel to retire as a Steeler. "Da Beard" wanted that as much as he did another season of playing in the NFL.
The
Arizona Cardinals
' interest in Keisel prompted the Steelers to double back on him, even though they are generally getting younger on defense.
Keisel
That is not a knock against
Cam Thomas
, whom the Steelers signed to a two-year, $4 million contract in March. It is certainly not an indictment of second-round pick
Stephon Tuitt
, whom the Steelers love -- and who is the future at left defensive end.
But teams can usually find a place for players such as Keisel, and the Steelers are no exception. He is so valuable in the locker room and defensive linemen's meeting room because of his leadership.
And he showed this past season that he can still play when healthy. Keisel missed almost five games, but it's not like his body was breaking down because he was in his 12th NFL season.
One injury, plantar fasciitis, sidelined Keisel for a mid- to late-season stretch. Even that painful foot injury did not stop Keisel from finishing third on the Steelers with 26 quarterback pressures and fourth on the team with four sacks.
He can still help the Steelers' defense, even if he gets limited snaps while playing in a rotation. And his return won't stunt the development of Tuitt.
On the contrary, Keisel is the perfect player to mentor the immensely talented Tuitt. He is a two-time captain who has been held as an example by Steelers defensive line coach
John Mitchell
because he always runs to the ball.
Always.
When he is giving pointers to Tuitt, Keisel can think back to when Aaron Smith mentored him -- Tuitt actually wears the No. 91 for which Smith set the standard -- and marvel at where the time went.
It has been almost 13 years since Keisel crashed the league that didn't want him and nearly called it a career before he ever got started. Keisel lasted until the 242nd pick of the 2002 NFL draft and almost left St. Vincent College a couple months later because the seventh-round selection felt so overwhelmed at his first training camp.
But he ended up staying, and he developed into one of the unlikeliest core players of the teams that won two Super Bowls and played in a third in a six-season span.
Just when it looked like the Steelers had moved on from Keisel, who celebrates his 36th birthday next month, they bring him back for another season.
Both sides will be better for it -- and Keisel gets to author the ending he wanted all along for his improbable story.
June, 19, 2014
Jun 19
12:30
PM ET
PITTSBURGH -- He was issued the number worn by Aaron Smith, one of the best defensive ends in
Pittsburgh Steelers
history.
His position coach continued the link when he compared
Stephon Tuitt
to a young Aaron Smith.
Pressure? Yeah, and Tuitt says bring it on.
"I love pressure," the rookie defensive end said. "I thrive off of that."
[+] Enlarge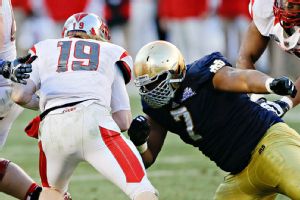 AP Photo/Frank Franklin IIStephon Tuitt, 7, of Notre Dame hopes to follow in the footsteps of Aaron Smith as the Pittsburgh Steelers' next dominant 3-4 defensive end.
He better, since the Steelers are hoping Tuitt is one of the players they build around up front with Smith and nose tackle Casey Hampton no longer with the team and defensive end
Brett Keisel
still a free agent.
John Mitchell has spoken highly of Tuitt since the Steelers drafted the former Notre Dame star, calling him a steal in the second round and later comparing him to Smith, who was so good in his prime that teams could not effectively block him with just one man.
Mitchell, however, has tempered expectations during minicamp, which wraps up today, and said the Steelers won't play Tuitt until he is ready.
"The worst thing you want to happen to a good player who is going to be good down the road, he loses confidence because he goes in the game when he's not ready to play," the veteran defensive line coach told Steelers.com. "We're not going to rush this kid in there. When he's ready to play and we feel he can help this team, that's when we're going to play him. As he grows he's going to be a good football player and he's going to play here for a long time."
It certainly wouldn't hurt if Tuitt, who could have returned to Notre Dame for his senior season, is able to help the Steelers right away since much at defensive end is unknown after
Cameron Heyward
.
Cam Thomas
, who started 10 games at nose tackle for the
San Diego Chargers
last season, will go into training camp as the starting defensive end opposite Heyward. After that the Steelers have a bunch of young, unproven players at the position, though there is a chance they bring Keisel back.
Tuitt is the most promising of the youngsters the Steelers have at defensive end.
The 6-foot-5, 303-pounder already has an NFL body, and he likely would have been a first-round pick had he not carried extra weight in 2013 after surgery compromised his offseason training.
Tuitt's sheer size and the fact that he played some five-technique defensive end in college should help reduce his learning curve.
"I played every single position at Notre Dame," said Tuitt, whose 21 ½ career sacks rank among the school's all-time leaders "Coming into this defense there isn't much change. It's just different when everybody you're going against is top caliber."
Top-caliber is an apt description of the defensive end who wore No. 91 before Tuitt.
Smith established himself as one of the best 3-4 defensive ends of his generation, and he was a main reason the Steelers regularly ranked among the top rushing defenses in the NFL.
Tuitt has yet to meet Smith, but he has already heard plenty about him.
"I've gotten a chance to see who wore this number before me, and the person who wore the number before me was a great player for the Steelers," Tuitt said. "With that comes a great opportunity to become the best, and that's somebody I want to become as great as or greater than."
June, 6, 2014
Jun 6
4:30
PM ET
PITTSBURGH --
Steve McLendon
has added 20 pounds since the end of last season but the Steelers nose tackle dropped weight in another sense.
After struggling with expectations from replacing a five-time Pro Bowler, McLendon said he is no longer weighed down by the pressure of taking over for Casey Hampton at nose tackle.
And McLendon certainly felt the pressure last season though much of it was self-imposed.
[+] Enlarge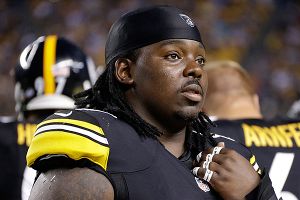 AP Photo/Gene J. PuskarSteve McLendon added some weight this offseason in an effort to become more formidable against the run.
"Think about it," McLendon said Thursday after the Steelers' final practice of the week. "You've got a Hall of Famer in waiting and I'm coming in to play right after him. That's pressure. You know what the legend is behind that guy.
"Everybody knows what Casey was. I've seen the man play. There's nothing else like him. I'm far from Casey. I'm never going to try to be Casey. The only thing I can do is work every day, do my best and just be the best Steve that I can be."
Doing that led McLendon to the ironic decision that he has to become more like Hampton to thrive at a thankless but vital position in the Steelers' 3-4 defense.
The fourth-year veteran concluded that the weight he played at last season was simply not enough for him to consistently stand his ground in the middle of the Steelers' defensive line.
"I can't be down there at 310 (pounds), trying to play a spot where guys are 330-plus," said McLendon, who recorded 23 tackles and nine quarterback pressures last season. "I need to be heavy just like them and be able to move faster and quicker than them."
McLendon said he did not compromise any quickness by packing on the extra pounds. And the former undrafted free agent thinks he will play faster this season simply because he has rid himself of the burden of trying to be Hampton, one of the best nose tackles of his generation.
"The pressure of last year came on strong in the middle (of the season) because you never know how much it takes to be a starter," McLendon said. "It's not all physical, it's mostly mental. Sometimes you try to do too much. You've just got to try to play your technique and do what's best for the team, do what's inside the defense."
McLendon staying within himself could go a long way toward shoring up a defense that allowed 115.6 rushing yards per game last season.
That number was as astounding as it was alarming considering the Steelers have finished in the top three in the NFL in rushing defense 13 times since John Mitchell took over as defensive line coach in 1994.
Mitchell is among those who have given McLendon a vote of confidence. He has also told McLendon to relax, play his game and not try to be Casey Hampton.
"My coaches weren't expecting me to do that," McLendon said as he reflected on last season. "They were expecting me to go out there and play hard, play fast and play hard, and that's all I should have been doing."
May, 9, 2014
May 9
8:36
PM ET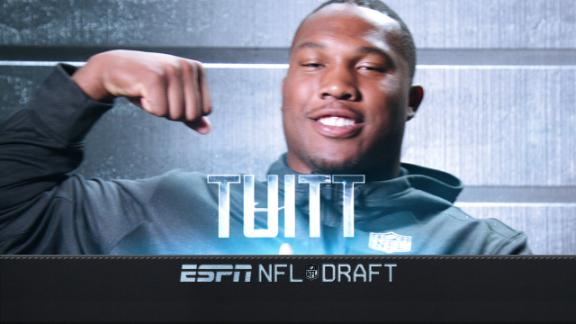 PITTSBURGH --
The pick:
Stephon Tuitt
, DE, Notre Dame
My take:
The Steelers addressed one of their most glaring needs, and they did so without taking a cornerback or wide receiver with their second-round pick. I like the pick, though I would have thought long and hard about taking Indiana wide receiver
Cody Latimer
or Nebraska cornerback
Stanley Jean-Baptise
with this selection.
Tuitt will help fill a gaping hole at defensive end. Tuitt, who doesn't turn 21 until later this month, had been widely projected as a late first-round pick. He put on weight in the 2013 offseason after recovering from a hernia injury and didn't play up to expectations as a junior. The Steelers worked out Tuitt in Atlanta and are confident that his weight issues are a thing of the past. "We feel like we got a steal," Steelers defensive line coach John Mitchell said.
Tuitt has the size and physical talent to excel as a 5-technique defensive end, and he will get an opportunity to learn under Mitchell, who molded
Aaron Smith
and
Brett Keisel
, among others. Tuitt had 21.5 career sacks at Notre Dame, so he can push the pocket as well as hold up physically against the run. Mitchell said Tuitt would have been a top-10 pick in the draft had he been healthy in 2013 and built on a sophomore season in which he had 47 tackles and 12 sacks. "When you're drawing up an end for our defense, that's the guy you want," Mitchell said of Tuitt.
Still no CB or WR:
The Steelers have yet to address two of their biggest perceived needs, and part of that is probably because of the draft's depth at wide receiver and cornerback. Teams seem to be content to wait until later to take a wide receiver because there are so many quality ones in this draft. The Steelers figure to take a cornerback or wide receiver later Friday.
What's next:
The Steelers don't pick again until late in the third round since it is a compensatory selection. They traded their third-round pick last year to the
Browns
for a fourth-round selection. They used the pick on safety
Shamarko Thomas
, and the Steelers made the trade because they were confident they would get a third-round pick this year as compensation for free-agent losses in 2013. The pick is No. 97 overall, and the Steelers are not allowed to trade it.
December, 12, 2013
12/12/13
1:17
PM ET
PITTSBURGH -- It seems ludicrous now considering that he may be the Steelers' best defensive player this season. But it wasn't too long ago that it was easy to wonder if the Steelers had made a mistake when they used their 2011 first-round pick on
Cameron Heyward
.
He played sparingly outside of special teams his first two seasons, and it was also easy – or convenient – to forget that Heyward didn't have the benefit of getting acclimated to a new defense before his first training camp because of the lockout.
[+] Enlarge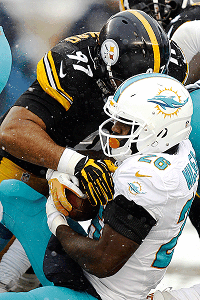 Charles LeClaire/USA TODAY SportsSteelers defensive end Cameron Heyward showed off his tenacity against the Dolphins.
Or that it takes years for ends to master the technique and hand-to-hand combat skills that are necessary to succeed in the Steelers' 3-4 defense.
Heyward, it can be argued, is actually ahead of schedule. And any questions about whether he has arrived were erased last Sunday against the Dolphins.
Heyward recorded a career-high 10 tackles, and he displayed a brute strength on a couple of them in yanking Dolphins ball carriers to the ground. The former Ohio State star is second on the Steelers with 24 quarterback pressures and third on the team with four sacks.
And yet when asked if development has been a source of satisfaction this season, Heyward said, "No, because it just doesn't show up on the [score]board. I think I've become more confident in what I'm doing out there. I just want it to translate onto the board. I'll do whatever it takes."
Heyward is a main reason why the Steelers have hope that their future performances translate into wins – and not just in the final three games of the season.
The player who didn't open the season as a starter -- he supplanted
Ziggy Hood
in the lineup after the fourth game -- has emerged as a cornerstone whom the Steelers can build around as they re-tool their aging defense. Heyward has also established himself as the next in a line of defensive ends who have distinguished themselves, most notably
Aaron Smith
and
Brett Keisel
.
"I've had the pleasure of just getting to learn from those guys and there's so much I've learned," Heyward said. "I'm just trying to live up to the hype. Those guys have set the bar pretty high and just trying to carry it on."
He has already started doing just that.
"Cam had a lot of God-given ability. It just took him some time to learn what to do," Steelers defensive line coach John Mitchell said. "He's getting better and better. He feels more comfortable. We wanted to get him on the field because he was making plays."
October, 29, 2010
10/29/10
12:26
PM ET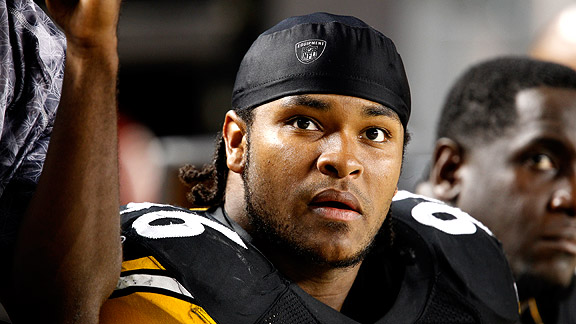 AP Photo/Gene J. PuskarDE Ziggy Hood has been thrust into the starting lineup after an injury sidelined Aaron Smith.
Pittsburgh Steelers
coach Mike Tomlin noticed
Ziggy Hood
at the training facility early Tuesday -- the team's off day -- getting extra work. Without anyone saying a word, Hood knows the increased responsibility and big shoes he must fill this weekend against the reigning champion
New Orleans Saints
in his first career start.
Starting left defensive end
Aaron Smith
had triceps surgery on Monday and will be out
for an extended period
. Not only is Hood expected to replace him Sunday, but the former first-round pick likely will be the starter in Pittsburgh for the foreseeable future.
With just three tackles in six games this season, is Hood ready?
"He's not had the kind of production that he'd like thus far, but the season is still early," Tomlin said. "Boy, he's got a big-time opportunity to work on that this weekend. Knowing him, I know that he will do what's necessary in the process."
With 22 games under his belt, Hood is not green by any means. Like a lot of young players in Pittsburgh, Hood has been slowly groomed for this moment.
The Steelers and defensive coordinator Dick LeBeau run a complicated 3-4 scheme that takes time to learn. Current defensive stars
Troy Polamalu
,
LaMarr Woodley
,
Lawrence Timmons
and even Smith struggled or were non-factors as rookies. The same can be said for Hood, who played in all 16 games as a backup last year. He was in the rotation, spelling starters Smith and
Brett Keisel
, and recorded eight tackles and a sack.
Smith is not only Hood's predecessor, but he's also Hood's mentor. Smith often took time out of his schedule after practice and in training camp to work with Hood on technique. Their lockers are close and they talk strategy a lot in Pittsburgh's locker room and in meeting rooms.
Hood said he feels "awful" that Smith suffered another major injury -- his third in four years -- but said Smith remains "in good spirits." Hood wants to perform well Sunday not only for himself and the success of the team, but also for his mentor.
[+] Enlarge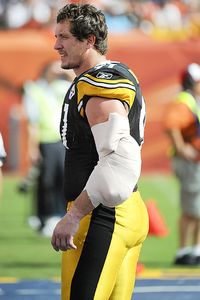 Doug Murray/Icon SMIAaron Smith tore a triceps muscle against the Dolphins and may miss the rest of the season.
"When you lose a guy of high caliber like that it makes you want to work harder, because what he brings to the field, it's tough to replace," Hood told me this week. "I'm going to try to do my best and try to fill his shoes. But it may not be enough. That guy has so much experience that it's mind-boggling thinking about it. But I'm going to do everything I can in my power to make sure that I make him proud."
Many players make their biggest jump in the NFL in Year 2. Although Hood had a solid preseason, it has been difficult to gauge his progress with limited reps in the regular season.
We will know where Hood is in his development after this weekend. His snap count could triple against the Saints as a first-time starter, depending on the depth and availability of fellow starter Brett Keisel, who missed last week's game against Miami with a hamstring injury.
Backup
Nick Eason
replaced Keisel at right defensive end last week, because Hood has worked mostly as Smith's backup on the left side. Hood said he will be much more comfortable Sunday playing full time at left defensive end.
"If you practice for a long time on your left and try to switch over to your right, it's real fuzzy," Hood explained. "Your whole mechanics and how you view things is a little bit different. Not only are you switching calls and trying to pick up different signals, but your stance and alignment is different. So I'm going to try to learn as much as I can from both sides in case they need me for the long run."
Smith is one of the NFL's most underrated and consistent players. Pittsburgh's defense has suffered every time he has been unavailable because of injuries in recent years. But Hood was drafted last year in the first round to prevent that from happening again. The Steelers have rolled to a 5-1 start and hope Hood will be part of that continued success.
"We haven't seen it yet, but Hood has to be a better player than he was a year ago," said Matt Williamson of Scouts Inc. "Hood has ability, and defensive line coach John Mitchell is one of the best in the league. He's had a chance to bring him along, and Hood's been in the organization long enough to where there's no more excuses."
According to Tomlin, Hood doesn't have to be Aaron Smith. The Steelers have enough studs on defense capable of helping make up for the loss. Tomlin just doesn't want to see a noticeable dropoff in the NFL's fourth-ranked defense now that Hood is expected to be the long-term replacement.
"You know the philosophy we buy into in terms of the standard being the standard, and what we mean by that, quite frankly, is those who step in for [Smith] has to play winning football," Tomlin said. "There are no excuses... Do I expect the guys that take his place to play like Aaron, or make the similar kind of plays? Maybe not. But they better be above the line."
July, 21, 2010
7/21/10
10:53
AM ET
By
ESPN.com staff
| ESPN.com
Sam Farmer of The Baltimore Sun looks at the
major questions facing all four AFC North teams
.
Baltimore Ravens
The Baltimore Sun
identifies four players
who are likely to be placed on the physically unable to perform list before training camp begins next Tuesday, including standout safety Ed Reed.
Reed acknowledged
he could begin the season on the PUP list.
The Ravens are
counting on rookies Sergio Kindle and Terrence Cody
to contribute to making Baltimore's defense elite once again.
Season preview
from The Cleveland Plain Dealer.
Cincinnati Bengals
Bengals.com has a
profile on coach Marvin Lewis
, who says he's "very pleased" with the direction of the offseason.
Lewis is hopeful he'll be
leading the Bengals again in 2011
.
Cedric Benson is
slated to meet with NFL commissioner Roger Goodell
on Thursday regarding the assault charges against him.
The Bengals
reached a four-year deal
with seventh-rounder
Reggie Stephens, a center from Iowa State.
Cleveland Browns
It appears unlikely that first-round pick Joe Haden will
be at camp on time
. Rookies are scheduled to report to camp on Friday.
Chris Pokorny of Dawgs By Nature
looks at the candidates
to replace Brodney Pool at safety.
Pittsburgh Steelers
Gene Collier of the Pittsburgh Post-Gazette talks with assistant head coach John Mitchell about
the work he and Steelers players have done
for Every Child, an organization that serves vulnerable children and families.
William Gay was pleased the Steelers brought Bryant McFadden back,
even if it costs him his starting job
. "I wasn't worried about, 'he's coming back, do I still have my job?' I looked at it as a friend coming back. He never should have left," Gay told John Harris of the Pittsburgh Tribune-Review.
LaMarr Woodley
admitted he was frustrated
with the Steelers' decision not to offer him a contract extension this offseason. "I'm not going to lie, I was a little disappointed that they didn't offer anything at all," Woodley told Yahoo! Sports' Michael Silver. "I felt that was a little weird. I guess they decided they're going to sit back and wait for the CBA and all that to play out."