AFC North:

John Stallworth
October, 11, 2012
10/11/12
10:57
PM ET
NASHVILLE, Tenn. --
Ben Roethlisberger
became the Steelers' all-time leading passer Thursday night, surpassing Hall of Fame quarterback Terry Bradshaw.
Roethlisberger
Bradshaw threw for 27,989 yards in 14 seasons. Roethlisberger broke the record before the halfway point of his ninth year and needed only 119 games to do so, 49 fewer than Bradshaw.
Roethlisberger set the record by converting a third down late in the third quarter. He stepped up in the pocket to complete a 17-yard pass to tight end
Heath Miller
to eclipse Bradshaw by 4 yards.
On what has been far from his best night to this point, Roethlisberger is still deserving of this record. While Bradshaw put up his numbers in an age where the rules made it tougher to throw the ball, Roethlisberger is the more talented quarterback. He's an accurate passer who can make all the throws and can carry his team.
Bradshaw had the luxury of throwing to two Hall of Fame wide receivers (John Stallworth and Lynn Swann). He had help from the ground game and Hall of Fame running back Franco Harris. He was protected by a good line and Hall of Fame center Mike Webster.
Roethlisberger passed the ball to Hines Ward, who might end up in the Hall of Fame, and the likes of
Mike Wallace
and
Antonio Brown
, who can't be mentioned in the same breath as Stallworth and Swann. Roethlisberger handed the ball off to Jerome Bettis for a couple of seasons, but for most of his career, he's been surrounded by an average running game. And, as far as pass protection, no quarterback has been sacked more often than Roethlisberger since he entered the league.
This was a record that Roethlisberger earned.
May, 11, 2011
5/11/11
1:00
PM ET
What key event significantly changed the fortunes of the Steelers -- for better or worse? Give us your take and we'll give you our definitive moment on May 18.
When you've won more Super Bowls (six) than any team in NFL history, there are a lot of great moments that can define a franchise. But which moment best defines the rich history of the
Pittsburgh Steelers
?
Was it the "Immaculate Reception" when Hall of Fame running back Franco Harris took an improbable catch the distance to beat the
Oakland Raiders
late in a 1972 playoff game? What about Pittsburgh's Super Bowl X victory over the
Dallas Cowboys
, which capped its first of two back-to-back title runs in the 1970s?
Pittsburgh's 1974 draft class to land linebacker Jack Lambert, center Mike Webster and receivers Lynn Swann and John Stallworth -- all Hall of Famers -- is often viewed as the best ever and led to four championships. Was that the defining moment in Steelers history? Or was it coach Chuck Noll's hiring in 1969?
There are tons of great moments for the Steelers. But using our SportsNation poll, we ask our community to pick the most defining moment in Pittsburgh history.
If you vote Other, give us your suggestion in the comments area below.
January, 23, 2011
1/23/11
8:18
PM ET
PITTSBURGH -- The Steelers lead the Jets
24-3
at halftime.
Here are some notes at intermission:
July, 5, 2010
7/05/10
12:00
PM ET
A weeklong look at current or former players or coaches with Hall of Fame potential in the division.
Baltimore Ravens:
Ed Reed
, safety
Claim to fame:
With his big-play ability and rare athleticism, Reed is arguably the best ball-hawking safety of all time. His ability to play center field and cover the entire field makes him the ideal prototype for today's NFL safeties.
Case for enshrinement:
Reed is tied with
Champ Bailey
for second on the NFL's active interception list with 46. Reed also plays well in big games; he has seven interceptions in seven playoff appearances.
As time passes, Reed likely will be credited for the shift toward cover safeties over big hitters at the position. With recent rule changes and the explosion of the vertical passing game, lumbering safeties gradually are being phased out in favor of elite, cover athletes like Reed.
Case against enshrinement:
Although Reed has won big playoff games, his résumé is missing a championship. The closest Reed got was the 2008 AFC Championship Game, a close loss to Pittsburgh.
Longevity also could be an issue. Reed, 31,
contemplated retirement this offseason
because he's dealing with a nerve condition in his neck. With only eight seasons under his belt, Reed is playing on a year-to-year basis and likely won't pad his numbers much longer.
Touchdown machine:
Part of what makes Reed unique is his ability to turn defense quickly into offense.
Including the postseason, Reed has reached the end zone 13 times in his career -- seven interceptions, three blocked punts, two fumble returns and one punt return. Reed is a game-changer, and a strong case can be made that he's the most feared defender in NFL history with the ball in his hands.
Bottom line:
Reed is a virtual lock. But a Super Bowl title and/or another productive year or two for longevity's sake would erase any remaining shred of doubt.
[+] Enlarge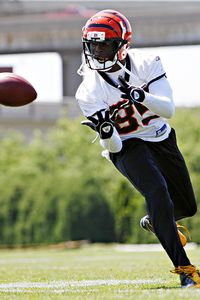 Frank Victores/US PresswireWill Chad Ochocinco's wacky personality keep him out of the Hall of Fame?
Cincinnati Bengals:
Chad Ochocinco
, wide receiver
Claim to fame:
In 2007, Ochocinco came up with a premeditated sideline celebration to wear a replica Hall of Fame jacket. Ochocinco certainly has good credentials and is one of the top receivers of his generation. But Ochocinco is perhaps most famous for his antics and unpredictable personality.
Case for enshrinement:
If you focus only on production, Ochocinco's numbers stack up. The six-time Pro Bowler is just 48 yards short of 10,000 receiving yards.
Ochocinco already has more career receiving yards than current Hall of Famers Raymond Berry (9,725 yards), Fred Biletnikoff (8,974 yards), John Stallworth (8,723 yards) and Paul Warfield (8,565 yards). Ochocinco has seven 1,000-yard seasons in his nine-year career, displaying his consistency. At 32, Ochocinco still has several good years left, which will further improve his numbers.
Case against enshrinement:
Perhaps the biggest case against Ochocinco is that, despite his production, he hasn't won anything. Ochocinco has zero championships and is 0-2 in playoff games. Hall of Famers Berry, Biletnikoff, Stallworth and Warfield all won titles, while Ochocinco can't get out of the first round.
Also, Ochocinco's antics and trash talk could factor into the equation. Plenty of characters have made it to Canton. But when you package Ochocinco's brash behavior with the fact that he hasn't won anything of significance, it could be a formula that keeps him on the outside looking in.
Outlasting Brett Favre:
If Ochocinco had his way, he would play in the NFL for another dozen years. That's not the norm for receivers, but that would certainly help Ochocinco's candidacy.
"I'm going to play until I'm 44," Ochocinco said recently. "Forty-five is a bit far-fetched. If Favre can get to 40, I know I can get four years on him. So that will be fine."
Bottom line:
If Ochocinco retired today, I don't think he gets into the Hall of Fame. But the next several years will be very important for him. A championship would help.
Pittsburgh Steelers:
Hines Ward
, wide receiver
Claim to fame:
Ward is one of the toughest and smartest receivers to play in the NFL. He never had ideal speed, height or athleticism, but Ward continues to put up outstanding numbers. He has at least 69 receptions in nine consecutive seasons.
Case for enshrinement:
Ward is Pittsburgh's all-time leader in receiving yards with 10,947 yards, ahead of Hall of Famers Stallworth and Lynn Swann.
Ward has all the qualities you look for in a Hall of Famer: He's a leader, is productive, and has high character and two Super Bowl rings. Ward also has four Pro Bowls and a Super Bowl MVP on his résumé.
Case against enshrinement:
Ward's numbers are not as gaudy as some of his contemporaries. In a pass-heavy era, Ward's stats will be compared to those current receivers
Terrell Owens
(14,951 yards),
Randy Moss
(14,465 yards) and
Torry Holt
(13,382 yards).
Smart voters will understand that Ward played most of his career for a run-first franchise. But there's no guarantee a majority of voters will view it that way. The numbers are the numbers, detractors might argue.
On the blocks:
Playing his entire career for mainly a run-first franchise, Ward became the most physical blocking receiver of all time. His blocks have caused concussions and even broken bones. A jaw-breaking hit on Bengals linebacker
Keith Rivers
in 2008
prompted a rule change
against helmet contact from the blind side, often called the "Hines Ward rule."
Bottom line:
Ward will be a unique player to gauge when it comes to pure numbers. But owning Pittsburgh's key receiving records and winning a second Super Bowl after the 2008 season should put him over the hump.
[+] Enlarge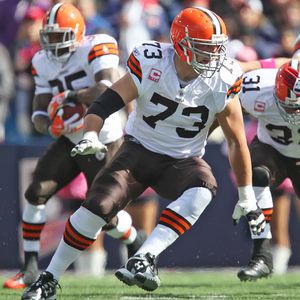 Kellen Micah/Icon SMIJust three seasons into his career, Cleveland offensive tackle Joe Thomas is building Hall of Fame credentials.
Cleveland Browns:
Joe Thomas
, offensive tackle
Claim to fame:
In just three seasons, Thomas already has three Pro Bowls on his résumé. With the recent retirement of the
Seattle Seahawks
'
Walter Jones
, Thomas is the new favorite to
claim the title of the NFL's best left tackle.
Case for enshrinement:
For starters, Thomas is batting 1.000 when it comes to making Pro Bowls. If he keeps up that pace for his career, a trip to Canton will be assured.
Thomas also is just entering his prime. At 25, he only will get better over the next several seasons. The surest way to the Hall of Fame is being the best position player of your era, and Thomas has a chance to do that.
Case against enshrinement:
The Hall of Fame always has been a combination of individual and team success. So far, Thomas is severely lacking the latter.
Playing for the lowly Browns might be the only roadblock to Canton for Thomas. He's already one of the least publicized elite players in the NFL. The Browns are 19-29 in Thomas' three seasons and have zero playoff appearances. Staying healthy also will be key.
Thomas speaks:
The AFC North blog caught up with Thomas during Cleveland's mandatory minicamp and asked him about his potential path to the Hall of Fame.
"My goal coming in was to be a Hall of Famer," Thomas said. "If you want to be in the Hall of Fame, there's two important things: Super Bowls and Pro Bowls. So I'm on the right track with Pro Bowls. I have to start winning some Super Bowls and put some more Pro Bowls on top of that. Then you can start talking about the Hall of Fame."
Bottom line:
It's way too early, but Thomas is on the right path.
June, 23, 2010
6/23/10
11:00
AM ET
Notable players:
QB Terry Bradshaw, LB Jack Lambert, RB Franco Harris, DB Mel Blount, LB Jack Ham, WR Lynn Swann, DT Joe Greene, WR John Stallworth.
[+] Enlarge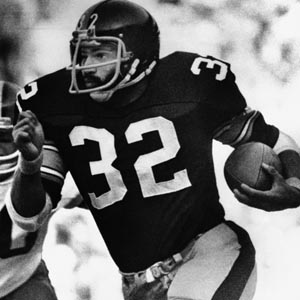 AP Photo/JJWFranco Harris posted career-high numbers during the 1975 season.
Analysis:
The '75 Steelers were the first Pittsburgh team to win back-to-back Super Bowls. It was also the best team from the famed Pittsburgh dynasty of the '70s, which included a bevy of Hall of Famers.
Led by the Bradshaw -- aka the "Blonde Bomber" -- Pittsburgh was able to win through the air and on the ground in an era when most teams were one-dimensional offensively and thrived on ground-and-pound football.
Pittsburgh's famed "Steel Curtain" defense was one of the best of all time and held seven opponents to single-digit scoring during the '75 season. In three playoff games, including the Super Bowl, offenses averaged only 12.3 points per game.
The '78 and '79 Pittsburgh title teams were also tremendous. But the '75 group had several key advantages.
For starters, every key member in '75 was in, or approaching, his prime. Hall of Famers Bradshaw (27), Blount (27), Ham (27), Lambert (23), Harris (25), Swann (23) and Stallworth (23) came into their own during this first run of back-to-back titles. By the time the second run of championships came at the end of the decade, this core group was four years older and some were approaching the end of their storied careers.
Further displaying their dominance, the '75 Steelers won by an astounding average of 15.1 points per game in the regular season, which led the NFL. It was also the highest margin of victory for any of Pittsburgh's championship teams. The '78 team won by an average of 10.1 points per game, while the '79 team won by 9.6 points per game.
Most impressive win:
The Steelers' 21-17 victory over the Dallas Cowboys in Super Bowl X was the team's crowning achievement. The Steelers won the turnover battle 3-0 to pull out a historic and close game. It completed the first of Pittsburgh's two back-to-back championships in the decade.
Research Room:
The Steelers allowed 17 touchdowns in 14 regular-season games in '75. In contrast, Pittsburgh scored 46 touchdowns, including two fumble returns for scores and one kickoff return.
Big Franco:
Harris is best known for the "Immaculate Reception" in '72 during a playoff win over the Oakland Raiders. But his best season rushing the football came three years later.
Harris recorded a career-high 1,246 yards rushing and 11 touchdowns during Pittsburgh's title run in '75. He averaged 4.8 yards per carry and also caught 28 passes out of the backfield. The nine-time Pro Bowler and Hall of Famer had eight 1,000-yard seasons.
Honorable mentions (in order):
1978:
A dominant group that won 14 games in the regular season and a Super Bowl. They scored at least 33 points in all three playoff victories.
1979:
The last championship team of the Steelers dynasty of the '70s. This group was No. 1 in total offense and No. 2 in total defense.
1974:
This team started the run of four championships in the '70s. But it wasn't until a year later that the core group of Hall Famers all blossomed and came into their own.
April, 17, 2009
4/17/09
3:00
PM ET
| | |
| --- | --- |
| | |
| | Marlene Karas/US PRESSWIRE |
| | Receivers John Stallworth and Lynn Swann were part of the Pittsburgh Steelers' 1974 draft class that produced four Hall of Famers. |
Posted by ESPN.com's James Walker
ESPN Stats & Information recently determined the best draft class in history for each of the 32 NFL teams and ranked them. According to its research, the 1974 Pittsburgh Steelers were the runaway favorite.
Then ESPN.com's SportsNation let the fans decide -- and they agreed with the ranking.
NFL fans know the names: Lynn Swann, Jack Lambert, John Stallworth, Mike Webster. Four Hall of Famers taken in one draft class. Pittsburgh's championship run of four Super Bowl victories in the 1970s immediately followed, including the 1974 title during this draft class' rookie campaign.
Frankly, there was not another draft that came close in terms of impact and star power.
To be fair, the NFL drafts in the 1970s were much longer. Pittsburgh selected 21 players over 17 rounds in 1974. So the numbers give the Steelers an advantage over many modern draft classes.
But even if you reduced Pittsburgh's class of 1974 to the modern-day opening seven rounds, it still remains the all-time best. Swann, Lambert, Stallworth and Webster were all taken within the first five rounds.
Coming in second in our SportsNation poll was the 1985 Buffalo Bills. That draft class was highlighted by the selections of defensive end Bruce Smith and receiver Andre Reed. Smith will be inducted into the Hall of Fame this summer and Reed was a seven-time Pro Bowler.
April, 9, 2009
4/09/09
10:06
AM ET
Posted by ESPN.com staff
Baltimore Ravens
Cincinnati Bengals
Cleveland Browns
Pittsburgh Steelers