May, 8, 2013
5/08/13
8:00
AM ET
Let's take a quick break from the arrests and federal investigation going on in the AFC North to talk about ballroom dancing. In my 13 years of covering the NFL, I have never written a sentence quite like that one, but I digress.
On Tuesday night,
Baltimore Ravens
wide receiver
Jacoby Jones
advanced to the semifinals of ABC's "Dancing With The Stars." He is competing against singer Kellie Pickler, gymnast Aly Raisman and Disney Channel star Zendaya for The Mirror Ball. The pressure is on Jones. Steelers wide receiver Hines Ward, the last AFC North player to compete on the show, won two years ago.
Now, it's time for the wake-up call ...
RAVENS
: Perhaps
Rolando McClain
's roster spot isn't as secure as once thought.
The NFL Network
is reporting that the recent comments made by assistant general manager Eric DeCosta -- that McClain deserved a second chance -- referred to signing the inside linebacker last month and not his most recent arrest. According to the NFL Network, the Ravens haven't made a decision on McClain, who is scheduled to appear in court July 9 on charges of disorderly conduct and resisting arrest from an incident in April. Stay tuned.
BENGALS
: Geoff Hobson of the
team's official website
wonders whether former defensive lineman John Thornton was the most influential signing in team history. Thornton anchored the Bengals' defensive line from 2003 to 2008 and brought the professionalism that Marvin Lewis wanted to instill in his first season as head coach. "When I came here, Marvin wanted leadership and he wanted guys to be extensions of the coaches," Thornton said. "Even though I wasn't as talented as these guys right now, when you add professionalism and hard work to it, it kind of helps you. A lot of these guys have it all. They have talent, they work hard, they're in on their off days. These guys are productive, too. They've got it all right now."
STEELERS
: In ranking the top five safeties in the league for ESPN,
Ryan Clark
put his teammate,
Troy Polamalu
, at No. 3. Clark listed Seattle's
Earl Thomas
and Tampa Bay's
Dashon Goldson
of Tampa Bay above Polamalu. "This was a decision for me," Clark said, via
The Pittsburgh Tribune-Review
. "Here is a guy I really want to put at No. 1, but he's had some injuries over the past few years and hasn't been as effective. He's a guy I feel like can be No. 1 if we get him back fully healthy." Polamalu has missed 22 games over the past four seasons, including nine in 2012 because of a calf injury.
BROWNS
: Four months after being fired as the Browns general manager, Tom Heckert was hired by Denver to be
the team's director of pro personnel
, the Broncos announced. Heckert will be responsible for scouting NFL players and directing the scouting of the Broncos' upcoming opponents. "With more than 20 years' experience in the NFL, Tom brings a tremendous amount of knowledge and insight to our personnel department," executive vice president John Elway said in a statement. Also, Browns owner Jimmy Haslam once again
apologized to Cleveland fans
. I'll comment more on this later in the morning.
March, 14, 2011
3/14/11
1:00
PM ET

I recently did a Q&A with former Cincinnati Bengals defensive lineman and All-Pro Blogger John Thornton. We discussed a variety of topics throughout the AFC North but mainly focused on the state of affairs in Cincinnati.
There are plenty of thoughts on the West Coast offense, quarterback Carson Palmer, and the future of pending free agent Johnathan Joseph.
Here
is the link.
January, 26, 2011
1/26/11
8:00
AM ET
Here are the most interesting stories Wednesday in the AFC North: Morning take: I agree that both sides need to establish a resolution. Does Cincinnati really want to enter the NFL draft not knowing if its franchise quarterback will retire?
Morning take: This is part of the growing process for Harbaugh, who comes from a defensive and special-teams background. But everything as head coach, including the results of the offense, eventually falls on his desk.
Morning take: Pittsburgh thrives in this role. The Steelers have felt slighted all season and this will give them something additional to talk about in the final game.
Morning take: This is further proof the draft is the foundation for good franchises and the bane of bad ones.
December, 16, 2010
12/16/10
8:00
AM ET
Here are the most interesting stories Thursday in the AFC North: Morning take: Baltimore entered the year with Super Bowl expectations. So there is a style-point factor applied to the Ravens. Fair or unfair, it comes with the territory.
Morning take: Polamalu is very humble but he's always been interesting and insightful. And his acting is better than anyone expected.
Morning take: No one disagrees with what Owens said. It's pretty clear the Bengals have failed this year as an organization. But the timing of Owens' comments do not help the situation.
Morning take: Health permitting, McCoy has earned another chance. Cleveland's offense has struggled since he left the starting lineup.
December, 3, 2010
12/03/10
9:00
AM ET
OWINGS MILLS, Md. -- The
Cincinnati Bengals
, who entered the season with high expectations, are one of the NFL's biggest disappointments in 2010. Coming off a playoff appearance and AFC North title a year ago, Cincinnati is just 2-9 and there doesn't appear to be many victories in sight for the remainder of the season.
This week ESPN.com's AFC North blog caught up with
Baltimore Ravens
receiver and former Bengal
T.J. Houshmandzadeh
. He spent seven seasons with the Bengals and had some very interesting thoughts on coach Marvin Lewis, former teammates
Carson Palmer
and
Chad Ochocinco
, and the future of the team.
T.J., how surprised are you that the Bengals have imploded this year given the high expectations?
[+] Enlarge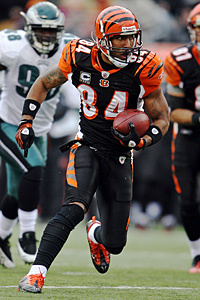 Andy Lyons/Getty ImagesT.J. Houshmandzadeh spent seven seasons in Cincinnati, going to the Pro Bowl in 2007.
Houshmandzadeh:
Yeah, I thought they were going to be really good, especially when they beat us [in Week 2]. We turned the ball over a bunch. But wow! It shocks me. It really does.
Bengals coach Marvin Lewis and a lot of key players have contract situations upcoming. What direction do you see them going in the offseason.
Houshmandzadeh:
I don't know Marvin's situation. But you would assume, outside looking in, that if he's not signed by now he's not going to be there. I kind of look at it similar to my situation, you know? Carson, I would bet there is no chance that he's gone.
Really? No chance Palmer leaves Cincinnati in 2011?
Houshmandzadeh:
Yeah, he's too good [laughs]. People always look at it like, 'Man, I wish I had that guy or this guy.' Carson is the real deal. You can say it's Carson's fault and he will take all the blame, because that's how he is. But trust me, a lot of those interceptions and a lot of things that's going on, they are not his fault. Now, obviously, some of them are when he tries to force things when you get behind. But I know that offense. So I know the hand signals they make, I know what they're trying to accomplish when a play is called and what defense they're looking for. So when you see something go wrong, I know what's going on and a lot of those things aren't his fault. But with the type of guy Carson is, he will always take the blame.
In terms of your good friend Chad Ochocinco, he also has an option year. Do you see his future in Cincinnati?
Houshmandzadeh
: I would say he's going to be there, because he's good. But who knows? They could've traded Chad going into my last year there to the Redskins and got a great deal for him. If you don't trade him then, which is not even three years ago, why would you get rid of him now? Chad can play -- period. He will freelance every once in a while, but you take that with Chad. He's going to do his own thing periodically. But he can still play, that's for sure.
If Lewis doesn't return, what type of coach is needed in that locker room?
Houshmandzadeh:
Maybe not so much this year, but the defense has played well. So maybe they let [defensive coordinator Mike] Zimmer get it. Or do they bring in a guy like [Raiders offensive coordinator] Hue Jackson? Everybody on the team knows he will command your respect right now. You're going to have fun, but you're not going to cross the line. Hue and Carson would work well together. Maybe Marvin does go back. But if not, Zimmer is there and he likes those guys. Zimmer is the reason why the expectations became so high, because of what he's done for them on defense.
Last question: Do you feel the Bengals lack leadership, especially after key veterans like you, Willie Anderson and John Thornton left the past few years?
Houshmandzadeh:
The thing with me when I was there is I spoke up. They have guys there that will speak up. But offensively, Carson is not going to say too much unless it gets out of control. The two guys I can see speaking up offensively are going to be Bobbie [Williams] and Whit [
Andrew Whitworth
]. Guys when they're younger -- this may sound crazy but it's the truth -- it means more in my opinion when it's guys you've seen on TV. I mean, when you come into this locker room, if
Ray Lewis
speaks up you respect that because you know his name, and you know him. But if a lineman says something, you're going to listen, but it's not going to resonate as much because you don't know him. That's just the reality of the situation. Bobbie, he's a heck of a leader and Whit is more quieter. But that's my take on it. I would always speak up. I spoke my mind and sometimes to a fault, but that's who I was from the day I got there. [Offensive coordinator] Bob Bratkowski will tell you I was like that from Day 1. I never changed my whole time in Cincinnati. Also when I was there, I think Chad had a little more leeway to kind of be crazy because I could bring him in. I don't think there's anybody there who can bring him in anymore .... When I was there, when he didn't talk to nobody, he talked to me and the coaches knew that. But I wanted them to do well. I really did. They beat us the first game. So I was really looking forward to the last game, because I didn't play well in the first game. I still am looking forward to the last game, but it will be a little different.
November, 23, 2010
11/23/10
8:00
AM ET
Here are the most interesting stories Tuesday in the AFC North:
Morning take: The hit on Oakland Raiders quarterback Jason Campbell looked clean from our perspective. If the NFL fines Harrison, expect a quick appeal.
Morning take: Sideline confrontations happen more than people think, but this is interesting. With so many talented skill players, the AFC North blog predicted in April there will be a few rough spots keeping everyone happy.
Morning take: I always enjoy Thornton's perspective on the Bengals -- and not just because I agree with his point.
Morning take: With rookie quarterback Colt McCoy's status in question, the Browns may have to choose between Delhomme and Seneca Wallace. Whom would you start?
October, 29, 2010
10/29/10
8:30
AM ET
Here are the most interesting stories in the AFC North:
Morning take: The Steelers need their best players against the reigning champion New Orleans Saints, so this is a good sign. Woodley's potential return also means fellow linebacker Lawrence Timmons can move back inside.
Morning take: This is one of the toughest things to do in the NFL. Baltimore is 3-2 in games decided by seven points or less, and continued improvement in this area would serve the Ravens well.
Morning take: Will Miami's passing game have a big day? Atlanta's Roddy White recently ran circles around Cincinnati's banged-up secondary.
Morning take: The Browns still have a long way to go. But it looks like Heckert's first draft led by cornerback Joe Haden, safety T.J. Ward and quarterback Colt McCoy could be a solid one.
March, 18, 2009
3/18/09
12:30
PM ET
| | |
| --- | --- |
| | |
| | Rob Tringali/Sportschrome/Getty Images; Andy Lyons and Tom Hauck/Getty Images |
| | The AFC North has lost some star power, with Bart Scott and T.J. Houshmandzadeh departing through free agency and Kellen Winslow Jr. sent off in a trade. |
Posted by ESPN.com's James Walker
With the busiest portion of free agency coming to an end, it is officially time to evaluate the decisions made by all four AFC North teams.
The range of activity in free agency varied this year. For instance, the Baltimore Ravens were extremely active in signing and losing players, while the defending champion Pittsburgh Steelers only visited with a couple of players without reaching deals.
Let's examine the moves.
Baltimore Ravens

Grade: B
Key pickups: CB Domonique Foxworth, C Matt Birk, TE L.J. Smith, CB/KR Chris Carr
Key losses: LB Bart Scott, C Jason Brown, S Jim Leonhard, CB Chris McAlister (released), Samari Rolle (released)
Analysis: Going into free agency, I thought the Ravens were doomed for failure with the amount of big names set to hit the open market. Baltimore certainly lost some of those players, but a creative and cost-effective plan allowed general manager Ozzie Newsome to soften the blow. The Ravens lost three key starters in linebacker Bart Scott, center Jason Brown and safety Jim Leonhard. They also released starting cornerbacks Samari Rolle and Chris McAlister. But Baltimore quickly added talent in free-agent cornerback Domonique Foxworth, veteran center Matt Birk, tight end L.J. Smith and return specialist Chris Carr. Keeping Pro Bowl linebackers Ray Lewis and Terrell Suggs were vital. And if the Ravens put together another solid draft class, which is Newsome's forte, Baltimore should be fine in 2009. This good grade is given to the Ravens for their resiliency in coming up with a plan to stay in contention despite losing a wealth of talented players.

Grade: C+
Key pickups: WR Laveranues Coles, QB J.T. O'Sullivan, P Ryan Plackemeier
Key losses: WR T.J. Houshmandzadeh, QB Ryan Fitzpatrick, DL John Thornton (still unsigned), OT Stacy Andrews, C Eric Ghiaciuc (still unsigned)
Analysis: No one was surprised when former Pro Bowl receiver T.J. Houshmandzadeh left Cincinnati for the Seattle Seahawks. But it was surprising when the Bengals paid former New York Jet Laveranues Coles $28 million over four years-- including a whopping $9.75 million in his first year -- to replace Houshmandzadeh. Houshmandzadeh had 90-plus receptions the past two seasons, while Coles is more of a 60- to 70-catch receiver. Someone will have to make up that missing production whether it is a bounce-back year from Chad Ocho Cinco or a career year from one of the young receivers -- Chris Henry, Andre Caldwell or Jerome Simpson -- in the No. 3 role. Keeping tailback Cedric Benson was important, but the team still needs a big-play threat at that position. J.T. O'Sullivan was a decent pickup to back up quarterback Carson Palmer. With Palmer's return, a stellar draft could put Cincinnati in position to surprise next season.
Grade: D+

Key pickups: LB Eric Barton, LB David Bowens, TE Robert Royal, DL C.J. Mosley, OL John St. Clair
Key losses: S Sean Jones, TE Kellen Winslow Jr. (trade), WR Joe Jurevicius (released), OT Kevin Shaffer (released), LB Andra Davis, LB Willie McGinest, RB Jason Wright
Analysis: The Browns are cleaning house, and they probably are not done yet. New coach Eric Mangini and first-year general manager George Kokinis are turning over the roster quickly through every avenue possible. The Browns have not retained most of their in-house free agents such as safety Sean Jones and linebackers Andra Davis
and Willie McGinest. They also cut offensive tackle Kevin Shaffer and receiver Joe Jurevicius and traded former Pro Bowl tight end Kellen Winslow Jr. to Tampa Bay for a pair of draft picks. The replacements have not been overwhelming. Former Jets linebackers Eric Barton and David Bowens are both stop-gap players who are 30-plus. Royal is not nearly as dynamic a tight end as Winslow, and Cleveland still has a lot of holes left to fill in the draft. The Browns are clearly starting from scratch, which is why they are attempting to stockpile draft picks. Coming off a 4-12 season, Cleveland appears to be headed for another transition year in 2009.
Pittsburgh Steelers

Grade: C-
Key pickups: None
Key losses: CB Bryant McFadden, OT Marvel Smith, QB Byron Leftwich (still unsigned), WR Nate Washington
Analysis: Pittsburgh hasn't signed anyone outside of its building. Instead, the team placed its focus on keeping together last year's championship team. The Steelers retained three starters from their offensive line in guard Chris Kemoeatu and tackles Willie Colon and Max Starks and brought back a host of backups and special-teams players. They are staying true to their identity of not being major players in free agency. But it would have been beneficial to add at least one or two offensive linemen from the outside to compete and provide depth. That probably won't happen until next month's NFL draft. Starting cornerback Bryant McFadden bolting to the Arizona Cardinals could be softened if William Gay continues to develop in 2009. The Steelers are banking on it. Pittsburgh also brought in a few intriguing free agents, such as receiver Joey Galloway and cornerback/return specialist Chris Carr, for visits. But its reluctance to pay much on the open market this offseason forced those two players to sign with other teams.
February, 9, 2009
2/09/09
7:30
AM ET
Posted by ESPN.com's James Walker
Here are the most interesting stories Monday in the AFC North:
Morning take: Warner is correct, because it takes more than two rings. But the Steelers will have a chance to earn dynasty status next season.
Morning take: As great as the NFL is, its all-star game is not very exciting. Football is not meant to be played at half speed.
Morning take: Add Thornton to a short list that also includes Bill Cowher.
Morning take: Bisciotti's team is not far away, as long as he opens his checkbook and keeps most of his in-house free agents.
December, 26, 2008
12/26/08
10:00
AM ET
Posted by ESPN.com's James Walker
Here are the most interesting stories Friday in the AFC North:
Morning take: Listening to his lyrics, Lil Wayne is definitely a risk taker. Let's see if this risky prediction pans out as well.
Morning take: He says quarterback Ben Roethlisberger is "too big" and "fumbles every five snaps." I'm guessing Steeler Nation won't like that assessment.
Morning take: Although Thornton likely won't return to Cincinnati, he produced a rare feat in the NFL. Thornton played out the entire length of a six-year contract he signed with the team in 2003.
Morning take: Gradkowski is the fourth quarterback under center for the Browns this year. He is a Pittsburgh native but it's doubtful this will be a happy homecoming.
August, 25, 2008
8/25/08
2:00
PM ET
Posted by ESPN.com's James Walker
Here are seven notes and observations from this weekend's preseason games in the AFC North:
"It wasn't a good feeling [Saturday]. We know that," Bengals defensive tackle John Thornton said. "We have some time before the first game, so we have some time to fix it. It hasn't been a good last two weeks, so we have to find out why we're not performing."
"It's a team sport and we weren't all on the same page," Cincinnati offensive tackle Levi Jones described the game.