November, 27, 2013
Nov 27
10:00
AM ET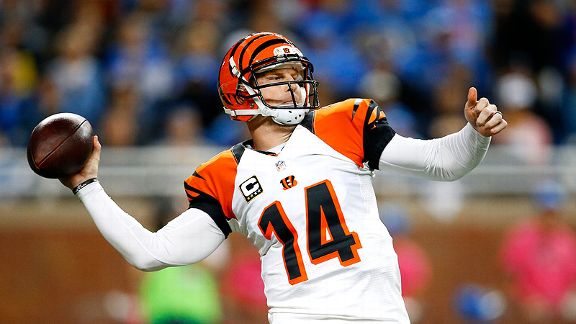 AP Photo/Rick OsentoskiThe Cincinnati Bengals are counting on Andy Dalton to return to the form that helped lead the team to a 4-1 record in October.
CINCINNATI -- Earlier this week,
Cincinnati Bengals
players like cornerback
Chris Crocker
were adamant in pointing out the urgency they need to play with throughout the
month of December
.
"It's all about winning in December," Crocker said. "Let's win out and see where the chips lay. Why can't we win out? I don't see why we can't."
If you ask some Bengals fans and most NFL analysts, they'll give you one big reason why they don't believe Cincinnati will be able to go 5-0 to close out the regular season: No. 14.
That's right. To some, the primary obstacle in the way of end-of-season perfection for the Bengals is
Andy Dalton
, the player who has quarterbacked the franchise into the playoffs each of the past two seasons, and who constantly is trying to prove himself to those who consider him just another member of a mostly failed 2011 quarterback draft class.
For that reason, as the Bengals gear up for a stretch run that could give them a first-round bye and home-field advantage in the playoffs, an important question has to be asked.
Can December Andy mimic October Andy?
As we've written countless times in the past month, October Andy was indeed a dandy. Through the first four games of that month, Dalton threw for 1,243 yards and 11 touchdowns. He also completed 67.9 percent of his passes, won four games, had a passer rating higher than 116.0 and a QBR above 83.0. He was, quite simply, brilliant. His play was so sharp back then that on the final day of the month, hours before the Bengals were set to take on the Dolphins in a road Thursday night game, he was named the AFC's Offensive Player of the Month.
And, yes, even though, comparatively speaking, he didn't look as good overall against the Dolphins and ended up taking the game-winning sack for a safety in overtime, Dalton still had a rather special performance in the 22-20 loss. Aside from not completing a touchdown pass and getting intercepted three times, he threw for 338 yards, marking the fourth straight game he had gone over the 300-yard passing mark.
Overall, October Andy was Good Andy.
But now here comes December with all of its postseason potency. If Cincinnati hopes to set itself up for the type of playoff seeding Crocker believes it deserves, then it will have to play its best ball across the next five weeks. That's especially the case for Dalton and a Bengals offense that has looked rather anemic in the past three games.
One look at Dalton's previous December stats and it doesn't appear the third-year star should have any problem showcasing even a sliver of the success that made him and his team so good about two months ago.
After a rocky December as a rookie in 2011, Dalton was among the difference-makers last season when the desperate Bengals were in need of a strong final month just to secure a playoff berth. One year after going 2-2 in the month, Dalton went 4-1 during December 2012. The lone loss came after the
Dallas Cowboys
made a field goal in the final seconds to win 20-19.
While the level of desperation may be different this December, the Bengals are looking for Dalton to thrive under similar pressure-packed moments during this one. This time around, the pressure on Dalton mainly stems from the fact that so many are fed up with his play from the past three games. In them, he's thrown eight interceptions and been sacked 10 times. Across the latter two of those games, he's completed fewer than 50 percent of his passes and hasn't posted a QBR higher than 18.0.
Weather factored heavily in Dalton's inability to move the ball in those two games. Windy conditions at Baltimore and windy and rainy conditions against the Browns sent some of his passes sailing and forced others into the hands of defensive backs.
Although weather shouldn't be a concern this weekend in San Diego (the forecast calls for partly cloudy skies and a delightful high of 71 degrees Sunday), it could be the rest of the season. Farmer's Almanac projects cold, damp conditions for all of December in the Ohio Valley. It should be noted that after Sunday's game, the Bengals are home three of the next four weeks. Their only remaining road game is at Pittsburgh.
Throughout his career, Dalton has performed better in warmer games. In games with temperatures 50 degrees or higher, he has a 20-14 record, an 85.1 passer rating and a 52.5 QBR. In games with temperatures at 49 and lower, he has a 5-5 record, a 75.4 passer rating and a 32.9 QBR. Dalton's last three sub-49-degree wins came last December, though; a sign that perhaps he's turning a corner in cold-weather contests.
Whatever the conditions and whomever their opponents are, when it comes to the next five weeks, the Bengals can only hope that Dalton turns into the same man who torched through this October.
April, 29, 2011
4/29/11
10:15
AM ET
The
Baltimore Ravens
reportedly are seeking more than an apology from the
Chicago Bears
following a trade snafu that cost Baltimore one slot in the first round of the NFL draft.


According to Peter King of Sports Illustrated, Baltimore is expected to
contact the league Friday
to try to get the fourth-round pick Chicago agreed upon during the botched trade. Both teams were required to call in the trade and the Ravens did their part. But the Bears dropped the ball and forgot to make the call, causing the trade to fall through and the Ravens to miss their pick.
The
Kansas City Chiefs
quickly turned in their card and drafted University of Pittsburgh receiver Jon Baldwin at No. 26. The Ravens took their target anyway in Colorado cornerback
Jimmy Smith
at No. 27 but remain upset with the chain of events.
Bears general manager Jerry Angelo made
a public apology
to the Ravens Thursday night. But chances are, they don't want to give up an extra draft pick if the trade wasn't made official by the NFL. The Bears still made their selection in their original slot at No. 29 and would prefer to sweep everything under the rug and simply move on.
If you're going by the honor code, the Ravens deserve the pick. The two sides came to an agreement and the Bears were responsible for screwing it up. But the NFL draft is big business where honor doesn't always apply.
March, 17, 2011
3/17/11
9:00
AM ET
Here are the most interesting stories Thursday in the AFC North:
Morning take: History says the Bengals won't budge, but they've never been in this position with a franchise quarterback. With the lockout, Cincinnati cannot do anything but prepare for the draft. But the team should explore all avenues, including trade options, when the time is right.
Morning take: Bowers' recent knee surgery may be a concern for some teams, but the talent is certainly there. If he drops to Cleveland at No. 6, he could fill a huge need and be a good addition to Dick Jauron's 4-3 defense.
Morning take: Sharing the same training facility, the Steelers should have a good idea for the talent at Pittsburgh. Receiver Jon Baldwin and defensive end Jabaal Sheard are the two biggest names pro scouts are keeping an eye on.
Morning take: Cundiff tied the NFL record last season with 40 touchbacks while kicking the ball from the 30-yard line. Barring injury or a sudden decrease in leg strength, Cundiff should break the record next season if he's given five additional yards.
March, 15, 2011
3/15/11
8:30
AM ET
Here are the most interesting stories Tuesday in the AFC North:
Morning take: With Chad Ochocinco's future in Cincinnati in doubt, the team should look at a receiver in the first three rounds. There are more pressing needs, such as defensive line and quarterback. But minus Ochocinco, the Bengals also lack proven talent at receiver.
Morning take: Hopefully, Zbikowski will get stiffer competition than the tomato can he pounded last weekend. With no collective bargaining agreement, I'd really like to see "Zbi" and "Ocho" go at it for charity and without any fear of repercussions from their respective teams.
Morning take: Holmgren also said that includes quarterbacks, and particularly Auburn's Cam Newton. After singing the praises of Colt McCoy this entire offseason, this sudden interest in Newton appears very strange. I view it as a smokescreen.
Morning take: I agree with this mock draft that Texas cornerback Aaron Williams would be a solid pick. Cornerback is the team's biggest need and top corner Ike Taylor is a pending free agent. It's time the Steelers finally invest a top pick into the position.