October, 31, 2013
10/31/13
1:42
PM ET
OWINGS MILLS, Md. -- It took 10 months for
Jameel McClain
to get back on the field. It took only one game to convince the
Baltimore Ravens
that he's their best option at weakside linebacker.
McClain
McClain will start over
Josh Bynes
for Sunday's game at the
Cleveland Browns
, defensive coordinator Dean Pees said Thursday.
When Bynes was out with a finger infection, McClain started in his place on Oct. 20, his first game since suffering a spinal cord contusion last December. Now that Bynes is healthy enough to play again, the Ravens made the decision to stick with McClain, who had started the past three seasons.
"It's just a chance for me to go out there and prove myself," McClain said.
In his first game back, McClain was the team's third-leading tackler with five and played just over half of the defensive snaps (30). He didn't have a missed tackle.
Pees said McClain is "close" to playing at the same level he did last season.
"He was tentative I think sometimes because he hadn't hit anybody," Pees said. "I would guess it's going to take him a couple of weeks. But he'll be even better this week."
The move means Bynes will have a bigger role on special teams. He made the biggest stop on coverage teams last season when he tackled returner
Ted Ginn
on the last play of the Super Bowl.
McClain's impact will come in run defense, which has been a problem area for the Ravens recently. The Ravens have allowed 140 or more rushing yards in three of their past four games.
Baltimore's run defense has been a barometer of the team's success this season. In three wins, the Ravens have held teams to 60.3 yards rushing. In four losses, they have been gashed for 137.2 yards on the ground.
October, 23, 2013
10/23/13
2:00
PM ET
OWINGS MILLS, Md. -- The
Baltimore Ravens
could address depth at running back during their bye week.
While starting running back
Ray Rice
says he has fully recovered from a hip injury, the same cannot be said about backup
Bernard Pierce
. He is dealing with a hamstring injury and didn't practice Wednesday, the last workout before the players receive four days off.
The Ravens didn't have Pierce toward the end of Sunday's game in Pittsburgh, which is why fullback
Vonta Leach
spelled Rice at times. Free agent
Beanie Wells
had a tryout with the Ravens on Tuesday, but the team isn't expected to sign him. Former
Cincinnati Bengals
running back
Bernard Scott
worked out for the Ravens last week.
The Ravens have a roster spot open after trading offensive tackle
Bryant McKinnie
to the
Miami Dolphins
.
"We're still working ourselves through that," coach John Harbaugh said. "It could be a practice-squad promotion. It could be somebody off a practice-squad roster or somebody who's available right now as a free agent."
Pierce has shown some flashes during his two seasons with the Ravens, but he tends to get banged-up. The Ravens are averaging 2.8 yards per rush, which is last in the NFL.
Here are some other injury updates:
Inside linebacker Josh Bynes, who missed his first game with a finger infection, said he expects to return for the Nov. 3 game at the Cleveland Browns. "I don't if 'expected' is the right word," Harbaugh said. "I guess I probably feel that way, but I don't want to speak, because you never know with an infection. But there's a good chance that he would be [ready]."
Left guard Kelechi Osemele confirmed he will have surgery on his back this offseason. He didn't practice Wednesday and said the back acts up on him "off and on" throughout the year. "They feel like I'm the best chance to win games at my position. So, I'm going to deal with it," Osemele said. "How much affected? The back is a big thing. It's connected to your legs and everything from that point down. It's affected my power. I'm an offensive lineman. I need to have strong legs. Obviously, it's affecting me."
October, 18, 2013
10/18/13
1:46
PM ET
OWINGS MILLS, Md. --
Baltimore Ravens
starting inside linebacker
Josh Bynes
was ruled out for Sunday's game against the
Pittsburgh Steelers
after he needed surgery on an infected finger, coach John Harbaugh announced Friday.
Bynes cut his finger last week, and it got infected after he played in last Sunday's game. He was hospitalized Tuesday night but returned to the team the next day. There was hope Bynes would play in Sunday's game in Pittsburgh, but he didn't practice Wednesday or Thursday.
"Then last night, the infection kind of beat the antibiotics," Harbaugh said. "So he had to get surgery on that finger to get that cleaned out."
Harbaugh indicated Bynes is "doing fine" and it's not major surgery.
"(But) that will preclude him from playing in this game," Harbaugh said.
With Bynes being ruled out, rookie second-round pick
Arthur Brown
is expected to make his first career start. He's primarily been limited to playing on passing downs.
"I put in the preparation this week and I'm definitely confident," Brown said. "I'm ready to go."
The other factor is the potential return of inside linebacker
Jameel McClain
, who practiced this week for the first time since suffering a spinal cord contusion 10 months ago. He has had full practices all week, and the team has until Saturday at 4 p.m. to decide whether to activate him from the physically unable to perform list and put him on the 53-man roster.
McClain started the previous three seasons for the Ravens.
Asked if there is any chance of McClain playing against the Steelers, Harbaugh said, "Why don't we just wait and see on that. I'm not prepared to make an announcement on that right now."
October, 17, 2013
10/17/13
4:45
PM ET
Baltimore Ravens
starting defensive lineman
Chris Canty
returned to have a full practice Thursday after sitting out the day before. He is dealing with a groin injury.
Canty
That means inside linebacker
Josh Bynes
(finger, thigh) was the only starter who didn't practice Thursday. Wide receiver
Brandon Stokley
(groin) missed practice after having a full participation the previous day.
Defensive tackle
Haloti Ngata
(elbow) and cornerback
Lardarius Webb
(hamstring) were limited for a second straight day.
Inside linebacker
Jameel McClain
, who remains on the physically unable to perform list, had his second full practice. Before this week, he hadn't practiced for the Ravens since suffering a spinal-cord contusion 10 months ago.
Is there a possibility McClain could play Sunday?
"I'd hate to speculate, because again, I don't want to say yes, don't want to say no, and then I'm wrong," defensive coordinator Dean Pees said. "So, I don't know. We'll take it day-to-day. We'll see how it goes. That's a decision for better minds to make than me."
Here's the Ravens' complete injury report:
Did not practice:
LB Josh Bynes (thigh, finger), WR Brandon Stokley (groin) and LB
Albert McClellan
(shoulder).
Limited participation:
CB
Chykie Brown
(thigh), DT
Terrence Cody
(knee), C
Ryan Jensen
(foot), DT Haloti Ngata (elbow), LB
Courtney Upshaw
(foot), CB Lardarius Webb (hamstring).
Full participation:
DL Chris Canty (groin), LB Jameel McClain (neck), DT
Marcus Spears
(knee).
June, 1, 2013
6/01/13
10:00
AM ET
OWINGS MILLS, Md. -- For their 17 years in Baltimore, this was
Ray Lewis
' defense. Now, as the defending Super Bowl champion Ravens completed the second week of offseason workouts, this has become a doughnut defense. That is, one with a hole in the middle of it.
Rolando McClain
retired before he even practiced for the Ravens. Second-round pick
Arthur Brown
is sidelined but hopes to return by training camp after undergoing sports-hernia surgery.
Jameel McClain
has yet to be cleared for full-team drills after a spinal-cord contusion caused him to miss the final three regular-season games of 2012 and all of the playoffs. And
Albert McClellan
didn't practice Friday because of an undisclosed injury.
Who's left at inside linebacker for the Ravens?
Josh Bynes
,
Nigel Carr
,
Bryan Hall
and
Brandon Copeland
. All four were undrafted and two of them (Hall and Copeland) are converting from defensive linemen.
The Ravens, though, know they have time to get healthy. There are still three full months before they kick off the regular season at Denver.
[+] Enlarge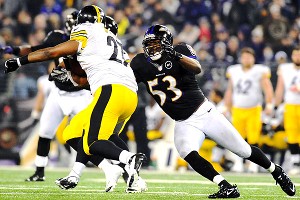 Evan Habeeb/USA TODAY SportsJameel McClain aims to be back at linebacker come the Ravens' Sept. 5 opener at Denver.
"You can go back 50 years, no matter who the linebacker was -- whether it was [Dick] Butkus or whether it's Ray Lewis -- no matter who it is, someone always ends up stepping up and has to step up to be the next guy in that situation," defensive coordinator Dean Pees said.
This isn't like last season, when Pees and the Ravens knew they would open the season without
Terrell Suggs
. The hope is that Brown and Jameel McClain will be manning the middle for Baltimore by training camp.
Brown told reporters Friday that he's "making progress daily" and is taking mental reps. Not being on the field during offseason workouts will hurt Brown, who is making the transition from a 4-3 defense to a 3-4 scheme.
McClain has been optimistic about his chances of returning this season. He's been participating in individual drills and there are no restrictions to his training regimen.
"We definitely want Jameel out there," Pees said. "It's very critical from the standpoint of he's our leadership out there. He's kind of the only veteran inside guy that we really have in there."
Despite the injuries, there are high expectations for the Ravens defense. The additions of linebacker
Elvis Dumervil
, safety
Michael Huff
, defensive lineman
Chris Canty
along with the return of cornerback
Lardarius Webb
from a season-ending knee injury should boost a defense that finished No. 17 in the NFL last season, the Ravens' worst defensive ranking since 2002.
Pees was asked if this year's defense will be better than the one that helped Baltimore win a Super Bowl.
"It's really always unfair to say ahead of time what the defense is going to be," Pees said. "We have to be better than we were last year. We were good in the playoffs -- good enough -- but we weren't good enough during the season for us to be the kind of defense that we want to be. We have to be better than we were a year ago, I'll put it that way. I don't know whether we will be, but we need to be."
December, 22, 2012
12/22/12
1:38
PM ET
Ravens linebacker
Ray Lewis
isn't expected to play in the final two games of the regular season, but still has a chance of coming back for the postseason, according to
a report on NFL.com
. The Ravens made it official Saturday that Lewis won't play this weekend when they used their open roster spot on promoting linebacker
Adrian Hamilton
from the practice squad.

This all leads to a bigger question: Have Ravens fans seen Lewis for the last time in Baltimore?
Sunday's game against the Giants is the final regular-season home game for the Ravens. If the slumping Ravens, who have lost three in a row, continue to lose, they could be a wild-card team in the AFC playoffs and play their first-round game on the road. So, considering the possibility of Lewis retiring at the end of the season or the Ravens releasing him, Lewis might have played his final down in Baltimore in a Ravens uniform when he tore his triceps on Oct. 14.
My take is Lewis hasn't played his final game at M&T Bank Stadium. Lewis isn't the type of player who will want to be remembered for being banged up in his final NFL season, and the Ravens still can use his leadership, especially if safety
Ed Reed
leaves in free agency.
Working against Lewis is his age and salary. Lewis said last summer that he could see himself playing past the age of 37. He turns 38 in May. There's also the fact that Lewis will make $5.4 million in 2013. The Ravens could create much-needed cap room by cutting Lewis, especially if the plan is to put the franchise tag on quarterback
Joe Flacco
.
But the immediate concern for the Ravens is Sunday against the Giants. The Ravens will be without both inside linebackers that started the season for them.
Jameel McClain
was placed on injured reserve this week with a neck injury. If
Dannell Ellerbe
can't play -- he's a game-time decision with an ankle injury -- the Ravens will start
Josh Bynes
and
Brendon Ayanbadejo
at inside linebacker.
December, 15, 2012
12/15/12
1:45
PM ET
The Ravens don't plan to activate linebacker
Ray Lewis
by Saturday's 4 p.m. league-mandated deadline, sources tell ESPN's Sal Paolantonio.

That means Lewis
won't be eligible to play
against the Broncos on Sunday in a battle of two division leaders. It also means the Ravens are really hurting at linebacker in a game that could have major playoff implications.
The Ravens' other starting linebacker,
Jameel McClain
is out with a neck injury. The linebacker who replaced Lewis this season,
Dannell Ellerbe
, is questionable with an ankle injury. And outside linebacker
Terrell Suggs
is a game-time decision with a torn biceps.
It's possible that the Ravens' starting four linebackers could be:
Courtney Upshaw
,
Josh Bynes
,
Albert McClellan
and
Paul Kruger
. That would be a group of two undrafted players (Bynes and McClellan), a rookie (Upshaw) and a second-rounder (Kruger).
Brendon Ayanbadejo
also would see time at inside linebacker.
Sources say the Ravens want to give Lewis, who tore his right triceps on Oct. 14 against Dallas, one more week to heal. The biggest problem for the Ravens is trying to counter
Peyton Manning
's audibles at the line. In the past, Lewis would get his teammates lined up whenever Manning changed the play. But Baltimore will be without the player known on the team as "The General."
Bynes, who joined the Ravens last season as an undrafted free agent, would get the helmet with the headset if Ellerbe can't play. Bynes has never started an NFL game, but he would be responsible for getting the calls from defensive coordinator Dean Pees and relaying them to teammates.
"That's what the middle linebacker is supposed to do," Bynes told
The Baltimore Sun
. "But I'm used to that. I've been doing that for a long, long time. In high school, I was the only one with a wristband, the only one telling the players what the play was. In college, I had the same responsibility. So now, it's no different than any other time in all of my years playing football. So I'm used to it."
Although Bynes is experienced in handling this role, it'll be much different when he is staring across the line at Manning on Sunday.