October, 3, 2013
10/03/13
7:30
PM ET
CINCINNATI -- The news on
Josh Freeman
's release from Tampa Bay, broken by
ESPN's Adam Schefter
, had barely been out five minutes before the Freeman-to-Cincinnati charge began on social media.
Dalton
Freeman
Countless tweets from news sites and sports reporters referencing the announcement were either hashtagged #Bengals, or directed toward the team's @Bengals Twitter account by those eager to see a move that would bring the new free agent quarterback to Paul Brown Stadium. The hope those Twitter-savvy football observers shared was that Freeman would be brought in to either light a fire under current starting quarterback
Andy Dalton
... or replace him.
Dalton has been in the spotlight the past five days as calls for his ouster have picked up steam since the Bengals' 17-6 loss at Cleveland. During the game, he passed for just 203 yards and had a season-low 29.7 QBR. He certainly has played worse games before, but when it came to this fan base, one that is eager to finally see its team live up to the lofty preseason expectations that preceded it, the last straw had been reached. It's either time for Dalton to sit, or time for him to leave, the most vocal Bengals fans have said since last Sunday.
Their anxiety has grown throughout the week, in part, because the Bengals are scheduled to face Future Hall of Fame quarterback
Tom Brady
and the
New England Patriots
this Sunday. Even though Cincinnati has beaten the past four Super Bowl-winning quarterbacks it has faced --
Aaron Rodgers
,
Ben Roethlisberger
,
Joe Flacco
and
Eli Manning
-- the greater concern is that Brady and his revamped offense will prove to be too much for Dalton and company.
As I wrote just after the Bengals' loss Sunday, my belief is that Cincinnati
can't give up on Dalton
just yet. Yes, he's had some bad, but when he's been good, he's been really good. The problem is that he has yet to play at a consistent level. Many thought this would be the season he finally began to put it all together and performed close to near-perfection. Arguably his best start came in the season opener, when he completed 79 percent of his passes in the loss to Chicago. Maybe Sunday's game ought to be seen as a last chance of sorts, but obviously with Freeman available now, the Bengals would have to act now if they were planning on making a move. Aside from fan interest in it, there's no other reason to believe the team would entertain altering its quarterback plans at the present moment.
Dalton is familiar with all the chatter about him, but he's tuning it out. He said he doesn't read much that's written about him, good or bad.
"The biggest thing with social media these days is anybody can say whatever they want and have [no] consequences for it," Dalton said. "So you can't listen to all that stuff. You can't read into all that stuff, because honestly, they have no idea what went on."
He added that he believes he will adequately respond to last week's performance.
"Ever since I have been playing the game, when things haven't gone right, I feel like I've bounced back pretty quickly, and bounced back and done some really good things," Dalton said. "I expect that going into this week."
If the Bengals were to decide on making a quarterback switch, below are a few of the statistics they would consider while seeing if signing Freeman was worth it. There are pluses and minuses:
February, 23, 2011
2/23/11
7:22
AM ET
With the offseason in full swing, let's take a look at one major question facing each AFC North team as it begins preparations for the 2011 season:
CINCINNATI BENGALS
Should the Cincinnati Bengals give into Carson Palmer's trade demands?

After eight underachieving seasons in Cincinnati,
Palmer wants out
and everyone from his agent
to teammates
to his realtor believe Palmer is absolutely serious. So how should the Bengals handle this situation?
Cincinnati is consistently one of the NFL's more downtrodden franchises and has been through this before. In the past, players such as
Takeo Spikes
,
Corey Dillon
and
Chad Ochocinco
have expressed the desire to get out of Cincinnati and couldn't leave on their terms.
But Palmer's situation is different for two reasons. First, he's the franchise quarterback, the most important player on the team. Second, he's threatened to retire if he's not traded, which is something Spikes, Dillon and Ochocinco never did. These two factors up the ante tremendously in terms of putting pressure on the Bengals.
If Palmer, 31, holds firm on his demands, that leaves
Dan LeFevour
and
Jordan Palmer
as the other quarterbacks on Cincinnati's roster. The Bengals cannot start the 2011 season with either of those players under center. As more time goes by with uncertainty, it becomes more likely the Bengals must
do something to get quarterback help
in the draft or free agency.
In my opinion
, the Bengals should trade Palmer while they can still get decent value for him. Cincinnati will be rebuilding for the next two years anyway -- with or without Palmer -- and there are plenty of teams in need of a good quarterback.
But the
Bengals are standing their ground
, hoping Palmer will have a change of heart. That's a dangerous assumption with free agency potentially starting next month and the NFL draft coming in April.
BALTIMORE RAVENS

Are concerns about Baltimore Ravens quarterback Joe Flacco legit?
As we continue the subject of quarterbacks, we move over to Baltimore. Flacco is getting drilled this offseason by media and fans for not leading the Ravens past the divisional round. Baltimore entered last season as a Super Bowl favorite and by those standards the team -- and particularly the offense -- underachieved.
Now people are starting to doubt Flacco. He has struggled in the playoffs, recording just one passer rating above 90.0 in seven career postseason games. It's no secret an organization is tied into the success and development of its quarterback. But are the expectations of Flacco, in his third season, too high too soon? The answer is, yes.
Flacco has become a victim of his own early success. He advanced to the AFC title game as a rookie and has had expectations of getting to the Super Bowl thrust upon him since.
Last season, Flacco set career-highs in passing yards (3,622), touchdowns (25) and passer rating (93.6) for the Ravens (12-4). But it's the second-round loss to the
Pittsburgh Steelers
that stands out in most people's mind.
Flacco likely must
get past rival
quarterback
Ben Roethlisberger
of Pittsburgh for the Ravens to take that next step. But there is no shame in losing to the eventual AFC champions in the postseason.
Young quarterbacks such as
Matt Ryan
,
Mark Sanchez
and
Josh Freeman
are viewed in a much more favorable light in their cities. Flacco has had as much career success and put up equal or better numbers than all of them. He deserves a break.
PITTSBURGH STEELERS
What will the Steelers do at cornerback?

As their Super Bowl XLV loss to the
Green Bay Packers
proved, the Steelers must add quality depth in the secondary. The Packers,
New England Patriots
and
New Orleans Saints
provide the blueprint of how to beat Pittsburgh's vaunted defense: spread the Steelers out with multiple receivers.
The Steelers simply don't have enough good cornerbacks to defend three- and four-receiver sets. This also takes Pittsburgh's strongest players-- its linebackers -- off the field in favor of players such as
William Gay
and
Anthony Madison
.
Now that linebacker
LaMarr Woodley
received
the franchise tag
, veteran cornerback and pending free agent
Ike Taylor
is Pittsburgh's No. 1 priority. Taylor is Pittsburgh's best corner, but he's also 31 and the Steelers must gauge how much money and how many years to give to him.
The draft will also be important. Previous draft picks at corner such as
Keenan Lewis
,
Joe Burnett
and
Crezdon Butler
have not panned out for the Steelers, who typically address this position in the middle rounds. It's time Pittsburgh invests a high draft pick at this position to increase the probability of finding a future starter.
Do not be surprised if Pittsburgh retains Taylor in free agency and spends its first- or second-round pick on a cornerback in April to fix this issue.
CLEVELAND BROWNS
Are the Cleveland Browns fine without an offensive coordinator?

Pat Shurmur of the Browns has a lot on his plate this year. Not only is he a first-time head coach, but Shurmur is also taking over the role as offensive coordinator in his first season with Cleveland.
Is this a good idea?
After a brief search, the Browns decided to leave the position vacant. Shurmur is a former offensive coordinator for the
St. Louis Rams
and didn't want to give up those responsibilities after becoming a head coach.
A head coach's first responsibility is to manage all 53 players. But Shurmur clearly will give more special attention to his players on offense. That's a major reason the Browns hired experienced defensive coaches such as Dick Jauron and Ray Rhodes to manage the other side of the football.
President Mike Holmgren and general manager Tom Heckert have both done a good job so far in Cleveland. But I have reservations about creating this type of setup with a rookie head coach on a rebuilding team.
December, 2, 2010
12/02/10
3:30
PM ET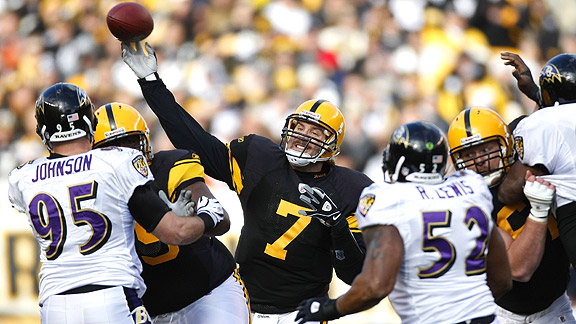 Gregory Shamus/Getty ImagesSteelers quarterback Ben Roethlisberger is 7-2 in his career against the Ravens.
OWINGS MILLS, Md. --
Baltimore Ravens
head coach John Harbaugh has never beaten
Pittsburgh Steelers
quarterback
Ben Roethlisberger
. Neither has quarterback
Joe Flacco
, or the other Ravens who joined the team within the past four seasons.
Similar to
Indianapolis Colts
quarterback
Peyton Manning
, Roethlisberger has been one of the biggest thorns in the side of the Ravens (8-3). Roethlisberger is 5-0 against Baltimore since 2007 and 7-2 in his career against his biggest rival. The only two losses came in 2006, which was the year of Roethlisberger's motorcycle accident.
"That's a horrible stat," Ravens linebacker/defensive end
Terrell Suggs
admitted this week.
Can Baltimore break its five-game losing streak against Roethlisberger in Sunday's matchup against Pittsburgh (8-3) at M&T Bank Stadium? With first place in the AFC North hanging in the balance, this would be a perfect time for the Ravens to end their drought.
The AFC North blog teamed up with its resident scout -- Matt Williamson of Scouts Inc. -- to map out four ways the Ravens can beat the two-time Super Bowl winning quarterback.
1. Bring pressure, collect sacks
Analysis:
Roethlisberger was sacked eight times in his two losses as starting quarterback this season against the
New Orleans Saints
and
New England Patriots
. The
Buffalo Bills
also sacked Roethlisberger five times during last week's 19-16 overtime win for the Steelers. That was a common theme in the three games Pittsburgh's offense struggled under Roethlisberger. Rushing the passer hasn't been Baltimore's strongest area, but it seems to be improving and getting more disruptive as of late.
Tampa Bay Buccaneers
quarterback
Josh Freeman
was flushed out the pocket several times and looked uncomfortable last week in Baltimore's win.
"I would come after them," Williamson said. "I think Pittsburgh's blitz recognition, as a whole, is a weakness. Their blockers don't pass off blitzers very well, and a lot of Pittsburgh's linemen don't have a lot of experience, including
Maurkice Pouncey
, who is their best guy."
2. Win the pre-snap battle
Analysis:
Something I believe the Steelers do very well is mask their blitzes. Defensive coordinator Dick LeBeau is very good at showing different fronts to confuse the quarterback with who's coming and who's dropping into coverage. By the time Pittsburgh shows its coverage, it's too late because there's pressure on the quarterback. I think the Ravens and defensive coordinator Greg Mattison can better implement disguises in their defense to confuse Roethlisberger. If so, Roethlisberger's penchant for holding the ball too long could result in sacks and perhaps a big turnover or two.
"I don't think Roethlisberger is a very good pre-snap quarterback," Williamson explained. "A guy like Peyton Manning is tremendous pre-snap, recognizing the defense well before the ball is even snapped. Ben is more reactionary, more sandlot: The ball is snapped, this is what I see, now make something happen and get it there."
3. Take advantage of offensive line woes
Analysis:
Pittsburgh's offense line is banged up and has a lot of moving parts. The Steelers lost starting left tackle
Max Starks
(neck) for the season and have rotated players at both guard positions. Baltimore's defensive line, led by Pro Bowler
Haloti Ngata
, should be able to win most battles at the line of scrimmage. That would stuff Pittsburgh's running game and put Roethlisberger in a lot of 3rd-and-long situations.
"If you look at the Steelers' guards, they are really bad, and [tackle]
Jonathan Scott
on the edge is a real problem," Williamson said. "There's a lot of one-on-one matchups there that favor Baltimore's defensive front. We saw a huge one last week with [Buffalo] defensive tackle
Kyle Williams
."
[+] Enlarge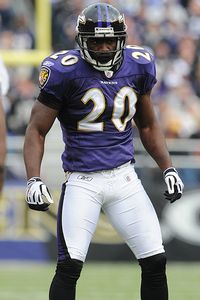 Al Messerschmidt/Getty ImagesIf Ed Reed can keep Mike Wallace in check, Pittsburgh's offense should be much less explosive.
4. Use Ed Reed to take away the deep ball
Analysis:
In his first press conference after returning from his four-game suspension, Roethlisberger noticed something while watching the games on television. "It looks like
Mike Wallace
got faster," Roethlisberger said. The quarterback was very excited about the prospect of connecting with Wallace on big plays this year, and the pair hasn't disappointed. Wallace is having a breakout season, already setting new career highs in yards (792) and touchdowns (eight). Wallace is averaging 22.0 yards per reception, as he has been able to consistently get behind the defense. This is where Reed comes in. The dynamic safety was absent from the first meeting due to offseason hip surgery. But Reed is back and making big plays again. He already has four picks in five games. If Reed can help keep Wallace under wraps, a big part of Pittsburgh's offense will be taken away from Roethlisberger.
"I think they will take shots downfield every game if they can," Williamson said of the Steelers. "Ben is a very good deep thrower and it ties in very well with Wallace, who is obviously an elite deep threat with crazy speed. Pittsburgh is aggressive in that way. They don't have any reservations about throwing deep, and I think they want to go deep no matter what defense they're playing."
If Baltimore can accomplish these four things, it has a great chance of ending its five-game losing streak against Roethlisberger. This is one of the many great chess matches in this rivalry, where the winner will have the inside track to capture the AFC North division title.
September, 28, 2010
9/28/10
3:00
PM ET
»
NFC High Energy
:
East
|
West
|
North
|
South
»
AFC
:
East
|
West
|
North
|
South
A look at a player who gave his team a significant boost in Week 3.
[+] Enlarge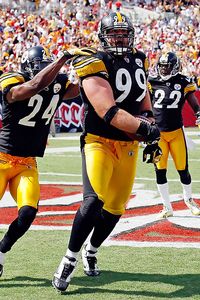 J. Meric/Getty ImagesBrett Keisel took the first interception of his nine-year career to the house.
The play seemingly took 20 minutes. But in the end,
Pittsburgh Steelers
285-pound defensive end
Brett Keisel
rumbled his way into the end zone for a 79-yard interception return for a touchdown against the
Tampa Bay Buccaneers
.
It was a dream come true for Keisel. The 32-year-old has spent his entire career playing defensive end in Pittsburgh's 3-4 scheme. Therefore, Keisel mostly takes on blockers while stud defenders
James Harrison
,
LaMarr Woodley
and
Troy Polamalu
get all the glory.
But when a rare big play was there to be made, Keisel knew what to do with the football. Tampa Bay receiver
Sammie Stroughter
dropped a pass as he was hit by Harrison, causing a deflection, and the ball bounced right into Keisel's hands.
With help from a convoy of teammates and a few nifty moves on Bucs quarterback
Josh Freeman
, Keisel made the first interception of his career a memorable one. It was also the ninth turnover forced by the Steelers (3-0) in the past two games.
"That was great," Polamalu said of Keisel's interception. "We've been making plays like that on defense, and hopefully we continue to do that and make it easy for the offense."
April, 25, 2009
4/25/09
6:06
PM ET
Posted by ESPN.com's James Walker
BEREA, Ohio -- The Cleveland Browns are wheeling and dealing.
In an apparent effort to get as many draft picks as possible, the Browns traded down in the first round once again to the Tampa Bay Buccaneers. Cleveland moved the No. 17 pick for Tampa's No. 19 overall pick and a sixth-rounder (No. 191 overall). The Bucs then took Kansas State quarterback Josh Freeman.
Earlier Saturday, the Browns shipped their No. 5 overall pick to the New York Jets for the Jets' first- and second-round picks, along with three players. There have been two trades so far in the first round and Cleveland has been involved in both.
(Update: Cleveland traded again with the Philadelphia Eagles for their No. 21 pick.)