March, 4, 2014
Mar 4
6:39
PM ET
Teams around the NFL can start contacting and negotiating with agents of players set to become unrestricted free agents beginning on Saturday, but deals can't be executed until March 11 at 3 p.m. CT when the new league year starts.
As that date approaches, we take a look at Chicago's pending free agents, and their chances of returning to the team in the first part of our weeklong series.
Tillman
2014 free agent:
Charles Tillman
Position:
Cornerback
2013 statistics:
8 games; 52.5 tackles, 2.5 tackles-for-loss, three interceptions, four pass breakups and three forced fumbles.
2013 salary:
$7.95 million base salary and $51,575 workout bonus -- $8,001,575 cash value.
Outlook:
The Bears are expected to make a strong push to keep Tillman. Although the club does want to be younger on defense, Tillman is still viewed as a key component in the immediate future. The question boils down to whether Tillman wants to return and play for head coach Marc Trestman. The two-time Pro Bowl cornerback is expected to have multiple suitors in free agency. Tillman has strong ties to
Tampa Bay Buccaneers
head coach Lovie Smith,
Jacksonville Jaguars
defensive coordinator Bob Babich,
Dallas Cowboys
defensive coordinator Rod Marinelli and
Carolina Panthers
head coach Ron Rivera from their time in Chicago. Tillman will have options.
McCown
2014 free agent:
Josh McCown
Position:
Quarterback
2013 statistics:
8 games, 5 starts; 1,829 yards passing, 13 touchdowns and one interception; 109.0 passer rating.
2013 salary:
$840,000 base salary and $5,600 workout bonus -- $870,600 cash value.
Outlook:
McCown has repeatedly expressed a desire to return to Chicago, and almost everyone in the building, ranging from general manager Phil Emery to starting quarterback
Jay Cutler
, say they want the reserve signal-caller back. But talks between the sides haven't necessarily reflected what has been said publicly (that doesn't imply talks have gone badly, but things have moved slowly). McCown holds more leverage than ever in his career after the way he played in relief of Cutler last season, but the Bears haven't been in a hurry to get the quarterback signed to a deal. McCown will have plenty of suitors in free agency. A legitimate opportunity to compete for a starting job could lure him away from Chicago.
Hester
2014 free agent:
Devin Hester
Position:
Special teams returner
2013 statistics:
52 kickoff returns for 1,436 yards (27.6 average); 18 punt returns for 256 yards (14.2) and one touchdown.
2013 salary:
$1,857,523 base salary and $250,000 workout bonus -- $2,107,523 cash value.
Outlook:
Hester is unlikely to return to Chicago. The Bears probably aren't interested in paying a couple of million dollars to a player who will strictly return kicks for a second straight year. Hester did a decent job adjusting to his new role in 2013, but he didn't make the type of impact necessary to command the same kind of salary (or even a raise) in 2014. Like Tillman, Hester will have offers from around the league. A reunion with Smith in Tampa makes sense. Hester is also close with current
Arizona Cardinals
wide receivers coach Darryl Drake. Maybe some interest materializes on that front. A couple other undisclosed teams expressed a certain degree of interest in Hester two weeks ago at the NFL combine. Hester will land on his feet, but he probably won't get the chance to continue his career with the Bears.
Ratliff
2014 free agent:
Jeremiah Ratliff
Position:
Defensive tackle
2013 statistics:
Five games, four starts; 14.5 tackles, 1.5 sacks, 1 tackle for lost yardage.
2013 salary:
$840,000 base salary -- $395,294 cash value.
Outlook:
Ratliff didn't show much in 2013, making his Chicago debut nearly a month after joining the team. But he performed well enough over the last five games of the season that the Bears would like to bring him back. The Bears met with Ratliff's representatives at the NFL combine in Indianapolis recently to see about working out a deal, and the sides remain in contact about the defensive tackle's potential return to Chicago. Other teams will likely show interest, too. At 32, Ratliff is still plenty capable of contributing at a high level. He also possesses the toughness the Bears want to instill on what's expected to be a revamped defense. And let's be real, Ratliff is arguably a better player than even a healthy
Henry Melton
.
November, 14, 2013
11/14/13
10:00
AM ET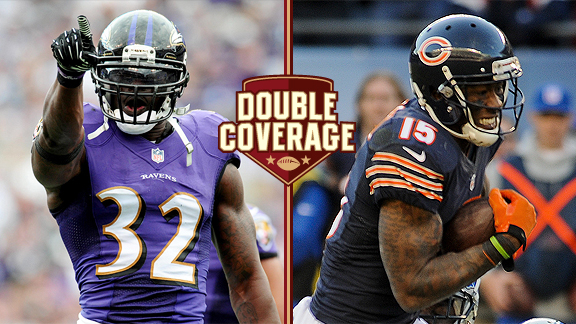 USA TODAY SportsJames Ihedigbo and the Ravens' secondary face a challenge in Bears receiver Brandon Marshall.
LAKE FOREST, Ill. -- If the playoffs started today, the
Chicago Bears
and the
Baltimore Ravens
would be out. There are still seven games left in the season, but none of them can be squandered, so this matchup Sunday will see both teams fighting to get into contention in their respective conferences.
The Bears enter the contest without quarterback
Jay Cutler
and two-time Pro Bowl cornerback
Charles Tillman
, while the Ravens are coming off their first victory in more than a month. ESPN.com Bears reporter Michael C. Wright and Ravens reporter Jamison Hensley break down the matchup.
Michael C. Wright:
Last weekend, Baltimore snapped a three-game losing streak. Does the win restore any faith in the defending Super Bowl champions' ability to return to the playoffs?
Jamison Hensley:
The Ravens believe Sunday's overtime win over the
Cincinnati Bengals
was a good start to getting back to the postseason for a sixth straight year. Even though the Ravens knocked off the AFC North leaders, no one is boasting that this is a playoff team because it was far from a statement game. The Ravens' offense can't run the ball, and the defense can't get opponents off the field late in the fourth quarter. The defending Super Bowl champions definitely have some serious flaws this season.
Baltimore's attitude would change if they can win in Chicago. The schedule suggests that this is a pivotal game. If the Ravens can change their fortunes on the road and beat the Bears, they will be at .500 entering a stretch of three straight home games against the Jets, Steelers and Vikings. The Ravens have had great success under head coach John Harbaugh in November and December, and things are set up for them to do it again this year. That is, if the Ravens can get the franchise's first victory in Chicago.
Speaking of attitude, how are the Bears dealing with losing Cutler again?
Wright:
Well, after all the second-guessing about when head coach Marc Trestman should've pulled Cutler or about whether the quarterback should have played in the first place, I'd say there's a fair amount of confidence in backup
Josh McCown
. Before being thrust into action on Oct. 20 at Washington when Cutler tore a muscle in his groin, McCown was already one of the favorites in the locker room. General manager Phil Emery has called McCown a "glue guy," and other players consider the 34-year-old quarterback a father figure.
In three games filling in for Cutler, McCown has completed 42 of 70 passes for 538 yards and four touchdowns, with no turnovers and a passer rating of 103.1. Obviously, in his first full start, McCown played a major role as the Bears upset the
Green Bay Packers
at Lambeau Field. He has demonstrated mastery of Trestman's offense, and the quarterback attributes that to the fact he learned the scheme from the ground up, and actually had some input in the implementation of it.
Joe Flacco
received the huge contract, but clearly hasn't been playing like a $120.6 million quarterback. What has been his biggest issue, and do you see him turning things around this season?
Hensley:
Flacco takes a lot of heat because he hasn't put up the expected numbers after signing one of the richest contracts in NFL history. But he is in a tough situation. He lost his two favorite targets when
Anquan Boldin
was traded and
Dennis Pitta
went down with a dislocated hip. Flacco has been sacked 30 times (only
Ryan Tannehill
and
Ben Roethlisberger
have been sacked more). Harbaugh applauded Flacco for making plays while scrambling. But Flacco is really running for his life.
While Flacco hasn't had the strongest supporting cast, he also hasn't been the same quarterback he was during the Ravens' championship run. The biggest change is his inability to connect deep. On Sunday, Flacco was 0-for-7 with an interception on throws at least 15 yards downfield, which qualifies as the most deep attempts without a completion he has had in his career. With all of the problems on offense, the Ravens desperately need more big plays out of Flacco.
What's the biggest concern for the Bears' pass defense?
Wright:
Where would you like to start? There are several. But the most significant right now is how the Bears will perform without one of their best players in Tillman, who on Monday was placed on the injured reserve/designated to return list. Tillman, with three interceptions and three forced fumbles, was one of the main reasons the Bears are tied for fifth in the league with 20 takeaways. Since coming into the league in 2003, Tillman ranks in the NFL's top 10 in interceptions (36), interception-return yards (675), defensive touchdowns (nine), forced fumbles (42) and passes defended (133). That level of production is difficult to replace. But the Bears are confident in backup
Zack Bowman
's ability to get the job done. Bowman started 12 games in 2009 and led the team with six interceptions. When Bowman has played this season, he has been adequate (one INT). He has size (6-foot-1, 196 pounds) similar to Tillman, which allows him to match up well with bigger receivers.
The Bears have struggled against the run, and you'd think they could be in for a long game against someone such as
Ray Rice
. But from what I've seen so far, he hasn't been the Rice I remember from last season. What's the deal with him?
Hensley:
Rice injured his hip in Week 2 and hasn't been the same since. He insists he's at full strength, but the numbers say otherwise. Rice's average of 2.5 yards per carry is worst among qualified running backs. But you can't put all of the blame for the NFL's 30th-ranked rushing attack on Rice. The Ravens' offensive line has struggled to open holes, and because Flacco can't throw the ball deep, defenses are stacking the box with eight players.
Getting some semblance of a running game is key to turning around the season, which is why the Ravens need to commit to the ground game against Chicago. Under Harbaugh, the Ravens are 45-12 when they gain more than 100 yards rushing. That's the fifth-best mark in the NFL, which shows how important a running game is to the Ravens.
Baltimore has been up and down in terms of run defense. In their five losses, the Ravens have given up an average of 124.4 yards rushing. The Bears'
Matt Forte
had good back-to-back games before he was shut down against the Lions. What's the key to him rebounding against the Ravens?
Wright:
The No. 1 key would be better blocking from the offensive line. For the first time all season, the Bears on Sunday probably lost the battle at the line of scrimmage on offense. At best, Trestman said he would call it a draw. The Bears know it's unacceptable for Forte to average 1.9 yards per carry on 17 attempts, and Trestman said one of the major contributors to the performance against the Lions was that several players missed assignments on key plays. Going into that game, the Bears knew they wouldn't put together a strong rushing game, but thought they'd have a chance to pop three or four explosive runs against Detroit's dominant front. Obviously that didn't happen. But if the Bears clean up some of the execution issues up front, Forte should be able to rebound. Going into Sunday's game, he was averaging 4.7 yards per carry. He'll have to get back on track if Chicago expects the offense to run smoothly because it is by establishing Forte that the Bears set up their play-action passing game.