March, 25, 2011
3/25/11
9:31
AM ET
By
ESPN.com staff
| ESPN.com
Baltimore Ravens
Safety Tom Zbikowski told The Baltimore Sun that he would like his next NFL contract to
allow him to box next year
and beyond.
The Ravens
should get compensatory draft picks
for losing Dwan Edwards to the Bills (projected to be a fifth-round pick) and Justin Bannan to the Broncos (a likely sixth-rounder).
Cincinnati Bengals
The Bengals are
scheduled to visit with Cam Newton
at Auburn next Sunday and then work him out on April 4.
Cincy Jungle
continues its mock draft
into the second round; it has the Bengals selecting Florida State quarterback Christian Ponder.
Cleveland Browns
Clemson defensive end Da'Quan Bowers will
visit the Browns
on April 11 or 12, according to the Plain Dealer. Tony Grossi has Bowers
going to the Browns
in his latest mock draft.
A Cleveland-area private seat license holder has
sued the NFL, the Browns and the league's 31 other teams
. In his lawsuit, Ken Lanci claims the lockout violates his private seat license contract with the Browns and jeopardizes his right to watch a full season of home games.
Pittsburgh Steelers
In its continuing series looking back at the team's playoff history, the Steelers' website
breaks down 1972 AFC Championship Game
.
Even if the NFL lockout canceled the 2011 NFL season, the Sports & Exhibition Authority, which owns Heinz Field, would be able to tap into a reserve of ticket surcharges to
cover debt payments
.
March, 29, 2010
3/29/10
10:00
AM ET
In addition to the blockbuster trade to land receiver
Anquan Boldin
, the
Baltimore Ravens
recently filled another hole in signing free-agent defensive lineman
Cory Redding
. Baltimore inked Redding to a two-year deal to add depth to a previously thin defensive line.
[+] Enlarge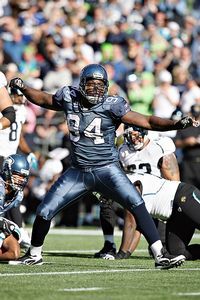 Otto Greule Jr/Getty ImagesThe addition of Cory Redding gives the Ravens depth on the defensive line.
This week the AFC North blog caught up with Scouts Inc.'s Matt Williamson to get an in-depth look at what Redding brings to the Ravens.
Matt, how exactly does Redding fit in Baltimore's defensive scheme?
Williamson:
He's a good fit for them. You haven't seen him ever play in a 3-4, so that's a bit of a mystery. But he is, in style of play, sort of a tweener between a defensive tackle and a defensive end. It wasn't that long ago that he had a very productive year, and it wouldn't blow me away if he did it again going into that system. The Ravens lost
Justin Bannan
and they lost
Dwan Edwards
, and I think both of those guys are better run-stuffers than Redding. But Redding brings more to the table as a potential pass-rusher than either one of them. He kind of reminds me a poor man's
Trevor Pryce
.
Two years ago the Cleveland Browns also traded for Corey Williams, who was a 4-3 lineman with pass-rushing skills, and it didn't work out. Is this a similar risk?
Williamson:
It doesn't matter anymore, but even when the Browns took Williams way back when, I thought they were wasting his talent. I felt that wouldn't work out at all even before it happened. It wasn't a smart move, because that's not what [Williams] does. While Redding once was a good penetrator, and as he's getting older sometimes you'll see these guys move to a 3-4 where they don't have the same quickness. But he still has the size and the savvy with some inside pass-rush ability. It's sort of a natural progression. As he slows down, he can do a little more [holding the line of scrimmage] as oppose to making a ton of plays in the backfield and blowing things up. And they don't have much invested in it, so I thought it was a pretty good move.
Can Redding push Pryce for a starting job at DE this season?
Williamson:
For this second, I would say he's a natural first guy off the bench. Redding can be a big end on running downs and move inside on passing downs. He'll play hard. I'm not a huge believer that Pryce is there for the long haul. His athletic ability and all his dynamic qualities are declining. Pryce had injury problems in the past, too. So who's to say you can count on him? But with both players at their best at this stage of their careers, I would take Pryce. But Redding is awfully good insurance.
March, 22, 2010
3/22/10
12:30
PM ET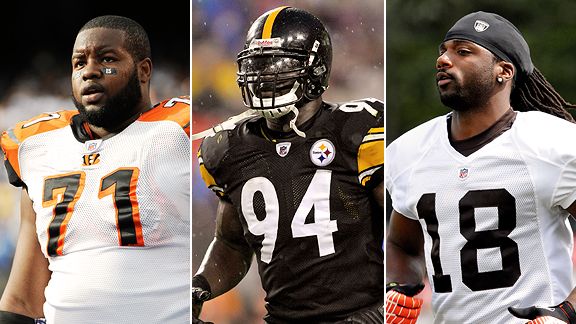 Icon SMIAndre Smith, Lawrence Timmons and Donte' Stallworth are among the larger mysteries facing AFC North teams as they prepare for the 2010 season.
Mystery and intrigue are part of what make the NFL go.
Every year, there are players with various questions who could have a major impact on their teams' upcoming season.
With that said, here are 10 AFC North mysteries even Sherlock Holmes would struggle to solve in 2010:

Timmons
10. Lawrence Timmons, LB, Pittsburgh Steelers
2009 stats:
14 games (13 starts), 78 tackles, seven sacks
Why:
Let's first give credit where credit is due: Timmons flashed more ability over the past few years than a majority of the players listed below. But his up-and-down 2009 season -- his first as a full-time starter -- raised a few questions. Does Timmons fit at middle linebacker, which is not his natural position? Considering his tremendous athleticism, why did Timmons struggle at times in pass coverage? Also, the decision to bring back veteran inside linebacker
Larry Foote
, who started ahead of Timmons in 2007 and 2008 before leaving as a free agent, certainly adds some intrigue.
Mystery rating (scale of 1 to 10):
6.5

Webb
9. Lardarius Webb, CB, Baltimore Ravens
2009 stats:
14 games (four starts), 35 tackles, one sack
Why:
Webb's mystery revolves around youth and injury. The Ravens feel Webb has the potential to be their starting cornerback next season. The former third-round pick played well opposite
Domonique Foxworth
for a brief stint before suffering a torn ACL in December. Now there are questions about whether Webb will be ready for training camp or even the start of the regular season. Does Webb have enough experience? Can he be the same player, or will it take another year to shake off the injury? These are all questions Webb has to answer next season.
Mystery rating:
7.0

Kruger
8. Paul Kruger, DE/LB, Ravens
2009 stats:
Nine games (one start), 11 tackles, one interception
Why:
Many were surprised when the Ravens drafted defensive end/linebacker hybrid Paul Kruger in the second round last year. Baltimore already had a stud hybrid in
Terrell Suggs
, and the team later gave him a large contract extension. Kruger took even more heat when he barely saw the field during the first half of last season. Kruger often was inactive because he didn't contribute on special teams, which made the situation look worse. But Kruger did show a couple of flashes last season, particularly in Baltimore's home win over Pittsburgh. With the recent losses of defensive linemen
Dwan Edwards
and
Justin Bannan
in free agency, Kruger will be asked to step up in 2010.
Mystery rating:
7.7

Robiskie
7. Brian Robiskie, WR, Cleveland Browns
2009 stats:
11 games (one start), seven catches, 106 yards
Why:
Robiskie had the label as one of the most NFL-ready players in last year's draft. It was a major reason Cleveland took Robiskie in the second round. But Robiskie suffered through the same growing pains as other young receivers. An uneventful training camp and preseason left Robiskie without a role, and he didn't see much playing time until late in the regular season. Perhaps Robiskie wasn't ready or he didn't fit Cleveland's system. Either way, the Browns need help at receiver and Robiskie has a lot of catching up to do in his second season.
Mystery rating:
8.0

Stallworth
6. Donte' Stallworth, WR, Ravens
2009 stats:
Did not play
Why:
Stallworth hasn't played a down since the 2008 season. So no one knows what to expect from the veteran receiver in 2010. A DUI manslaughter case led to jail time and a year-long suspension from the NFL. But Stallworth impressed the Ravens with a strong workout, and the team believes he can add much-needed speed to Baltimore's offense. With
Anquan Boldin
and
Derrick Mason
in as the starters, there's not a lot of pressure on Stallworth to produce right away. If he gives Baltimore anything in terms of stretching the field, the Ravens will be in great shape offensively.
Mystery rating:
8.4

Jones
5. Matt Jones, WR, Bengals
2009 stats:
Did not play
Why:
Jones also was out of football until the Bengals gave him a call with hopes of improving their passing game. This offseason Cincinnati added Jones and
Antonio Bryant
and they probably will acquire a tight end in the draft to give quarterback
Carson Palmer
more options. Although it's a cheap and low-risk move by Cincinnati, reportedly the Bengals
were not impressed with Jones' workout
and signed him anyway. But the good news is the season doesn't start until September.
Mystery rating:
8.5

Smith
4. Andre Smith, OT, Bengals
2009 stats:
Six games, one start
Why:
The Bengals still do not have a firm grasp on what they have in last year's No. 6 overall pick. After agreeing to pay Smith a maximum of $42 million, Cincinnati cannot afford to wait another year with him on the sideline. Smith's rookie year could not have gone any worse. It started with a contract dispute that caused the right tackle to miss all of training camp. Then a foot injury sidelined him for most of the season. He got his feet wet toward the end of 2009, but additional offseason surgery is an early hurdle Smith has to overcome this year.
Mystery rating:
8.8

Sweed
3. Limas Sweed, WR, Steelers
2009 stats:
Nine games, one reception, five yards
Why:
Sweed's inability to make big plays is literally a mystery to the Steelers. He was a playmaker at the University of Texas and displayed the same athleticism to get open in the pros. But there is something about catching the football and finishing the play that has plagued Sweed the past two seasons. The Steelers made it clear they're tired of waiting for the third-year receiver by signing free-agent veteran receivers
Antwaan Randle El
and
Arnaz Battle
. Perhaps Sweed needs a change of scenery to start over and clear his head.
Mystery rating:
9.0

Simpson
2. Jerome Simpson, WR, Bengals
2009 stats:
Two games, zero receptions
Why:
Ignore the lip service the Bengals' coaching staff provides publicly about their faith in Simpson. Instead, look at its actions. Cincinnati signed two receivers (
Laveranues Coles
and Bryant) to four-year, $28 million contracts in back-to-back seasons. That clearly shows the team's lack of patience and confidence that the light bulb will finally turn on for Simpson, who was a second-round pick in 2008. Entering his third season, this may be Simpson's last chance to show his ability with Cincinnati. Simpson could be cut in training camp if he fails to dramatically improve from his previous two seasons.
Mystery rating:
9.3

Delhomme
1. Jake Delhomme, QB, Browns
2009 stats:
2,015 yards, eight touchdowns, 18 interceptions, 59.4 passer rating
Why:
Delhomme, 35, is the biggest mystery in the AFC North next season, because he may or may not be done as a quality, starting NFL quarterback. Delhomme certainly didn't look the part last season, when he threw a career-high 18 interceptions. He was later benched and released by the
Carolina Panthers
. Yet, the Browns believe Delhomme can lead their offense and paid him $7 million this year. Good move? Only time will tell. Is it a risky move? Absolutely.
Mystery rating:
10.0
March, 22, 2010
3/22/10
11:58
AM ET

Redding
The
Baltimore Ravens
agreed to a
two-year contract Monday
with defensive lineman
Cory Redding
, according to the team's Twitter account.
Redding played 15 games, including three starts, for the
Seattle Seahawks
last season and recorded 20 tackles and two sacks. His best year was in 2006 when Redding recorded eight sacks with the
Detroit Lions
.
Baltimore's defensive line was hit hard in free agency last week with the losses of
Dwan Edwards
and
Justin Bannan
, who signed with the
Buffalo Bills
and
Denver Broncos
, respectively. Redding should add much-needed depth to the position.
March, 18, 2010
3/18/10
1:00
PM ET
»
NFC Stock Watch
:
East
|
West
|
North
|
South
»
AFC
:
East
|
West
|
North
|
South

Falling
Baltimore Ravens defensive line:
Two key free-agent losses in the past week have drastically hurt depth on Baltimore's defensive line.
Justin Bannan
and
Dwan Edwards
signed deals recently with the
Denver Broncos
and
Buffalo Bills
, respectively. The two were key reserves in the rotation with Baltimore's stout unit. Without them, the Ravens are currently looking very thin behind starters
Trevor Pryce
,
Kelly Gregg
and
Haloti Ngata
. Look for Baltimore to replenish its depth via the NFL draft, where there are a lot of quality prospects on the defensive line who can fill the roles Bannan and Edwards left.

Rising
Pittsburgh Steelers special teams:
Pittsburgh went on an unusual signing spree last week in free agency and most of it was aimed at improving special teams. The Steelers' return and coverage teams were below average last season, and it was an under-the-radar reason the team fell to 9-7. Enter receiver
Arnaz Battle
, safety
Will Allen
and receiver
Antwaan Randle El
. This trio should help Pittsburgh's special teams in 2010. Battle and Allen were solid in coverage and Randle El, a former Steeler, may help with punt returns. With a top-five defense and an explosive offense, improving special teams would patch one of Pittsburgh's few glaring weaknesses.
March, 17, 2010
3/17/10
7:00
AM ET
Here are the most interesting stories Wednesday in the AFC North:
Morning take: Baltimore has now lost Edwards and Justin Bannan in free agency. The team needs to replenish its depth through the draft.
Morning take: I'm not sure Ramon Foster and Trai Essex are the answer. If the Steelers don't find an upgrade, those will be their two choices.
Morning take: The Browns need cornerbacks, so it makes sense. I'm not sure New York's defense needs much help.
Morning take: Bengaldom will represent well in Canton, Ohio. With Dick LeBeau getting inducted and Cincinnati playing its first preseason game, it should be a fun weekend for the AFC North.
March, 4, 2010
3/04/10
9:48
AM ET

Baltimore Ravens
Potential unrestricted free agents
: DL
Justin Bannan
, DL
Dwan Edwards
, CB
Corey Ivy
, WR
Derrick Mason
, TE
L.J. Smith
, WR
David Tyree
, CB
Frank Walker
, WR
Kelley Washington
Potential restricted free agents:
OT
Jared Gaither
, K
Billy Cundiff
, S
Dawan Landry
, CB
Fabian Washington
, P
Sam Koch
, OG
Chris Chester
, QB
John Beck
, QB
Troy Smith
, OT
Tony Moll
, FB
Le'Ron McClain
, LB
Prescott Burgess
, WR
Mark Clayton
, WR
Demetrius Williams
Franchise tag:
None
What to expect:
The Ravens have a ton of quality free agents. It will be interesting because Baltimore is the only division team which has to abide by the "
Final Eight Plan
" for making the divisional playoffs. This will restrict Baltimore from making a lot of moves. Therefore, expect the team to keep most of its key restricted free agents while trying to explore the trade market. On the unrestricted side, the Ravens are negotiating with receiver Derrick Mason and are expected to keep him. But two players who could get some interest in the open market are defensive linemen Dwan Edwards and Justin Bannan. Baltimore likes both players but could lose at least one.

Cincinnati Bengals
Potential unrestricted free agents
: K
Shayne Graham
, FB
Jeremi Johnson
, RB
Larry Johnson
, DT
Tank Johnson
, TE
Reggie Kelly
, OG
Bobbie Williams
, S
Roy Williams
, TE
J.P. Foschi
Potential restricted free agents:
LB
Brandon Johnson
, LB
Rashad Jeanty
, OL
Evan Mathis
, C
Kyle Cook
, DE
Frostee Rucker
, CB
David Jones
, LB
Abdul Hodge
, QB
Jordan Palmer
, TE
Daniel Coats
, DT
Shaun Smith
Franchise tag:
None
What to expect:
The Bengals have yet to announce their tenders, so this list could change by Thursday evening. But traditionally they are not big spenders in free agency and will stay true to that even with an uncapped year. Cincinnati could make one or two decent outside signings that may help the team. Finding a receiver would be the most likely target. The most interesting in-house name is offensive guard Bobbie Williams, who likely will test the market. Bengals defensive coordinator Mike Zimmer also would like to keep veteran Roy Williams and Tank Johnson. But the team hasn't made a major push for either player before they're let loose Friday.

Cleveland Browns
Potential unrestricted free agents:
WR
Mike Furrey
, TE
Michael Gaines
, OG
Rex Hadnot
, CB
Hank Poteat
, OL
Ryan Tucker
, OG
Billy Yates
Potential restricted free agents:
RB
Jerome Harrison
, LB
D'Qwell Jackson
, FB
Lawrence Vickers
, S
Brodney Pool
, S
Abram Elam
, DE
Matt Roth
Franchise tag:
None
What to expect:
Cleveland has the money to spend and the biggest talent deficit. So look for the Browns to attempt to make up ground in free agency. Major names like defensive end
Julius Peppers
and tailback
Thomas Jones
have been mentioned as possibilities for Cleveland, but that remains to be seen. Internally, the Browns should be interested in keeping Harrison and Vickers in their backfield. Jackson also has value. None of their unrestricted players are priorities for the team and will be allowed to hit free agency.

Pittsburgh Steelers
Potential unrestricted free agents:
QB
Charlie Batch
, LB
Rocky Boiman
, S
Tyrone Carter
, S
Ryan Clark
, DE
Nick Eason
, WR
Joey Galloway
, DE
Travis Kirschke
, RB
Willie Parker
, CB
Deshea Townsend
, FB
Carey Davis
, OG
Darnell Stapleton
Potential restricted free agents:
OT
Willie Colon
, CB
William Gay
, P
Daniel Sepulveda
, TE
Matt Spaeth
Franchise tag:
K
Jeff Reed
What to expect:
The Steelers are pretty predictable. Pittsburgh intends to keep all of its restricted free agents, get a long-term deal complete with Reed, who has the franchise tag, and let nearly all of their unrestricted free agents test the market. The exception is Clark, who the Steelers targeted as a priority but has yet to reach a long-term extension before Friday's deadline. Negotiations have been ongoing and should go to the final hour to decide whether both sides can come to an agreement or allow Clark to test the market.
February, 15, 2010
2/15/10
1:00
PM ET
»
AFC Free Agency
:
East
|
West
|
North
|
South
»
NFC
:
East
|
West
|
North
|
South
An early look at the free-agent situation in the AFC North.
Note
: These projected lists reflect notable unrestricted free agents for each team. The NFL will not issue an official list of free agents until the signing period begins March 5.
Baltimore Ravens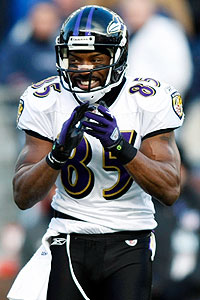 Greg M. Cooper/US PresswireThe Ravens' already-thin receiving corps will take a big hit if Derrick Mason retires.
Unrestricted free agents: DL
Justin Bannan
, K
Billy Cundiff
, DL
Dwan Edwards
, CB
Corey Ivy
, WR
Derrick Mason
, TE
L.J. Smith
, WR
David Tyree
, CB
Frank Walker
, WR
Kelley Washington
Key figures:
Derrick Mason is contemplating retirement. But if he wants to play, the Ravens have every intention of keeping their leading receiver. Look for Baltimore also to make a push for another significant addition at receiver to assist the development of budding quarterback
Joe Flacco
. Sleeper players on this list include the two defensive linemen: Justin Bannan and Dwan Edwards. The Ravens like both players and will probably make a push to keep at least one on the roster. Baltimore also lacks cornerback depth and might elect to bring back Frank Walker, despite his penchant for giving up big plays and committing penalties.
Cincinnati Bengals
Unrestricted free agents:
K
Shayne Graham
, FB
Jeremi Johnson
, RB
Larry Johnson
, DT
Tank Johnson
, TE
Reggie Kelly
, DT
Shaun Smith
, OG
Bobbie Williams
, S
Roy Williams
Key figures:
Bobbie Williams is an interesting name. He's one of Cincinnati's most consistent offensive linemen over the last several years, but he turns 34 in September. Kicker Shayne Graham, who was franchised last season, had a solid career in Cincinnati. But he missed kicks in big spots, potentially ending his run with the Bengals. Running back Larry Johnson was third string in Cincinnati and should get more playing time elsewhere in 2010.
Cleveland Browns
Unrestricted free agents:
WR
Mike Furrey
, TE
Michael Gaines
, OG
Rex Hadnot
, CB
Hank Poteat
, OL
Ryan Tucker
, OG
Billy Yates
Key figures:
This is not an impressive list as most of Cleveland's key free agents -- such as
Jerome Harrison
,
Lawrence Vickers
and
D'Qwell Jackson
-- are restricted. Mike Furrey is a high-character player that coach Eric Mangini likes on his football team, and he might be retained. The remaining players on this list likely will hit the open market. The Browns have an interesting decision to make with Harrison, who led the team in rushing after a tremendous second half of the 2009 season. Harrison could garner some interest as a restricted free agent if the Browns do not offer a high enough tender.
Pittsburgh Steelers
Unrestricted free agents:
QB
Charlie Batch
, LB
Rocky Boiman
, S
Tyrone Carter
, S
Ryan Clark
, DE
Nick Eason
, WR
Joey Galloway
, NT
Casey Hampton
, DE
Travis Kirschke
, RB
Willie Parker
, K
Jeff Reed
, CB
Deshea Townsend
Key figures:
The Steelers are aiming to keep most of their key veterans, while infusing some youth through the draft. All indications are the team will offer extensions to safety Ryan Clark and kicker Jeff Reed. Pro Bowl nose tackle Casey Hampton is the biggest name on this list. But he's a strong candidate for the franchise tag, because there is no full-time replacement on the roster. This offseason probably will mark the end of tailback Willie Parker's tenure in Pittsburgh. Parker, 29, helped lead the Steelers to two Super Bowl wins during his career. But various ailments since initially breaking his leg in 2007 hampered his production.
January, 22, 2010
1/22/10
2:30
PM ET


We looked ahead
to the offseason in our latest "Thought of the Day" in the AFC North.
The question was which team has the quicker fix: The
Pittsburgh Steelers
or
Baltimore Ravens
?
Both teams entered this past season as Super Bowl contenders and fell short. Therefore, which organization is closer to becoming a title contender in 2010?
Here were responses from our
AFC North inbox:
Dan from Omaha, Nebraska,
writes: This is an easy one, James. Pittsburgh is closer. Pittsburgh's biggest problems this year were motivation and injuries (
Troy Polamalu
). Pitt played down to its level of competition all year. Pitt played well against the good teams and bad against the bad ones. There's a reason they call it a Super Bowl hangover. There's something to it and Pitt is neither the first or last team to suffer from it.
Don from Pittsburgh
writes: This one is easy. B-more signs one big-time WR and its problems on offense are solved. Pittsburgh on the other hand has a horrible secondary, no real backup for 31-year-old
James Harrison
, a D-line that has been old for three years now, an O-line that is just lacking talent, and a hole at backup RB if
Willie Parker
leaves in free agency. The Steelers are also experiencing quite a lot of turnover in their coaching ranks this year.
Joey from Cincinnati
writes: Both teams should be solid again, but you have to say that Pittsburgh is the team most likely to rebound. There are many reasons why this is the case, but you can pretty much sum it up with two words: Big Ben.
Ben Roethlisberger
is proven and a game changer.
Joe Flacco
hasn't shown it, and until he does, I'll pick the Steelers every time.
Mike Pallatto from Houston
writes: Baltimore in my view is easier to fix. Pittsburgh is getting old on defense, and that will take time to fix, especially considering they draft players and hardly ever make any big free-agent signings. The offense is pretty much set, but they need depth at RB and OL.
Tim from Philly, PA,
writes: The Steelers only need to add a little depth on defense. We can be corrected in the draft. The Ravens look like they may be losing even more depth on defense and offense with the possible retirements of
Derrick Mason
and
Ed Reed
.
Hank from Bel Air, MD,
writes: The Steelers are in a better position today. Much will depend on the CBA. Baltimore could be in a position to losing a number of starters, especially in the wide receiver area. It sure looks like Flacco is going to have many new faces to throw the ball to and that doesn't bode well for Baltimore. Flacco and his new receivers will need a year or two to get on the same page. Baltimore is also short on tight ends.
Todd Heap
is good but the Ravens couldn't go with a lot of two tights during the year
James Savich from Bradenton, Florida,
writes: I believe that the Steelers are closer to a title than the Ravens. Baltimore is getting old and key players might not be back next year. Pittsburgh has a nice draft pick this year, and the core of that team is coming back. If Pittsburgh picks up one of these three positions they will be solid next year, either a offensive lineman, linebacker, or a cornerback.
AFC North Final Word
James Walker:
I have confidence in both front offices to make the necessary moves to be a contender next season. But as of January, Pittsburgh has fewer concerns. With a healthy Polamalu next season, the Steelers are already a playoff team in my opinion. Add depth and a few upgrades here and there through the draft and free agency, and Pittsburgh should have a bounce-back season. Meanwhile, the Ravens have a lot of free agents (Mason,
Jared Gaither
,
Mark Clayton
,
Dawan Landry
,
Fabian Washington
,
Justin Bannan
,
Troy Smith
) who have key roles with the team. They will have to take care of those decisions in addition to finding a big-name receiver, which
will not be easy
in an uncapped year. The possible retirements of Mason and Reed are also major, pending issues the team may have to deal with. I expect more work for Baltimore this offseason.
If you have any future "Thought of the Day" topics for the AFC North, feel free to send them to our
division inbox.
January, 21, 2010
1/21/10
6:25
PM ET
Here are the latest developments Thursday in the AFC North:
October, 7, 2008
10/07/08
8:00
AM ET
Posted by ESPN.com's James Walker
Here are the most interesting stories in the AFC North:
Morning take: Based on his comments, Lewis sounds secure in his post despite a lot of speculation to the contrary. We do know that owner Mike Brown usually is not one to give the quick hook.
Morning take: Although the Ravens' defense hasn't missed Gregg to date, they could have used him later in the season. It's officially Justin Bannan's job full-time.
Morning take: Of all the imperfect things that have happened to Pittsburgh thus far, this bye does come at a perfect time for this ailing group.