July, 23, 2014
Jul 23
4:45
PM ET
PITTSBURGH –
Derek Moye
spent all of last season on the Steelers' 53-man roster and two of the wide receivers ahead of the Penn State product signed with other teams during the offseason.
Moye
Despite this, it is hard not to wonder if Moye actually lost ground in his bid to make an impact this season. Moye, as it turns out, will have a hard time simply making the team again because of the crowd that the Steelers have at wide receiver.
They signed veterans
Lance Moore
and
Darrius Heyward-Bey
in March and drafted Clemson's
Martavis Bryant
in the fourth round. The Steelers also saw 2013 sixth-round pick
Justin Brown
, who spent last season on their practice squad, make a significant jump during offseason practices.
So where does all of that leave Moye? Pretty much in the same position as last season when the former undrafted free agent had to play his way onto the 53-man roster.
"That's the way it is," Steelers wide receivers coach Richard Mann said. "He knows that. Each time he gets on the field he gets better. He has a chance."
The good news for Moye, who caught just two passes for 25 yards and a touchdown last season, is that the competition at wide receiver won't really start until Monday when the Steelers wear pads for the first time.
Also, the 6-foot-4, 210-pounder made the team last season after entering camp as a long shot. There is no reason to think Moye can't do it again with another strong camp and playing well in the preseason games.
Here are four other players who also need to flash during training camp.
OLB Chris Carter.
The Steelers' lack of depth at outside linebacker gives the 2011 fifth-round draft pick an inside track to making the 53-man roster. But Carter is vulnerable because he played primarily on special teams in three seasons and has yet to record a sack for the Steelers. Carter received praise from linebackers coach Keith Butler during offseason practices. He has to show the Steelers during camp that he can play extensive snaps at outside linebacker in the event of an injury.
TE David Paulson.
He has just 13 catches for 153 yards in two seasons and Paulson isn't going to make the team as a blocking tight end. The 2012 seventh-round pick has to show he can become a bigger part of the passing game as he is a prime candidate to fall victim to a numbers crunch. The Steelers return four tight ends from last season and they added to the position by drafting
Rob Blanchflower
in the seventh round and signing
Eric Waters
as an undrafted free agent.
DE Nick Williams.
Williams did very little during offseason practices because he was still recovering from a knee injury he sustained almost a year ago. The Steelers like Williams' potential but the 6-4, 309-pounder needs to get on the field during camp and get as much work as possible at a position that is hard for young players to master. The Steelers, meanwhile, need an end to emerge from a young group that includes Williams,
Brian Arnfelt
and undrafted free agent
Josh Mauro
.
P Brad Wing.
His talent is undeniable and the Steelers think he has matured since going undrafted out of LSU in 2013 and failing to make the Philadelphia Eagles' team last season. That he is a lefty helps – coach Mike Tomlin seems to prefer those kinds of punters – but Wing has to beat out veteran
Adam Podlesh
, who signed a one-year contract with the Steelers in April. Since Podlesh has a track record in the NFL Wing will have to clearly outplay him in training camp and preseason games to make the team.
June, 24, 2014
Jun 24
9:00
AM ET
PITTSBURGH -- There is a reason, beyond the headaches that accompanied his production and flashes of greatness, the
Pittsburgh Steelers
have no interest in bringing back
Santonio Holmes
.
They simply don't need the 30-year-old wide receiver, who won the MVP Award in their last Super Bowl victory but has been plagued by injuries in recent seasons.
[+] Enlarge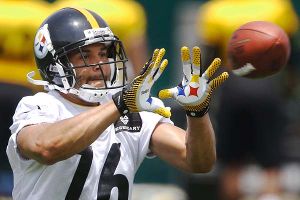 Keith Srakocic/AP PhotoWide receiver Lance Moore, an eight-year veteran who signed with the Steelers this offseason, brings his 4,281 yards and 38 TDs to Pittsburgh.
Consider what offensive coordinator Todd Haley said last week about the Steelers' receivers.
"It's as deep a group as I've been around from top to bottom," Haley said near the end of offseason practices. "I think some guys that are pretty good football players probably won't make the team."
Haley tempered his assessment of the Steelers' wide receivers with the acknowledgement that the current group has yet to show what it can collectively do in pads.
And, of course, everything looks better in June when every team is still undefeated and pass-rushers are wearing shorts and are prohibited from hitting quarterbacks.
But Haley's comment about the overall quality of the Steelers' wide receivers resonates even at this time of year because of his resume.
He coached the wide receivers in Dallas and Chicago while climbing the coaching ladder, and the Arizona Cardinals had arguably the best wide receiver tandem in the NFL in 2008 when Haley was their offensive coordinator.
Larry Fitzgerald
and
Anquan Boldin
helped the Cardinals to their first Super Bowl appearance and nearly led them to an upset of the Steelers in Tampa.
Whether the potential Haley sees in the Steelers' wideouts translates into production, one season after the loss of
Jerricho Cotchery
and
Emmanuel Sanders
, who combined for 1,342 receiving yards and 16 touchdowns in 2013, remains to be seen.
Here are a few things to like about the Steelers' wide receivers following organized team activities and minicamp:
Lance Moore, who signed a two-year, $3 million contract in March, stood out as much as any player during offseason practices. The former Saints wide receiver proved to be a quick study while learning a new offense, and he could put up big numbers if opposing teams pay too much attention to Pro Bowler Antonio Brown. Moore reminds me of Cotchery in the sense that he is a pro's pro.

Markus Wheaton still has a ways to go to win the starting job held down by Sanders last season, and that is a good thing. Wheaton had a solid offseason, but he will have a lot of competition during training camp. Justin Brown, who stood out during offseason practices, will be among those who push Wheaton. The 6-3, 209-pound Brown spent all of last season on the practice squad, but wide receivers coach Richard Mann said, "He's just a different guy. He understands the concepts. He's smoother. His body language is different."

The Steelers have so much depth at wide receiver that Darrius Heyward-Bey, the seventh overall pick of the 2009 NFL draft, will have trouble making the team. Heyward-Bey has to be consistent catching the call during training camp. But if he does that and makes the team, he would become a nice player to have as a No. 4 or No. 5 wide receiver. "He has the speed. He has the talent," Mann said. Hopefully we will put him in a position to succeed with his speed and smartness, and we will take advantage of what he does best."
Plenty is still unknown about the wide receiving corps. What exactly will the Steelers get out of
Martavis Bryant
this season? Is Wheaton ready to emerge as a significant contributor after catching six passes for 64 yards as a rookie? Will Brown build on his strong offseason and make a serious push for a roster spot?
These are among the questions that won't be answered until after the Steelers report to training camp on July 25.
As Mann said, "When we start playing tackle, we will figure out what we have."
June, 18, 2014
Jun 18
6:30
PM ET
PITTSBURGH -- The offense and defense traded big plays Wednesday in the
Pittsburgh Steelers
' second minicamp practice of the week.
Ben Roethlisberger
threw long touchdown passes to
Antonio Brown
and
Markus Wheaton
during a two-plus hour practice, but the Steelers' defensive backs also had their moments on a hot and humid day that it made it feel like training camp.
Starting cornerbacks
Ike Taylor
and
Cortez Allen
each intercepted Roethlisberger. Allen had a pair of picks while inside linebacker
Sean Spence
returned an intercepted
Landry Jones
pass for a touchdown.
Practice concluded with rookie wide receiver
Martavis Bryant
showcasing his speed by blowing past the Steelers' defensive backs and hauling in a long touchdown pass from Jones.
That play, free safety
Mike Mitchell
said, ultimately allowed the offense to get the better of the defense, though it was close.
"They ended with a high note," Mitchell said. "It would have been nice to knock that ball down but we're battling. I think we've been playing really good in the secondary as a unit. We're all kind of learning each other's strengths and what each other likes to do. We're getting better."
Also of note from Wednesday:
Justin Brown continues to get work with the first-team offense, and the 2013 sixth-round pick stood out during a 7-on-9 pass drill. Brown caught a long pass from Roethlisberger and then capped the drive with a short touchdown reception.
Roethlisberger is optimistic Dri Archer will help the offense but he isn't sure how the Steelers will deploy the fleet-footed rookie. Archer, Roethlisberger said, has been splitting time between playing running back and wide receiver. The third-round draft pick has also been among the players who have fielded punts during offseason practices. The Steelers are hoping to get more out of Archer than they did Chris Rainey, a fifth-round pick in 2012 who lasted just one season in Pittsburgh. "Is he a better runner than Rainey?" Roethlisberger said. "We won't really know until we get some pads on and get on the field."
Outside linebacker Jason Worilds, who practiced on a limited basis of a lingering calf injury, is a good example of how much younger the Steelers have gotten on defense in recent years. Worilds turned just 26 in March, but he is one of the more experienced players on the Steelers' defense. "I'm one of the elders in the room now," Worilds said. "It's an interesting role to be in. I'm just helping some of the younger guys, making sure they know how to go about being a professional and taking care of themselves."
June, 11, 2014
Jun 11
2:30
PM ET
PITTSBURGH -- The most interesting sequence of the
Pittsburgh Steelers
' organized team activities took place late Wednesday morning.
Rookie linebacker
Ryan Shazier
made a breathtaking interception during an 11-on-11 drill, leaping high to pick off a
Bruce Gradkowski
pass and drawing oohs for the display of athleticism.
And the action was just getting started.
Defensive end
Cameron Heyward
and rookie center
Wesley Johnson
started fighting at the end of the play and it took coaches and teammates to break the two apart. Heyward was still fuming at the end of the 11-on-11 drill, though it is not clear what set him off.
The Steelers' next-to-last OTA session produced its share of good catches but none beat Shazier's after he dropped into coverage. Gradkowski tried to throw a pass over the first-round pick's head, but Shazier snagged it out of the sticky air after making a standing leap.
"He has a high vertical because I was right behind him," Steelers free safety
Mike Mitchell
said. "I was coming from the backside hash(mark) so I was just tracking the ball and then I saw it get snatched out of the air and I said, 'Wow.' He's a rookie but I came over to him and said, 'Good play young fella.'"
As for Shazier's take on the play, he said, "I had a zone drop and I just dropped over top and just read the quarterback's eyes and I knew he thought he could get it over me. I just jumped up and did what I could. Any time you can get a turnover that helps the offense get more points."
Also of note from the Steelers' ninth OTA session:
Outside linebacker Jason Worilds, who is nursing a calf injury, did not practice again but he did some work on the side. Cornerback Ike Taylor was a no-show for the second consecutive day. Wide receiver Markus Wheaton fielded punts and caught passes after practice but he did not take part in 11-on-11 drills. Not sure if there is some kind of injury issue but it appears Wheaton has been limited to drills in which he doesn't have to do much running.
Justin Brown has been getting extensive work with the first-team offense. The Steelers' sixth-round draft pick in 2013 showed why on Wednesday. Brown made a difficult touchdown catch in a seven-on-nine drill, outfighting two defenders for the ball in the corner of the end zone. More on Brown's development in a post that should go up later today.
Le'Veon Bell and LeGarrette Blount lined up together in the backfield though only for a couple of snaps. Look for the Steelers to try and find ways to get the two on the field together in different packages this season.
May, 28, 2014
May 28
12:00
PM ET
PITTSBURGH -- Soft-spoken and humble,
Markus Wheaton
is in many ways the anti-wide receiver -- or at least the preening, me-me-me player that has become the caricature of the position.
[+] Enlarge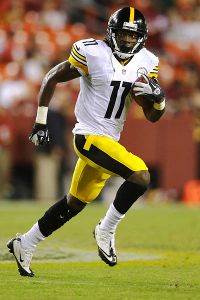 Patrick Semansky/AP PhotoThrough offseason practices, Markus Wheaton appears to be the leading candidate to start at wide receiver for the Steelers.
Far from demanding the ball, Wheaton won't even say the
Pittsburgh Steelers
' starting job opposite Pro Bowler
Antonio Brown
is his to lose even though he occupies it at the outset of offseason practices.
"There's a lot of guys chasing that spot and hopefully I can get it first and go from there," Wheaton said. "They're pushing all of us to get better, and whoever wants it the most will take it, so I'm going to do what I can to get that spot."
Such, ahem, bravado, won't ease the anxiety of Steelers fans who have concerns about a receiving corps that lost two of its top three players from last year and 16 touchdowns alone from
Jerricho Cotchery
and
Emmanuel Sanders
.
But Wheaton appears ready to emerge in every way except for his decidedly non-cavalier attitude.
The finger injury that required multiple surgeries last season and limited Wheaton to 157 snaps is behind him, he said. Wheaton and fellow wideouts
Derek Moye
and
Justin Brown
also spent a week practicing with
Ben Roethlisberger
in California this offseason, taking the Steelers' quarterback up on his invitation to work on timing and other aspects of the passing game.
With Sanders in Denver -- he signed a three-year deal with the Broncos in March -- Wheaton has a clear path to the field.
And someone has to step up with Antonio Brown certain to see all kinds of extra attention this season.
"I'm excited to see what he can do," Roethlisberger said. "He's a guy that wants to prove that he can be a starter."
Wheaton did not get to show much last season after breaking his right pinkie in several places in the fourth game of the season. The injury, which also damaged a joint, effectively forced Wheaton to redshirt his rookie season, but it did not stop the third-round draft pick from doing everything he could to learn a new offense.
And when the 5-11, 182-pounder had one of his many questions, he could turn to Cotchery or Roethlisberger, whose locker is next to Wheaton's at the Steelers' practice facility.
"Being able to sit out last year pretty much helped me," said Wheaton, who caught six passes for 64 yards in limited action. "I learned a lot of the coverages, the adjustments Ben throws at us, the playbook."
How much Wheaton can transfer what he has learned to the field will be critical to Roethlisberger developing the kind of trust in him that will allow the Steelers to run their no-huddle offense with the same frequency as in the second half of last season when they won six of eight games.
"We lost two starting wide receivers that knew the no-huddle so well, so we're going to need the new guys and the young guys to pick it up quick," Roethlisberger said.
December, 1, 2013
12/01/13
3:00
PM ET
How well did the Pittsburgh Steelers draft last April? Ask me in three years.
I think it takes at least three years before you can accurately -- and fairly -- judge a draft class. That said, 12 games have provided enough of a sample size to assess how the Steelers' rookies have fared in their first NFL season.
Here is a look at where the players in the Steelers' most recent draft picks stand three-quarters of the way into the 2013 season.
1. Jarvis Jones, OLB:
Jones has not made much of an impact as a pass-rusher, and the Steelers took the former Georgia star 17
th
overall to get after the quarterback. But it takes time for outside linebackers in Dick LeBeau's 3-4 defense to develop, so it's way too early to read much into the fact that Jones has just one sack and 30 tackles. Just as paramount as the 6-foot-2, 245-pounder improving his grasp of the defense in the offseason is Jones adding bulk.
[+] Enlarge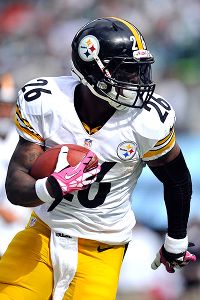 Joe Camporeale/USA TODAY SportsLe'Veon Bell has been one of the bright spots from Pittsburgh's latest draft class.
2. Le'Veon Bell, RB:
The early returns are good on this pick as Bell is almost a lock to win the Joe Greene Award, which is given to the team's top rookie. The former Michigan State star is already a focal point of the offense, and he is the kind of all-around back around which the Steelers can build. Bell is nearing 1,000 yards of total offense -- he has 847 -- and he is only going to get better as a runner.
3. Markus Wheaton, WR:
The Steelers have gotten minimal production from Wheaton, which has been surprising considering the praise he received from some of the veteran players before the start of the season. Wheaton, who has six catches for 64 yards, hasn't gotten on the field much as a No. 4 wide receiver, and he missed four games after needing surgery to fix a broken right pinkie. His development is crucial, especially if
Emmanuel Sanders
signs elsewhere after the season as an unrestricted free agent.
4a. Shamarko Thomas, S:
The former Syracuse star has played well enough to get on the field extensively as a third safety in the Steelers' quarter package, though he missed two games recently with a high-ankle sprain. Thomas, who has 29 tackles, has to be a big part of the future with
Ryan Clark
unlikely to return after the season and
Troy Polamalu
also anything but guaranteed to be back in 2014 since he is set to make just over $8 million in the final year of his contract.
4b. Landry Jones, QB:
Jones has not been on the active roster for any game this season. That is actually a good thing as it means
Ben Roethlisberger
has stayed healthy, and indeed the 10
th
-year veteran has avoided the kind of injuries that have sidelined him in past seasons. It's too early to call this a wasted pick but it certainly looks like the Steelers could have gone in another direction with the second of their two fourth-round selections, especially since they had signed a proven backup in
Bruce Gradkowski
before they drafted Jones.
5. Terry Hawthorne, CB:
The Illinois product did not show enough during offseason practices or training camp for the Steelers to even keep him on the practice squad after cutting Hawthorne at the end of August. Hawthorne couldn't overcome offseason knee surgery, and he is currently a free agent.
6a. Justin Brown, WR:
He lost the the battle for the final wide receiver spot on the 53-man roster to former Penn State teammate
Derek Moye
. Brown has been on the practice squad all season, and he will be given a chance to make the team next season. He also has potential as a punt returner.
6b. Vince Williams, LB:
The former Florida State star has been thrust into the starting lineup due to a season-ending bicep injury sustained by
Larry Foote
. Williams has probably played as well as can be expected but it's too early to tell whether he has a future with the Steelers as a starter or is more suited for a backup role. Williams has 40 tackles, but he has played sparingly in recent week as he comes off the field in the quarter package and has also lost some snaps to undrafted rookie
Terence Garvin
.
7. Nick Williams, DE:
Another small-school project for Steelers defensive line coach John Mitchell. The Steelers saw enough from Williams to place him on injured reserve instead of waiving him with an injury settlement in late August. Williams is working his way back from a knee injury, and the offseason will be a critical one for the Samford product.
Overall:
Could have been better but could have been worse, too. And that assessment comes with the caveat that it's way too early to label any of the rookies, which include Garvin, guard Chris Hubbard (practice squad), defensive end Brian Arnfelt (practice squad) and Devin Smith (practice squad) as anything but works in progress.
August, 26, 2013
8/26/13
4:34
PM ET
Le'Veon Bell
's foot injury probably cost third-year running back
Baron Batch
any chance of making the Steelers. Batch was among the players cut Sunday as the Steelers trimmed their roster to 75 players, and he was simply a luxury the team couldn't afford with its running game in such flux.

You can win with players like Baron Batch. He is excellent on special teams and is a more than willing and able blocker, especially when it comes to blitzing linebackers. The former seventh-round pick does all of the little things well and has a heart the size of his native Texas.
Batch would be an ideal fourth running back on a team that has a feature back since he could play primarily on special teams and provide injury insurance. But he wasn't a good fit on a team that will go with a running back by committee -– at least until Bell is healthy and able to fill the role of feature back.
Releasing Batch before the final cut might have come as a surprise to some Steelers fans. But it is probably a measure of how highly the Steelers think of Batch, as a person and a professional. The timing of his release gives Batch a chance to catch on somewhere else and get a couple of days to impress his new team.
The release of
Stevenson Sylvester
, the other veteran cut on Sunday, leaves the Steelers with very little experience behind
Lawrence Timmons
and
Larry Foote
at inside linebacker.
It all but assures
Marshall McFadden
and rookie
Vince Williams
, a sixth-round pick last April, of making the 53-man roster.
The only draft pick right now that won't make the 53-man roster is seventh-rounder
Nick Williams
, who has been shut down by a knee injury. The Steelers liked enough of what they saw from Williams, a defensive end, that they put him on the reserve/injured list instead of the waived/injured list.
Cornerback
Terry Hawthorne
(fifth round) and wide receiver
Justin Brown
(sixth round) are battling for roster spots, and I think Hawthorne makes the team, but Brown might have too much to overcome -- namely his former Penn State teammate
Derek Moye
and the real possibility that the Steelers only keep four wide receivers.
Moye appears to have separated himself among the wide receivers who aren't a lock to make the team. But he could get caught in a numbers cruch if the Steelers have to carry an extra tight end or running back because of injuries.
May, 19, 2013
5/19/13
10:00
AM ET
The
Pittsburgh Steelers
will have competition at running back and outside linebacker this year, although I believe rookies
Le'Veon Bell
and
Jarvis Jones
will win those jobs. The most wide-open battle in Pittsburgh is in the return game.

The release of
Chris Rainey
in January forces the Steelers to find another kickoff returner, and the promotion of
Antonio Brown
and
Emmanuel Sanders
to the No. 1 and No. 2 wide receiver spots, respectively, likely means Pittsburgh will go with a new punt returner.
As the Steelers get ready to take the field for the first of three voluntary minicamps this week, you could make the case for around 10 players to compete over bringing back kicks and punts. But, when looking closely at the candidates, I see four as serious contenders to become the new returners.
On kickoff returns, running back and free-agent addition
LaRod Stephens-Howling
has to be considered the favorite. His role as a returner decreased the past two seasons in Arizona, but he averaged 25.7 yards and scored three touchdowns on kickoffs in his first two seasons in the NFL.
The one returner who could unseat him is undrafted rookie
Reggie Dunn
from Utah. He set the NCAA record for career 100-yard returns (five) and single-game 100-yard kickoff returns (two).
"He is an exciting player. He ran in the 4.3s on his pro day," Steelers general manager Kevin Colbert said of Dunn at a recent fan forum with season-ticke holders. "We're excited because the speed (is something) you can't teach. You have to give that young man the opportunity to prove what he can or can't do on the field."
Colbert said he's anxious to see how Dunn can handle punts. According to Colbert, Dunn didn't return many punts in college because Utah had others who were "quite honestly, better during his time there."
Dunn's only way of making the roster is as a return specialist. As Ed Bouchette of the
Pittsburgh Post-Gazette
points out, coach Mike Tomlin has a history of using a roster spot for a player who can only return kicks, Allen Rossum in 2007 and Stefan Logan in 2009. But both didn't contribute much else other than being a return specialist and lasted one season in Pittsburgh.
The other players who should get the opportunity to return punts are rookie sixth-round pick
Justin Brown
and
David Gilreath
. Brown averaged 13.5 yards per punt at Oklahoma and scored a touchdown. Gilreath, who holds the Big Ten for career kickoff returns, also ranked sixth in the Big Ten with an 8.8-yard average on punt returns before going undrafted in 2011. Last season, he returned two punts for a total of eight yards.
There's not as much mystery at returner around the AFC North. The Ravens kept
Jacoby Jones
and the Bengals re-signed
Brandon Tate
, but
Adam Jones
and
Onterio McCalebb
will push Tate. The Browns are expected to replace Pro Bowl returner
Josh Cribbs
with
Travis Benjamin
on punts and
Dion Lewis
on kickoffs.
May, 16, 2013
5/16/13
12:45
PM ET
The AFC North is finishing up the position ranks today, and I will have a wrap-up on all of the rankings Friday. Let's look at special teams, and the rankings are based on specialists and not coverage or return units as a whole.
1. Baltimore Ravens
: The Ravens get the top spot based on the assumption that
Jacoby Jones
will remain the primary returner. He proved to be the most explosive returner in the NFL last season with four touchdowns (including playoffs).
Justin Tucker
exceeded expectations as a rookie last season with his accuracy (led the division at 90.9 percent) and distance on field goals. Punter
Sam Koch
has been solid for years and recorded a career-high 40.8-yard net average last season.
2. Cincinnati Bengals
:
Kevin Huber
was the best punter in the AFC North last year. He led the division in net average (42.0) and punts inside the 20-yard line (33).
Mike Nugent
slipped to 82.6 percent conversion rate, but he was perfect inside 40 yards. The biggest concern with Nugent is durability. He has finished two of the past three seasons on injured reserve. The Bengals have some options at returner with
Brandon Tate
,
Adam Jones
and
Onterio McCalebb
, the fastest player at this year's NFL scouting combine.
3. Pittsburgh Steelers
: Journeyman kicker
Shaun Suisham
has solidified himself in Pittsburgh. He has converted over 90 percent of his field goals in two of his three seasons with the Steelers. There's more uncertainty at punter and returner. Rookie punter
Drew Butler
was 25th in the NFL in net average (37.8), which is why he'll have competition this year from
Brian Moorman
, a two-time Pro Bowl punter. After spending 12 seasons with the Bills, Moorman had a below-average season last year with the Cowboys. At returner, the Steelers have to decide between
LaRod Stephens-Howling
, rookie sixth-round pick
Justin Brown
and undrafted rookie
Reggie Dunn
.
4. Cleveland Browns
: The Browns didn't re-sign two Pro Bowl specialists from last year, kicker
Phil Dawson
and
Josh Cribbs
. The Browns downgraded at kicker, going from the one constant in their expansion era (Phil Dawson) to a player who is on his ninth team in five seasons (
Shayne Graham
). Graham ranked 23rd in the league last season with a 81.6 percent success rate on field goals. Cleveland also parted ways with ineffective punter,
Reggie Hodges
.
Spencer Lanning
and
T.J. Conley
, both of whom were out of the league last year, will compete for the punter job.
Travis Benjamin
is expected to replace Cribbs on punt returns, and
Dion Lewis
may take over on kickoffs.
April, 27, 2013
4/27/13
7:55
PM ET
A quick recap of what the teams in the division did in the final two rounds ...

CINCINNATI BENGALS
: Nebraska RB
Rex Burkhead
(sixth round) is smart, competitive and versatile (can line up in wildcat). There are questions about durability considering his injury history. ... Arkansas WR
Cobi Hamilton
(sixth round) is a big possession receiver and strong blocker. He has to prove he can get separation. ... Ohio State OT
Reid Fragel
(seventh round) moved from tight end to the offensive line last year, so he needs to work on his technique. He plays with an edge. ... South Carolina C
T.J. Johnson
(seventh round) uses his size well in the run game but looks heavy-footed in pass protection.

CLEVELAND BROWNS
: Yes, the Browns did actually draft some players on Day 3. Notre Dame S
Jamoris Slaughter
(sixth round) is about 90 percent recovered from a ruptured Achilles tendon, which caused him to fall from being a third-round prospect. He is known as a leader with good football IQ. ... East Central Oklahoma DE
Armonty Bryant
(seventh round) is a character risk after being arrested for selling marijuana to undercover police. On the field, he finished with a school-record 26.5 sacks. ... Chadron State guard
Garrett Gilkey
(seventh round) is a Division II tackle who will move to guard. He's added 70 pounds since high school.

BALTIMORE RAVENS
: Notre Dame DE
Kapron Lewis-Moore
(sixth round) tore his ACL in the BCS championship game and may sit out this season. He's a blue-collar prospect who has had trouble staying healthy. ... Colorado State-Pueblo guard
Ryan Jensen
(sixth round) is a small-school four-year starter at tackle who will move inside in the NFL. He plays with a mean streak. ... Elon WR
Aaron Mellette
(seventh round) has good size (6-feet-2) and doesn't shy away from contact. He was outclassed against big-school defenders at the Senior Bowl. ... California CB
Marc Anthony
(seventh round) is a physical press corner who doesn't have the closing speed to match up with faster receivers.

PITTSBURGH STEELERS
: Penn State's
Justin Brown
(sixth round) is the second wide receiver drafted by the Steelers this week. Brown brings size (6-3) but not game-breaking speed. ... Florida State ILB
Vince Williams
(sixth round) is a two-down player who can stop the run. He will provide depth because the Steelers don't expect
Sean Spence
(knee injury) to play this season. ... Samford DT
Nicholas Williams
(seventh round) is a raw prospect who is a former basketball standout. He has upside as a pass-rusher.