AFC North:

Justin Houston
July, 30, 2014
Jul 30
12:00
PM ET
LATROBE, Pa. --
Pittsburgh Steelers
right outside linebacker
Jarvis Jones
stuck with the Twitter handle SacManJones_29 despite notching just one quarterback takedown during a trying rookie season.
That he still embraces the alias is as close as Jones will come to predicting a breakout season for himself, something the Steelers badly need from their 2013 first-round draft pick.
Jones
"I'm going to do it my way," Jones said. "Just keep quiet and work hard and produce on the field. I've got to live up to my name."
It is critical that Jones do that since no player's development on a defense that has gotten profoundly younger is more critical than his.
The Steelers' defense has to become more opportunistic after forcing just 20 turnovers last season. Jones and left outside linebacker
Jason Worilds
providing a consistent pass rush would go a long way toward the Steelers taking the ball away more.
It would also help a secondary that has questions at cornerback.
Jones is poised to make a big jump after improving his strength the offseason and significantly raising his comfort level with the defense.
In addition, new defensive assistant Joey Porter, who played right outside linebacker in seven seasons with the Steelers and recorded 60 sacks, is mentoring Jones. And Jones spent the offseason working on his pass-rushing technique with Kansas City outside linebacker
Justin Houston
.
The two former Georgia teammates are close friends and trained together in Atlanta. Houston has 21 combined sacks in the last seasons -- he had 11 in 11 games in 2013 -- and Jones wants to replicate the success Houston has had since becoming a full-time starter in his second NFL season.
"I've been watching a lot of film of him and just watching his hand placement, his steps," Jones said. "I feel really good about myself and where I'm at right now."
Jones admittedly didn't feel good about himself last season while struggling as learned a complex defense on the job and running into left tackles who were bigger and stronger than the ones he had regularly beaten in college.
The 6-2, 245-pounder recorded just one sack after making 28 of them in the two seasons he played for Georgia, and Jones admittedly got down on himself.
"It hurt because I wasn't productive and I'm not used to being in that position," Jones said. "Ever since I started playing football I've always been successful. It was humbling and it just makes you work harder."
The Steelers need that work to produce signifcant returns this season.
General manager Kevin Colbert has said the Steelers will only go far as young players such as Jones take them, and SacMan_29 embraces that challenge.
"We understand that we're a young group so we've really got to take the initiative of being physical, taking advantage of us being together," Jones said of a defense that has eight projected starters who are 27 years old or younger. "We're a lot younger than they're used to seeing. We've got to gain our respect from everybody, even our teammates."
May, 28, 2014
May 28
8:00
AM ET
PITTSBURGH --
Jarvis Jones
has yet to see the side of
Joey Porter
that helped make the latter a fan favorite in Pittsburgh and a leader in the Steelers' locker room.
"The crazy cussing and stuff like that he hasn't done that yet but you can tell his intensity, his passion for the game," Jones said. "He's more hands on than just talking to us and trying to show us how to do it."
Jones
Porter, who joined Mike Tomlin's staff as a defensive assistant in February, figures to be more hands on with Jones than any other player.
Jones plays right outside linebacker, the position where Porter racked up 60 1/2 sacks in eight seasons in Pittsburgh, and the Steelers need the 2013 first-round draft pick to make significant improvement in his second NFL season.
Porter's tutelage -- as well as having spent a full year immersed in the Steelers' defense -- should help Jones after a rookie season in which he started eight games but managed just one sack.
One thing Jones didn't do in preparation for his second season is get bigger.
"I'm pretty much the same, 245 (pounds)," the 6-2 Jones said following the Steelers' first full-squad offseason practice. "That's where (the coaches) want me to play at. I really don't want to get much bigger. My whole thing is about getting stronger and being able to play with leverage and the right technique so that's what I've been focusing on."
Jones trained in Atlanta for three months with former Georgia teammate and current
Kansas City Chiefs
outside linebacker
Justin Houston
. He said he has gotten stronger while staying at a weight that won't compromise his speed.
What will make Jones play faster than anything is his familiarity with the Steelers' defense after struggling to learn it on the job in 2013.
"It's not night and day," Jones said of the difference between last year and this year as far as knowing the defense, "but it's a whole lot better actually knowing what's going on. I'm not out there second-guessing myself. I can line myself up as far as coming out and looking at the formation."
The Steelers hope that having those basics down and Porter teaching him the finer points of playing outside linebacker will translate into a breakout season for Jones, the 17
th
overall pick of the 2013 draft.
"It's a blessing to have somebody here mentoring us that actually played here and played the same position," Jones said. "He's got the mindset of a baller. He knows what it takes to be great. He pushes me every day."
Does that mean Jones will play with the kind of fire and swagger that defined Porter's career?
"I'm more quiet," Jones said with a smile, "but he'll probably rub off on me though."
The Steelers are counting on it.
April, 16, 2011
4/16/11
12:00
PM ET
The AFC North blog continues its series on potential draft prospects for the division by taking a look at Georgia outside linebacker Justin Houston, who recorded 56 tackles, 10 sacks and one interception in 2010. He's a potential target for the
Baltimore Ravens
.
SEC blogger Chris Low
covered Houston during his three years with the Bulldogs and offered a full scouting report.
[+] Enlarge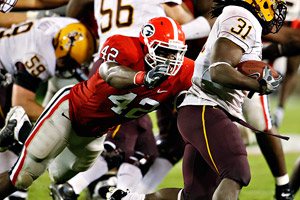 Todd Kirkland/Icon SMIJustin Houston would be a fit in Baltimore's 3-4 defense, but would he be effective in a 4-3?
Chris, break down Houston's strengths and weaknesses at linebacker.
Chris Low:
He's a pass rusher; that's what he does. He's not a guy Georgia asked to drop in coverage much, and when he did he wasn't real comfortable at it. He's not a run-stopper out there. It's not that he's bad or will get run over. He's just not real good there. Justin is a guy that you say "Go get the quarterback," and that's basically what Georgia did with him in that 3-4. He was really, really good at that. He's 270 [pounds] and really explosive.
The Ravens run a mix of 3-4 and 4-3 defenses. Is Houston versatile enough to switch back and forth?
Low:
Houston played defensive end in a 4-3 before Georgia went to a 3-4 the past two years. So he has played some defensive end. But I think in a 3-4, he's your prototypical pass-rushing outside linebacker. I don't think that he can play linebacker in a 4-3. He would have a tougher time as a 4-3 linebacker. Now, as a defensive end, he is 270. So I don't know how big NFL teams like defensive ends to be. But he is 268-270. But he needs to get in the right scheme in a 3-4 to rush the passer. He had a bunch of sacks the last two years at Georgia. He had 17 sacks the past two seasons.
March, 24, 2011
3/24/11
12:00
PM ET
»
NFC Draft Watch
:
East
|
West
|
North
|
South
»
AFC
:
East
|
West
|
North
|
South
Each Thursday leading up to the NFL draft (April 28-30), the ESPN.com NFL blog network will take a division-by-division look at key aspects of the draft. Today's topic: schemes and themes.

Baltimore Ravens
Two of Baltimore's needs involve players to fit a certain scheme. Defensively, the Ravens are searching for a versatile pass-rusher who can complement Pro Bowler
Terrell Suggs
and play in both 3-4 and 4-3 defenses. Baltimore is one of the few teams that play a varying scheme. Suggs is the prototype, because he can put his hand in the dirt as a defensive end as well as stand up and rush the passer or drop into coverage. The Ravens have
reportedly shown interest
in several pass-rushers, including Purdue's
Ryan Kerrigan
and Georgia's
Justin Houston
.
Offensively, the Ravens need a speedy deep threat at receiver to plug into offensive coordinator Cam Cameron's vertical passing game. Baltimore wants to run an attacking-style offense that puts more pressure on the defense. But the team struggled to stretch the field with mostly possession receivers last season. If the Ravens can find a burner who can make the same impact
Mike Wallace
did for the Pittsburgh Steelers two years ago, it could take Baltimore's offense to the next level. One option could be Maryland receiver
Torrey Smith
.

Cincinnati Bengals
The Bengals are one of two Ohio teams switching to a West Coast offense this season, and that will impact their draft strategy.
For starters, Cincinnati has to draft a quarterback to fit the system, which is based on timing and accuracy. Franchise quarterback
Carson Palmer
wants out
and threatened to retire
. In his mind, he's not coming back and the Bengals have to plan accordingly. Cincinnati
has been linked
to Auburn's
Cam Newton
the most. But don't rule out Missouri's
Blaine Gabbert
, Arkansas'
Ryan Mallett
or other top quarterback prospects.
Depending on the future of veteran
Chad Ochocinco
, Cincinnati may also be in the market for a receiver. All indications are that the Bengals want to go younger at the position, which would make Ochocinco, 33, trade bait this offseason. Georgia receiver
A.J. Green
could be a possibility for Cincinnati at No. 4 overall.

Cleveland Browns
The Browns are in a similar situation to Cincinnati. A new West Coast offense under rookie head coach Pat Shurmur will emphasize the passing game, and Cleveland has lots of questions at receiver.
It's hard to envision Cleveland throwing the ball at least 55 percent of the time to its current group of receivers.
Brian Robiskie
,
Mohamed Massaquoi
and
Chansi Stuckey
struggled to get open consistently and make plays last season for rookie quarterback
Colt McCoy
.
Green could be that impact receiver for the Browns. But they have bigger needs, such as defensive line. The Browns are also switching to a 4-3 defense and are short on
defensive ends and tackles
. Filling one of those positions would make the most sense with the No. 6 overall pick. Teams like the Steelers (Wallace,
Emmanuel Sanders
) have proved that quality receivers can be found after the first round.

Pittsburgh Steelers
Pittsburgh's biggest need is at cornerback. Defensive coordinator Dick LeBeau specializes in getting pressure from his front seven. So the players in the secondary need to be physical and sure tacklers. One possibility could be Texas cornerback
Aaron Williams
, who fits that description.
Also, the Steelers are always in the market for 3-4 defensive linemen and linebackers, even when it's not a huge need. So don't be surprised if Pittsburgh adds more players to its front seven to stockpile for a couple of years and learn the system.
Offensively, the Steelers need help at tackle and guard. Many in Steeler Nation would love to see Florida's
Mike Pouncey
join his twin brother, Maurkice. But that's probably not going to happen unless the Steelers move up from the No. 31 overall pick.
March, 15, 2011
3/15/11
7:00
PM ET
Here are the latest happenings Tuesday evening in the AFC North:

AFC NORTH SCOREBOARD
Thursday, 9/11
Sunday, 9/14