March, 17, 2014
Mar 17
11:00
AM ET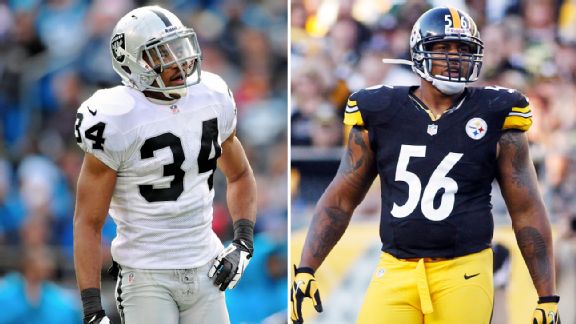 Getty ImagesIn safety Mike Mitchell and linebacker LaMarr Woodley the Steelers and Raiders hope to find free-agent steals.
LaMarr Woodley
is now a Raider as he signed with Oakland last week following his release from the Steelers. The Steelers, meanwhile, made an uncharacteristic signing on the first day of free agency, bringing in
Mike Mitchell
to take over for
Ryan Clark
at free safety. Mitchell played for the Panthers in 2013 but spent his first four seasons with the Raiders.
ESPN.com Steelers writer Scott Brown and ESPN.com Raiders writer Paul Gutierrez take a closer look at Woodley and Mitchell and what their signings mean for their respective teams.
Paul Gutierrez:
The Raiders had many needs entering the offseason, perhaps none greater than pass rush. They seemed to address that by signing
Justin Tuck
and LaMarr Woodley, but I'm sure Raiders fans are wondering just how much Woodley, who turns 30 in November, has left in the tank?
Scott Brown:
The Raiders should be getting a player who will be extremely motivated following his release by the Steelers -- and by how his career played out after they had made Woodley the highest-paid defensive player in franchise history. It proved to be a rather stunning fall from grace for Woodley, and ultimately the Steelers picked
Jason Worilds
, whom they had been widely criticized for drafting in the second round in 2010, over Woodley.
Woodley's inability to stay on the field led to the Steelers making that choice, and if he can stay healthy he could turn out to be a real bargain for the Raiders. Woodley played well until a calf injury sidelined him in the second half of the last season and ultimately shut him down. What has the reaction been to the Woodley signing, and do you think the Raiders view it as a low-risk, high-reward proposition?
Gutierrez:
The reaction has been one of relief from Raiders fans, especially since Tuck had signed earlier in the wake of the
Rodger Saffold
debacle. Now, I'm not saying it "saved" the Raiders' free agent-signing season, but it did wash away some of the bad taste because the Raiders had a huge need at pass rush. In Woodley (57 career sacks) and Tuck (60.5 career sacks) they addressed it even if both guys will be on the wrong side of 30 come midseason. Still, Woodley and Tuck, bring a championship mentality (two Super Bowl appearances) to a franchise that has not had a winning record since 2002. And yeah, the money is right ("only" up to $12 million) as is the length of the deal (two years).
Still, there are questions about how his skill set plays into the Raiders' base 4-3 defense since Woodley was the left outside linebacker in the Steelers' 3-4 scheme. He says he'll play with his hand in the dirt as a defensive end in a 4-3. Do you see that as a realistic possibility, or is that too much to ask of him at this stage of his career?
Brown:
Woodley should be fine moving to defensive end as that is what he played in college when he tormented quarterbacks for Michigan. The move might help him regain some of his pass-rushing mojo as Woodley won't drop into coverage nearly as often as he did with the Steelers. I like the signing for the Raiders, especially if Woodley prepares and plays as if a fire has been lit under him. Did complacency set in after he signed the six-year, $61.5 million in 2011? It sure seems that way and maybe getting released is what Woodley needed to get his career back on track.
The Steelers normally stay on the sidelines during the first wave of free agency but they made a significant signing when they lured Mike Mitchell away from Carolina with a five-year, $25 million contract. Mitchell spent his first four seasons in Oakland and I'm curious about your impressions of him. Did he simply need a change of scenery or did things click for him last season because he played on a better team?
Gutierrez:
Yeah, it's been a couple of years since I covered Mitchell on a day-to-day basis but he definitely left an impression as one of the best interviews in the Raiders locker room, win, lose or draw. The spotlight was on him from the day Al Davis used a second-round pick on a little-known player from Ohio University. Davis had visions of another undersized, hard-hitting safety from the Buckeye State in Jack Tatum but that was a tough bar to reach. Still, he had some flashes… especially in covering San Diego tight end
Antonio Gates
a few years back. A change of scenery, and being with a team that had a better pass rush, definitely helped him out in Carolina. Plus, he was able to freelance more with the Panthers as a free safety, rather than on the strong side. And with his outspoken manner, gritty disposition and, yes, rep as a hard hitter, he seems to fit the mold of Raiders and Steelers' DBs of yore, even if he's not Tatum or even Donnie Shell.
Speaking of old school, Raiders fans still refer to "IT" as the Immaculate DE-ception… so when, if ever, is Frenchy Fuqua going to tell the entire story?
Brown:
I just read a tremendous book on the 1970s Steelers, "Their Life's Work," and it sounds like he is taking that story to his grave. I'm sure Steelers' fans would counter that the Immaculate RE-ception is history and in the books no matter how it went down. It certainly is one of the more intriguing chapters of that storied rivalry and remains so after all of these years. What are the chances that the Raiders and Steelers turn back the clock at some point and resume meeting regularly in the playoffs as they did in the 1970s?
Gutierrez:
Well, that would mean the Raiders have to get BACK to the playoffs, a place they have not visited since 2002. Realistically, I can't see it happening in the next year or two, but in the NFL, things do change quickly. Not sure the rivalry can ever get back to the days of the '70s, though, when the Steelers and Raiders met in
three straight AFC title games
, which I wrote about in January.
August, 10, 2013
8/10/13
4:40
PM ET
By
ESPN.com staff
| ESPN.com
Jeannine Edwards reports from Heinz Field and discusses the top headlines leading up to Saturday night's preseason matchup between the
New York Giants
and the
Pittsburgh Steelers
.
August, 30, 2010
8/30/10
12:37
PM ET
With the preseason coming to a close this week, here are seven notes and observations on the AFC North:
Are the Pittsburgh Steelers lacking discipline? Their first-team defense uncharacteristically had four personal fouls Sunday in a 34-17 loss to the Denver Broncos. Two were by second-year cornerback Keenan Lewis, who was subsequently benched and earned a spot in coach Mike Tomlin's doghouse. Lewis also made a bad situation worse by reportedly punching through a glass sign after the game. If you add cornerback Ike Taylor's fight last week against the New York Giants that cost him $10,000, Pittsburgh is having problems keeping its cool lately.

[+] Enlarge

Ron Chenoy/US PresswireJames Farrior lost his helmet during a play in Sunday night's game.

I'm noticing an unusual amount of players losing their helmets this preseason. The two most high-profile occurrences were with New York Giants quarterback Eli Manning and Sunday with Steelers linebacker James Farrior. Both players suffered cuts to the head and were knocked out of the game. These are not isolated incidents. I've seen several preseason games this summer where helmets are dangerously flying off at an alarming rate.

Baltimore's pass protection is not as sharp as expected. The Giants recorded five total sacks against the Ravens Saturday and the pocket overall wasn't consistently solid. At times, it was miscommunications. Other times New York simply outplayed Baltimore up front. We're not convinced Tony Moll is the answer at right tackle. Giants defensive end Justin Tuck had his way with Moll on several occasions. Baltimore tackles Oniel Cousins and/or Jared Gaither need to get healthy quickly.

We liked what we saw from Haruki Nakamura covering receivers in the slot. For a safety, he has pretty quick feet to keep up with receivers and make plays on the ball. Nakamura is considered an experiment in the slot until Baltimore's secondary gets healthy. But based on his performance, it's looking pretty good so far.

The Cleveland Browns have an update on safety Nick Sorensen. The bad news is he suffered a concussion Saturday against the Detroit Lions. But the good news is he is improving. Sorensen was not at practice Monday, and according to Browns coach Eric Mangini he will be resting for "a while."

Speaking of Mangini, this will be his first year putting together a 53-man roster with new president Mike Holmgren and general manager Tom Heckert. Cleveland currently has a mix of players leftover from the previous Mangini-George Kokinis regime and the new Holmgren-Heckert regime, setting up an interesting dynamic this week. Mangini will have his input and opinion on who stays and who goes, but Heckert and Holmgren will have the final say.

Cincinnati's receiver position is somewhat clearer now with Antonio Bryant's release. Cincinnati has a lot of depth at receiver, where six (maybe seven) could make the team. Chad Ochocinco, Terrell Owens, Jordan Shipley and Andre Caldwell are four locks. But at least two roster spots remain open for receivers Quan Cosby, Jerome Simpson, Matt Jones and Dezmon Briscoe. An educated guess is Cosby is in, making it a three-way tossup between Simpson, Jones and Briscoe.