AFC North:

Kelly Jennings
April, 6, 2012
4/06/12
4:00
PM ET
Gary Horton of Scouts Inc. broke down
the top six needs remaining

for each of the AFC North teams. You'll need an Insider subscription to view the entire post, but here's a glimpse of the top three needs:
CINCINNATI BENGALS

Horton's top three needs
: Cornerback, guard and safety.
Horton on cornerback
: The starters in 2011 were
Leon Hall
, who will be coming off an Achilles injury, and 32-year-old
Nate Clements
. When Hall went down,
Adam Jones
filled in, but none of these three make you comfortable in man coverage. Newly acquired free agent
Jason Allen
will help, but there is a lot of work to be done here.
Hensley's comment
: I wouldn't put cornerback as the top need because the Bengals added Allen and re-signed Jones. Allen is an upgrade over
Kelly Jennings
. Guard is the bigger concern. If the season started today, the Bengals' starting right guard would either be
Otis Hudson
,
Clint Boling
or
Anthony Collins
(who would shift over from tackle).
CLEVELAND BROWNS

Horton's top three needs
: Quarterback, wide receiver and running back.
Horton on quarterback
: Right now, their options at QB are starter
Colt McCoy
and veteran backup
Seneca Wallace
, but nobody expects it to stay that way. With two first-round draft picks, they will almost surely pick a QB with one of them.
Hensley's comment
: You could make a strong argument that quarterback, wide receiver or running back should rank as the No. 1 need. My top need for Cleveland is right tackle. The Browns can at least start McCoy,
Greg Little
,
Mohamed Massaquoi
and
Montario Hardesty
at those other positions. Right tackle was a weak spot for the Browns last season with
Tony Pashos
and
Artis Hicks
, both of whom are now gone. The Browns' starting right tackle at this point is
Oniel Cousins
, a third-round bust from Baltimore.
BALTIMORE RAVENS

Horton's three needs
: Inside linebacker, left guard and safety.
Horton on inside linebacker
: The
Ray Lewis
era will be ending soon, and the Ravens need to find his replacement.
Jameel McClain
was re-signed, and he can play inside or outside, but a three-down linebacker who can play solid pass defense is sorely needed.
Hensley's comment
: Left guard is the biggest need on the team, and it's not even close. The Ravens couldn't keep
Ben Grubbs
and failed to sign
Evan Mathis
. The fallback option is
Jah Reid
, a backup offensive tackle last season. Going from a Pro Bowl guard (Grubbs) to a converted tackle (Reid) is a major step down.
PITTSBURGH STEELERS

Horton's top three needs
: Offensive tackle/guard, nose tackle and running back.
Horton on offensive tackle/guard
: Center
Maurkice Pouncey
is the only stable starter on this unit. Veteran tackle
Max Starks
is coming off an ACL injury and T
Willie Colon
can't stay healthy, though the coaches hope he can get through a full season at RT with young
Marcus Gilbert
moving from RT to LT. There is also a big hole at left guard. The Steelers need to get at least one, and maybe two, starters up front.
Hensley's comment
: You can't really disagree with this assessment. Left guard
Doug Legursky
is a backup who performed admirably when
Chris Kemoeatu
was benched. Gilbert has a good chance of succeeding on the left side, but it's hard to depend on Colon at right tackle with his injury history. The Steelers' options are limited because there is no depth.
Jonathan Scott
, who has struggled mightily, is the top backup at tackle, and there's no reserves at guard with
Trai Essex
(free agent) and
Jamon Meredith
(not tendered as a restricted free agent) off on the roster.
March, 22, 2012
3/22/12
8:50
PM ET
The Bengals decided to keep
Adam "Pacman" Jones
and his baggage, reaching an agreement with often-troubled cornerback, according to
ESPN's John Clayton
.
This comes as a surprise, even though there were reports that the Bengals and Jones had been talking.
Jones
Off the field, Jones' latest run-in with the law --he pleaded guilty to a misdemeanor charge of disorderly conduct in January --
will be reviewed by the NFL
, which could impose a suspension now that he has signed with a team.
On the field, the lasting impression of Jones was getting beat on a double move by Texans wide receiver
Andre Johnson
for a 40-yard touchdown in last season's playoff loss.
So why are the Bengals re-signing Jones? In their mind, he is better than the other options available, like free agent
Terence Newman
from the Cowboys. Jones was actually solid in the regular season when he replaced injured
Leon Hall
for seven starts. According to Pro Football Focus, Jones allowed 16 receptions in eight games in 2011.
The Bengals have taken a proactive approach in addressing a cornerback group that has Hall coming off a season-ending Achilles injury and
Nate Clements
entering his 12th season. Cincinnati also signed Texans free agent
Jason Allen
and could draft another corner in the first round. The addition of Jones likely means the Bengals won't re-sign
Kelly Jennings
.
Jones, 28, has been repeatedly arrested during his NFL career. He missed the entire 2007 season with the first of two suspensions from the league.
The
Tennessee Titans
traded Jones to Dallas before the 2008 draft. An alcohol-related altercation with a bodyguard that the Cowboys assigned to him led to another six-game suspension.
He was out of the NFL for a year before the Bengals gave him the two-year deal in 2010.
February, 24, 2012
2/24/12
4:15
PM ET
The AFC North is running a series where every position will be ranked and what could change at that position.
DEFENSIVE BACKS

1. STEELERS
: Pittsburgh had the top-ranked pass defense, and it wasn't all about the pass rush this time. Actually, the pass rush was extremely inconsistent this season, so that No. 1 ranking is more of a reflection of the Steelers' secondary. Cornerback
Ike Taylor
and free safety
Ryan Clark
had career years. Taylor's season, though, was marred by a late-season decline that ended with him getting stiffed-armed by the Broncos'
Demaryius Thomas
on the touchdown that ended the Steelers' season. Clark had the best season of any safety in the division, which is saying a lot when
Troy Polamalu
and
Ed Reed
are in the AFC North. He finished second in the division with 100 tackles. Polamalu was solid, but didn't play up to his usual spectacular level.
William Gay
was a pleasant surprise, taking back the starting cornerback job that he lost in 2010.
What could change
: Gay is an unrestricted free agent, but it shouldn't take much to retain him. Look for rookie cornerbacks
Cortez Allen
and
Curtis Brown
to make more of an impact in their second seasons.

2. RAVENS
: This group exceeded expectations, and did so in a surprising manner. Instead of starting
Domonique Foxworth
and
Chris Carr
at cornerback, the Ravens finished fourth in pass defense with
Lardarius Webb
and
Cary Williams
. Webb was the division's top cornerback, recording five interceptions and breaking up 20 passes (and that doesn't include three interceptions in the playoffs). Williams was a physical presence at corner. The biggest disappointment was Reed, who intercepted three passes -- his fewest in a season where he played more than 12 games. The Ravens' other safety, hard-hitting
Bernard Pollard
, provided more of an impact than Reed. First-round pick
Jimmy Smith
endured an up-and-down rookie season.
What could change
: Smith should take over for Williams as a starting cornerback this season. Foxworth is expected to get cut, and the same could happen to Carr. Both backup safeties,
Tom Zbikowski
and
Haruki Nakamura
, are free agents, but I suspect Nakamura will get re-signed.

3. BROWNS
:
Joe Haden
showed signs of being a shutdown corner, even though he failed to make an interception. He held his own against some of the best receivers in the NFL, from
Larry Fitzgerald
to
Brandon Marshall
. His worst games came against Bengals wide receiver
A.J. Green
. While Haden is among the division's best cornerbacks,
Sheldon Brown
was the worst starting corner in the AFC North. Brown's biggest asset is the experience he provides to a young secondary. The defensive backfield was hurt by the loss of strong safety
T.J. Ward
, who missed the final 10 games with a foot injury. Teams took advantage of Ward's replacement,
Usama Young
. Free safety
Mike Adams
beat out Young for a starting job in training camp.
Dimitri Patterson
was a reliable nickelback, breaking up a dozen passes.
What could change
: The Browns might replace Adams, who is a free agent, and they could give rookie seventh-round pick
Eric Hagg
a shot at doing so. Cleveland is very interested in bringing Patterson back. It wouldn't be a surprise if Patterson starts in place of Brown.

4. BENGALS
:
Leon Hall
is perhaps the most valuable cornerback in the division. In the first nine games with Hall, the Bengals gave up eight touchdown passes. In the last seven regular-season games without him (he had a season-ending Achilles injury), they allowed 12 touchdown passes. The Bengals replaced Hall with
Adam Jones
, who was extremely erratic in coverage. The Bengals value the veteran leadership of
Nate Clements
, but the cornerback is looking past his prime. Only nickelback
Kelly Jennings
struggled on a more consistent basis. Safety
Reggie Nelson
allowed some big plays early, but he was stingy in pass defense late in the season. The other safety,
Chris Crocker
, had trouble covering the more athletic tight ends in the league.
What could change
: The Bengals need to draft a cornerback in the first round to press Clements for a starting role and become his eventual replacement. Nelson is a free agent, but he is considered a priority to get re-signed. The Bengals are expected to part ways with Jones, who is a free agent.
Feb. 20
:
Special teams
Feb. 21
:
Defensive line
Feb. 23
:
Linebackers
For Monday
: Offensive line
November, 20, 2011
11/20/11
8:12
AM ET
Here's your game-day warm-up:
BALTIMORE -- Will
Ray Lewis
play today or will the Ravens linebacker miss his first game since 2007?
That's a big question heading into today's Bengals at Ravens game. There was a report that Lewis will be sidelined by a toe injury, but coach John Harbaugh said he wouldn't rule out Lewis because of his history of overcoming injuries. Lewis is officially questionable.
If Lewis can't play, the Ravens would go with
Dannell Ellerbe
. While the Ravens would miss Lewis' experience, Ellerbe has always had NFL starter talent but his work ethic has been a question mark. That would mean the Ravens' two starting inside linebackers (Ellerbe and
Jameel McClain
) are undrafted players.
Baltimore would have missed Lewis' leadership if this was a few years ago, but the Ravens are starting to rely on their next generation of leaders in
Terrell Suggs
and
Haloti Ngata
.
As far as ESPN's
expert picks
, all but one selector had the Ravens over the Bengals. They were split over whether the Browns would beat the visiting Jaguars.
Here are some storylines heading into today's AFC North games:
BENGALS: Who replaces Leon Hall? Cincinnati is expected to go with Kelly Jennings, who has good speed but can struggle against bigger receivers. Adam Jones will likely be the third cornerback. Another possibility to replace Hall is Brandon Ghee, who was promoted from the practice squad. He was a third-round pick a year ago and could work himself into some major playing time.
BROWNS: The offense would get a big boost if running back Montario Hardesty can return from a calf injury. He is considered a game-time decision. Hardesty, who has starter ability, is a major upgrade from marginal NFL talents in Chris Ogbonnaya and Thomas Clayton.
RAVENS: Tom Zbikowski could get a chance to replace struggling David Reed on kickoff returns. The Ravens are looking for someone who will take care of the ball after watching Reed fumble three times in the past two weeks. Chris Carr is another option.
STEELERS: The Steelers are at their bye with a 7-3 record, the same mark they had last year when they advanced to the Super Bowl. "I wouldn't necessarily say I'm pleased," head coach Mike Tomlin said of the record. "I'd be pleased if we were 10-0, but we're not. We are what we are."
November, 17, 2011
11/17/11
7:52
AM ET
Every morning, grab a cup of coffee and get your AFC North wake-up call here:
Jaguars defensive end Matt Roth returns to Cleveland for the first time since leaving the Browns in free agency in August. He is second on the Jaguars with three sacks and has 10 pressures, a big reason why Jacksonville has jumped from No. 28 in defense last season to No. 4 this season.
He signed a one-year, $3 million contract with the Jaguars after he felt the Browns were "playing games" with him when he was seeking a new contract during the 2010 season.
"At the time, they said they were doing no contracts, then I was finding out other guys were getting contracts underneath the table," Roth told
The Cleveland Plain Dealer
. "I was like, 'Well, the heck with it. I'm not gonna have people lying [to me].' So I wanted to go to another place where they'd tell the truth.
"I had no problem if they said they weren't going to do a contract, but don't tell me you're not doing contracts when you were. That's what I meant by games. But I couldn't say that at the time because you have to be a team player."
Hensley's slant
: Maybe Roth and Peyton Hillis should trade notes on the difficulties of getting a new deal with the Browns. Roth sounds a little ticked off, so I probably wouldn't want to line up across from him this game. Good luck, Tony Pashos (who has allowed five sacks in six games).
BENGALS
: With Adam Jones still missing practice with hamstring and groin injuries, it appears Kelly Jennings will replace injured Leon Hall at right corner, according to
The Cincinnati Enquirer
. Jennings, a first-round pick by the Seahawks in 2006, was traded from Seattle this year. His comfort level with the system has improved after a rough start (he missed three of the first six games with a hamstring injury). "I just like getting into a groove, which I feel like I'm starting to do now," Jennings told the paper. "I'm starting to settle down. That's on my side. This system relies on a lot of man-to-man, in guys' faces and challenging balls. That's what I like to do best."
Hensley's slant
: Jennings is a solid nickelback but he never established himself as a starter with the Seahawks because he was a matchup problem against bigger receivers. Look for the Ravens to attack him if he gets lined up against Anquan Boldin. It wouldn't be a surprise if the Bengals move Jones into that starting role once he's healthy.
RAVENS
: Getting turnovers had been a strength of the Ravens' defense earlier this season. But the Ravens have only forced four of them in their past five games. Taking the ball away is important to the Ravens, although it's not the top priority. "What you don't do, you don't step outside the responsibility of the defense to try to create something that's not there and give up a big play," coach John Harbaugh said, via
The Baltimore Sun
. "Because there are priorities in the pecking order, and the priority in the pecking order is to get a stop first. If we can get a turnover as we do that, we definitely want to do that."
Hensley's slant
: The Ravens might be able to get some turnovers Sunday against Cincinnati if they're patient. Bengals rookie quarterback Andy Dalton has taken care of the ball for the most part, but he's known to turn the ball over late. Five of his nine interceptions have come in the fourth quarter. He was picked off twice in the fourth quarter last Sunday against Pittsburgh.
STEELERS
: Starting quarterback Ben Roethlisberger seems to thrive on pain, whether it's limping during a win against Tennessee or beating Cincinnati with a broken right thumb. "Ben is a tough guy mentally and physically," guard Ramon Foster told
The Pittsburgh Tribune-Review
. "A lot of quarterbacks show their emotions, but with him you might only see a grimace whether he gets hit or breaks a thumb."
Hensley's slant
: The Steelers are letting Roethlisberger prove his toughness a little too much lately. He has been sacked five times in two of his past three games. For the season, Roethlisberger has been sacked an AFC-worst 31 times. Yes, he holds onto the ball too long. But Pittsburgh can't afford him taking all of these shots.
November, 15, 2011
11/15/11
7:33
AM ET
Every morning, grab a cup of coffee and get your AFC North wake-up call here:
Ravens coach John Harbaugh defended the decision to go to an all-passing attack in order to rally in Seattle.
Down 10 points in the first quarter and 12 points at halftime, the Ravens threw the ball a season-high 52 times and
Ray Rice
finished with season-low five carries. "I don't know how you would do it any differently," Harbaugh said, via the team's
website
. "When you're down, you've got to throw it to get back in the game."
Harbaugh pointed to several reasons for airing it out: two fumbles on kickoff returns led to fewer first-half possessions, the team trailed the entire game and the Seahawks are committed to stopping the run.
"In the end, we definitely want to have more runs," Harbaugh said. "That's indicative of having the lead, having more plays, especially early in the game. But the way the game went, we had to throw it."
Hensley's slant
: The game was never out of control where the Ravens had to panic and abandon the run. The Ravens' defense was holding Seattle to field goals for most of the game, so Baltimore could have remained patient. Yes, the Ravens' passing attack closed Baltimore to 22-17 in the fourth quarter. But the Ravens never got the ball back because a visibly tired defense couldn't stop the run on that final drive. If the Ravens had run the ball, the time of possession (Seattle had the ball for 35 minutes) wouldn't have been so one-sided and the defense would've been given more breathers. The Ravens had four drives that lasted less than 85 seconds.
BENGALS: The team has yet to make a decision on who will replace cornerback Leon Hall, who was placed on injured reserve Monday. It will come down to either Kelly Jennings or Adam Jones. Head coach Marvin Lewis is optimistic that Jones can return from a hamstring injury and play Sunday against the Ravens. "Hopefully we'll see how he progresses during the week, but Adam would certainly help us if we can get him back into the swing of things," defensive backs coach Kevin Coyle told The Cincinnati Enquirer. "Hopefully he will be able to step in and take some of the loss of Leon away." Hensley's slant: Jones is the more dynamic pick because of his playmaking ability. In five games last season, Jones had an interception, a forced fumble and a fumble recovery. Still, whoever starts for the Bengals, no one will replace Hall's man-to-man coverage skills.
BROWNS: First-year head coach Pat Shurmur defended his decision to run the ball six straight times in the red zone to set up a field goal instead of throwing the ball to the end zone for a touchdown. His strategy backfired when the snap went off a Browns offensive lineman, which caused Phil Dawson to miss a 22-yard field goal attempt. "No. I'll go to the well with what I did," Shurmur said, via The Cleveland Plain Dealer. "And I'll go to the well lining up to kick the field goal, making them use timeouts and leaving them nearing two minutes to try to drive and beat us. I'll do that again." Hensley's slant: There is logic in playing it safe, and it could have resulted in a win. But at some point, the Browns need to break out of this conservative mentality and get aggressive. This mentality predates Shurmur. The Browns offense hasn't averaged more than 17 points per game in each of the past four seasons.
STEELERS: Outside linebacker LaMarr Woodley is expected to be available when the Steelers come off their bye. Woodley, the Steelers' sack leader with nine, has missed the past two games with a hamstring injury. Asked if he thought Woodley and James Harrison would be in the lineup for the Nov. 27 game at Kansas City, defensive coordinator Dick LeBeau told The Pittsburgh Tribune-Review, "I think so." Hensley's slant: With Woodley and Harrison together again, the Steelers will get more pressure on the quarterback, which will lead to more turnovers. Want some more good news? The Chiefs' starting quarterback could be Tyler Palko because Matt Cassel has a "significant" hand injury.
November, 13, 2011
11/13/11
8:32
PM ET
CINCINNATI -- The Bengals' surprising season took a major hit, and it goes beyond the loss to the
Pittsburgh Steelers
.
Starting cornerback
Leon Hall
is out for the season after tearing his Achilles tendon, according to ESPN's
Adam Schefter
. The Bengals will replace him with either
Adam Jones
or
Kelly Jennings
, but they won't really replace him.
Hall is Cincinnati's best all-around cornerback, which is why the Bengals signed him to a $39-million extension in September. Jones can provide playmaking ability, but he's been injury-prone during his short stint in Cincinnati.
The other option is Jennings, who is solid in the nickel defense but failed to establish himself as a starter in Seattle. The Steelers targeted Jennings a couple of times when Hall went out of the game.
With both Hall and Jones out Sunday, the Bengals were extremely thin at cornerback. They had to move starting safety
Chris Crocker
into nickel-back duty to make it through the game against Pittsburgh.
Cincinnati had the 10th-ranked pass defense entering Sunday's game, and one of the main reasons for the success was Hall. The 18th overall pick of the 2007 draft, Hall hasn't missed a game in his career and had started every game in each of the past three seasons.
October, 9, 2011
10/09/11
12:04
PM ET
Bobbie Williams
is expected to start at right guard after taking pre-game warmups there with the Bengals' starting offense, according to the
team's Web site
.
Williams is in his first game back after serving a four-game suspension for violating the NFL's policy on performance-enhancing substances. His return is a boost for the Bengals' running game.
Cincinnati, though, won't have nickel back
Kelly Jennings
(hamstring), who was scratched. The Bengals' other inactives are: offensive lineman
Clint Boling
, receiver
Ryan Whalen
, tight end
Colin Cochart
, linebacker
Dontay Moch
, tackle
Anthony Collins
and safety
Robert Sands
.
For the Jaguars, defensive end
Aaron Kampman
is inactive along with running back
Montell Owens
, wide receiver
Kassim Osgood
, cornerback
Derek Cox
, safety Courtney Green, offensive lineman
Jason Spitz
and tight end
Zach Miller
.
October, 5, 2011
10/05/11
6:33
PM ET
Steelers quarterback
Ben Roethlisberger
is making plans to play against the Titans even though a sprained left foot caused him to miss Wednesday's practice.
Roethlisberger
Roethlisberger told Tennessee reporters in a
conference call
that he is still in a walking boot and has made plans to wear specialized footwear in order to play. He also said he expected to throw in individual drills Wednesday, but he was one of six injured starters who was listed as "did not participate in practice" for the Steelers.
"We'll do our best, just take it day by day and see where it goes," Roethlisberger said in the conference call. "If it's just a pain tolerance thing, I'm going to be out there. I can deal with pain. We just want to make sure structurally it is sound."
Roethlisberger injured his foot late in a 17-10 loss at Houston and left the stadium in a walking boot. An MRI revealed the sprain on Monday.
The plan is for Roethlisberger to wear a shoe that is one size bigger with a steel plate on the bottom. He added that the walking boot is a precautionary measure.
Other Steelers starters who didn't practice were:
NT
Casey Hampton
(shoulder), LB
James Harrison
(eye), LG
Chris Kemoeatu
(knee), RB
Rashard Mendenhall
(hamstring), DE
Aaron Smith
(foot) and WR
Hines Ward
(not injury-related).
Bengals: Starting safety Chris Crocker (knee) and nickel back Kelly Jennings (hamstring) both didn't practice. Rookie pass rusher Dontay Moch, the Bengals' third-round pick, practiced for the first tie since breaking his foot in an Aug. 12 preseason game.
August, 31, 2011
8/31/11
8:00
AM ET
Here are the most interesting stories Wednesday in the AFC North: Morning take: Roethlisberger looks ready for the regular season. He will have two weeks to rest, while backups Dennis Dixon and Charlie Batch compete for the No. 2 role.
Morning take: This has been a great year for Hillis, who is on the cover of "Madden NFL 12." There are concerns about his durability. But there's no question he's one of the top players on the team.
Morning take: I like the battle at running back between Jalen Parmele and rookie Anthony Allen. Both probably can help as backups. But only one will make the 53-man roster.
Morning take: Benson has been out of town resolving his legal issues and probably doesn't need to take the pounding anyway. Jennings could use the work but it's too soon after just getting traded.
August, 30, 2011
8/30/11
11:00
AM ET
Let's see who's falling and rising after Week 3 of the preseason.
Falling
1. Cleveland Browns' ball security:
The Browns were efficient for the most part during the first two weeks of the preseason. But something got into this team in last week's loss to the
Philadelphia Eagles
. Cleveland was sloppy and turnover-prone in Week 3. The Browns fumbled three times (lost two on special teams), and quarterback
Colt McCoy
threw an interception to Eagles cornerback
Asante Samuel
. The Browns don't have enough talent to overcome so many mistakes in the regular season. The Browns need to get back to playing smart, mistake-free football.
[+] Enlarge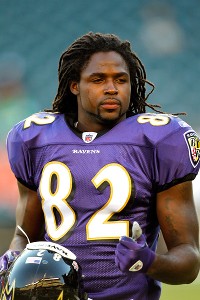 AP Photo/Matt RourkeRavens second-round pick Torrey Smith is still adjusting to the NFL game.
2. Torrey Smith, Baltimore Ravens receiver:
So far Smith doesn't appear ready to contribute right away to the Ravens. The rookie second-round pick has suffered some early drops and is thinking too much on the field. The hesitancy also is taking away Smith's biggest asset, which is his speed. Receivers often take time to adjust to the NFL. Smith has shown a few flashes but still has a ways to go.
3. Adam Jones, Cincinnati Bengals cornerback:
When a significant trade is made in the NFL, that often means the team isn't confident with the player(s) currently on the roster. That's likely the case with the health of Jones, who continues to rehab from two offseason neck surgeries.
The Bengals acquired
former
Seattle Seahawks
corner
Kelly Jennings
this week. Jones missed all of training camp and the preseason. The Bengals were hoping Jones could make it back for Week 1. But Jones could be a candidate for the physically unable to perform list (PUP).
Rising
1. Antonio Brown, Pittsburgh Steelers receiver:
Brown exploded against the
Atlanta Falcons
last week. He recorded four receptions for 137 yards and two touchdowns. In fact, Brown has been the most impressive AFC North player in the preseason, according
to our recent poll
. He's the favorite to land Pittsburgh's No. 3 receiver role.
2. Tyrod Taylor, Baltimore Ravens quarterback:
Taylor is another player whose stock continues to rise. The rookie had another solid outing against the
Washington Redskins
. Taylor threw for 125 yards and one touchdown and he led the game-winning drive in the fourth quarter. The Ravens haven't officially named their No. 2 quarterback. But Taylor is making a very strong case.
3. Crezdon Butler, Steelers cornerback:
Butler made a big impression on Pittsburgh's coaching staff with nine tackles and a 95-yard interception return for a touchdown against Atlanta. The Steelers need answers in their secondary before their Week 1 showdown against Baltimore. Starters
Ike Taylor
and
Bryant McFadden
have been out with injuries. Younger players like Butler and
Keenan Lewis
need to step up.
August, 30, 2011
8/30/11
8:00
AM ET
Here are the most interesting stories Tuesday in the AFC North: Morning take: Dixon is younger, and the ability to make plays with his feet adds another dimension to Pittsburgh's offense. That may give him the edge.
Morning take: The fall has been fast for Cousins. He was Baltimore's starting right tackle a few weeks ago, then a right guard and now he's with Cleveland. Cousins has a shot to replace Eric Steinbach, who is out with a back injury.
Morning take: The second-round draft pick has had some drops in the preseason. Baltimore hopes Smith can put those behind him and contribute.
Morning take: Jennings will play right away behind starters Leon Hall and Nate Clements. Pass defense has been an issue for the Bengals in the preseason.
August, 29, 2011
8/29/11
2:59
PM ET
The
Cincinnati Bengals
made another trade, acquiring former
Seattle Seahawks
cornerback
Kelly Jennings
. Cincinnati shipped defensive tackle
Clinton McDonald
to Seattle.

Here are some thoughts on the move:
Jennings is fast, and that's the most important part of this deal. Cincinnati lacks speed on defense and in the secondary. The Bengals lost their best pure athlete in Johnathan Joseph in free agency. Jennings can be the speedster in the secondary Cincinnati needs.
Jennings is a former first-round pick with a lot of starting experience. Therefore, he can step in if Leon Hall or Nate Clements is injured. Cincinnati doesn't have a lot of experience on its bench behind the starters. Adam Jones is a former starter but is out with a neck injury.
You also wonder what this means for Jones. The Bengals traded for an experienced veteran less than two weeks before the regular season. That could be a sign they're not optimistic about Jones' chances early in the season. Jones had a second neck surgery in June. He may be a candidate for the physically unable to perform list (PUP) to start the season.