August, 7, 2010
8/07/10
1:30
PM ET
Let's see what's in the weekend mailbag.
Ryan Davidson from Los Angeles writes
: With the
Washington Redskins
releasing quarterback
Colt Brennan
, is there any chance the
Cleveland Browns
take a look at him?
James Walker:
The Browns feel pretty comfortable with what they have, Ryan. But in the event of a major injury or a complete debacle, I will throw out a name to consider who might generate some interest:
Tyler Thigpen
. He's battling for the third quarterback job with the
Miami Dolphins
, but has good starting experience. So if there is a major quarterback injury this preseason in Cleveland or anywhere else, keep an eye out for Thigpen to be one of the first names to possibly come up in trade talks around the league.
---
Steve from Somerset, Ky., writes:
How do you like the chances of the
Cincinnati Bengals
going 4-1 or 5-0 headed into bye week? They're playing at Patriots, Ravens, at Panthers, at Browns, Buccaneers.
Walker:
I'm not going down that road again, Steve. I already have some
Pittsburgh Steelers
fans upset that I wrote that they won't go 4-0 without quarterback
Ben Roethlisberger
. So I'm just going to let things play out and stay away from the wide-ranging predictions.
---
Scott Sensenig from Myrtle Beach, S.C., writes:
How is
Jerome Simpson
looking so far in training camp this year?
Walker:
In my visit to Bengals camp, Simpson made some really nice catches, Scott. But I've seen that before with him in practice, so it's not a surprise. This is his third year in the NFL and it's really time for him to become more than a "practice player." Simpson will need a good preseason to make Cincinnati's roster this year, because the competition at receiver is intense.
---
Tom from Elkridge, Md., writes:
What are the possibilities of
Darrelle Revis
coming to the
Baltimore Ravens
if he can't get his contract from the
New York Jets
?
Walker:
Zero. No chance. Nada. You know these teams play in Week 1, correct?
---
Chris from Cleveland writes:
Will my man
Tom Zbikowski
get a shot at the Ravens' starting safety position while they wait on
Ed Reed
?
Walker:
I like Zbikowski and thought he filled in well when Reed was injured last season. But the Ravens also signed
Ken Hamlin
for a reason. I thought something was up, because Hamlin is more of a free safety than strong safety. Then news of Reed's major hip surgery was released and it all made sense. It should be a good competition.
---
Jason M. from Knoxville, Tenn., writes:
Walker, it's been forever since I've sent in a question to you! How have you been? Which Steelers rookie will have the biggest impact this year?
Walker:
I've been great, Jason. Thanks for asking.
Maurkice Pouncey
is the safest bet. He's a first-round pick and the only projected starter out of this year's draft class. I think linebacker
Jason Worilds
will contribute on special teams and receiver
Emmanuel Sanders
will have to wait his turn to get on the field and contribute.
---
Mo from Chantilly, Va., writes:
I really like
Charlie Batch
and was wondering what the chances were of the Steelers keeping all four quarterbacks throughout the season and how it could work?
Walker:
Not good, Mo. There's really no reason to have four quarterbacks on a 53-man roster. It rarely happens. I don't see Pittsburgh letting go of a young talent like
Dennis Dixon
, and
Byron Leftwich
like is the starter for the first month. So it looks like Batch will eventually be the odd man out.
Complaint department
Here are the latest comments and complaints in our
AFC North inbox.

Segatman from Australia writes:
I think Pittsburgh likes the way that you are keeping them under wraps. They have a solid spread across the board in terms of talent, but honestly the one thing that is being lost here is the receiving corps. Do you genuinely think that the first month without the quarterback is more of a worry than having a laughable receiving corps for the rest of the season?
Alex from Baltimore writes:
Why would Roger Goodell allow
for a shortening
of Roethlisberger's suspension? Of course he would act anyway needed to get back into his job earlier. He should have had a set suspension and then seen how Roethlisberger acts to determine if more should be given, not less.

Paul from St. Paul, Minn., writes:
The reason why everybody's
talking about the Bengals
is because everybody knows this isn't the same Bengals team that we've seen in the past. They're deeper, more talented, more poised, and hungrier than I ever remember them. This team not only wants to win, but expects to win and has the experience and talent to make it happen.
Glenn from Orlando writes:
I enjoy the fact that the Bengals are finally getting some attention, even though they have not done anything major in the NFL since I was in about fifth grade. Anyway, I don't see there being any change in Cinci at all. WOW, they went out and got T.O. Big deal. The combination of Ochocinco and T.O. will never compare to what Cinci had when their receivers were Chad Johnson and TJ Houshmandzadah. At this point T.O, Chad and Carson better hope that their offense can even come close to what Pittsburgh did last year and what the Ravens will be capable of this year. I'm a diehard Steelers fan. But until the Bengals can do something in the postseason they will continue to be the BUNGLES in my eyes.
Derek from D.C. writes:
If the Bengals think that by sweeping the AFC North last year and adding weapons for this season they can easily reclaim the division title, then they are in for a reality check. The Steelers are healthy again and the Ravens are more consistent. Cinci goes back to the basement where they belong.

Tom from Indianapolis writes:
In my opinion the Ravens defense will miss Ed Reed and
Domonique Foxworth
a lot more than the Steelers will miss Ben Roethlisberger. Why are those key players being out not getting as much attention as the quarterback of the Steelers? I mean, besides the fact that he is a quarterback?
Chris from Annapolis, Md., writes:
I would sooner see the Ravens lose every game this season than see them bring back penalty-flag-
Frank Walker
.
Lardarius Webb
and
Fabian Washington
will be playing on Week 1 with
Chris Carr
as the nickel, mark my words. We don't need him.

Kovacs from Santa Monica writes:
Please explain to me why the Browns
are behind three teams
that they beat (KC, Oakland and Jacksonville) at the end of last year in the preseason power rankings. You honestly think any of those teams improved more than the Browns?
July, 8, 2010
7/08/10
8:00
AM ET
Here are the most interesting stories Thursday in the AFC North: Morning take: According to the Baltimore Sun, only the ... ahem ... Ravens will finish above .500 this season.
Morning take: The Ken Hamlin signing speaks volumes, because he is more of a free safety. That tells me Baltimore also is concerned about Reed's chances to play in Week 1.
Morning take: There will be a lot of money involved in this negotiation. I wouldn't put Haden's on time arrival as a sure thing just yet.
Morning take: On the surface, I would think not. But Cedric Benson is in the final year of his contract, and with legal issues it's up in the air if he's going to get an extension.
June, 24, 2010
6/24/10
4:00
PM ET
Here are the latest happenings Thursday in the AFC North:
June, 19, 2010
6/19/10
10:00
AM ET
With all the AFC North minicamps in the books, let's see what's in the weekend mailbag.
Brandon Crawford from Sykesville, Md.,
writes: Now that the
Baltimore Ravens
have signed safety
Ken Hamlin
, what does this mean for
Dawan Landry
?
James Walker:
Good question, Brandon. Hamlin is more of a free safety than a strong safety, so I'm not 100-percent sure if the signing impacts Landry directly. But the Ravens have always had the motto of putting the best 11 players on the field. So it is possible Hamlin could beat out Landry, but Hamlin would have to do it playing out of his natural position.
Andy from Santiago, Chile,
wants to know the probability of a holdout for
Cincinnati Bengals
first-round pick
Jermaine Gresham
.
Walker:
I think it's too early to worry, Andy. Cincinnati does have a history of rookie contract disputes, but I don't get the same vibes from the team that I did last year. Every media outlet, including the AFC North blog, easily predicted a long holdout for
Andre Smith
because of his recent business decisions, the team, and the type of money that was involved. Most of those factors aren't in play this year. So I don't anticipate any type of long holdout in Cincinnati this year. At most, it could possibly be a few days.
Alan from Milwaukee
wants to know what I think of
Rod Woodson
as an NFL coach.
Walker:
Woodson was in Cincinnati this week, and I think it would be a natural fit for him. Frankly, I'm surprised he hasn't done this earlier. Woodson was one of the smartest and most gifted players in NFL history. He was the complete package as a football player and could have thrived in any era. He would be great sharing all that knowledge with today's players if chooses to go that route.
Nakaz from Hawaii
writes: Do the
Pittsburgh Steelers
look for another RB to back up
Rashard Mendenhall
before the season starts?
Walker:
The Steelers are fine with what they have.
Mewelde Moore
did his job last year when his number was called, and Pittsburgh may have a nice find in rookie
Jonathan Dwyer
. I haven't seen enough of him just yet (especially without contact). But Dwyer has good size and may be able to move the pile, which would help the offense.
Bryan from Atlanta
writes: How come no chat this week?
Walker:
On Tuesday I was at Bengals minicamp writing and watching two practices. I couldn't fit it in. But the division chat will return this upcoming Tuesday at 4 p.m. ET.
Kovacs from Santa Monica, Calif., writes:
Have the
Cleveland Browns
started to close the talent gap in the AFC North?
Walker:
That's too much of an open-ended question, Kovacs. The Browns made some steps to get better but not to the point where I think they can climb to the top of the AFC North. I saw Cleveland in minicamp last week and wasn't all that impressed. I'm still picking the Browns fourth, the Steelers third, and I haven't decided yet between Cincinnati and Baltimore.
Complaint department
I'm going to try something different this week. We get a lot of comments in our division inbox with readers venting about various things. So I decided to try this new feature at the end of the weekend mailbag called the "complaint department."
Enjoy.
Brad Eagan from West Mifflin, Pa.,
writes: Come on, James. There are way too many things about the Browns and not enough about the other three teams in the division. I know that you are located in Cleveland, but this is the AFC North Blog, not the Cleveland Browns Blog. Other than the plethora of Browns topics, you do great work.
Jeff from Baltimore
writes: Could you please vary your content a little more, James? I get tired of seeing multiple posts about the Steelers every single day when my Ravens haven't gotten a solo article in over a week. It's the AFCN blog, not the Pittsburgh Steelers blog.
Ben Wiford from Danville, Ohio,
writes: Hey J-Walk always love hearing you when you are on 97.1 in the afternoons. But you really shouldn't waste your time talking about the Clowns! Just talk more about my Bengals.
Ron from Fort Washington, Md.,
writes: I just read the AFC NORTH blog and it
focused on the Bengals
. I thought I was going to read about my RAVENS!!!
R. Lewis from Berkeley, Calif.,
writes: I really, really enjoy your blog. BUT can we just quit with the
"will the Steelers make the playoffs
if
Ben Roethlisberger
is out six games" stuff? Enough, man. You know that it will be only four games, because Ben WILL stay out of trouble. Okay, so four games. Do you REALLY think they'll lose more than two? You always make it sound like they're in so much trouble, but they're not. They'll go 11-5 and make the playoffs.
RJ from Virginia Beach, Va.,
writes:
Vince Young
had
better get in trouble with the commish
. If he doesn't, that means Roger Goodell is handing out his "justice" unevenly. I'm still waiting for Sean Peyton to be disciplined for his alleged misconduct. Ben's case has set a precedent that you don't need to be arrested or charged with a crime to be disciplined. That needs to be applied to the entire league, not just household names like "Big Ben."
Richard from Fairfax, Va.,
writes: James, it was like a Christmas morning present to hear cornerback
Frank Walker
is
trying out with a different team
. You made my day. Hopefully the
Houston Texans
sign him.
MWyche2 via Twitter
writes: Tell Chad Ochocinco,
C'mon son!!!!
Remember to send all your mailbag questions -- and now AFC North complaints -- to our
division inbox.
June, 18, 2010
6/18/10
2:00
PM ET
The
Baltimore Ravens
added depth to their secondary this week, signing veteran safety
Ken Hamlin
to a
one-year deal.

Hamlin
Friday we checked in with our resident scout -- Matt Williamson of Scouts Inc. -- to get his thoughts on the Hamlin signing.
"I would say he's somewhere between 'underwhelming' and 'solid.' Those are often-used adjectives that describe guys that don't stand out, don't make a whole lot of big plays, but he also doesn't embarrass himself out there. In a way, it kind of surprises me that it took him this long to get signed. I think he could play strong safety in a pinch, but really he's a free [safety]. But if you're a free safety with just average range, just average ball skills, you're more or less a dime a dozen. I agree that he wasn't worth what Dallas was paying him. They didn't get enough production out of that position. But Baltimore brings him in and I think it's a nice insurance policy if Ed Reed continues to have neck or shoulder problems. Hamlin wouldn't be a liability back there."
June, 18, 2010
6/18/10
8:00
AM ET
Here are the most interesting stories Friday in the AFC North: Morning take: The top four receivers of Chad Ochocinco, Antonio Bryant, Jordan Shipley and Andre Caldwell are in. From there, it's anyone's guess.
Morning take: The report says Eason lost 28 pounds, which he will certainly need to gain back to play defensive line in a 3-4 scheme.
Morning take: I'm not sure what happened in this case. But usually with players it comes down to money or possibly a better opportunity elsewhere.
Morning take: This camp will have several key position battles. It will also be interesting to see how much the Browns have improved.
June, 17, 2010
6/17/10
9:53
PM ET
ESPN's Adam Schefter reported
Thursday that free-agent safety
Ken Hamlin
agreed to terms with the
Baltimore Ravens
.
[+] Enlarge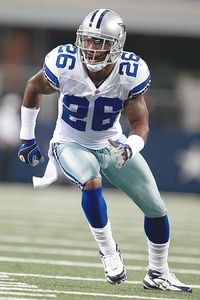 Scott Boehm/Getty ImagesFormer Dallas safety Ken Hamlin signed a one-year contract with Baltimore.
Hamlin later confirmed the move and checked in with ESPN.com's AFC North blog to share his thoughts on joining the Ravens.
Ken, you had interest from several teams. How important was it to go to a situation where you feel you can compete for a championship?
Ken Hamlin:
It was definitely important. The idea is to build for a championship. I think this team has done a great job of being in the running to be one of those teams competing for a championship for years. The additions that they made this offseason shows they want to go an extra step further. I think that's important for them, and it was important for me to be a part of this team.
For those in Baltimore who haven't seen you play, what does Ken Hamlin bring to the Ravens?
Hamlin:
I definitely know the game. I'm a leader in my own respect. I don't just lead by talking; I try to lead by example. I'm going to go out there and play hard on every snap.
What are your thoughts on playing next to safety Ed Reed?
Hamlin:
Well, Ed is definitely at the top of his game. He really is the signature of what an [ideal] safety is like right now -- making big plays and turning over big plays into points. Being able to play with him on the same team and learning the things he does and how he makes those plays is huge.
Any hard feelings being released by the Dallas Cowboys?
Hamlin:
It's no hard feelings. I enjoyed the time that I was there. I definitely had fun. I enjoyed the fans, I enjoyed the team, and I enjoyed my teammates. That's one thing in this business: You can't really get too comfortable because it's always business decisions being made out there. You can't lose respect for the team or the players from that, because I loved being there.
June, 17, 2010
6/17/10
3:22
PM ET
June, 17, 2010
6/17/10
8:00
AM ET
Here are the most interesting stories Thursday in the AFC North: Morning take: If the Browns finish .500, the AFC North might be the best division in football in 2010.
Morning take: Take your pick, Ravens fans: Ken Hamlin, Ken Lucas or Walt Harris?
Morning take: It's pretty impressive that Cincinnati still had the fourth-best defense with an average pass rush. That's a credit to the team's secondary play during the past season.
Morning take: It won't be a one-man effort to start the season, but "Mendy" will play a big part. Keeping up last year's 4.6-yard average would do the trick.
June, 11, 2010
6/11/10
11:00
AM ET
Let's see what's in the mailbag this week.

Sean McMann from Pittsburgh
and
Ryan from Cincinnati
wants to know if free-agent safety
Oshiomogho Atogwe
is a possibility for the Bengals.
James Walker:
Don't count on it, Sean. The Bengals recently made a move to sign
Gibril Wilson
and brought back veteran
Roy Williams
. They also looked into
Ken Hamlin
. So I don't see Cincinnati making any major additions at safety barring an injury. Atogwe reportedly is interested in $7 million per season. If Cincinnati wants to spend that kind of money at this point, the team would be better off extending its own players like soon-to-be free agents
Johnathan Joseph
or
Cedric Benson
.
---

Josh Curtis from Idaho Falls, Idaho,
writes: Due to the inexperience the Browns have at their safety position, why hasn't Ken Hamlin been brought in for a visit?
Walker:
The Browns seem content with their safety situation, Josh. Don't forget that veteran starter
Abram Elam
is still in the fold, despite the unhappiness with his contract. Cleveland spent two draft picks on safeties with hopes that at least one (
T.J. Ward
?) steps into a starting role. If the Browns signed Hamlin, it would be counterproductive to the plan.
---

Arthur from Baltimore
writes: What's the deal with
Kelley Washington
?
Walker:
Washington was not tendered and now is an unrestricted free agent. The Ravens added
Anquan Boldin
and
Donte' Stallworth
this offseason and, barring injury, probably feel comfortable with the receivers they have.
---

Sulaiman
Jilani from New Jersey
writes: Will the Steelers make the playoffs if they go possibly 4-2 in their first six games 3-1 in their first four games?
Walker:
If the Steelers win three or four games during
Ben Roethlisberger
's suspension, they would be in great shape. If that's the case, yes, I think the Steelers will make the playoffs. But I'd be surprised if Pittsburgh starts off that fast without "Big Ben."
May, 6, 2010
5/06/10
11:30
AM ET

Baltimore Ravens
Post-draft hole:
Cornerback
Analysis:
Unless the Ravens' brass knows for sure that cornerbacks
Lardarius Webb
and
Fabian Washington
will be ready for Week 1 following knee surgeries, the team may want to explore the free-agent market to see what's out there. If the season started today, Baltimore would be down to its fourth cornerback -- presumably
Chris Carr
-- in the starting lineup opposite
Domonique Foxworth
. The nickel and dime roles are even more uncertain. Players like
Dre' Bly
and
Ken Lucas
are still available. Perhaps Baltimore is biding its time for now. Because if just one of the Ravens' injured cornerbacks returned in time for training camp or the regular season, that would be a solid boost towards the secondary.

Cincinnati Bengals
Post-draft hole:
Secondary depth
Analysis:
One of the few weaknesses in Cincinnati's stout defense last season was defending slot receivers and tight ends over the middle. The nickel cornerback, in particular, was a problem area and the Bengals may have addressed that with third-round pick
Brandon Ghee
. Cincinnati also is in the process of working out a contract with controversial cornerback Adam "Pacman" Jones, who is a former first-round pick that was out of football last year. Jones could be a wild card for Cincinnati if he gets his act together. The Bengals also have been looking at free-agent safeties like
Ken Hamlin
and
Gibril Wilson
.

Cleveland Browns
Post-draft hole:
Wide receiver
Analysis:
There are still various question marks on Cleveland's roster. But the biggest glaring need right now is at wide receiver. New team president Mike Holmgren and general manager Tom Heckert have been diligent to patch up certain areas on the roster. But the one spot the pair failed to really address was receiver, only drafting sixth-round pick
Carlton Mitchell
. Last year's second-round pick,
Mohamed Massaquoi
is the only (somewhat) proven commodity on the roster. The cupboard was extremely bare coming into the offseason, so it's understandable that everything couldn't be fixed in one year. But if veteran quarterback
Jake Delhomme
is going to have a bounce-back season, someone
has to step up and catch his passes
.

Pittsburgh Steelers
Post-draft hole:
Quarterback
Analysis:
This is somewhat of a trick answer. But through the first six games, quarterback will be the biggest weakness of the Steelers. Star quarterback
Ben Roethlisberger
will serve a conditional six-game suspension to start the season that could be reduced to four games.
Byron Leftwich
,
Dennis Dixon
or
Charlie Batch
will try to keep the team afloat in the meantime. Besides, perhaps, some depth issues at wide receiver, Pittsburgh doesn't have many holes on its 2010 roster. The front office did a solid job this offseason of patching up questions at offensive line (
Maurkice Pouncey
) and cornerback (
Bryant McFadden
).
April, 28, 2010
4/28/10
8:00
AM ET
Here are the most interesting stories Wednesday in the AFC North:
Morning take: Hamlin is one of the top free agents still available. Cincinnati didn't draft a safety but the team apparently is still looking.
Morning take: At this point, statements aren't going to help much. It's more important for Roethlisberger to lead by example.
Morning take: It was brutal trying to get a 100-yard rusher against Baltimore in the past. Now, tailbacks gaining 80 yards could be a struggle.
Morning take: This first draft will be important for Holmgren. It's the first building block in trying to get this struggling franchise back on track.